Main-King LRT Split May Be a Good Idea
Hamilton will find out by July if Metrolinx has chosen LRT for the B-Line. Having just experienced an LRT system and its economic development impacts firsthand, I don't see any other logical conclusion.
By Jason Leach
Published April 08, 2009
On my recent west coast jaunt [watch for an upcoming photo tour on RTH], I made sure to take in some observations pertaining to LRT in both a suburban and urban context. It was a good exercise to ride the rails in Portland while thinking of our own application here in the Hammer.
I've been very pleased upon returning home to see how far along the city's rapid transit office has come and the absolute wealth of information that is now available on their website.
Of particular note is the fact that they are leaning towards a European style LRT vehicle for Hamilton. I think this is a great choice and will really help to change the perception of public transit in the Hammer.
Below are a few observations that I believe need to be considered.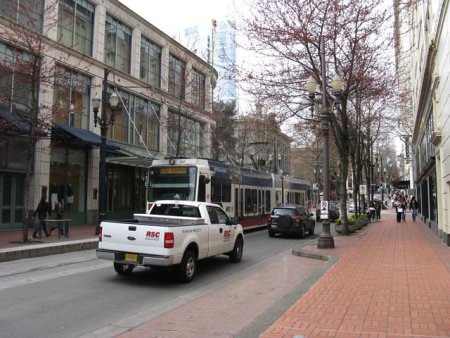 Portland Light Rail with streetscaping and wide sidewalks
The streetcar is not an LRT. It could be made to function like one, but it's Portland application is simply a streetcar that operates like a bus. I'm not sure that we ever got over 10-15 miles per hour while on the streetcar, and if we did, it was for a brief moment.
Don't get me wrong, it's nicer than a bus and as we all know, fixed rails in the street help draw more riders and businesses as opposed to regular buses; but it is different than a full light rail system.
As for the LRT, I am not only less opposed to the idea of having our tracks split between King and Main, but I'm slowly growing in favour of it. As the above photo shows, in Portland the trains run on one-way streets, one block apart throughout the heart of downtown. As an out of town visitor riding the system, I double-checked my direction and had no problems.
In the above photo, the train is running in the same direction as the traffic. Now, imagine this exact scene on Main or King St, but with one more lane of car traffic added, and with curb parking continuing. It would make sense to have the trains run on the opposite curb lane than buses traditionally use, as is the case in Portland. We'd also have room to widen our brutally narrow sidewalks and to add trees, flowers and decorative lighting.
Keep in mind, of course, that the days of timed lights and long distances between lights needs to come to an end, and with LRT it certainly would. Portland has stoplights at every intersection downtown and none of them are timed to go green. Speeding cars simply could not be found in their downtown.
This photo would also be a fairly accurate representation of how LRT would function along King East through our International Village.
That brings me to the main point of all this. Riding the trains on separate streets seemed good for downtown and good for business. As we all know, it is people, not speeding cars, who ride light rail and who also stop at cafes, shops and major retailers. Downtowns were made for walking.
The city's rapid transit office clearly shows that the preferred alignment for our system from University Plaza to Paradise Road, and again from the Delta to Eastgate is a transit median with LRT running down the middle of the roadway.
This is an excellent design for our B-Line and seems as though it would also work for our A-Line on the Mountain. The fact is, the walking distance from King to Main is no further than the walking distance between Portland's LRT lines downtown. The only spots in Hamilton where the walk is slightly longer is in the Dundurn-Locke area and the Sherman-Gage area.
One would assume that all four of those major intersections will have LRT stops, meaning folks who live in that area will have a two or three minute walk between stations. That will be good for property values, neighbourhood safety and small businesses that may start up in those neighbourhoods.
Downtown, I think having LRT split across both streets (Main and King) will be good for both streets. Again, picture the above scene as our own International Village. That stretch would rapidly become a busy downtown neighbourhood with LRT on its main street.
I realize that property values will increase within a few minutes of LRT stations, but there is also something to be said for the actual physical presence of light rail trains on a street. Portland's system functioned mighty fine with its downtown alignment separated onto different streets.
They were also careful to space downtown stops much closer together, which is something Hamilton will need to do as well between Dundurn and Wellington.
I encourage you to browse the city's rapid transit page and send an email of support to your councillor and the mayor.
Hamilton will find out by July if Metrolinx has indeed chosen LRT as the vehicle of choice for the B-Line. Having just experienced an LRT system and its economic development impacts firsthand, I don't see any other logical conclusion.
Post a Comment
You must be logged in to comment.