Change Doesn't Happen Overnight
The car culture which so many of us are railing against happened gradually, incrementally, over many years, thanks to many big and small decisions, piece by piece. Changing it will take time.
By Matthew Sweet
Published October 23, 2013
For starters, a mea culpa. I'm a graduate of Mohawk's Transportation Engineering Technology program. Yes, by all accounts, I am a Traffic Engineer. I currently work for a municipality in Southern Ontario on their cycling infrastructure program. Yes, by all accounts, I am a City Staffer.
I recently began teaching a course in Active Transportation at Mohawk. I am by no means an expert, having only been working as a professional for just over a year. I got lucky to get this gig and I'm doing my best.
I have been cycling as a commuter for nearly four years now, in combination with public transit. I occasionally walk places and have been known to drive here and there. I consider myself multi-modal.
I also consider myself in the "Enthused and Confident" category of cyclists, willing to ride in mixed traffic without much trepidation.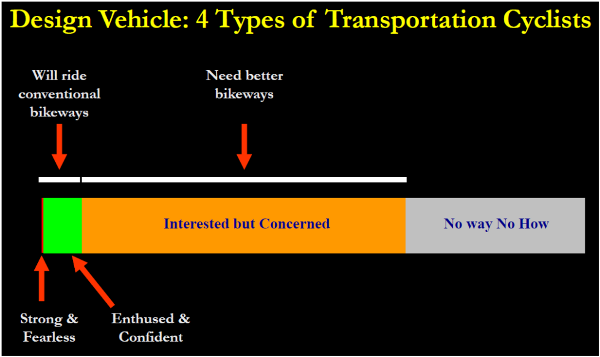 Design Vehicle: 4 Types of Transportation Cyclists
Having said that, I try to focus planning for the "Interested but Concerned" crowd, since that is where growth in cycling is going to happen.
So now that I've established the soup that I swim in on this particular topic, I will get to the point.
Raise the Hammer has been a very influential forum for me as I've developed my opinions and skills in this field. I always check in to hear what members of the community have to say about the work being done here on improving cycling infrastructure. The arguments and criticisms are usually excellent and I firmly believe that a forum like RTH provides an invaluable counter-balance to the actions and plans of city staff and politicians.
Hamilton is very lucky to have so many engaged citizens on the subject of cycling and urban issues, which discerning individuals in other municipalities would be wise to envy. This isn't blowing smoke, for the record. I am a firm believer in the democratic process and that requires engaged citizens.
Change is Incremental
Having said that, of late I am noticing a trend in many of the posts and stories that is troubling to me, and so far I haven't noticed anyone attempting to correct it. Perhaps then, it is only my opinion that the trend I am about to expound upon is an error. In that case, I welcome the regular contributors to let me know that it is I who is missing the mark.
Change doesn't happen overnight. The car culture which so many of us are railing against wasn't an overnight success. It happened gradually, incrementally, over many years, thanks to many big and small decisions, piece by piece.
The concept of incremental change is probably old news to many readers here. When it comes to changing the car culture to one which is more multi-modal, change won't happen overnight.
All of the entrenched interests are not going to go quietly, be they big business or each individual citizen working hard to put food on the table and having to commute by automobile to a workplace far from their home because of the car culture we have inherited.
So when it comes to creating new cycling infrastructure, sometimes we (by "we" I mean planners, engineers, politicians, citizens etc, collectively) hit a home run, and sometimes we have to take what we can get.
Cannon Bike Lanes a Huge Win
The Cannon Street cycle track proposal is probably the most exciting single project to come along in Hamilton's cycling existence. The grassroots work that went into getting this project on the radar and which got it approved by council to this point was frankly amazing.

Rendering of two-way bike lanes on Cannon (Image Credit: Jeremy Johnston)
As I said before, any other discerning municipality should beg for this kind of citizen engagement. But the work isn't over yet until those lanes are actually on the ground.
However, this project has limits, as does any project. The proposal does not span the entirety of Cannon Street. The proposal does not extend beyond Bay Street at this point. This point was raised very specifically in a recent post.
So what are we to say, therefore? I think the criticism of limited scope for the Cannon Street cycle tracks has some basis, and of course there must always be a push for more. But to call the Cannon proposal a "half-measure" is a disservice. Relative to most cycling proposals in a lot of cities, the Cannon Street proposal is a huge win.
Bike Lanes to Nowhere
Calls for continuous cycling facilities are valuable and necessary. Raise the Hammer has done a fantastic job advocating for fulsome planning and pushing against legitimate "half-measures". Most of the time.
Then recently there were posts and comments calling out the City for not installing bicycle lanes on King Street in a section where resurfacing was being completed. The section, from the Delta to Wellington, is 3.1 km long. At either end, there are no existing cycling facilities of any kind.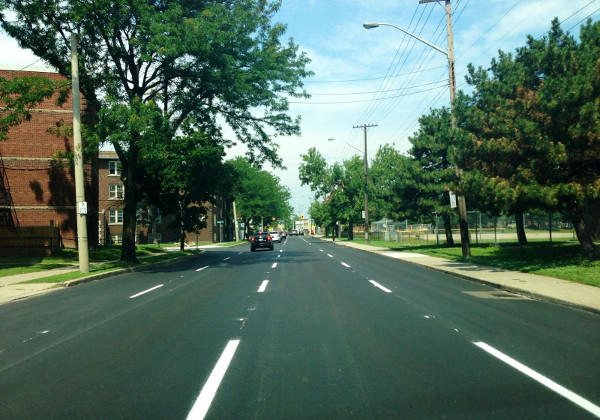 King Street Repaved (RTH file photo)
Suddenly, a proposal for a cycling facility is being made on a prominent community forum in Hamilton, which is essentially an infamous case of a "bike lane to nowhere". Precisely the sort of project that this forum has lobbied against for so many years.
To be honest, I liked the idea of bike lanes on King Street in the section being mentioned. The issue of LRT on King Street certainly enters the equation from a planning perspective, but leaving that aside (since that particular elephant is in limbo right now rather than in the room with us), bike lanes on King Street would have been a useful addition to the network.
Yet, it would not have represented the full scope of a potential continuous King Street bicycle lane. Rather, what it would represent is another small win on the long road to incremental change.
Long and Winding Road
My initial response to the notion of RTH contributors calling for a "bike lane to nowhere" was to note the inconsistency in that position, as outlined above.
Perhaps instead, the admission that abbreviated segments of the network should be added in stages over a long time frame based on opportunities suggests that RTH contributors are starting to realize that this is going to be a long and winding road.
(Unless of course political leadership appears on the cycling portfolio and shoves us headlong into intensive infrastructure investment and network development. Until then, slow and steady will have to suffice.)
Portland Not Built in a Day
I hesitate to bring up everyone's favourite example, but Portland Oregon's cycling network wasn't built in a day. It took them over 30 years of continuous improvement, successes and failures, support and opposition to get where they are today. Where are they today? (Today being 2009 in this case)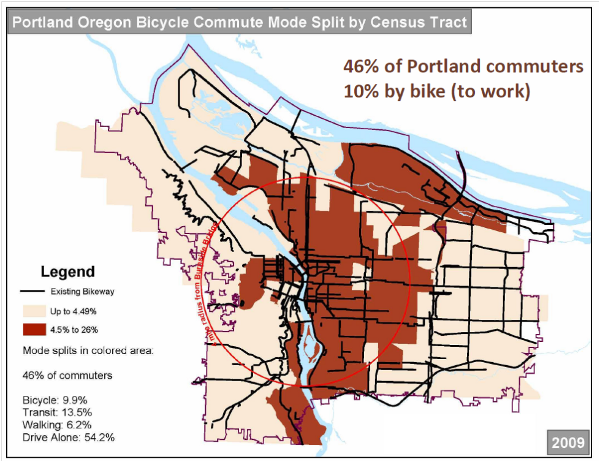 Portland Oregon Bicycle Commute Mode Split by Census Tract, 2009
Portland, after all of those years of planning and installation, is at 10 percent bicycle commute mode split in the downtown core neighbourhoods. There are still 54.2 percent of commuters driving single occupancy motor vehicles! And for the record, the cycling community in Portland complain too.
I guess my point is this: I realize that there is no "RTH voice" per se, as there are many contributors with a variety of viewpoints. But when it comes to cycling infrastructure, pick a horse and roll with it.
If you don't like "bike lanes to nowhere", then stick to that conviction and don't try to have your cake and eat it too by calling out the City for not implementing a project which fits that very criteria.
If you support separated facilities, then for the love of God support the Cannon Street proposal and use those lanes when they get installed if it works for any part of your commute.
If my viewpoint is way off base, I welcome your comments. This is my opinion, and I'm still learning. RTH has taught me plenty over the years, and I don't think it is about to stop.
Post a Comment
You must be logged in to comment.