LIUNA Actions Invite Speculation on Lister Plans
By Mary Louise Pigott
Published June 11, 2008
In a brief item in the Spectator today, LIUNA vice-president Joe Mancinelli is quoted saying that the scaffolding surrounding the Lister Building is not a sign that the building is coming down, and that there are no plans to remove any parts of the facade.
He dismisses community concerns by suggesting "Crying wolf is really not helpful."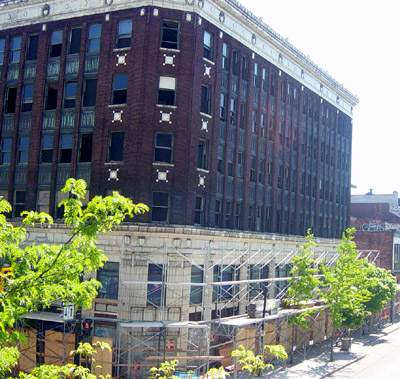 Scaffolding surrounds the Lister Building (RTH file photo)
However, according to the Building Department inspector I spoke to yesterday, many of the calls the department has received regarding the Lister are expressing concern due to the history of the demolition company doing the work, suggesting that LIUNA has brought much of the speculation on themselves by their association with Copper Cliff.
The Building Department also states that no historical elements are being removed at this time, and the Heritage Planning Department is also monitoring the situation.
Post a Comment
You must be logged in to comment.