Bad Things Come in Threes
Why are three of our civic institutions collaborating on such a bad deal for Hamiltonians?
By Graham Crawford
Published February 04, 2012
While there are many good things happening in downtown Hamilton, this piece isn't about any of them.
No, this piece is about the very bad use of nearly $100 million in taxpayer's money. It's also about the combination of bad decisions made, some during in-camera meetings from which the public was excluded, by three of our very local and very public institutions.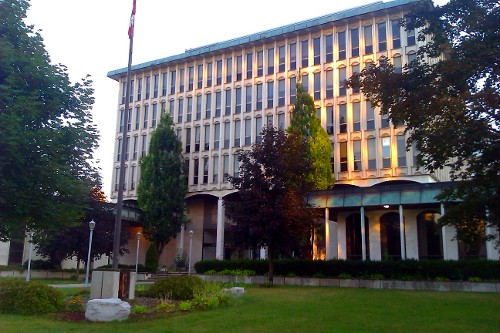 Board of Education Building, 100 Main Street West (RTH file photo)
The institutions are the ones that educate our children, teach our doctors, and lead our city. More commonly, they're known as the Hamilton Wentworth District School Board, McMaster University, and Hamilton City Council. Together, they're about to set a very bad deal in motion. A bad deal that will affect generations of Hamiltonians to come.
This isn't a new deal. In fact, they've been working on it for a few years. But, as with so many things civic, when the details of plans go public, citizens get worried. Based on the details shared so far, citizens should be very worried indeed.
So, what's going on? Well, that depends on who you ask.
Look at the deal from the perspective of the three public institutions
All three of the institutions agree Hamilton's downtown needs to be revitalized. City Council says McMaster University should have a presence downtown to show they're an active partner in this revitalization. Now, under new leadership, McMaster University seems to agree.
The Board of Education says they agree too, it's just that their idea of helping to revitalize downtown Hamilton involves moving their headquarters into a residential neighbourhood on the mountain near a shopping mall.
The Board will sell its headquarters across from City Hall and the land on which it sits, including the parking lot to the north of the HQ, to McMaster University for a proposed family Health Centre. The money the Board receives from the sale will contribute to the funding of their new HQ on the mountain.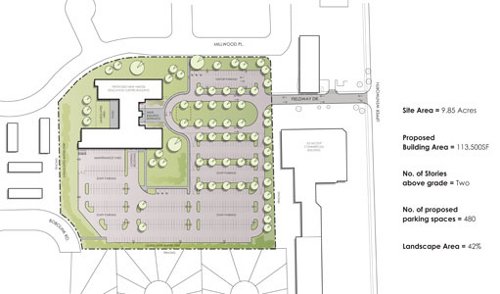 Proposed Education Centre site plan
McMaster is telling City Council they need the City to invest in their new Health Centre; otherwise, the deal is a no-go. To make the deal happen, Hamilton City Council is willing to invest, through a grant ($20 million) and a long term lease ($30 million).
Public Health employees will move from several different locations, the majority from the privately-owned Right House on Gore Park, into McMaster's new centre.
Council has been told the Board of Education jobs we lose to the mountain will be offset by the number of jobs the new medical centre will provide. McMaster will demolish the Board building, erect a new glass building in its place, and maintain the parking lot to the north until such time as a development opportunity may come along. That's the deal. At least at the time of writing.
Oh, one other thing. Board Trustees and senior staffers say that three years ago the Board tried to do a joint venture with McMaster and the City so the Board could stay downtown, but the Minister of Education of the day, Kathleen Wynne, said she would not permit the Board to be in the "development" business.
Kathleen Wynne is a very impressive and very competent leader and still part of the McGuinty Cabinet. Not sure why she, as the Board claims, chose to shut down this creative joint venture that would have contributed to the revitalization of Hamilton's downtown? Wonder if the new Minister of Education, Laurel Broten, has a different view? What I really wonder is why the Ontario Ministry of Education has a view on this deal at all.
Look at the deal from the perspective of Hamilton taxpayers
Already, our municipal tax dollars go to both the Board of Education and to the City of Hamilton. Provincially, and likely federally, some of our tax dollars go to McMaster University. As if that weren't enough, now McMaster wants $50 million of our municipal tax dollars too, in order to help fund their move to the core.
The land on which the Board's HQ sits currently at Main and Bay is land Hamilton taxpayers gave to the Board in the 1960s so they would stay downtown. Now, the Board is going to sell the land we gave them and use the proceeds to leave downtown.
This suggests the Trustees misunderstand the phrase "taking the high road". They seem to think it refers driving up the mountain, and has nothing to do with a taking a moral position.
Neither the Board nor McMaster pay any taxes to the City of Hamilton. So, we pay them, but they won't pay us. Ever.
The Board will demolish their poorly maintained Crestwood School on the mountain and then build a new, 2-storey, $31.6 million HQ on the Crestwood site with 480 parking spots in the middle of an established residential neighbourhood. Just in and out each day, that means approximately 1,000 new vehicular trips in the neighbourhood.
Wonder if the Board has done any traffic studies? Wonder if the homeowners know the impact 1000 new vehicular trips will have on their neighbourhood? And on their kids? Wonder what their Councillor, Scott Duvall, thinks of this?
I know my own Councillor, Jason Farr, along with Ward 1 Councillor Brian McHattie, are trying to keep the Board downtown. Perhaps others are "on board" with them?
Although McMaster could choose to build on the empty parking lot they will own on the corner of King and Bay, they prefer to demolish the existing Board of Education building and replace it with a new glass structure. A structure that replaces all of the current green space in front of the existing building with a glassed-in grand staircase.
As a result, you'll be able to sit on the stairs in a lobby inside the building, but you won't be able to sit on a bench in a park outside the building. A park that already exists. Too many Hamilton Councillors, and our Mayor, call this progress.
The 'Swing Space' Debate
The "Swing Space Debate" is now in the news. Even if this screwy deal goes through as planned, the Board's new HQ won't be ready for at least two years. McMaster wants to start demolishing the Joseph Singer-designed Board of Education building ASAP. That means the Board has to move into temporary space for two years.
As a result of this deal, two buildings get destroyed. Two buildings get built. 350 jobs leave the core. 400 move in. Generally, that's called a wash. At least it would be if weren't for the small matter of $50 million of taxpayer money required to make it all happen.
The Board's solution? Ask City Council to rent space from Yale Properties through a long term lease and then rent the space to the Board for two years. After that? Well, the Board doesn't feel that's their concern. You have to admit, at least the Board is consistent in their short-range, it's-all-about-our-needs thinking.
As a result of this deal, two buildings get destroyed. Two buildings get built. 350 jobs leave the core. 400 move in. Generally, that's called a wash. At least it would be if weren't for the small matter of $50 million of taxpayer money required to make it all happen.
In addition, let's add the issues of fair play, civic heritage, architectural preservation and reuse, environmental leadership, financial stewardship, to name just a few. I suspect you can add to this list.
City Council should be able to as well, but most of them seem to have fallen prey to the shiny. And to the new. And to the short-sighted. And, with apologies, to the stupid.
For those Councillors who are offended by my last comment, I have three words for you to help illustrate my point: Ivor. Wynne. Stadium. Another $50 million dollars of our money. Shiny. New. Short-sighted. And yes, stupid.
As Councillors struggle to cut $16 million from the 2012 budget so our taxes don't go up, perhaps they could rethink this deal while they're at it?
What can you do?
Calling your Councillor will help. So too, will calling your School Board Trustee. And, given claims by Board officials, calling the Minister of Education might be a good idea as well.
Perhaps it's even time to invite Premier Dalton McGuinty to Hamilton for a visit so he can see firsthand the impact the decision made by his Minister of Education has had on downtown Hamilton?
If his schedule permits, maybe he and I can take the bus up to Limeridge mall from downtown, like many citizens will have to do if they have business with the Board, and find our way over to the Board's new site.
Unlike the bad plan described in this article, I'll pay for the coffee and for the bus tickets myself. Won't cost the taxpayers of Hamilton a thing. Now, doesn't that sound like a good plan?
Contacts
Here are email contacts for the HWDSB trustees, City Council, Minister of Education Laurel Broten, Hamilton Centre MPP Andrea Horwath and McMaster University President Patrick Deane:
tim.simmons@hwdsb.on.ca, robert.barlow@hwdsb.on.ca, studenttrustee@hwdsb.on.ca, judith.bishop@hwdsb.on.ca, ray.mulholland@hwdsb.on.ca, todd.white@hwdsb.on.ca, laura.peddle@hwdsb.on.ca, lillian.orban@hwdsb.on.ca, wes.hicks@hwdsb.on.ca, alex.johnstone@hwdsb.on.ca, jessica.brennan@hwdsb.on.ca, karen.turkstra@hwdsb.on.ca, dlcouncil@hamilton.ca, lbroten.mpp@liberal.ola.org, ahorwath-co@ndp.on.ca, presdnt@mcmaster.ca
This article was first published in the February 2012 issue of Urbanicity.
Post a Comment
You must be logged in to comment.