Last Chance for Successful Stadium Resolution
By Jason Leach
Published December 23, 2010
I would like to offer my thanks for Council's stance yesterday that Hamilton's interests need to be served if we're going to spend $170 million in public money on a private company.
I am baffled that the Hamilton Tiger-Cats are willing to walk away from a beautiful new waterfront stadium being handed to them by the taxpayers. To cave into their every wish would reek of corporate welfare, and as a citizen of our great city I am grateful that you are willing to draw a line in the sand.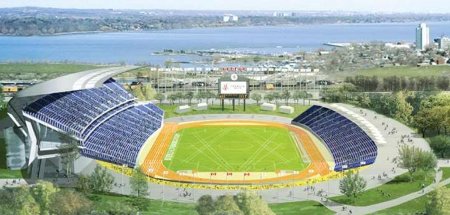 Proposed West Harbour Pan Am stadium rendering
With no election on the horizon, it is abundantly clear that City Council holds the cards. Council has consistently made the right decision on this matter and I would encourage one final attempt at the West Harbour now that the Cats realize their options are Ivor Wynne, another city, or West Harbour.
Earlier this year, there was talk of Frank Gehry being interested in the West Harbour stadium project, along with the city's Downtown Development Corporation.
I would love to see a world-class pitch made to the Cats outlining a Gehry-designed stadium and surrounding entertainment district with condos and mixed-use developments that would make their stadium the envy of Canada.
Sure, they won't get their 7,000 car parking lot, but they're getting a beautiful new publicly-funded facility in a great location. I'm sure the Winnipeg Blue Bombers would love to be handed $170 million right about now for their new stadium.
I realize that this is how the 'game' is played in cities all across North America. I'm proud to live in a city that didn't cave to the outlandish demands and threats of our sports team.
Quite simply, most of the public and council understand that our Future Fund money is much too valuable to waste on a big box complex and thousands of parking spaces on the periphery of town.
The Ticats' own ticket-holder survey last year showed a huge interest from fans in using GO Transit and an LRT line to attend football games. The West Harbour can easily accommodate both. Road access from Hwy 403 is much superior than the current situation at Ivor Wynne, and is superior to the road access in virtually every CFL stadium.
Remember: Winnipeg's new stadium is being built on a university campus next to university buildings, a golf course, a river and a couple of parking lots.
The Pittsburgh Steelers have built two stadiums next to each other on their downtown waterfront, totaling 105,000 seats. They have a 5,000 car parking lot and everyone else manages to get to the games just fine.
Their percentage of parking spaces compared to stadium seats is equal to us having room for 1,400 cars for a 30,000 seat stadium. The West Harbour can support that, and much more.
I realize that you can only lead the Cats to a great opportunity and ultimately they have to make their choice, but I urge Council not to lose focus of the Future Fund mandate and the amazing potential that exists at our West Harbour site for a huge, mixed-use development that the Katz group referred to as one of the last great urban waterfront development locations in Canada.
Pittsburgh even used a similar 'winged' stadium design to what was proposed for our West Harbour:

Heinz Field, Pittsburgh (Image Credit: Wikipedia)
The end of the road is near. Council must continue to put the city's interests on the table and let's hope for a resolution that will be successful for everyone.
Post a Comment
You must be logged in to comment.