Future Fund Board Rejects East Mountain Stadium
The Future Fund Board of Governors voted to recommend that the Future Fund not be used toward building a Pan Am stadium on the East Mountain.
By RTH Staff
Published July 27, 2010
At today's Board meeting, the Future Fund Board of Governors voted to recommend that the Future Fund not be used toward building a Pan Am stadium on the East Mountain.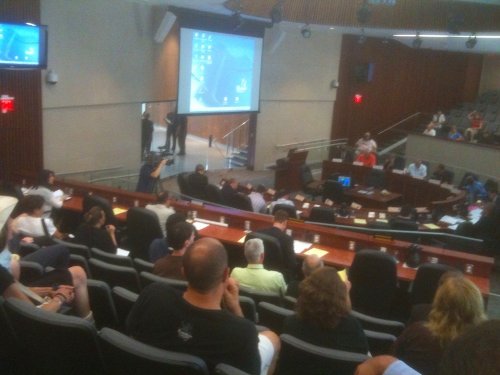 Attendees at the Future Fund Board meeting
Hamilton Light Rail spokesperson Nicholas Kevlahan told the Board, "The Future Fund shouldn't spend $60 million of Hamilton money to make it easier for people from Kitchener-Waterloo, London, Burlington or Brantford to get to Ticat games."
Downtown activist Matt Jelly, whose intrepid investigative reporting has recently uncovered two unguarded sites of potentially toxic waste - one of them on the West Harbour site and the other on Wentworth Street North - made an impassioned plea to scrap the stadium and spend the money cleaning the toxic sites he found.
The Governors voted to reaffirm their previous decision to endorse spending the Future Fund money on the West Harbour because this is consistent with the Fund's goals; but added that the money should not be spent at the East Mountain if Council decides to put the stadium there.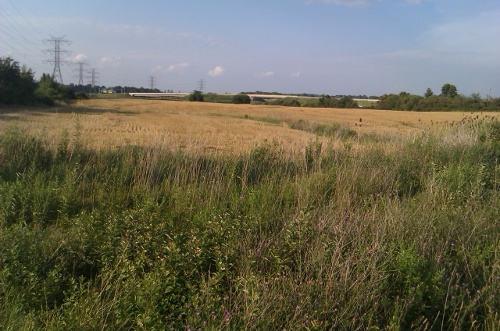 Proposed East Mountain Pan Am Stadium site
The Board also voted that the money should be regarded as a loan, not a grant. The Board originally recommended loaning the money, but Council voted to make it a grant instead.
Controversy Over Board Mandate
The Board is an advisory body whose recommendations are not binding on Council. Prior to the meeting, a controversy erupted among Board members and councillors over whether it was appropriate for the Board to discuss the alternative East Mountain site after already endorsing the $60 million expenditure of Future Fund money to help finance the stadium.
Board members argued that the previous decision was made in the context of a public site selection process that strongly favoured the West Harbour, but some councillors, like Brad Clark, argued that it would be "unrealistic" for the Board to decide retroactively that their approval was "site specific".
Clark pointed out that the Board had "no real authority" and argued further that a new meeting to reconsider the expenditure "would be at best inappropriate and in the worst case deemed out of order."
However, several other councillors, including Brian McHattie, Scott Duvall and Terry Whitehead, argued that it would benefit Council to hear the Board's recommendation. Duvall called it "insulting" to suggest the Board has no authority, and McHattie reaffirmed that the Board has "the right to pass resolutions and share their thoughts with Council."
McHattie also argued that spending the Future Fund on the East Mountain site is "less supportable" given the Fund's city-building mandate.
Post a Comment
You must be logged in to comment.