Dalton Timmis Has Left the Building
The siren song of "free" parking and highway accessibility has lured another business out of the core.
By Trey Shaughnessy
Published April 14, 2005
Dalton Timmis Insurance is moving out of the downtown to a new location in The Meadowlands.
Dalton Timmis' head office was located in the HSBC Building at the corner of Hughson and King at Gore Park. The website features a photo of the Gore fountain, as presumably this was important to the image of the company.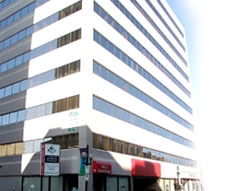 Daltom Timmis in the HSBC Building, Hughson and King
Unfortunately, they will be relocating to 35 Stone Church Road, effective May 1, 2005, according to their postcard. This building is under construction near the intersection of Golf Links and Stone Church.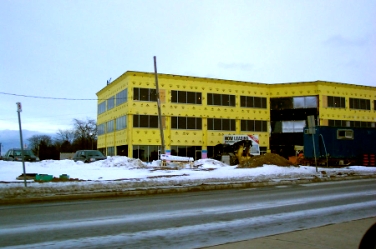 New Location: 35 Stone Church Road
I didn't receive a reply to my email, so I can't comment as to why this decision was made. However, the postcard says "Free Parking", and "Easily accessible from the Linc & Hwy. 403". I can only assume that the decision was based on making it convenient for the car. Lets hope it has "free" parking because with this location a car is mandatory.
All the best, Dalton Timmis, and enjoy your lunchtime visits to the drive-thru fast food chains and the sweltering summer heat radiating from the surrounding asphalt.
I know you won't miss Gore Park and the many restaurants, coffee shops and shopping destinations within a short walk. Since public transit is no longer an option, maybe an all-employee-wide raise is in order to compensate for the price of gas, too.
Post a Comment
You must be logged in to comment.