Changing the Rules
Most cyclists already treat stop signs as yields without incident. Why not make it official?
By Sean Burak
Published June 27, 2007
When people think of transportation reform, the immediate feeling is that it will take too long, cost too much, and be too difficult for the general public to commit to.
However, shifting the transportation paradigm in our city does not have to be expensive. There are several things we can do right now, for very little money, and with immediate benefits to everyone in Hamilton (and the surrounding regions).
Most would agree that there are severe problems with the current transportation system. The recent pedestrian deaths in our city are a clear indication of the meager safety levels of our roads.
Regular air quality warnings leave no question that we are pumping too many smog-forming chemicals into the air on a daily basis, the majority of which come from the tailpipes of our automobiles.
We can't afford to wait any longer: we need to make changes now.
Strength in Numbers
The best way to reduce the number of injuries to pedestrians and cyclists is to increase the number of pedestrians and cyclists on the road.
This is counterintuitive, since we would expect to see more injuries within a given group as the group size is increased. The reasoning behind this unexpected result is that motorists become more aware and more respectful of cyclists and pedestrians if they encounter more of them on a daily basis.
Additionally, an increase in human-powered transportation generally results in a decrease in car use - and automobile involvement is the major factor in almost every case of pedestrian or cyclist injury.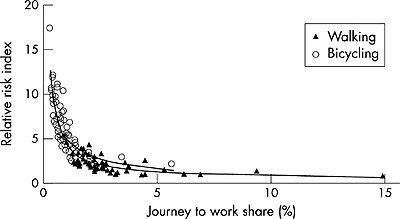 Likelihood of an injury decreases as walking or bicycling increases. (Image Source: injuryprevention.bmj.com)
A neat side effect of increasing pedestrian and cyclist activity is a reduction in emissions due to the decrease in automobile kilometres travelled.
Reducing the number of car drivers will also directly save lives: in the year 2000 [PDF], 77.7 percent of the people killed on Canada's roads were drivers or passengers, 12.6 percent were pedestrians, and only 1.4 percent were cyclists.
Clearly, one of the most important things we can do to improve the safety of our roads (and reduce the overall impact of daily travel) is to get as many people as possible out of their cars and onto their legs.
While many approaches to acheiving this goal cost vast amounts of money, the cheapest solution (and the one we should start with) is to change local laws such that they encourage these transporation methods and discourage vehicle use.
Specific Laws for Specific Users
We already have many traffic laws which differentiate between different types of vehicles.
Based on their size and manoevreability, trucks have extra restrictions regarding where they can go and what they can do.
Buses are often allowed to pass through intersections and utilize lanes where other vehicles are restricted.
Transit lanes, carpool lanes, truck routes, taxi zones, bike lanes and pedestrian crossings are all examples of laws which cater to specific road users.
Most traffic laws exist for the primary purpose of protecting the safety of travellers. On the other hand, there are some laws which exist purely to provide convenience and to speed the flow of traffic.
Examples of such laws include specialty lanes for taxis and buses, advanced green lights and permitting turns on red lights.
If we want to entice people toward riding and walking, we need to strengthen the safety-oriented laws and beef up their enforcement.
We also need to shift the convenience-oriented laws from being car-centric to being human-centric. We need to recognize that cyclists are not cars and pedestrians are not cars - and we need to change the rules of the road to reflect these facts.
Pedestrian-Friendly Possibilities
It is no wonder that people are afraid to take to the sidewalks in our town. Most of our streets look like highways, feel like highways, and attract driving habits to match.
We need to consider seriously some new laws that would heavily promote their safety:
Give pedestrians right of way at all intersections, and reprogram light cycles where possible. Give pedestrians time to cross streets in a safe manner, and reduce their wait times.

Allow parking on high-speed streets, especially those whose sidewalks abut the road. This will provide a buffer between potentially dangerous cars and the unprotected pedestrians.

Reduce the speed limits throughout the city. We will soon be surrounded on all sides by highways. We need to ensure that all of the highway mentality stays on the highways.

Disallow turns on red lights. Allowing turns on red lights creates situations in which cars are moving through crosswalks where pedestrians may not expect them to be.
An advantage shared between all of these law changes is not only an increase in convenience and safety for pedestrians, but a decrease in convenience for motorists, which is exactly what we need to be aiming for.
In addition, we need to ensure that all future development is pedestrian friendly. This should happen through vast changes to the building code and bylaws, including:
Reduce or completely remove the arcane parking requirements for new businesses.

Allow for higher density living arrangements in all neighbourhoods.

Allow (and in fact, encourage) mixed use development, so that residents can access all essential services within a few blocks intead of having to drive across town.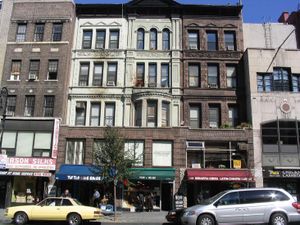 Example of mixed use building in New York, NY (Image Credit: Wikipedia)
Selling it to Cyclists
Getting more people onto bicycles has the potential to create an even larger positive impact on the transportation system as a whole.
Since a cyclist's range (and speed) is much greater than that of a pedestrian, people will be more likely to replace their car with a bike than simply to walk everywhere.
While the measures listed above will benefit bikers as well as pedestrians, we need to work even harder to protect cyclists and encourage cycling as much as possible.
Unfortunately, the traffic code currently treats bicycles as second-class citizens.
Since it is horribly dangerous to ride a bike on sidewalks (both to the rider and to pedestrians), it makes sense to ride bikes on the road. The rules of the road, however, were written with cars in mind - and we have tried to apply these rules to cyclists as if they were cars.
It is a simple fact that bikes are not cars.
A bicycle (with rider) weighs a fraction of even the smallest car (even when empty). A cyclist has no physical protection from surrounding vehicles. A bicycle has no engine with which the operator can zoom away to evade a dangerous situation.
A bike isn't equivalent to a car any more than a car is equivalent to a train. It is time to change the laws governing bikes - for the cyclists' safety and for the good of our community.
Once again, it is possible to make cycling a much more attractive alternative without the huge expenditures required when creating dedicated lanes, installing traffic calming devices, and cutting specialized trails through the city (although these would be great too).
It is possible - and desireable - simply to change some existing traffic laws to favour cyclists over cars:
Allow cyclists to treat red lights as if they were stop signs. A cyclist stops on a red, and proceeds when the intersection is clear.

Allow cyclists to treat stop signs as yield signs. A cyclist slows down when approaching a stop sign, stops if another vehicle is approaching, and proceeds when safe.
While these two proposed changes will provoke very strong knee-jerk reactions from most motorists, they have actually been practised successfully for quite some time in other jurisdictions (such as the state of Idaho).
The following arguments should also be considered:
Most cyclists treat all intersections in this manner now and cause a statistically tiny number of incidents. By making the most common choice legal, and by making the legal choice the most convenient one, we can be sure that almost all cyclists will follow the new rules.

This will make the cyclist/car interaction at intersections much more consistent, and will remove the guesswork currently required by motorists when they reach an intersection alongside a bike.

We already rely on motorists to use their discretion when turning right on a red light - it is up to them to decide when it's safe to proceed. These new laws would extend this "trust of the operator" to cyclists, at the same time giving them a slightly higher degree of freedom.

Cyclists are in a much better position to judge the safety of an intersection. They sit higher than most cars, and can stand to get a better view. They have no engine or passenger compartment blocking out traffic noise, and their relatively light weight allows them to stop in much less time and distance than a car.

Stop signs and lights were designed specifically to control the flow of car traffic, primarily due to the safety threats they pose. They were not designed to accommodate cyclists, whose potential to inflict damage on others is miniscule in comparison to even the most compact of cars.

Frequent stopping is physically demanding and highly detrimental to cyclists, who must rely on their own muscles to return to cruising speed. For example, the average speed of a typical rider on a street with stop signs every 90 metres will be 40 percent lower than on one with no stops.

Alternatively, to maintin the same average speed, the rider will have to use five times as much muscle energy [PDF].

Cyclists tend to aviod routes that require frequent stops, yet these routes are typically the safest for them. By allowing cyclists to use their judgement at each intersection, they will be more likely to choose the safe route regardless of the number of stop signs, and they will be less likely to ride on the major corridors where there are no stops.

Encouraging cyclists to move off of the major streets will also benefit drivers, since there will be fewer occasions where a motorist has to slow down to safely pass a bicycle.

It is much easier to make already-safe streets more attractive to cyclists than it is to make dangerous streets safer.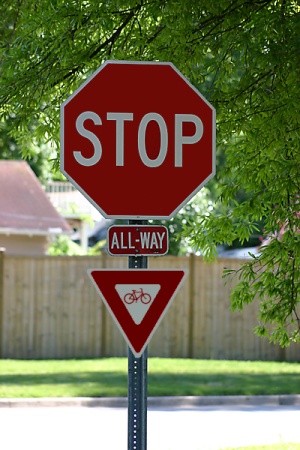 Mock-up of potential signage that could be used to make the new laws clear to all road users.
Which Laws and When
As part of a long term strategy to increase cycling and walking, simple law changes are the fastest and cheapest solution, and should be implemented as a first step.
We should start with promoting the pedestrian to king of the road, and give them right of way everywhere. We should follow that by changing the laws at intersections for cyclists.
We can then proceed with lowering speed limits, eliminating turns on reds for cars, and bylaw changes, since these will likely take much longer to be accepted and applied.
Once we have the foundation set in terms of laws, we can get serious about changing the face of transportation in this city through physical construction projects such as traffic calming, transit improvements and walkable neighbourhoods.
The geography of this city is perfect for creating a beautiful transportation system that takes everyone's needs into account.
Let's stop talking about it and start making it a reality.
Post a Comment
You must be logged in to comment.