Trying to Kick the Car Habit
City Hall is committed to walkable streets, but on the Department of Public Works' terms.
By David Cohen
Published November 23, 2006
The purpose of transportation is to bring people or goods to places where they are needed, and to concentrate the greatest variety of goods and people within a limited area, in order to widen the possibility of choice without making it necessary to travel. A good transportation system minimizes unnecessary transportation...

-- Lewis Mumford, The Highway and the City (1963)

The erosion [of cities] proceeds as a kind of nibbling, small nibbles at first, but eventually hefty bites. Because of vehicular congestion, a street is widened here, another is straightened there, a wide avenue is converted to one-way flow, staggered-signal systems are installed for greater movement...

-- Jane Jacobs, "Erosion of Cities or Attrition of Automobiles," Ch. 18 in The Death and Life of Great American Cities (1961)
Hamilton is different. This city took a hefty bite right off the bat.
In October 1956, when it had a viable downtown core and walkable streets, Hamilton converted all of its major lower-city streets from two-way to one-way - in one night!
Then, over time, came the smaller bites - the staggered-signal systems, street widenings, off-street parking, and turning radii.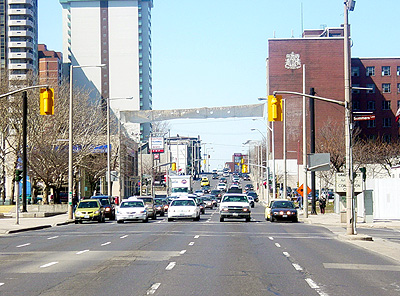 Main Street mainlines car traffic (RTH file photo)
We became addicts. Small bites didn't satisfy us. In the '90s we needed another hefty bite - a real hit. We got the Linc. But that didn't really do it. We needed the Big One.
We were thwarted, but we persisted. Finally, we're getting it, the Red Hill Valley Expressway - sorry, Parkway.
Now, it seems - surprise! - we want to kick the habit! A heroin addict goes on methadone. What does a car-addicted city do? How about: organize a pedestrian workshop?
Pedestrian Workshop
Hamilton wants to kick its movement/speed habit. It wants a walkable city. You can't believe it? Well, talk to Mary Lou Tanner.
Tanner is Manager, Strategic and Environmental Planning in the Public Works Department. She and her staff organized the Hamilton Pedestrian Workshop last Monday. They invited Florida-based walking expert Dan Burden to preside.
Hamiltonians who want a walkable, cyclable, shmoozable, pro-small-business - in a word, livable - city are used to disappointment. But they are eternally optimistic nevertheless. About a hundred of them turned up for the workshop, which was held in the Hamilton Convention Centre.
Proceedings began with attendees being asked for their "shared pedestrian vision and values." (It is worth noting that not one of the attendees responded by punching one of the organizers in the nose.)
Instead, they enthusiastically and freely offered their vision (hi there, Vision 2020) and their values. They stuck coloured little circles of paper next to a list of pedestrian-enhancing strategies listed on large sheets of paper that in turn were stuck to a wall.
Heading the list, naturally enough, was wider sidewalks. It got 41 votes. "More two-way traffic" came second with 32 votes, tied with "structures" meant to calm traffic. Roundabouts were in fourth spot with 28.
Before and After
Then the attendees ate wraps for dinner and retuned to their seats watch a slide show presented by Burden. Using examples from the U.S. and Canada (he considers Victoria the most walkable city he has ever seen), Burden screened an array of before-and-afters.
He recommended: make one-ways two ways, except in cases where the street is exceptionally narrow; narrow car lanes (to as little as ten feet in width); install bike lanes wherever possible (which means in almost every case); and plant trees between sidewalks and roads - better on the other side of the sidewalk if possible to form a canopy.
He also recommended: listen to generalists. So-called experts generally get it wrong as they pursue their narrow, bureaucratic interests.
Sixteenth-century Spanish pirates did a better job of designing the old part of Sarasota, Fla. than their 20th century counterparts - especially traffic engineers.
Priority Projects
After Burden came the second segment: identifying "priority projects that would realize the identified vision and values."
Logical enough. Attendees sat down at tables equipped with maps of the city and coloured markers. Again, they responded enthusiastically, colouring their maps, busily listing their priorities.
Not surprisingly, the attendees want Hamilton to resemble the many "afters" in Burden's slides. They want bike lanes that don't peter out but are continous so that they become real commuting routes. They want roundabouts, narrower car lanes, more trees, streets - main streets, important streets - that are not traffic sewers but people places.
They want a walkable, livable city, not a dangerous, movement-crazed, thinned-out place that 50 years of car-first planning and traffic engineering has created.
No surprises here. What is surprising, in a way, is that this workshop was organized by the Works Department.
Public Works
This department has not been heretofore known for its love of pedestrians. They have, rather, regarded them as nuisances that must be tolerated but not encouraged. Above all, they must not be allowed to significantly impede traffic flow.
According to Tanner, a "philosophic change" occurred in her department two years ago - just after Hamilton got its biggest car/movement/speed hit, the RHC Expressway (no - Parkway!) under construction.
It does seem significant that this initiative is coming from the Public Works Department, and especially its Strategic and Environmental Planning section. Some observers think that this is Hamilton's de facto planning department.
If something is to get done to make Hamilton a walkable city, they argue, Public Works is going to do it. (Similarly, the president who extricated the U.S. from Vietnam was Richard Nixon, a hawk and militarist par excellance.)
But this will be a walkable city on Public Works' terms. Tanner said current plans are for King Street to be converted to one-way, but not Main.
Unbalanced Transportation
Why? Ed Switenky, Acting Manager, Traffic Engineering and Operations, speaking on behalf of one of the reporting tables, offered a hint: Main is not a good candidate for conversion because of its heavy traffic load - 40,000 cars a day.
Where will the cars go? Jane Jacobs, if she were still around, would say - don't worry, many will simply disappear. Their drivers will find other means of transportation.
But Switenky and Public Works, which has been the main proponent of the one-way system since October 28, 1956, are not ready to let go - yet.
Tanner touts a "balanced" transportation system for Hamilton, but it remains to be seen just how balanced she and - ultimately - the Council is prepared to go.
Hamilton currently has one of the most unbalanced, pro-car systems in Canada. Any re-balancing will be an improvement. But are we going to accept half-measures when it is beyond dispute that two-way streets, wider sidewalks, trees, etc., will make Hamilton the city we want it to be?
Post a Comment
You must be logged in to comment.