LRT Report Charts Course for City to Implement Light Rail Successfully
A new report calls on Council to approve a multi-disciplinary LRT Office that will work with Metrolinx and engage with Hamiltonians to ensure LRT success.
By Ryan McGreal
Published August 06, 2015
This article has been updated.
On Monday, August 10, the General Issues Committee will receive report CM15014, "Fostering the Light Rail Transit (LRT) Project". Because the City's website for meeting agendas is deranged by design, we can't link directly to the report, but here's a page of links to the report and its appendices.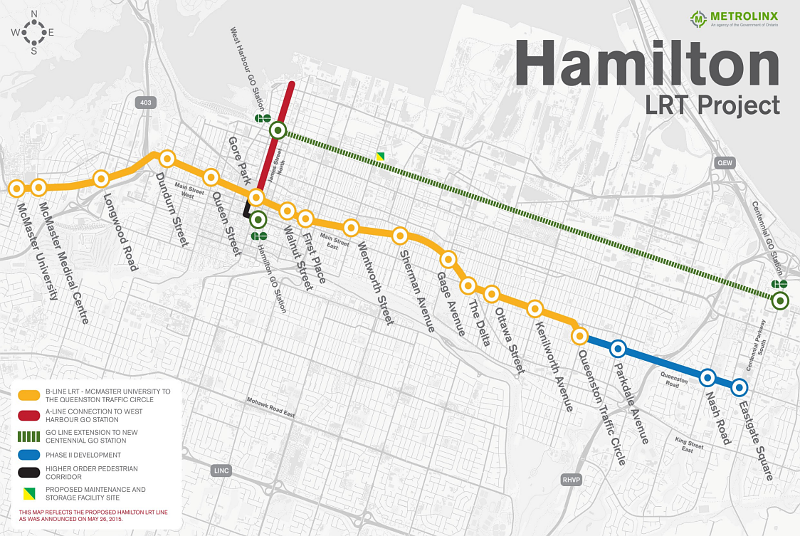 Hamilton LRT/GO expansion map
The report calls on Councillors to approve the establishment of a new Rapid Transit office to coordinate with Metrolinx, align the various City departments that will be affected by the LRT investment and engage with the public. It recommends bringing back transportation consultant Steer Davies Gleave, which worked with the City on its original LRT planning, to complete the new design and environmental assessment work on the modified LRT plan.
That new plan, announced with full capital funding on May 26, includes a B-Line LRT running from McMaster University to the Queenston Traffic Circle, an A-Line LRT connecting the B-Line with the West Harbour, and a pedestrian connection to the Hunter Street GO Station.
The contract with Steer Davies Gleave is expected to cost around $2 million, with the work starting in August 2015 and completing on an aggressive timeline in March 2017. That will give Metrolinx time to tender construction contracts before the end of 2017, with the actual construction beginning in 2019.
That required planning also includes finding an LRT maintenance and storage facility. The City currently owns a bus storage facility at 330 Wentworth Street North and the staff report recommends buying an adjacent property to house the LRT facility.
LRT Office, Sub-Committee
The report recommends establishing a new multi-disciplinary LRT office under the Planning and Economic Development Department. The members would include a project lead, a transit lead, a land use planning lead, and representatives for transportation and complete streets, communications and community engagement, public health alignment, traffic signals/systems integration, capital works project engineering, real estate law, and property development.
This cross-organizational approach is reflected in the authorship of the report, which includes HSR Director David Dixon, Transportation Director John Mater, Construction Director Gary Moore, Planning Director Steve Robichaud, and Associate Medical Officer of Health Dr. Ninh Tran among the list of contributors.
The Public Health implications of LRT are significant:
Community design is the domain of land use and transportation planners; however, public health has a responsibility to collaborate with city and other stakeholders to ensure the built environment supports health. Active transportation and public transit reduces traffic related deaths and injuries, improves air quality, increases physical activity, improves mental health, and encourages more social interaction. Moreover, it provides access for all citizens to programs, services, education, and employment.
Sot it's encouraging to see Public Health at the table in a high-level capacity.
The LRT office would be overseen by a new Sub-Committee of Council including the Mayor, the Councillors for wards 1 through 4, two additional councillors from the mountain/suburbs and "key stakeholders", including representatives from the Chamber of Commerce, Hamilton-Halton Home Builders Association, BIAs and institutional and business partners.
I hope there will also be a space for a representative from Hamilton Light Rail, the community organization that began the process of advocating for LRT in Hamilton back in 2007, before the City had even established a Rapid Transit Office.
Urgent Land Use Planning
The old Rapid Transit Office was located under the Public Works Department, with a parallel Nodes and Corridors Study group under the Planning and Economic Development Department. The Nodes and Corridors Study identified the changes that need to happen in a Secondary Plan for the transit corridor to support and encourage new transit-oriented development.
Now the City needs to hurry to ensure that the zoning along that corridor supports urban, transit-oriented growth. The corridor is currently zoned under Zoning By-Law 6593, which was established in the early 1950s to allow low density residential (D), medium density (DE) or commercial (H) use.
The by-law reflects the time it was written and includes minimum building setbacks, maximum heights and minimum parking and landscaping requirements. It makes no differentiation between an urban and suburban context or the unique character of the area where the regulations apply.
There is no requirement for transit-supportive land use (i.e. discouraging auto-oriented use like auto dealerships, service stations and drive-thru restaurants), no requirement for ground-floor commercial use and no specific built form requirement.
The LRT corridor is currently subject to "Site Plan Control", which regulates the physical development of a site but cannot regulate the use of land. As a result, planning staff cannot negotiate changes to a proposed site plan if it complies with zoning provisions, even if the land use is incompatible with LRT.
The transit corridor is predominately designed as H Commercial. This permits a wide range of uses including retail, automobile-related uses, restaurants including drive-thrus and residential including single detached houses.
Planning staff are working on developing a new "City-wide Commercial and Mixed Use Zoning" by-law that will update the Urban Hamilton Official Plan (UHOP), which designates Main, King and James as prime corridors and encoruages transit-supportive development.
However, it won't be complete until late 2016 or early 2017, and it may meet OMB appeals that will delay it further. Therefore, the City has to expedite its zoning update for the transit corridor outside the context of the City-wide Commercial and Mixed Use Zoning process.
One option the Planning Act allows is an Interim Control By-Law (ICBL), which places a hold on development for up to two years while the planning study proceeds. As the report notes:
To fully capitalize on the growth related opportunities associated with the implementation of the LRT, new development and/or redevelopment should align with the vision established in the Urban Hamilton Official Plan for complete streets and transit supportive development. The existing zoning provides for development to occur that may not align with this vision. As such, there is merit in proceeding with an ICBL while staff complete the zoning review for the lands along the LRT corridor.
Otherwise, there is nothing stopping property owners from rushing to build low-density, automobile-dependent developments that will undermine the potential for LRT to transform how people choose to live and get around.
Far-Reaching Implications
The report notes that the LRT investment will have "far-reaching implications beyond transportation", including elevating the role of public transit, spurring new economic growth and development, accelerating the revitalization of the downtown core, supporting the redevelopment of the waterfront, and further integrating McMaster with the rest of the city and especially the downtown core.
LRT will also have significant financial implications for the City. In addition to generating new economic activity through new developments and increased employment, it will also lead to new property tax assessments and increased property tax revenues, new development charges, new operating costs for the LRT office, changes to the operating costs and revenues for conventional transit service, and necessary capital costs for projects not deemed eligible for Provincial funding.
The City will have to retool the bus network so that it is "integrated seamlessly" with LRT. In particular, the B-Line corridor is currently served with 18 buses that can be redeployed to increase service levels across the city once LRT is in operation.
The City is also looking to engage with neighourhood groups and NGOs to leverage the maximum community benefits for mixed-income neighbourhoods that will be affected by LRT. The line will cross several neighbourhoods that are part of the City's Neighbourhood Action Strategy - Jamesville, Beasley, Gibson and Landsdale Association (GALA), Sherman and Crown Point - and LRT will provide opportunities for jobs and social enterprises.
Financing and Procurement
Metrolinx is recommending a Public Private Partnership (P3) financing and procurement model, specifically a Design-Build-Finance-Operate-Maintain (BDFOM) contract that will span 25-30 years.
So it is not yet clear who will operate and maintain the LRT system, but there is a possibility to contract the operation and/or maintenance to the Amalgamated Transit Union (ATU), which represents the HSR employees.
There is also a possiblity to change the Development Charges Act so the Province can use Development Charges to help fund the LRT project costs. Under this scenario, the City would administer DC collections and remit the money to the Province to pay for LRT project costs.
Main Street
For years, the City has insisted that it can't make any changes to Main or King Street because of the possibility that LRT is coming. With confirmation that LRT on King Street is on the way, we now have an urgent opportunity to redesign Main Street so that it supports the same urban redevelopment goals as LRT, while at the same time providing some westbound automobile traffic capacity during LRT construction on King.
During the City's short dalliance with a bus-only lane on King Street, we noted that Main Street sat nearly empty while traffic was backed up on King. This makes no sense: Main Street needs to be converted to a two-way street so that people can travel both east- and westbound on it.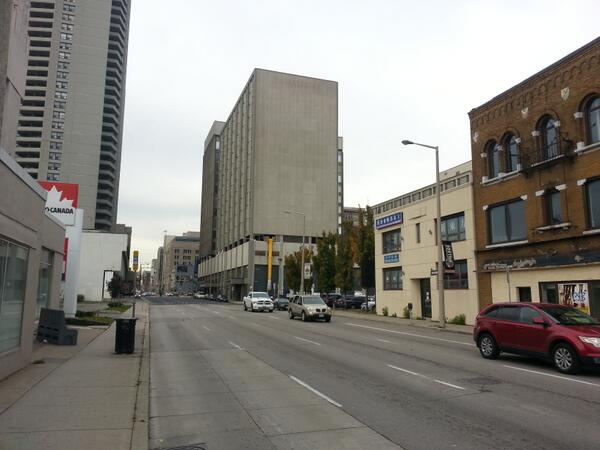 Main Street almost empty while traffic was backed up on King Street (RTH file photo)
This was recommended in the Metrolinx Benefits Case Analysis, which concluded that two-way conversion supports LRT success and "is more supportive of the City's objective to create a healthy, more pedestrian-friendly downtown."
It was also recommended by Steer Davies Gleave, the transit planner the City used to do the functional and detailed design for the B-Line, but the former Rapid Transit Office opposed the conversion on the grounds that "There is still a need for some traffic to move easterly across the City, and Main Street fulfills this role."
If Council approves the LRT report currently before it, the window to do something good with Main Street will close rapidly. It states:
Given the anticipated extent of construction impacts along the LRT route it will be undesirable to have construction impacts on alternate or parallel routes during this time. It is necessary to consider the condition of these adjacent routes far enough in advance to be able to address any road condition, capacity or safety related deficiencies as well as any upgrades to underground assets (water, sewer, etc.). As previously noted any construction on these roads would compound any traffic congestion caused by the LRT construction. Therefore any upgrades to parallel routes, as well as an analysis of complete streets in the vicinity, need to be completed prior to the commencement of the LRT program projects. Any further improvements/rehab/replacement would then have to wait until completion of the LRT project.
In other words, if we don't fix Main Street before LRT construction starts in 2019, it will be locked in until the LRT construction is completed five years later.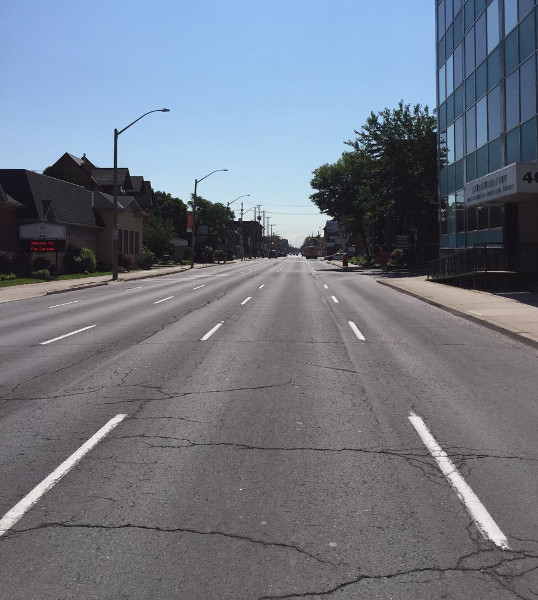 Main Street East between Erie and Ontario (Image Credit: Adrian Duyzer)
The City absolutely can't afford another decade of stagnation on Main Street - especially when it will be well within the half-kilometre transit-oriented development corridor around the LRT on King Street. Quite simply, Main Street as a five-lane one-way thoroughfare repels pedestrians, businesses and investments.
Even the large 150 Main condo/hotel development at Main and Caroline opens onto George Street, a narrow lane between Main and King, rather than onto Main Street itself. No one wants to live, work or play next to a five-lane expressway. Council has to get this right, and they have to do it quickly.
---
Update: this article originally stated that the LRT office would report to the City Manager, but that is incorrect. The LRT office will be part of the Planning and Economic Development department, reporting to the senior management team through P&ED General Manager Jason Thorne. RTH regrets the error. You can jump to the changed paragraph.
Post a Comment
You must be logged in to comment.