Liberals Announce $1 Billion Funding Commitment for LRT, GO Expansion
Full capital funding for an LRT line running between McMaster and Queenston Traffic Circle with a link to the waterfront and expanded GO service to Stoney Creek.
By Ryan McGreal
Published May 26, 2015
The Ontario Government announced full capital funding for Light Rail Transit (LRT) and expanded GO service at a press conference this morning held in McMaster University.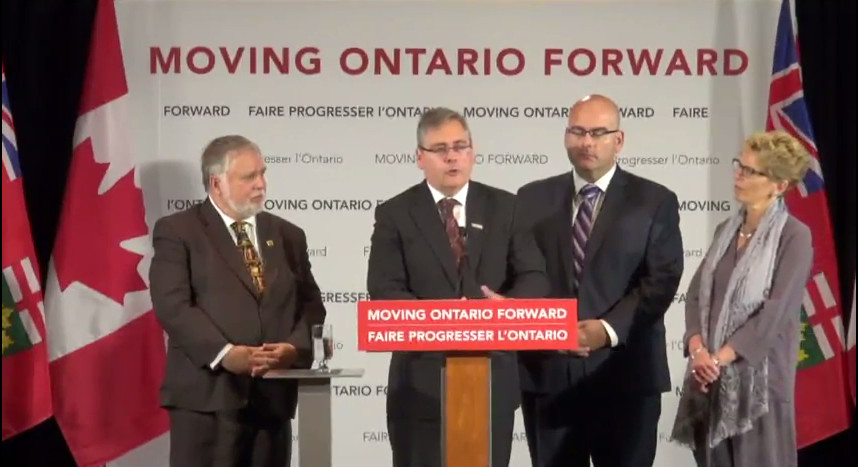 Municipal Affairs and Housing Minister Ted McMeekin, Metrolinx CEO Bruce McCuaig, Transport Minister Steven Del Duca and Premier Kathleen Wynne at the Hamilton funding announcement
The Government will spend "up to $1 billion" on a phased east-west B-Line LRT route running between McMaster University and Quenston Traffic Circle, with an eventual plan to extend the line to Eastgate Square in the future.
The new LRT line will also include a north-south line running on James Street North to the waterfront and connecting the new West Harbour GO station, which is currently under construction.
At the same time, the Province also announced expanded GO service to a new station on Centennial Parkway, which will start construction in 2017.
You can watch a video of the event, recorded by Joey Coleman of The Public Record:
The announcement was moderated by McMaster University President Patrick Deane, and featured presentations by Ontario Premier Kathleen Wynne, Transport Minister Steven Del Duca, Municipal Affairs and Housing Minister Ted McMeekin, who is also MPP for Ancaster-Dundas-Flamborough-Westdale, Metrolinx CEO Bruce McCuaig, and Hamilton Mayor Fred Eisenberger.
Responding to a question, Minister Del Duca said the Province will be "sitting down with the City to define the scope of the project, what is included" in the funding, with "a very solild commitment of up to $1 billion to complete the project."
The shorter initial line length, terminating at Queenston Traffic Circle, came about through discussions with the City about how to achieve a connection to the West Harbour GO station and expand GO service to Stoney Creek while staying within the $1 billion budget.
Asked about the City's request of $302 million to pay for local service expansion and a new bus storage facility, Del Duca said, "The focus of the announcement today is LRT and the extension of GO service."
He added the Government will look at "other ways the Province can work creatively with the municipality to support additional requests."
Asked whether this project needs another Council vote to go ahead, Del Duca replied, "I certainly think there is tremendous support to move ahead with these projects."
Wynne: Build Up by Investing in Infrastructure
In her prepared remarks, Premier Wynne said, "It is the goal of everyone in this room to increase the viability of this city and the prosperity that everyone can enjoy."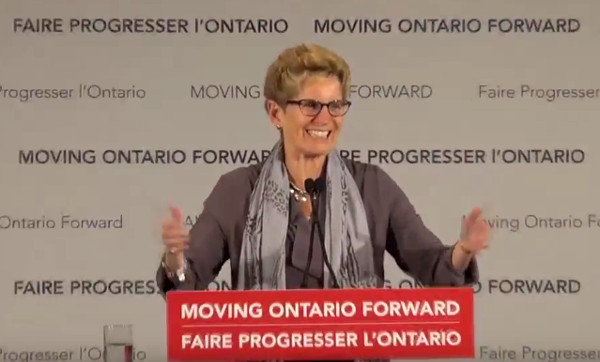 Premier Wynne at Hamilton LRT announcement
Wynne spoke about Ontario's - and Hamilton's - history of strategic investment in transportation infrastructure and the great benefits we have enjoyed from it. "We built our selves up by investing in infrastructure."
After noting that the Province has fallen far behind on its infrastructure spending, Wynne stated that her Government is "making up for lost time" through the Moving Ontario plan.
She noted that Hamilton is undergoing a renaissance: "There is so much happening here in Hamilton. You have a lot to be proud of and a lot to be excited about." However, "We can't take our success for granted. The [Greater Toronto and Hamilton Area] needs a modern transportation system to seamlessly connect our communities."
"Today, we need infrastructure that drives Hamilton's economic prosperity in the 21st century knowledge economy."
She emphasized the economic benefits that come from high quality transit investment, concluding, "When Hamilton succeeds, we all succeed."
Then she announced: "The Government of Ontario will be providing up to $1 billion to fund a new light rail line in Hamilton." The announcement was met with sustained applause, after which Wynne said, "I sensed that you were just kind of waiting for that."
After pointing out a young child in the audience, Wynne argued that the investments we make today will benefit future generations. "The point is that government exists to make long-term investments, to look into the future, and to do things that we cannot do on our own."
Del Duca: Determination to Make the Right Decisions
Next, Transport Minister Steven Del Duca credited the Premier's "determination to make the right decisions" and reiterated the position, "Ontarians want us to put progress ahead of politics."
Del Duca drew laughter and applause, saying, "The Hamilton L RT - yes, I said 'L' - will be a critical link" connecting Hamiltonians to each other and to the greater region.
He added that the LRT line to Queenston is only a first phase and that it will extend "ultimately to Eastgate Square".
He noted that large infrastructure projects "take time" and "can be disruptive, but imagine the change when we get it completed."
McCuaig: Build Excitement
Metrolinx CEO Bruce McCuaig stated that Metrolinx will continue to work with the City to finalize the details of the LRT construction and "work with the community to build excitement" about the project.
He said, "We believe strongly in the benefits of the Hamilton LRT project and the increases to GO train service."
"I look forward to delivering new services to this city."
McMeekin: Credits LRT Supporters
Minister Ted McMeekin, MPP for Ancaster-Dundas-Flamborough-Westdale, came on stage chanelling Mr. Rogers. "It's a beautiful day in the neighbourhood."

Minister Ted McMeekin
Calling the announcement "a truly historic moment for our community," McMeekin praised Premier Wynne and Minister Del Duca, who "listened to the people of Hamilton, carefully."
He also gave credit to the many LRT supporters in Hamilton, including former Councillor Brian McHattie, the volunteers of Hamilton Light Rail, who have advocated for years for LRT in Hamilton, and "each of the folks who sent me the 20,000 tweets over the past four years."
In a particularly classy moment, McMeekin specifically named your humble RTH editor "and his team who came together and worked hard to keep this vision in our minds."
"To the Light Rail group and others who have been championing this cause for a long time, a very sincere thank you. You literally kept this thing on the rails."
Eisenberger: We've Put the L in LRT
Mayor Fred Eisenberger noted that we have been building toward this announcement "from the days when I first got on the Metrolinx board" during his first term as Mayor. He said, "We've put the L in the LRT" to applause.
He also noted the benefits of the GO service expansion, which is great news for Niagara Region as well: "many wins all around."
Making reference to the years of confusion and backpedaling, Eisenberger said, "I'm hoping today that the enthusiasm will be back and we're all going to move forward to implement this."
"Things are looking good for Hamilton."
The meeting was also attended by former Mayor Bob Bratina, City Manager Chris Murray, Planning and Economic Development General Manager Jason Thorne, Finance Director Mike Zegarac, several councillors and Chamber of Commerce CEO Keanin Loomis.
Post a Comment
You must be logged in to comment.