Shifting Shifting Gears into Higher Gear
If we are to get serious about making cycling a viable option for more Hamiltonians, we need to make some significant changes to our Cycling Master Plan.
By Ryan McGreal
Published June 22, 2015
Hamilton City Council approved the Shifting Gears Cycling Master Plan in 2009. That means it's good and ready for a five-year review.
Before Shifting Gears was presented to Council, the City had been spending as little as $300,000 a year on cycling, and in on more than one year spending nothing at all.
So the 2009 plan represented a significant improvement over the status quo: a 20-year strategy to spend $2.5 million a year building out a cycling network under the supervision of a dedicated project manager.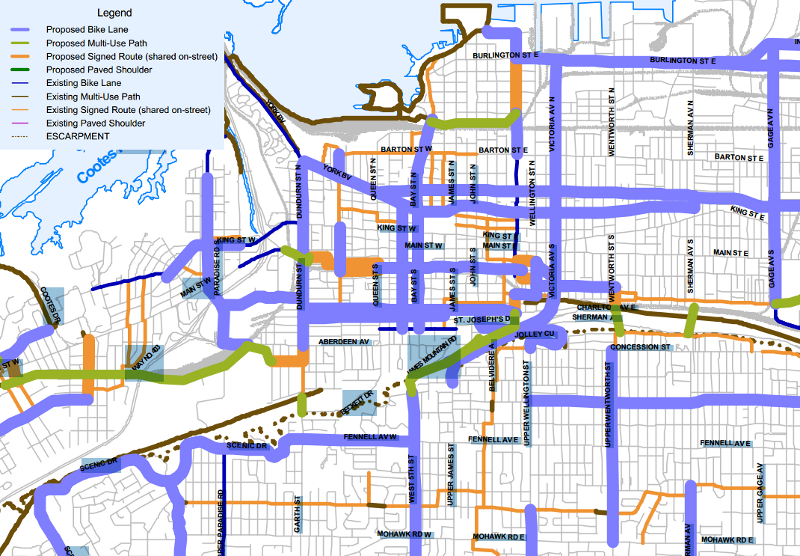 Detail from Shifting Gears bike route map
Unfortunately, the reality has not quite measured up to the promise. The actual rate of bike lane installation has been downright glacial, more than one project has been vetoed by the local ward councillor, and the infrastructure that has been installed have mostly been the kind of painted-line bike lanes that cities that are serious about cycling abandoned many years ago.
If we are to get serious about making cycling a viable option for more Hamiltonians, we need to make some significant changes to our Cycling Master Plan.
Specifically, we need to adopt a philosophy of routine accommodation, become a lot more proactive about engaging meaningfully with citizens, apply best practices to infrastructure design, obtain and apply better data, emphasize improving the connections between the various pieces of infrastructure, and focus on better wayfinding.
Routine Accommodation
When Council received the Pedestrian Mobility Plan in November 2013, I was delighted to read that at the centre of the plan is the concept of routine accommodation. That means every time a street is built or rebuilt or receives maintenance, improvements for pedestrian accessibility will be included by default.
That is not how Shifting Gears works. Instead, our Cycling Master Plan is a specific network of streets that may receive cycling routes. If a street isn't already listed in the Cycling Master Plan, it is not even considered for possible infrastructure when it is being constructed or reconstructed.
Cyclists were excluded from the city's ill-fated bus-only lane on King Street because, as one manager explained, "the Cycling Master Plan does not propose bike lanes on King Street."
Likewise, cycling - and walking, for that matter - received no consideration in the recent reconstruction of the Beckett Drive escarpment access. Instead of adding a bike lane or sidewalk, the engineers widened the vehicle lanes and added a double yellow line buffer down the middle of the street.
And for the record, wider lanes actually encourage faster, more dangerous driving.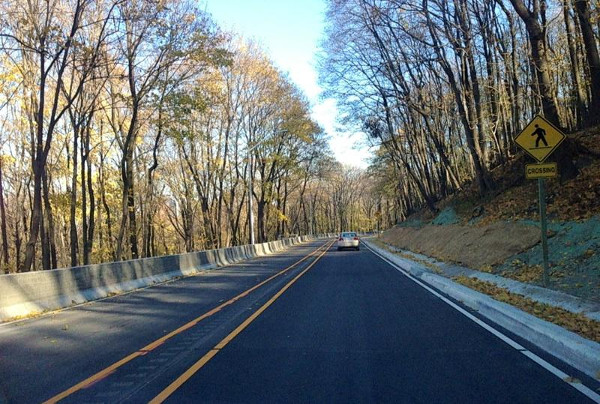 Beckett Drive reconstruction with no accommodation for walking or cycling
On top of that, ward councillors are allowed to exercise a veto over planned bike lanes in their wards, as Ward 6 Councillor Tom Jackson did in 2010 when he vetoed bike lanes on Queensdale Avenue.
As a result, the bike lanes on Queensdale Avenue in Ward 7 do not extend east across Upper Sherman.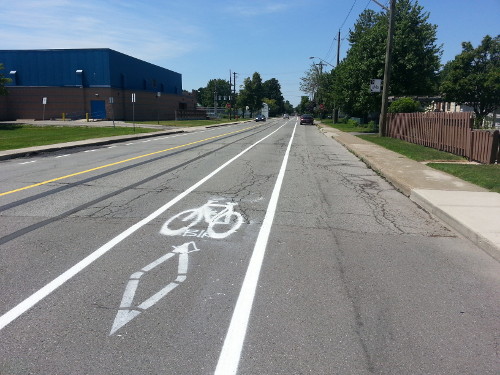 Queensdale bike lanes
In effect, Shifting Gears acts as a ceiling on the city's potential cycling network, not a floor. This needs to change: as long as it remains our cycling template, it will act as much to constrain the expansion of our cycling network as to facilitate it.
Engage Early and Often
The City's track record on community engagement is decidedly mixed, but some groups do a better job than others. Unfortunately, the Cycling Office seems to be particularly immune to public feedback.
In the case of the Hunter Street bike lanes, volunteer associated with RTH spent more than a year trying to communicate with the office to advocate that the bike lanes be physically protected - with bollards or parallel parking - and continuous instead of stopping a couple of blocks away from the GO Station.
We received barely any response from the City and what we did receive was perfunctory. When the bike lanes were installed, they were neither physically protected nor continuous.
The only change that was made to the design was in response to business owners on Hunter Street East who objected to the loss of parking on their side of the street. The design was modified to retain the parking.
There is absolutely no reason not to physically protect the bike lanes on Hunter, and the office has never provided an explanation as to why the lanes are not protected.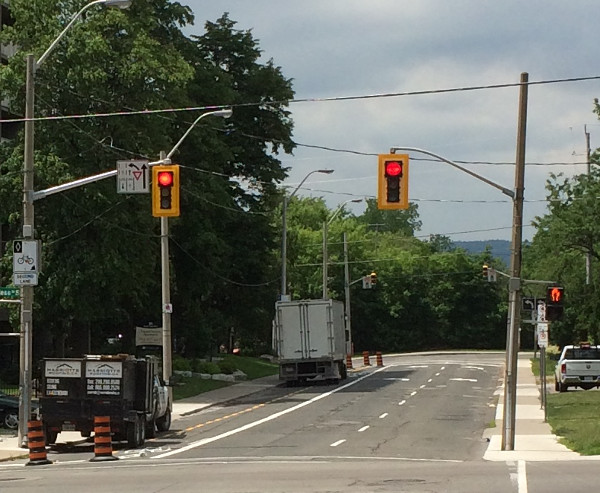 Vehicles blocking the Hunter Street bike lanes (Image Credit: Bob Berberick)
A more recent issue is the planned bike lane installations on Charlton Avenue West and Herkimer Street West. With no public consultation, the residents of Ward 2 were advised by construction notices that the City was about to install painted-line bike lanes that would run right in the "door zone" of paralled parked cars.
The Durand Neighbourhood Association pushed back on the design and struck a cycling committee to engage with the City on a better approach, including advocating for parking-protected bike lanes, which have proven to be much safer after their installation on several streets in New York City.
After months of delays and a fairly unproductive meeting, the City indicated that there are no firm timelines and the project might get bumped by other projects.
This feels downright passive-aggressive. A project manager trying to design cycling infrastructure should be delighted to learn that the community is excited and wants the best possible outcome. Instead, advocates are treated as just another problem to manage.
Apply Best Practices
The research from cities around the world over the past four decades has clearly demonstrated that the only way to get a significant share of trips on bicycle is to build a protected, connected, continuous high-quality network of cycling routes that directly connect to important destinations.
All three criteria are essential for high use: the cycling route must be protected, connected and continuous. It's important to understand that for most potential cyclists, a bike route is only as usable as its least protected connection. That means a route that might otherwise be easy to ride becomes untenable if even a single block of it forces people to ride in mixed traffic.
Protected cycle tracks and neighbourhood greenways are the safest and best at attracting new riders.
Our cycling plan does not reflect this understanding of how to build a successful bike network. Shifting Gears identifies several types of cycling infrastructure: multi-use recreational trails, Reserved on-street bike lanes, signed bike routes (i.e. regular car lanes with bike sharrows painted on them), and rural paved shoulders.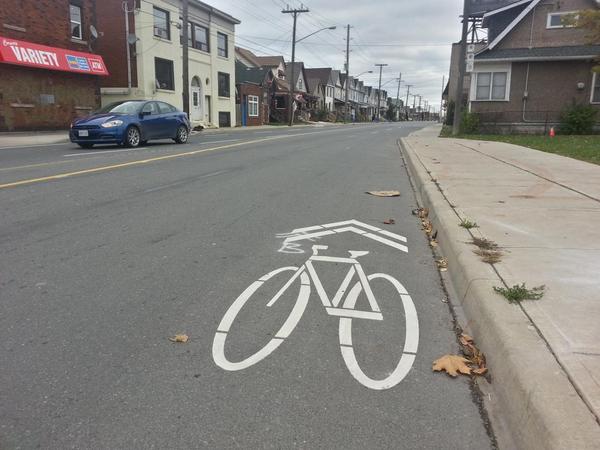 Signed bike route, AKA riding in mixed traffic, on Cannon east of Gage
Curiously, the plan makes brief mention of grade-separated and protected bike lanes but takes a dim view, citing higher capital costs, maintenance challenges and difficulty making left turns. It doesn't mention neighbourhood greenways at all, even though the original Cycling Master Plan in 1999 discussed them.
It's no coincidence that the only protected bike lanes in the city, the Cannon Street Cycle Track, was approved directly by Council after a massive public campaign and designed by an outside transportation consultant.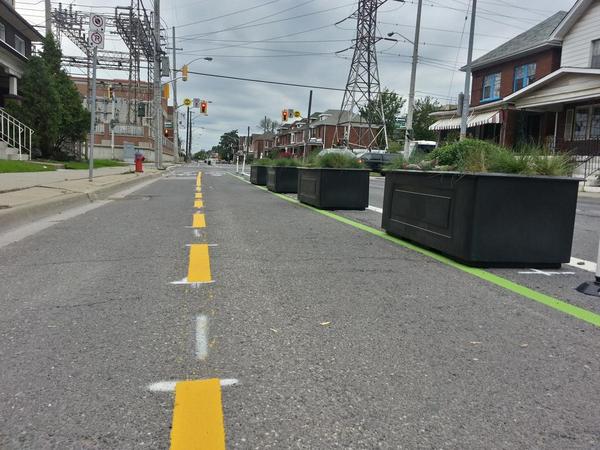 Cannon Street Cycle Track
When City staff undertook to extend cycling infrastructure beyond the eastern and western boundaries of the Cannon Cycle Track, they reverted to the painted lines that characterize most on-street cycling infrastructure in Hamilton.
On York Boulevard west of Hess, the bike lanes at least have a space buffer from the adjacent vehicle traffic lane. However, we know that in the absence of physical protection, most people will not feel safe riding on those lanes.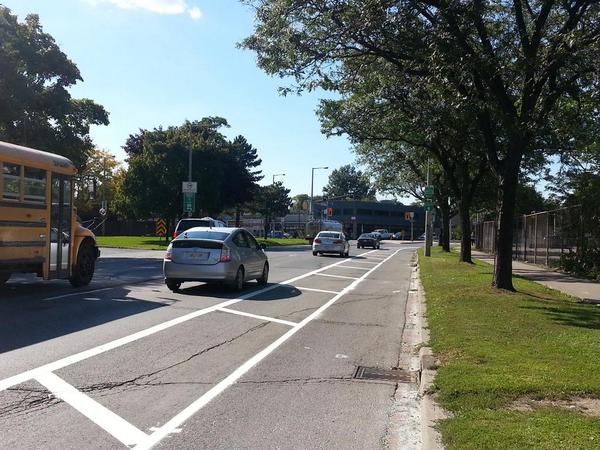 Buffered bike lane on York Boulevard
East of Sherman, there is no cycling infrastructure for two blocks and, indeed, no apparent way for an eastbound cyclist to cross Sherman at all. A bare-bones painted lane appears past Lottridge and runs to just before Gage, where it ends abruptly.
Likewise, the Hunter Street Bike Lanes are not physically protected from automobile traffic - aside from a few knockdown sticks just east of Park Street, which were installed a few months later on the request of the local Councillor.
This is despite the fact that the two-way bike lane is wide enough to run a truck with a snow plow - even along the short section where there are knockdown sticks in place.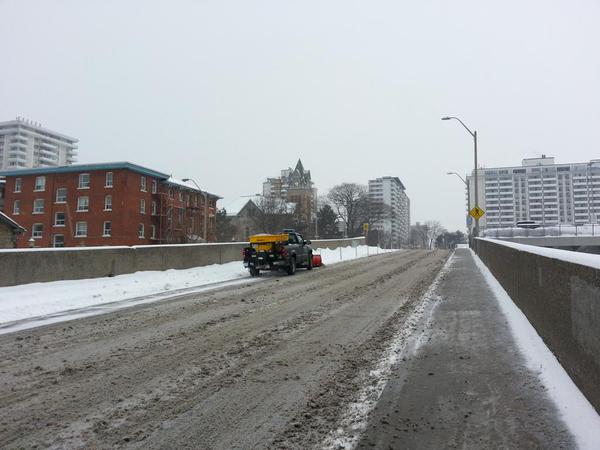 Truck plowing Hunter Street Bike Lanes
One predictable result of the lack of physical protection on Hunter Street is that cycling uptake has not been very significant, especially compared to the protected cycle track on Cannon Street.
Between 2013 and 2014, the number of weekly eastbound trips on Hunter increased from 35 (since Hunter is one-way westbound) to around 300. Meanwhile, the number of westbound trips increased only modestly from around 300 to around 400.
In contrast, bicycle traffic on Cannon increased from nearly zero before the cycle track was installed to 250-400 a day within a few weeks.
This is clear, local evidence that protected cycle tracks attract many more riders than unprotected painted bike lanes; but the city's Cycling Office remains deeply reluctant to do what we know works.
The state of the art in cycling infrastructure has changed pretty significantly in the past several years as best practices emerge from cities that are ahead of us in designing and building their cycling networks.
By ignoring that best practice research, we are effectively wasting money by building inferior bike lanes that are less safe and attract fewer people to use them.
Obtain and Apply Better Data
Not incidentally, we don't know how many bicycle trips are happening on Cannon Street currently, because there has not been a bike counter on Cannon since counts were taken last fall. This is despite the fact that the Cannon Cycle Track installation came in $160,000 below its budget.
The lack of data collection - before or after - is endemic in Hamilton's cycling network. The data cited above for Hunter Street was collected at different locations in the before and after stages and should be taken with a grain of salt, although the order of magnitude is likely correct.
But cycling data is generally lacking and it does not appear that the data we do have is being used to drive policy. As a result, politicians are inclined to make decisions based on anecdote and prejudice - and that approach is unlikely to lead to the best outcomes.
More generally, the city needs to start applying a data-driven analysis to its transportation infrastructure priorities. Our cycling-averse fiscal scolds claim we can't afford to spend more money on cycling infrastructure, but the economics change dramatically once you factor in an actual cost-benefit analysis.
A recent economics paper comparing the cost of cars and bicycles in Copenhagen noted that the city applies cost-benefit analysis, including externalities, when making transport policy decisions.
[In Copenhagen] a cost–benefit analysis (CBA) methodology was developed and subsequently refined to assess infrastructure projects with regard to transport costs, security, comfort, branding effects & tourism, transport times and health. The analysis revealed that cycling entails considerably lower costs to society than car driving, and is now used for assessments and the implementation of infrastructural change in favour of the bike.
On top of the various costs of car ownership, the total cost of driving includes: damage, injury, lost productivity and early death related to traffic collisions; illness, hospitalization and early death from air pollution; use of road space and congestion; damage and deterioration of roadway infrastructure due to wear and tear; the poor health outcomes associated with automobile commuting; health issues due to traffic noise; and release of greenhouse gases contributing to climate change.
The paper found that the total cost per kilometre of driving - including externalized costs borne by society as a whole - is €0.50 ($0.70 Cdn) for a kilometre of driving, compared to €0.08 ($0.11 Cdn) for a kilometre of cycling.
Looking at the social cost-benefit, each kilometre driven costs society €0.15 ($0.21 Cdn), whereas each kilometre cycled actually represents a gain to society of €0.16 ($0.22 Cdn).
According to Stefan Gossling, the lead author, "If we want people to cycle, then we have to change our approach towards urban infrastructure. Cyclists will only cycle [in large numbers] when they feel physically safe and when it's fast, which means they need to be physically separated from cars."
Closer to home, the Region of Waterloo has calculated that each one-percent mode shift away from driving will save the region $30 million in infrastructure lifecycle costs.
Hamilton has not conducted this kind of total cost-benefit analysis. We approve road construction projects costing many millions of dollars with scarcely any debate, but then boil the ocean over even modest improvements to our cycling network. If we want better policy decisions, we need to supply council with better data.
Improve Connections
Recently, the Google corporation proposed a high-quality network of protected cycle tracks for Silicon Valley to get more people commuting on bike. They took the innovative approach of representing the quality of the network as a stress map reflecting how stressful the various parts of a given route will be: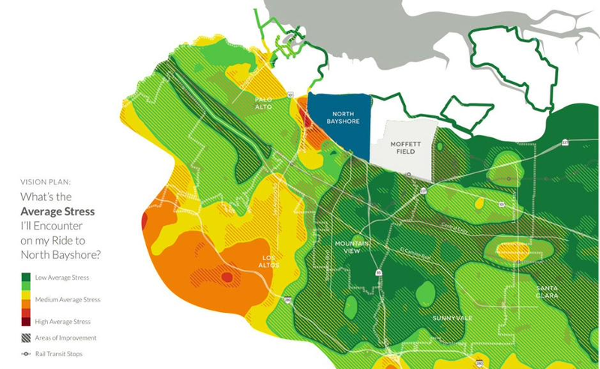 Google cycling network stress map
I would love to see this approach taken with Hamilton's cycling network. We have quite a few pieces of dedicated cycling infrastructure, ranging from poor to very good, but they are for the most part fragmentary with poor or no connections between them.
At every point where the stress of trying to navigate a trip on bike gets high, the number of people who might potentially choose to ride a bike plummets.
An excellent case in point is the intersection of Dundurn Street North and York Boulevard. There are bike lanes on Dundurn, on York west of Dundurn, and on York east of Dundurn, but there is no obvious way to get from one street onto the other.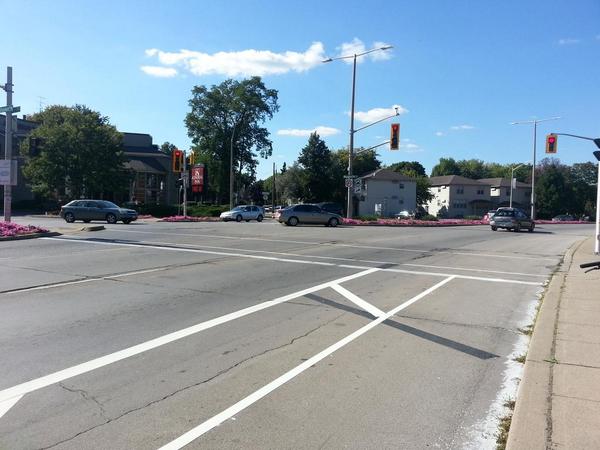 York Boulevard bike lane at Dundurn
Between the lack of physical protection from traffic and the absence of a path through the intersection onto Dundurn, this bike lane is a huge missed opportunity to make cycling accessible to a lot more people.
Focus on Wayfinding
The lack of connections between pieces of cycling infrastructure combines with the relative lack of signage and markings to help people find their way.
The Escarpment Trail runs through Mohawk Sports Park, crosses Limeridge Road East and down to the parking lot on Arbour Road near Mountain Brow Boulevard, across from Albion Falls. A helpful signpost at the parking lot points to several nearby trails.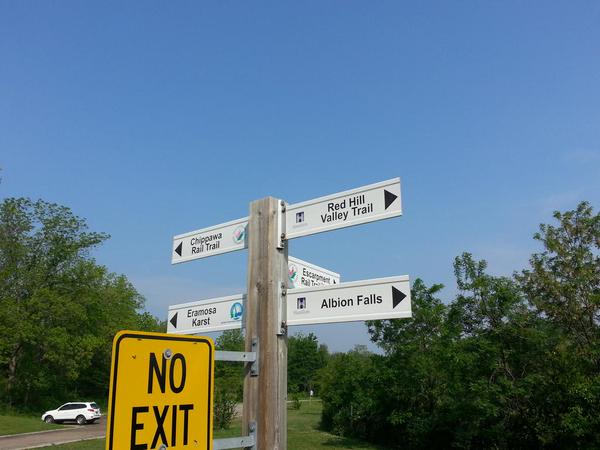 Trail signs near Albion Falls
If you continue south on Arbour Road, it takes to you a bridge across the Red Hill Valley Parkway, but a sign on that road indicates that it is not a through route. Assuming you know to ignore the sign and cross the freeway, a paved trail runs down to Stone Church Road next to Arbour Road.
On the south side of Stone Church, the cross street changes to Anchor Road. Heading west, there is a paved pathway running alongside Stone Church: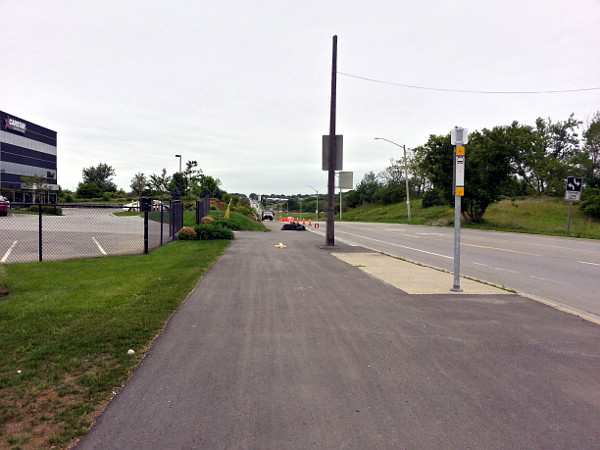 Paved pathway on Stone Church from Anchor Road to Dartnall Road
That path extends a block to Dartnall Road, and if you cross Dartnall you can pick up the Chippewa Trail, which runs all the way to Caledonia.
Unfortunately, there are no signs or markings on the path to indicate either that it is for cycling or that it connects to any trails. There is hardly any consideration given to wayfinding, i.e. the ability for a person on a bike to figure out where they are and where they have to go.
This is a common theme. There is an off-street two-way cycle track on Longwood Road running between Aberdeen Avenue and Frid Street, but there are no signs or markings anywhere along the route to inform people that it exists.
Even worse, the track has guy wires anchored to the ground right in the middle of it. Recently the City "fixed" the issue by mounting yellow-and-black diagonal hazard signs in front of them.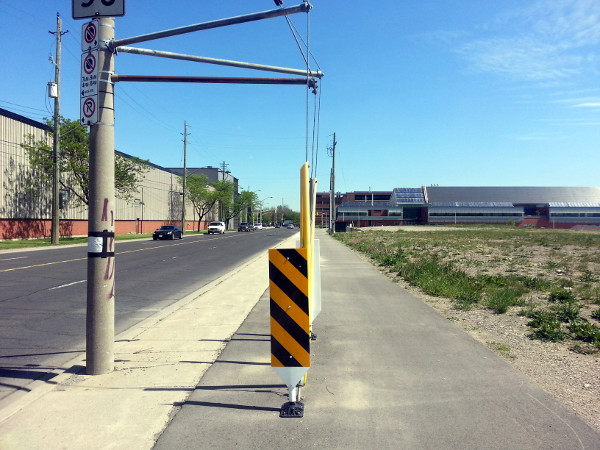 City fix for guy wires blocking Longwood Road South cycle track
Frankly, this is appalling.
Better Outcomes
Every city is different and has unique challenges, but an array of cities around the world with a wide variety of geographies, climates and demographics have all proven that with the right policy, any city can become a great place to get around on a bike.
It is past time for Hamilton to start learning from what other cities are already doing right and applying those practices here instead of falling back on older, inferior designs or, worse, reinventing the wheel (badly).
Each project we build is a one-time chance to get it right, because we will be stuck with it for years to come. Even worse, new cycling infrastructure that is designed badly will fail to attract cyclists, which undercuts support for additional projects.
As long as we continue not to aim for excellence, we are setting our cycling network up for failure - and during a time when interest in and enthusiasm for cycling is exploding around the industrialized world.
We have an easy opportunity to do what a few pioneering European cities did in the 1970s and permanently change the mix of how Hamiltonians choose to get around - and we get to do it with the full benefit of hindsight after 40 years of trial and error in those places.
Let's prove the case, aim for excellence, get it right and make a real and sustained improvement to our city's quality of life.
Post a Comment
You must be logged in to comment.