Hunter Street Bike Lanes Are Not Good Enough
Should we cheer for the fragmentary, half-broken, mediocre implementation of what is increasingly understood to be essential urban infrastructure?
By Ryan McGreal
Published June 04, 2014
this article has been updated
I know the Hunter Street bike lanes aren't perfect - far from it - but shouldn't we just be grateful that we're getting anything at all?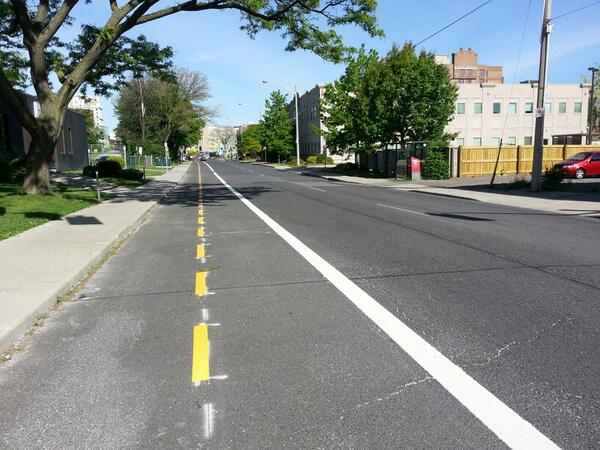 Hunter Street bike lanes, looking west from Walnut
After a year in which hardly any cycling infrastructure was built and Council actually clawed back part of the cycling budget, shouldn't we be glad that the Hunter Street lanes, due in 2013, are finally being (partially) built?
Are we being greedy when we complain that there is no physical barrier or other protection between the two-way bike lanes and the adjacent lane of automobile traffic?
Are we being churlish when we point out that a two-way bike lane is vastly less useful when it is interrupted by a 460-metre discontinuity that spans four blocks and runs right past a regional transit station?
Maybe we should just count our blessings and stop being so damn demanding. I'm sure that's how the City staff who designed the lanes feel.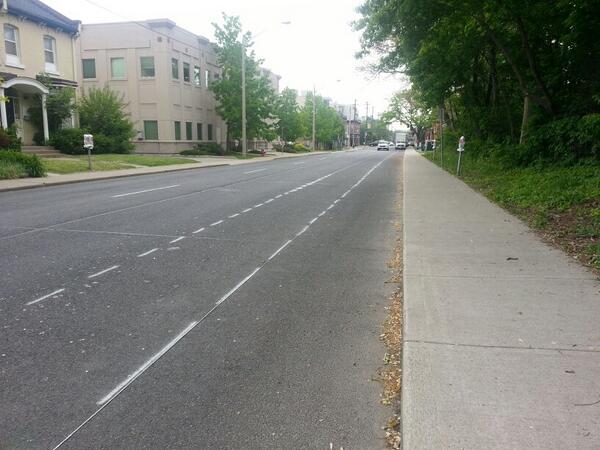 City workers started installing the bike lanes on Monday
And yet ... the more I think about the Hunter Street bike lanes, the angrier I get. I'm angry about the missed opportunity to do something properly.
It would not be difficult to get this right. We already know what works. The "atypically wide pavement marking" separating the bike lane from the adjacent automobile lane could easily accommodate knockdown sticks and rubber cycle lane curbs.
Do you know how much a knockdown stick costs? $80 a pop.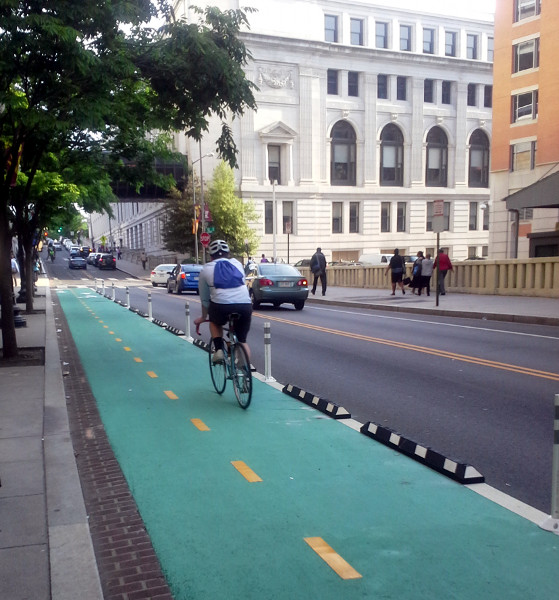 Cycle track protected by knockdown sticks and rubber curbs (Image Credit: District of Columbia Department of Transportation)
Not only are cyclists more at risk from automobiles, but also the bike lane is more likely to end up playing host to illegally parked cars, like the cycle track on Sherbourne Street in Toronto.
How much fun will it be for eastbound cyclists to have to swerve into a westbound automobile lane to get past a parked car?
I'm not sure what's more frustrating: that a two-way cycle track is being built in 2014 with no physical separation from automobile traffic, or that almost a third of this 1.5 kilometre lane isn't being built at all.
A cyclist trying to use the Hunter Street bike lanes to go eastbound will have to turn left at MacNab, go up to Jackson, ride in mixed traffic for four blocks, then turn right on Catharine and go back down to Hunter to pick up the bike lane again.
A 460-metre ride in a bike lane becomes a 650-metre ride in mixed traffic. For people who aren't already willing to ride a bike on Hamilton's streets, we may as well be asking them to ride across a river of fire.
Apparently staff haven't figured out how to run the bike lanes past the Hunter Street GO station. However, an urban planning student interning at the City actually designed a route earlier this year.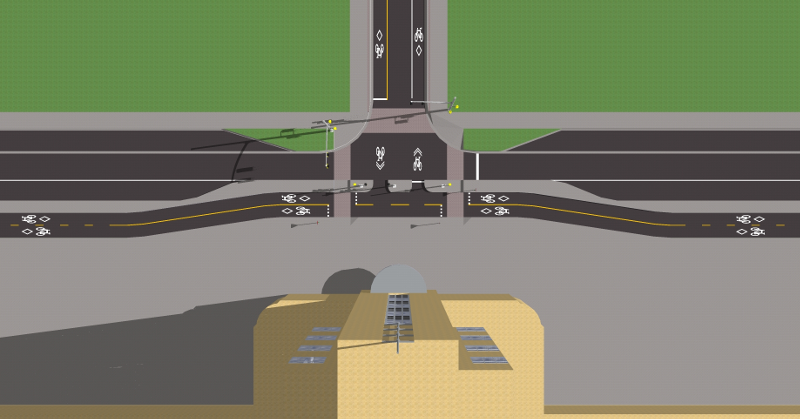 Rendering of Hunter Street bike lanes at GO Station, overhead view
And that's not all. The bike lanes look extremely narrow, whereas the automobile lane is still nice and wide. So not only will cyclists going in opposing directions have to squeeze past each other, but they'll have to contend with automobile traffic flying by at full-speed in the middle lane.
Between the narrow width, lack of physical protection and nearly half-kilometre discontinuity, these bike lanes might as well have been set up to fail.
So should we cheer for the fragmentary, half-broken, mediocre implementation of what is increasingly understood to be essential urban infrastructure?
Whatever happened to best practice? Heck, whatever happened to excellence? It's not like the City hasn't been made aware of this stuff on multiple occasions over the past couple of years.
But in the end, the Hunter Street bike lanes have defaulted to Hamilton's unofficial motto: 'Good enough for the likes of you.'
with files from Jason Leach
---
Update: this article originally stated that knockdown sticks cost $160 each. That is the retail price for a single knockdown stick. Because the City of Hamilton buys them in bulk, they actually pay a fraction of that price. You can jump to the changed paragraph.
Post a Comment
You must be logged in to comment.