Make Hunter Street Bike Lanes Continuous and Protected Right Now
A bike route is only as safe as its most dangerous section, and we have a great opportunity here to make a safe, protected east-west route that could serve a lot of people.
By Jason Leach
Published October 16, 2013
Any network, to be successful, needs to be connected and continuous, and bicycle networks are no different. We were excited to learn that the City is going ahead with two-way bike lanes on Hunter Street between Liberty Street and Queen Street, but the plan is to install the lanes in three stages: between Liberty and Catharine Street first, then between MacNab Street and Queen, and finally, some time in the future, between Catharine and MacNab.
The City hasn't yet decided how to run the bike lanes past the GO Station on the south side of Hunter between John and James, which currently has two one-way traffic lanes, drop-off parking on the south side and parallel parking on the north side.
As long as the Hunter bike lanes are not continuous, they will be of limited value in attracting new riders - especially since the section without bike lanes is the section that most needs them to make people feel more comfortable choosing to ride a bike.
The good news is that there are designs from other cities that we can use as inspiration. For example, the cycle track on 3rd Street in Long Beach, California: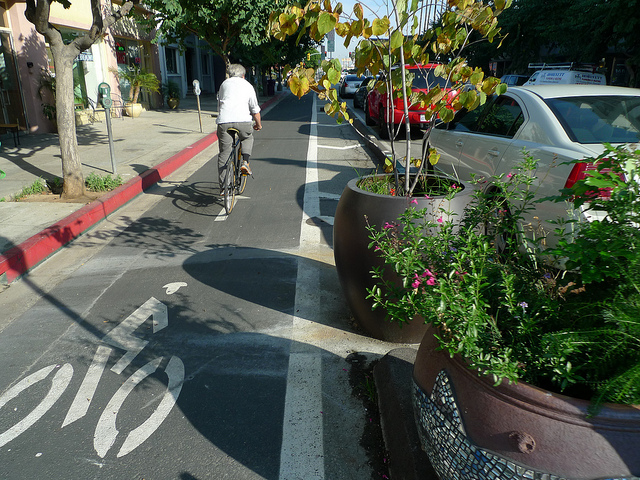 3rd Street Cycle Track (protected bike lane) in Long Beach (Image Credit: Downtown Pasadena Neighborhood Association)
With this design, we could keep the parking on both sides of Hunter and a through automobile traffic lane, which is plenty for the 7,500 cars a day that Hunter carries.
Here's another example from the other side of the continent: Kent Avenue in Brooklyn, which also uses a line of curbside parking to physically protect its two-way bike lane: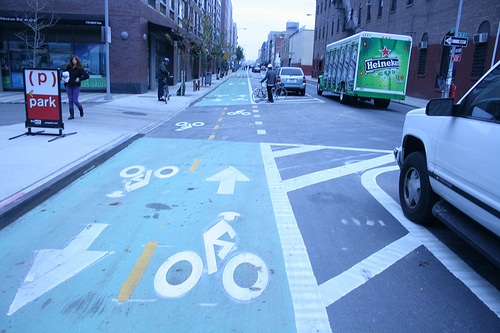 Protected two-way bike lane on Kent Avenue, Brooklyn (Image Credit: San Francisco Bicycle Coalition)
This is the cross-section being usede over and over in New York City these days. It's perfect because parking protects the bike lanes. Talk about easy security for cyclists.
This is exactly the scenario we need to address on Hunter Street. The design leaves parking to protect the bike lanes with one general-purpose travel lane.
Whenever a left turn lane is absolutely needed, for example at James, the parking can end a few car-lengths shy of the intersection to make room for it. At other crossings, a painted sidewalk extension creates a shorter travel distance for pedestrians crossing the street.
Another bike network innovation they applied on Kent Avenue is a bike box - painted solid green - to provide more security and accessibility for cyclists.

Kent Avenue bike box, Brooklyn (Image Credit: Streetsblog)
Put up some plastic bollards or knockdown sticks to outline this painted bumpout and voila - a complete street with insanely safe bike lanes running right along the southern edge of the downtown core.
The section in front of the GO Station could maintain its parking on both sides by sliding the south curb parking out into the current south lane, with the bike lanes using the current south curb parking lane.
The north lane and north curb parking could remain exactly as is.
I'd love to walk the street sometime with city staff and explain how this concept fits perfectly on Hunter. I've done it already, and it's a great street for our first lanes protected by parking.
It would be much better than the current plan, which is merely to have a buffer zone between the bike lanes and car lane but no physical protection. Why not repurpose what's already on the street - parallel parking - to separate bikes from cars and make the street better for everyone?
Most importantly, this approach would allow for the lane to be built in its entirety. As we all know, one of the most frustrating aspects to our bike network is the lack of downtown connections.
A bike route is only as safe as its most dangerous section, and we have a great opportunity here to make a safe, protected east-west route that could serve a lot of people.
with files from Ryan McGreal
Post a Comment
You must be logged in to comment.