Fragmentary New Painted Bike Lanes on Cannon
New painted bike lanes don't connect to the cycle track and only run for a few blocks.
By Ryan McGreal
Published November 12, 2014
this article has been updated
The Cannon Cycle Track isn't perfect, but it has been a vast improvement over the existing state of Hamilton's cycling infrastructure. The protected two-way cycle track was designed by IBI Group after the Yes We Cannon citizen group wowed Council with an amazing community engagement that drew thousands of supporters.
After the track opened in mid-September, City staff extended conventional bike lanes west from the end of the track at Cannon and Hess. I wrote about the new York Boulevard bike lanes in September, but in brief, they're no cycle track.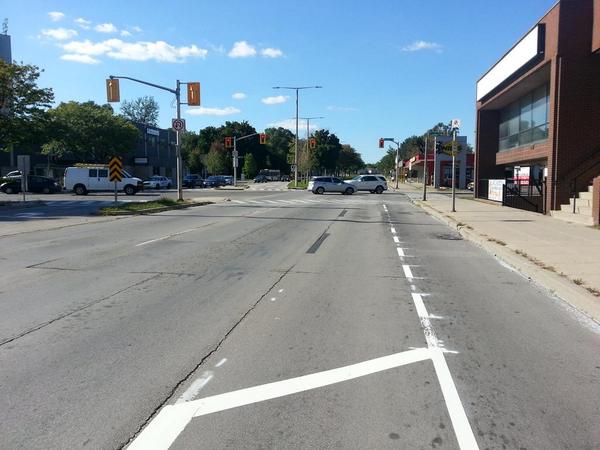 Bike lanes on York double as right-turn lanes for drivers (RTH file photo)
Now that the City has installed some bike lanes east of Sherman, it's time for another review.
Eastbound
The first problem is that the bike lanes don't start at Sherman. In fact, there doesn't seem to be any legal way for an eastbound cyclist on Cannon to continue through the intersection.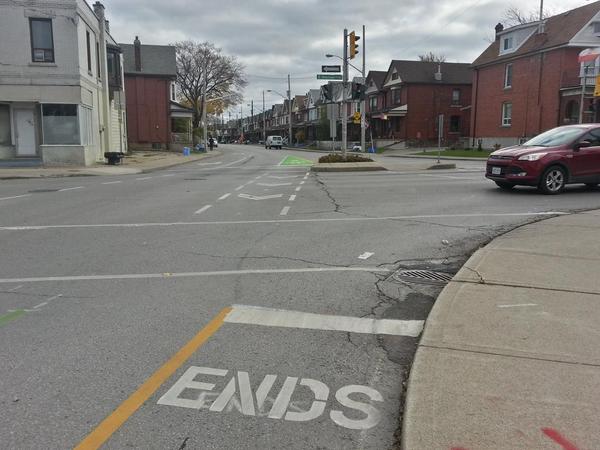 Looking east across Sherman at Cannon
Presumably, cyclists need to dismount and walk across Sherman. Once you get across, you need to ride in mixed traffic on Cannon because there's no bike lane.
Two block later, a painted bike lane appears on the other side of Lottridge.

Eastbound bike lane starts on Cannon past Lottridge
In all, the bike lane extends four blocks from Lottridge to Gage, where it abruptly ends.

Eastbound bike lane on Cannon ends at Gage
There are no bike lanes to connect to on Gage, which is two lanes in each direction. Nor is there a bike lane on Cannon past Gage, though there is one solitary bike sharrow just east of the intersection.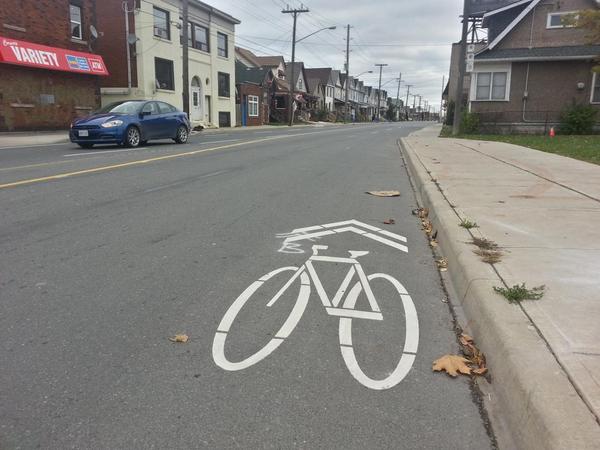 Lonely bike sharrow on Cannon east of Gage
East of Gage, Cannon is four lanes and carries very little automobile traffic. It's just one of Hamilton's many, many overbuilt excessive roadways.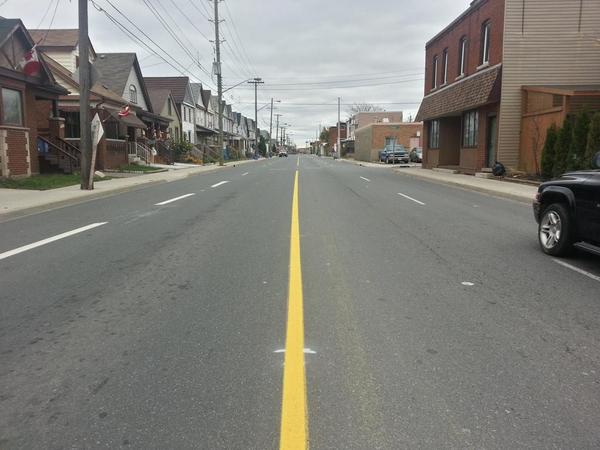 Cannon east of Gage
According to the City, there is a plan to extend the bike lane east from Gage. Staff will finalize the plan once the 2015 capital budget is approved.
Staff also plan to review the section between Sherman and Lottridge in 2014 for "consideration" of possible cycling infrastructure.
I'm disappointed - though at this point I can't say I'm particularly surprised - that a bike lane connecting with the cycle track is only under "consideration". What on earth will it take to get staff to commit to making our cycling infrastructure connected and continuous?
Right now there's literally no legal way to ride a bike east on Cannon past the intersection at Sherman. The contrast between the generally high-quality design of the cycle track and the dismal-to-nonexistent design beyond it couldn't be more stark.
Westbound
Since we can't go any further east, let's turn around and try riding west on Cannon. Starting at Gage, a painted bike lane appears.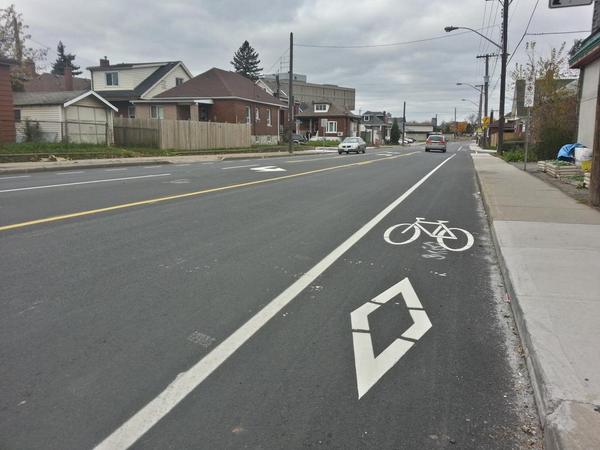 Westbound bike lane on Cannon past Gage
The westbound bike lane continues for a few blocks past the stadium.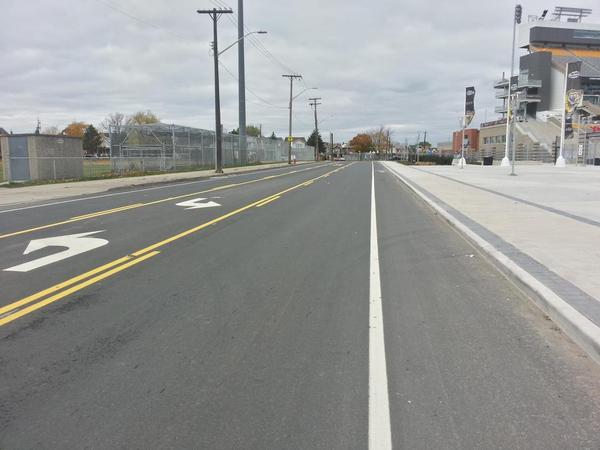 Westbound Cannon bike lane passing the stadium
And by "past the stadium", I mean just past the stadium. The bike lane ends before Melrose after just three blocks. At least the eastbound bike lane started a block further west at Lottridge.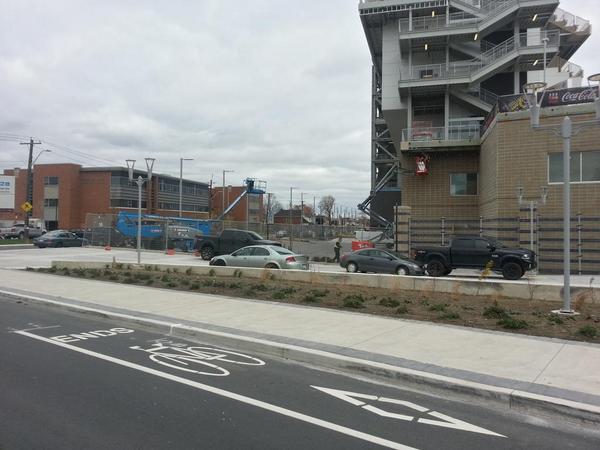 Westbound bike lane ends before Melrose
Past Melrose, we get another lonely sharrow. Bike sharrows, which indicate that a cyclist is invited to ride in mixed automobile traffic, are the "Don't bother - oh, you didn't" of cycling infrastructure.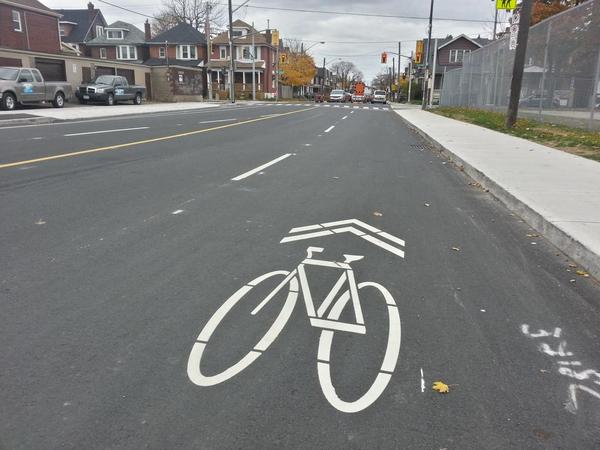 Sharrow on Cannon west of Melrose
Cannon is four lanes wide - two lanes in each direction - between Lottridge and Sherman. Right now, three of the four lanes between Lottridge and Barnesdale are blocked by an ongoing police investigation into a suspected drug lab. Only one eastbound lane remains open - and Cannon still doesn't have anything even remotely resembling gridlock.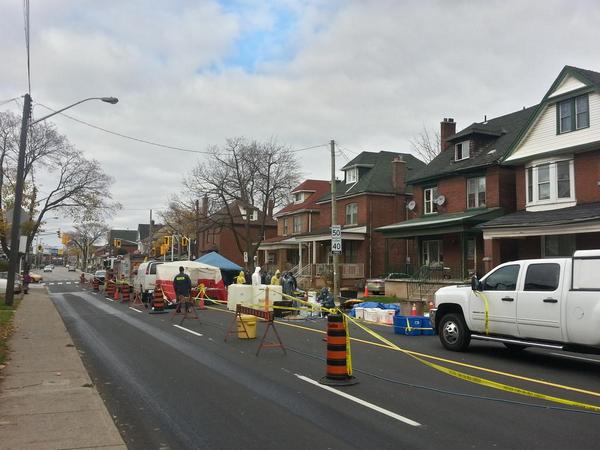 'Say my name.'
One final note: the IBI Group's plan for the Cannon Cycle Track included pavement markings through intersections. This is an important design decision, because cyclists are most at risk in "conflict zones" like intersections, where their paths cross the paths of turning cars.
For some reason, the City decided not to include intersection pavement markings with the exception of Cannon and Sherman when it was installing the lanes.
However, an October 15, 2014 Information Update noted that the City had decided to install the intersection markings after all. So far, that has not happened.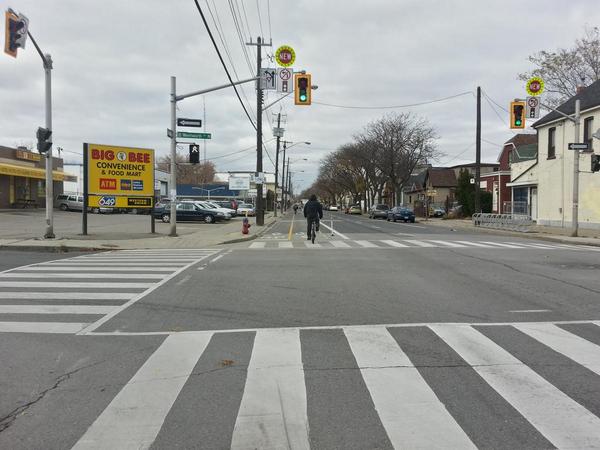 Cannon and Wentworth: the City has not added intersection pavement markings to the cycle track yet
At this point, it may be too cold to apply pavement markings before next Spring.
---
Update: updated to add response from the City on whether there are plans to extend these bike lanes further east or west. You can jump to the added paragraphs.
Post a Comment
You must be logged in to comment.