Active Transportation Infrastructure Roundup, September 2014 Edition
Multi-use paths, bike lanes, speed humps, crosswalks and bike share, oh my!
By Ryan McGreal
Published September 26, 2014
It's been a busy year for active transportation infrastructure in Hamilton. Just over a month ago, I wrote about the Cannon Street Cycle Track (since opened), the weird strip of asphalt on Longwood Road South, bike lane detours for road work and a new crosswalk at Hunter and Locke.
It's not even a month and a half later, but I'm happy to report another batch of projects that has come down the pipe.
Multi-Use Path at Chedoke Golf Course
The Chedoke Golf Course multi-use path has been in the works for the past decade. Running along the north edge of Chedoke Golf Course, it connects the end of Glenside Avenue with Studholme Road just south of Aberdeen Avenue.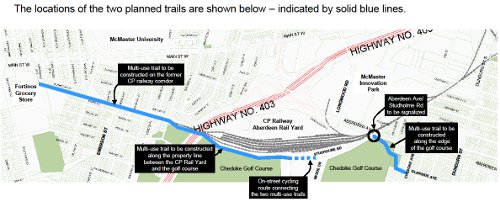 Map of the multi-use trail, marked in blue (click on the image to view full-size)
The multi-use trail across Hwy 403 has been open since 2011, but the section between Glenside and Studholme has been tied up with neighbours' complaints and environmental review tribunals. A fence around the path was proposed and then dropped along the way.
City staff have been working on the path for the past several weeks, digging, grading and paving the surprisingly wide path: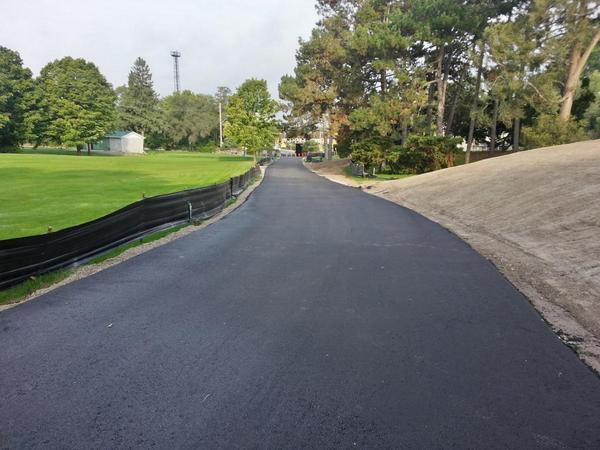 New paved multi-use path around north edge of Chedoke Golf Course
It replaces an 'unofficial' trail worn into the grass that wound more directly across the golf course between Glenside and Studholme.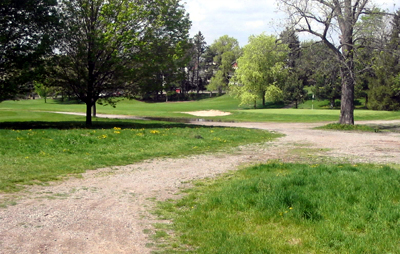 Old unofficial path across Chedoke Golf Course (Image Credit: Ted Mitchell)
This is an important active transportation connection between southwest Hamilton and west Hamilton that lets people avoid the hostile conditions on Aberdeen and the half-assed bike path on Longwood.
Bike Lanes on York
Soon after the Cannon Street Cycle Track opened, city staff began work on bike lanes on York Boulevard between Hess Street and Dundurn Street. There are already bike lanes on Dundurn between York and King and on York west of Dundurn, so this was a vital connection to link those existing bike lanes together.
The good news is that there is a two-metre wide painted buffer between the bike lanes and the next adjacent automobile lane. Staff basically took a full driving lane in each direction and turned it into a buffered bike lane.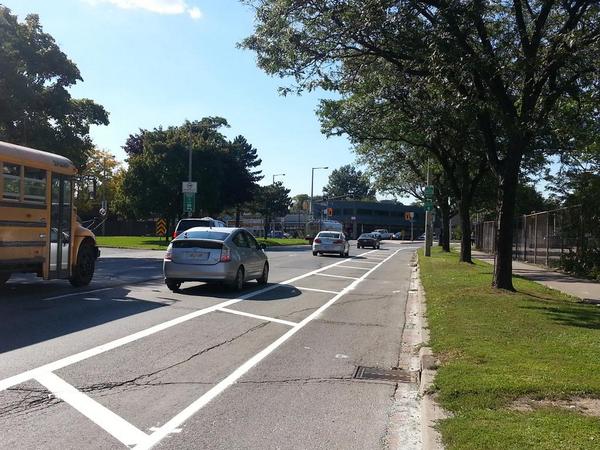 Buffered bike lane on York between Hess and Dundurn
The bad news is that the bike lanes will not be protected by any physical barrier. This is exasperating, especially given that the physically protected Cannon Cycle Track is right there. (The Cannon Cycle Track was designed by IBI Group, a third-party transportation consultant.)
By leaving the bike lanes unprotected, it becomes both easy and very tempting for drivers to park in the bike lane. This is an ongoing issue on Hunter Street, where the unprotected two-way bike lanes are routinely blocked by stopped and parked cars.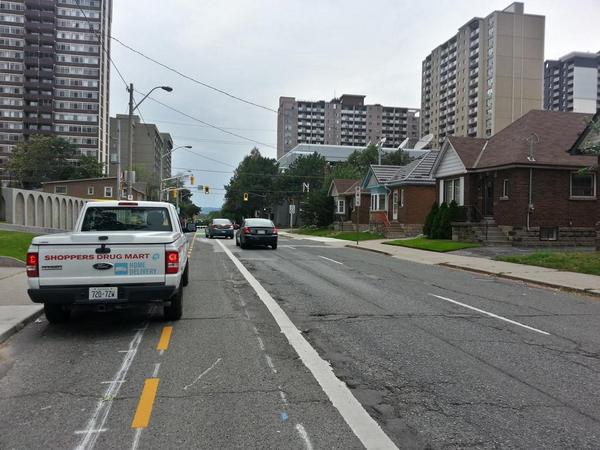 Vehicle parked in Hunter Street bike lanes
In contrast, I have yet to encounter a car stopped in the Cannon Cycle Track since it officially opened.
In yet another bizarre move, the City has decided to allow right-turning drivers on York to use the bike lane as a right turning lane.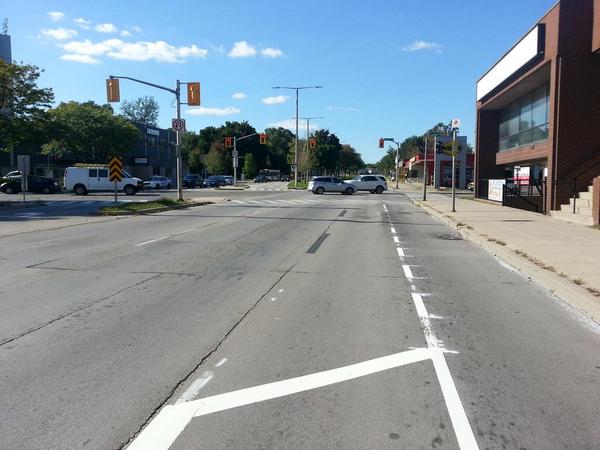 Cars are allowed to use York bike lane as right-turning lane
According to an email from Daryl Bender, the city's alternative transportation project manager, "This is regarded as a desirable design because it increases visibility and prevents bicycles from being side-swiped by right-turning auto traffic."
I guess those Dutch traffic engineers have been doing it wrong.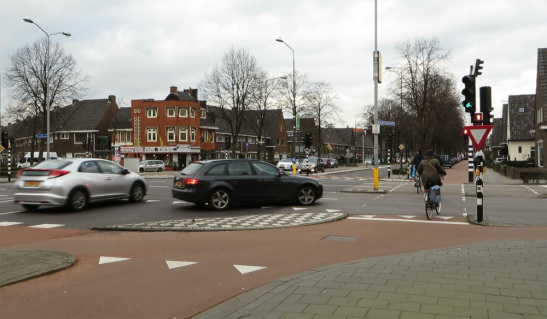 Dutch-style junction bike lane at an intersection (Image Credit: Bicycle Dutch)
And similar to the Cannon Cycle Track, where the planned pavement markings through intersections were inexplicably dropped from the plan before implementation, there are no pavement markings on York to make the bike lanes more visible through intersections.
Again, it is considered a best practice to increase the visibility of bike lanes at intersections, not to make them even less visible by removing even the painted buffer.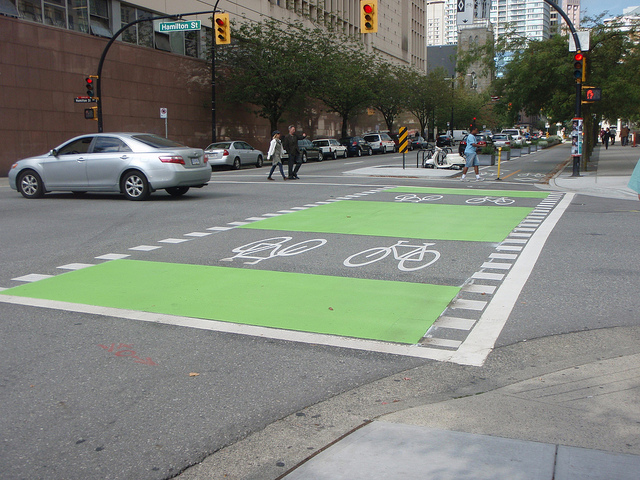 Intersection pavement markings on the Dunsmuir bike lane, Vancouver (Image Credit: Alexander Pope/Flickr, CC-BY-NC-ND)
Finally, there is no obvious way to get from the bike lane on York at Dundurn over to the Dundurn bike lane. The buffered lines continue right to the intersection with no way to get over to the left.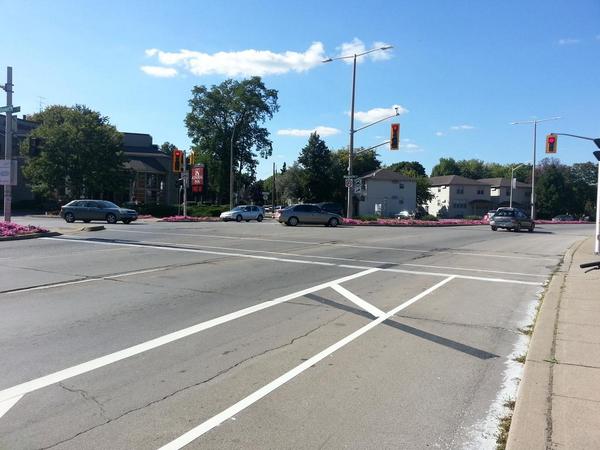 No obvious way to get from York bike lane to Dundurn bike lane
Presumably a cyclist is expected to dismount at Dundurn, cross York as a pedstrian, then get back on the bike and ride north on Dundurn.
Why I'm Not Happier
It may seem that I'm just nitpicking here. After all, the bike lanes are a damn sight better than nothing and maybe I should just be grateful. For someone already riding a bike on York, the bike lanes are a dramatic improvement.
Here's the problem with that line of reasoning: a bike lane designed for people who are already riding bikes in mixed traffic will do very little to attract more people to choose cycling.
Traffic planners in Portland, Oregon found that there are four categories of people with respect to cycling:
Strong and Fearless - risk-taking young men who are willing to ride in mixed traffic: less than 1 percent.
Enthused and Confident - People who will ride if bike lanes are available: 7 percent.
Interested but Concerned - People who are interested in cycling but afraid of perceived danger: 60 percent.
No Way No How - People who cannot or will not ride under any circumstances: 33 percent.


Four categories of transportation cyclists in Portland (Image Credit: City of Portland)
If the city's goal is to increase the number of people who choose cycling - and if that isn't the goal, I'm not sure why we even have a cycling office - then designing for people who already cycle amounts to yet another missed opportunity to build the kind of infrastructure that actually gets people cycling.
In contrast, I've cycled on Cannon Street a couple of times this week. On Tuesday evening, I rode from downtown to Sherman at around 7:30 PM and saw 14 people on bikes. On Wednesday around lunchtime, I rode the same way again and saw 20 people on bikes.
(These numbers may seem modest but a) it's still early days for Cannon and b) I've never seen anything like that many cyclists at a time on other streets.)
The cyclists ranged in age from kids 10-11 years old to people who looked quite elderly. I also saw several women cycling, which turns out to be very important.
Among transportation planners, women are regarded as an "indicator species" for the quality of infrastructure. A city with high quality infrastructure will have a more balanced ratio of male to female cyclists, not to mention a higher overall rate of cycling.
In contrast, when the cycling network is minimal or low-quality, the only people who will dare to ride a bike are a tiny, marginal outlier group of young, risk-seeking males - the "strong and fearless" category identified by the Portland planners.
These almost-good bike lanes we keep building are a false economy. It might save a bit of money to scrimp on paint and take a pass on knockdown bollards (they cost the city 80 bucks a pop), but we end up with lanes that just noodle around the margins instead of driving a real change in transportation choices.
Worse, irritated drivers point to under-used bike lanes as a waste of money. Through our fear of building really high quality bike lanes that would actually be used, we're setting ourselves up for failure.
Speed Humps
Okay, time for something more more upbeat: the city has installed several speed humps around south Kirkendall. Speed humps appeared a few weeks ago on Glenfern between Undermount; two on South Street between Mountain and Dundurn, and two on Mountain between Aberdeen and Hillcrest.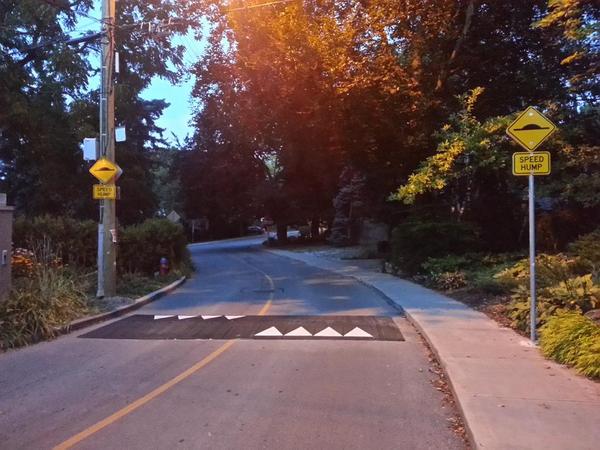 Speed hump on Glenfern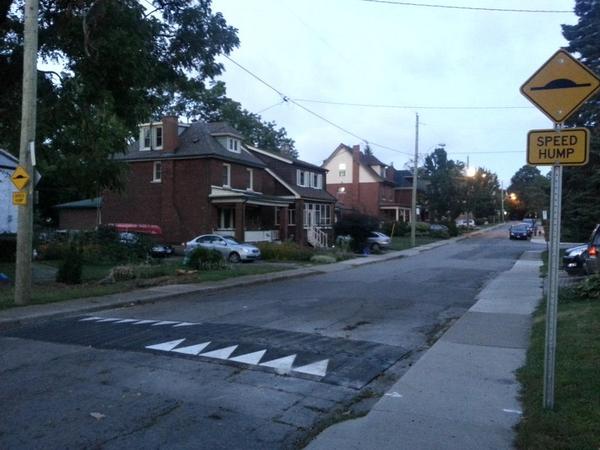 Speed hump on South Street
The speed humps are wide and not too tall. Cars have to slow down going over them but they make a fairly smooth ride. They are bolted onto the street so it looks like the City will be able to remove them during winter to avoid getting damaged by plows.
Hunter Street Crosswalk
The new signalized crosswalk on Hunter at MacNab went into operation this past Wednesday. It includes a painted "zebra" or ladder crossing to make it more visible for drivers.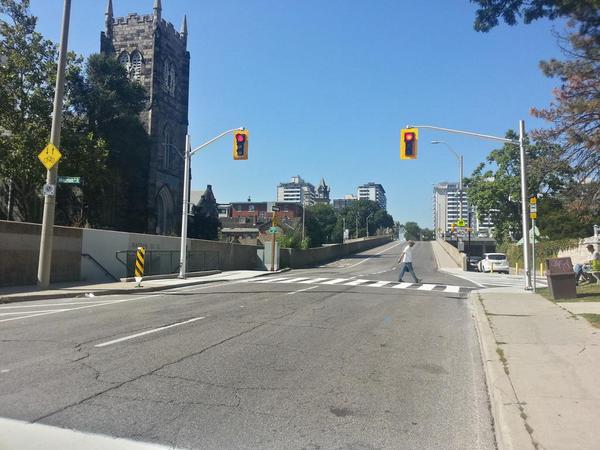 New crosswalk on Hunter at MacNab
Like the crosswalk that recently opened on Locke Street at Hunter, this was funded through the 2014 participatory budget process using the area rating capital fund.
There is one strange issue with this crosswalk that I have to mention: the traffic signal has a push-button for pedestrian activation, but it appears to be on a timed cycle between red and green.
I observed it in action for several minutes on Wednesday. The traffic lights turn yellow and then red and cars have to stop, even though no one is trying to cross.
Meanwhile, when a pedestrian does arrive they have to wait for a walk signal in the timed cycle before they can cross.
I have asked the City whether this is a mistake or a policy decision. It reminds me of the the new signalized crosswalk at Herkimer and Caroline, which was funded through the 2013 participatory budget process.
Despite the fact that the approved proposal was for a pedestrian-activated signal, the crosswalk was programmed for a timed cycle. It took months of complaints from residents before staff ended up changing it back to the button-activated design that was originally planned.
Hamilton Bike Share Not Ready Yet
Last week, Hamilton Bike Share issued an update on the status of the bike share rollout. Short answer: the program isn't quite ready yet.
Apparently it takes a lot of time to establish a not-for-profit corporation, line up board members and staff, find and prepare a headquarters, order 750 bikes and 105 hub stations, solicit corporate and institutional sponsorships, set up a wireless data transmission system, equip the bikes with new technology, and install hub stations across the city.
Social Bicycles, the company that is supplying the bikes and technology for the bike share, is waiting for the wireless electronics on the bikes to be certified for use with Canada's cellular networks.
According to CEO Ryan Rzepecki in the news release, "We are in the final stages of product certification and will be entering into full production in the coming weeks."
Once the technology is certified, the bikes will start to roll out in a soft launch over the winter. The official ribbon-cutting is scheduled for March 20, 2015, the first day of spring.
For people who have already bought an annual membership, the clock won't start ticking on that year-long membership until the official launch but you will still be allowed to use the bikes for free during the winter.
In addition, the first month after opening will be free. This is true for anyone who buys a membership during the rollout phase between now and next March.
Meanwhile, the team has been busy for the past several weeks installing hub stations across a wide swath of the city.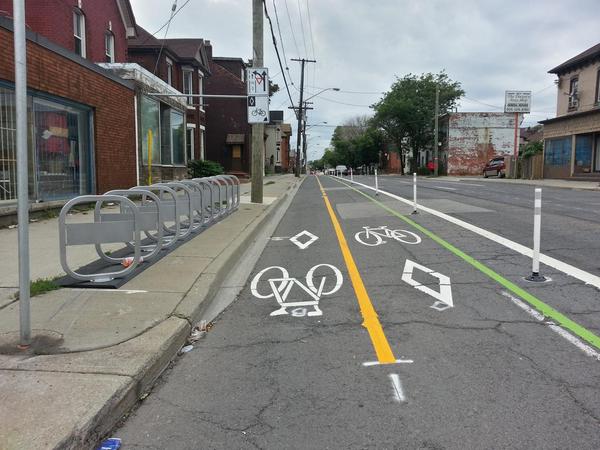 Bike share station at Cannon and Tisdale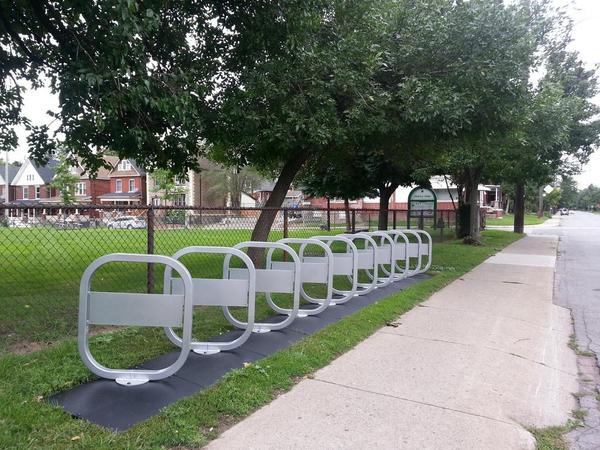 Bike share station at Delaware and Myrtle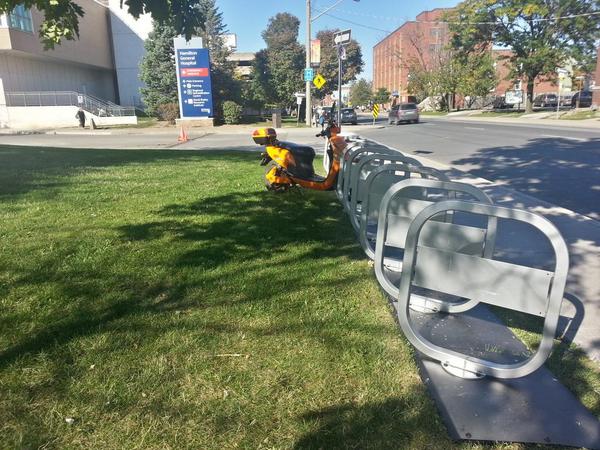 Bike share station at Hamilton General Hospital, Barton and Victoria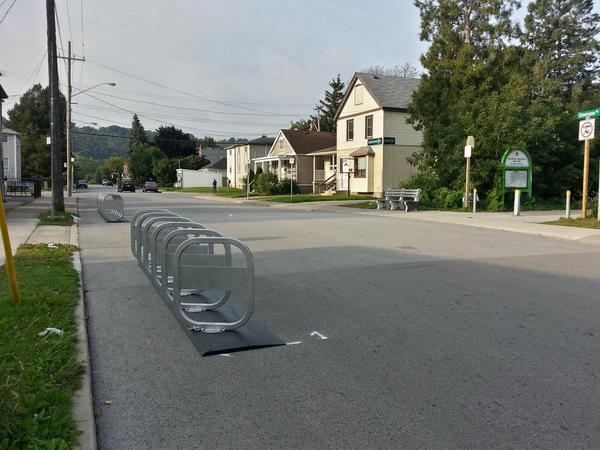 Bike share station on Emerson at the Rail Trail

Bike share station at King and Longwood, already in use as bike parking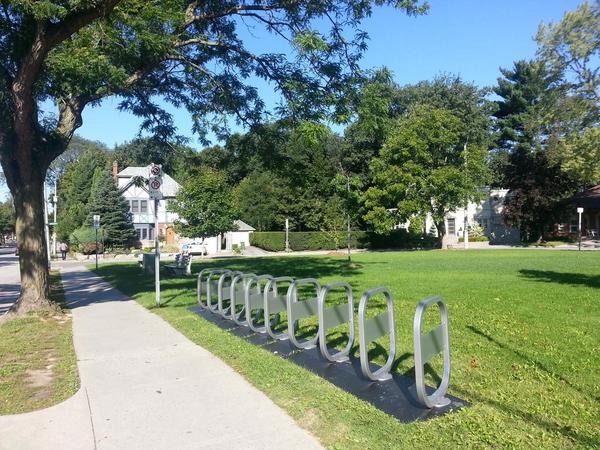 Bike share station at Sterling and Whitton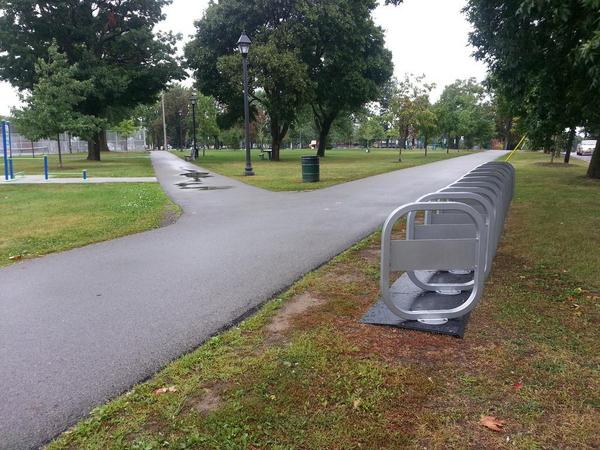 Bike share station at Victoria Park, Locke and Napier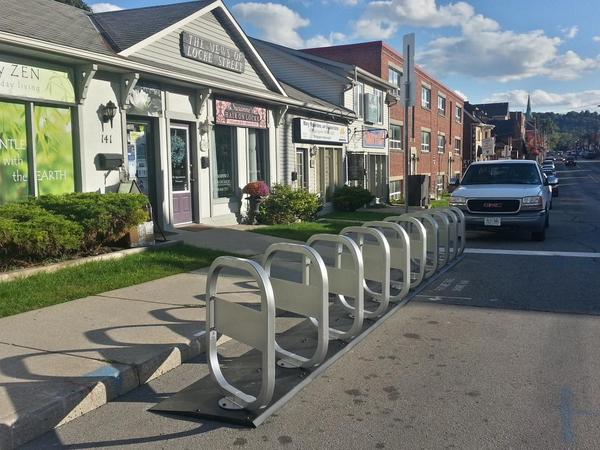 Bike share station at Locke and Hunter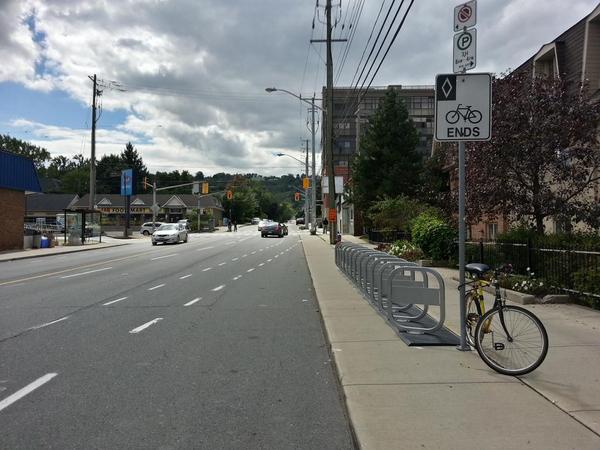 Bike share station at Dundurn and Aberdeen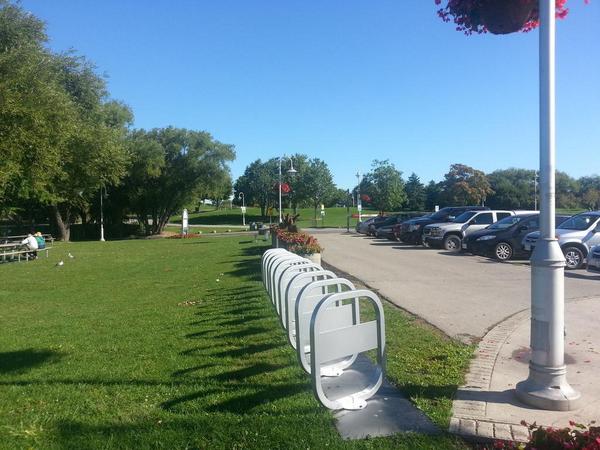 Bike share station at Bayfront Park (and there's another one at the top of the hill)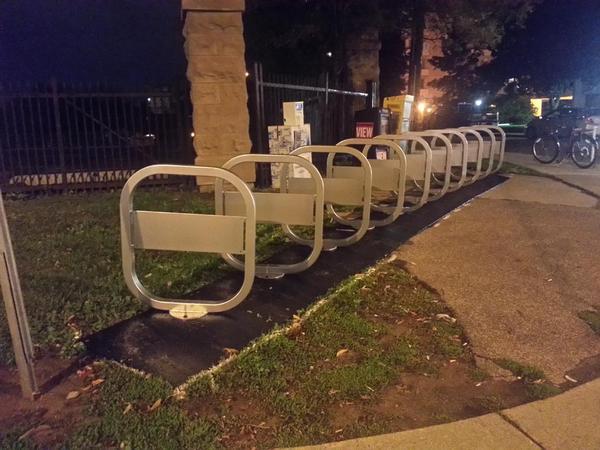 Bike share station at Bay and Bold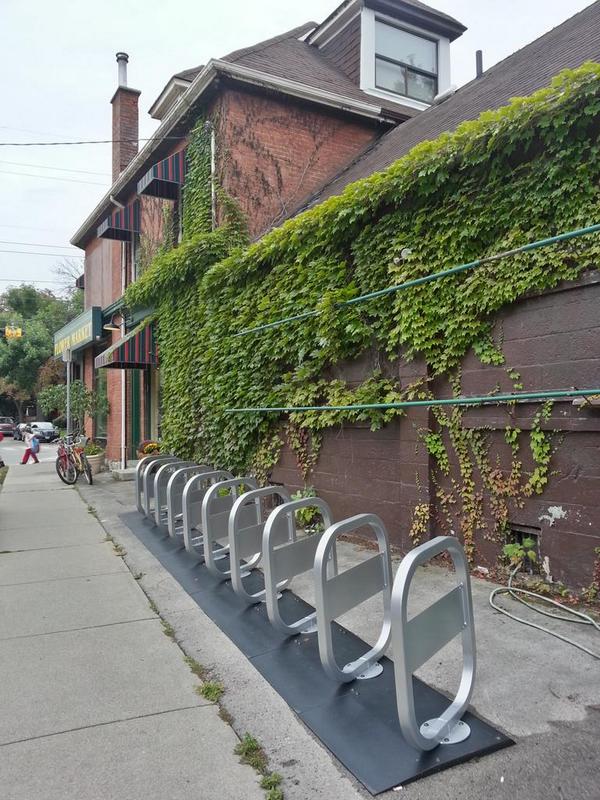 Bike share station at Charlton and Locke

Bike share station at the foot of Wentworth Stairs, Wentworth and Charlton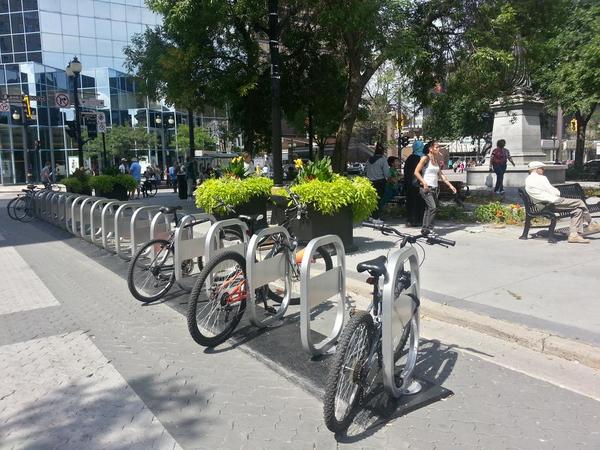 Bike share station at Gore Park, King and James, already in use as bike parking
More hubs are appearing on a daily basis as the map of hub stations is steadily filled in.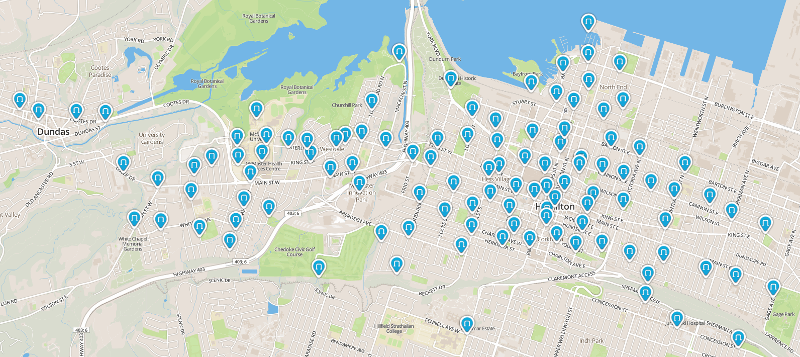 Map of Hamilton Bike Share hub stations (Image Credit: Hamilton Bike Share)
Hamilton Bike Share will be the tenth largest bike share system in North America. Despite the delays, it will be just a year from signing the deal with the City of Hamilton to full rollout. Most bike share systems take two or three years to come together.
Post a Comment
You must be logged in to comment.