Proposal to Run Hunter Street Bike Lanes Past GO Station
City staff still need to decide how to run the Hunter Street bike lanes past the GO Station. Here is a suggestion.
By Letter to the Editor
Published February 20, 2014
Previous Raise the Hammer articles have reported that the reason the planned Hunter Street bike lanes will not be continuous is that the design is not finalized around the GO station at Hunter and Hughson.
(Editor's note: The sections from Liberty to Catharine and from MacNab to Queen were supposed to be completed last year, but were delayed because City staff were redeployed to implement the transit lane on King Street.)
Jason Leach suggested a layout with parking on both sides and a protected bi-directional bicycle lane, but I found his drawing hard to decipher. Here is my own take at the illustrating the layout he was proposing.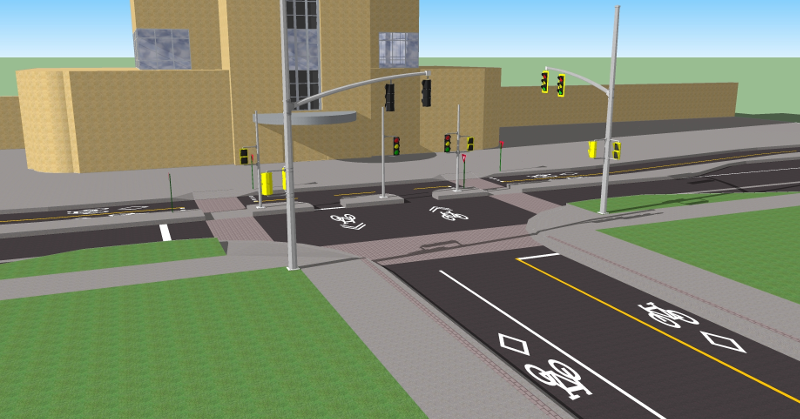 Rendering of Hunter Street bike lanes at GO Station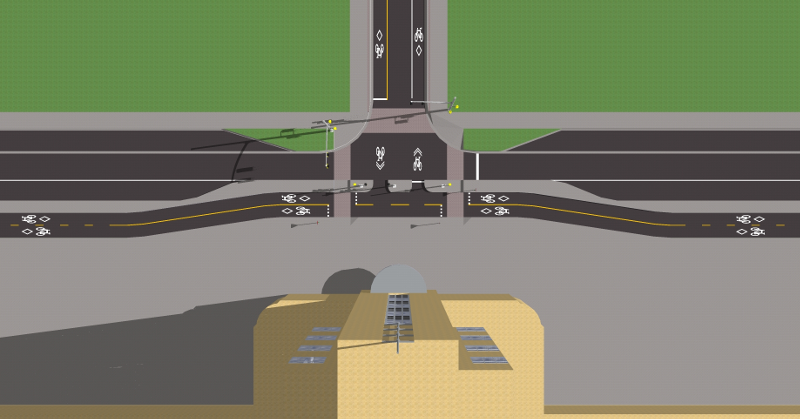 Rendering of Hunter Street bike lanes at GO Station, overhead view
I went ahead and included traffic signals, given that the existing stop sign configuration results in poor level of service for pedestrians crossing to the GO Station, and introducing an all-way stop would likely result in a poor level of service for motorists traveling along Hunter.
I also show Hughson as having two bicycle lanes and one northbound car lane, as opposed to one shared lane in each direction currently. I think Hughson has great potential as a "bicycle boulevard", where cars are permitted only for access.
On Hughson, through car traffic could be eliminated using alternating one-way restrictions (bicycles excepted).
Here's hoping that the Hunter Street bicycle lanes get completed as soon as possible!
Post a Comment
You must be logged in to comment.