Flawed Design For Herkimer and Charlton Bike Lanes
As it stands, this cycle infrastructure 'improvement' feels like another case of one step forward, two steps back that will undermine the cycle-ability of these streets rather than improve it.
By Kyle Slote
Published October 08, 2014
Some time two weeks ago, construction notices went up for new bike lanes on Herkimer and Charlton.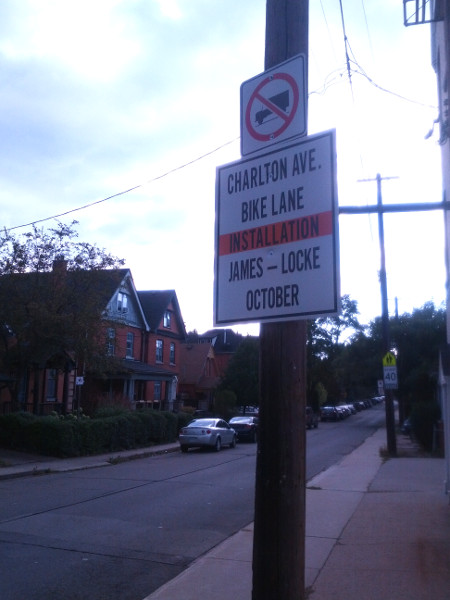 Bike lane sign on Charlton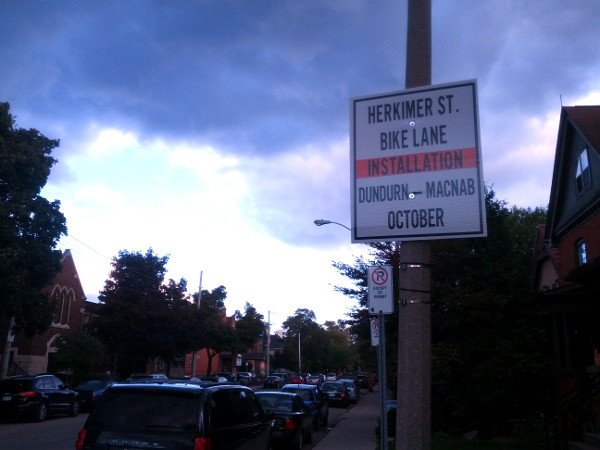 Bike lane sign on Herkimer
These have long been part of the City's Cycling Master Plan, Shifting Gears 2009. As someone who cycles Herkimer daily to get to work, I was cautiously excited about this work.
I was cautiously excited, because I know the city has a mixed track record for installing safe and properly designed bike lanes.
I emailed Ward 2 Councillor Jason Farr for an update and after a string of correspondence I learned that as currently designed, these lanes have some major flaws that raise significant concerns about safety and usability.
The Plan
Here is Councillor Farr's description of the plan:
On Herkimer St, we are able to narrow existing lanes to add bike lanes from Locke St to MacNab St; and maintain existing on-street parking.  The bike lane ends at MacNab St as there are multiple options for turning in the block approaching James St, so cyclists would merge with other traffic if they wish to continue, and choose their desired manoeuvre.  We intend to encourage cyclists to turn at MacNab St to take other routes easterly.  Between Dundurn St and Locke St we plan to install sharrows as we did not have sufficient width for a bike lane.    On Charlton Ave, we are maintaining existing parking.  From James St to Caroline St we are removing one travel lane for auto traffic to create the space for the bike lane.  Capacity analysis has confirmed this will maintain acceptable operations as the auto traffic typically straddled these two lanes given they were narrow.  At Queen St we are replacing the dual left-turn with a single left-turn lane.  West of Queen St to Locke St the bike lane fits into the existing roadway
After follow-up questions regarding which side of Herkimer the lane will be on and whether bike boxes will be included for left-hand turns, I received this response city staff person, Daryl Bender:
There are no bike boxes planned for the Herkimer and Charlton bike lanes.  Further to the comments below, the bike lanes were created on Herkimer Ave by narrowing existing lanes between Queen St and MacNab St.  Between Locke St and Queen St we removed a second lane for eastbound auto traffic, and analysis of traffic volumes indicates that traffic operations should continue to be acceptable

The eastbound bike lane on Herkimer will be on the south side, beside the on-street parking.  The north curb lane is auto traffic sometimes, and auto parking at other times.
Here is a map of the bike lane routes on Charlton and Herkimer:


Map of the Charlton and Herkimer bike lanes
The Good
Existing auto lanes will be removed or narrowed to accommodate the bike lanes. This is great news - narrower/fewer lanes mean slower traffic.
As anyone who frequents Herkimer and Charlton can attest, car speeds are often alarmingly high, particularly along the stretch between Queen and James where they happen to pass Durand Park.
Slower speeds mean easier pedestrian crossings and drastically reduced chances of serious injury when collisions occur.
Also good - no street parking will be lost. Street parking is at a premium with the proximity of these streets to Locke Street, St. Joseph's hospital, and a number of churches. Losing street parking would have undoubtedly resulted in significant pushback from those who rely on these spots.
The Bad and the Downright Ugly
Where to start? I think this warrants a list:
1. No Bike boxes for left-hand turns. The majority of cycle traffic on Herkimer eventually turns left to head down Locke or downtown via Bay. Those turns will now have to be made by navigating across 1-2 auto lanes.
This is a hugely dangerous manoeuver that only the most confident and experienced cyclists will be willing to make. To avoid this peril, most cyclists currently ride along the North curb lane.
2. The Herkimer lane ends at MacNab. With no signals at this intersection, cyclists will be forced to precariously merge with auto traffic before arriving at the complicated intersection of James and Herkimer.
3. Cycling between parked cars and a traffic lane. This is a recipe for getting doored (whacked by a suddenly opened car door), especially on the south side of Herkimer where cyclists will be driving beside the driver doors of parked cars.
4. The Charlton lane does not extend to the existing Dundurn bike lanes. Continuity is key for successful cycling infrastructure.
Additional Concerns that Must be Addressed
Will the lanes be physically separated? Given that neither Councillor Farr nor Mr. Bender mentioned this in their responses. I assume not, but will ask for clarification.
What is the plan for the high speed highway on-ramp style intersection of death (also known as Queen and Herkimer)? This one will need some very careful design considerations. While we're at it, let's redesign this intersection entirely. Right now it is irresponsibly dangerous for cars, cyclists, and pedestrians.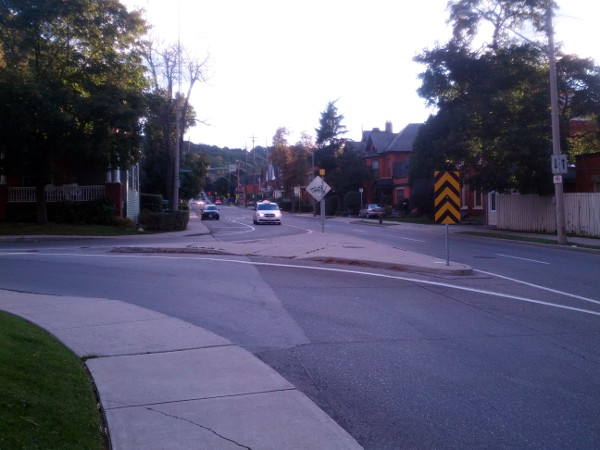 Queen and Herkimer
Proposed Improvements
Let's catch our breath and get this right the first time by following the design standards set out by the Cannon Street Cycle Track. Why continue to install substandard bike lanes that could actually make cycling more dangerous?
Beyond adding bike boxes, ensuring physical separation, and providing full continuity, I think the Herkimer lane would be much safer if positioned along the North curb lane. This would facilitate much simpler left-hand turns to head downtown. It would also buffer cyclists from auto traffic with parked cars for much of its stretch.
Construction Already Underway
Despite a promise from Mr. Bender to review my concerns and suggestions with other staff, I awoke yesterday morning to see preliminary lane markings have already been laid out.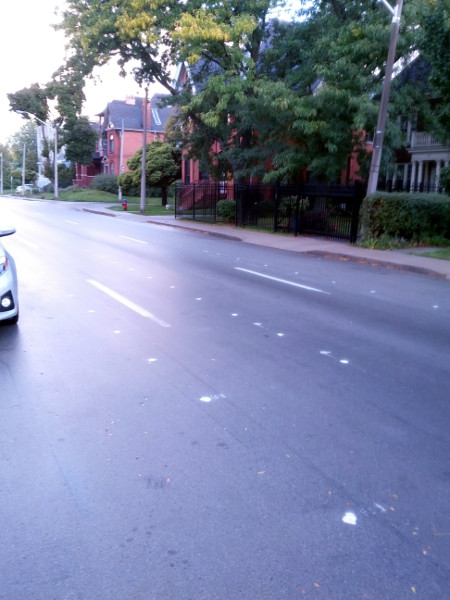 Lane markings
I have sent a follow-up email to find out if any improvements have been made to the original design, but no response has been received.
As it stands, this cycle infrastructure 'improvement' feels like another case of one step forward, two steps back that will undermine the cycle-ability of these streets rather than improve it. I hope I am wrong.
Post a Comment
You must be logged in to comment.