Dangerously High Vehicle Speeds Recorded on Herkimer
The City's mobile radar trailer recorded maximum speeds of 80-90 km/h on every day of the trailer's operation on Herkimer Street.
By Nicholas Kevlahan
Published June 04, 2015
The Durand Neighbourhood Association requested a speed radar to measure vehicle speeds, and the City set up a mobile radar trailer on Herkimer Street next to Durand Park in March 2014. The device measured vehicle speed and also displayed the speed to motorist as instant feedback on how fast they were going.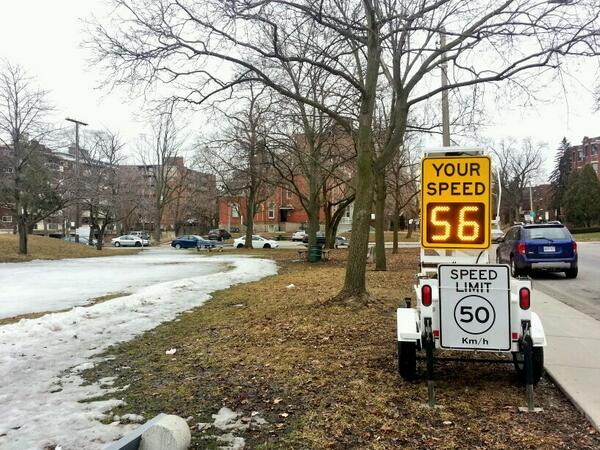 vehicle measured exceeding the speed limit on Herkimer Street next to Durand Park on Saturday, March 29, 2014 (RTH file photo)
Once the monitoring period was over, the DNA asked the City for the data collected by the radar trailer. Initially the city only released a high-level summary showing the 85th percentile speed, which was 48 km/h. We pushed for the full result set.
After several weeks of delays and thanks to the helpful intervention of Ward 2 Councillor Jason Farr, we finally received the a lower-level summary of the results - albeit as a scan of a printout of a PDF of a spreadsheet file.
What they sent was summary data of hourly counts of 85th percentile average speeds, 85th percentile number of cars and maximum speed, rounded to the nearest 10 km/h.
I really wanted the raw data so I could do a full statistical analysis and, for example, see how many vehicles exceeded 65 km/h or 80 km/h. Nevertheless, the results we did receive were shocking: maximum speeds of 80-90 km/h on each day of the radar trailer's operation.
Maximum Recorded Speeds

| Date | Highest Speed | Time |
| --- | --- | --- |
| Mar 25 | 80 | 11:00 PM |
| Mar 26 | 80 | 6:00 PM and 11:00 PM |
| Mar 27 | 80 | 8:00 AM |
| Mar 28 | 80 | 11:00 PM |
| Mar 29 | 80 | 2:00 AM, 6:00 AM and 10:00 PM |
| Mar 30 | 90 | 3:00 PM |
| Mar 31 | 80 | 8:00 AM |
| Apr 01 | 80 | 9:00 AM |
Many of the hourly maximum speeds were 70 km/h (e.g. 11 hours out of 24 on March 28). And you'll note that many of the highest daily speeds occurred during daytime hours when children would be playing in the park!
Although overall the 85th percentile speed was 48 km/h, meaning roughly 85 percent of vehicles were below the speed limit and 15 percent were above, many individual hours - especially late at night - registered 85th percentile speeds well in excess of 50 km/h, e.g. a 58 km/h at 4:00-5:00 AM on 27 March, based on 23 vehicles.
These results are especially disturbing since the goal of the visible speed indicator is to slow traffic by advertising the vehicle's (illegal) speed. We can expect that recorded speeds would be even higher with a discrete mobile radar that did not display excessive speeds to the driver.
And this was adjacent to a children's playground!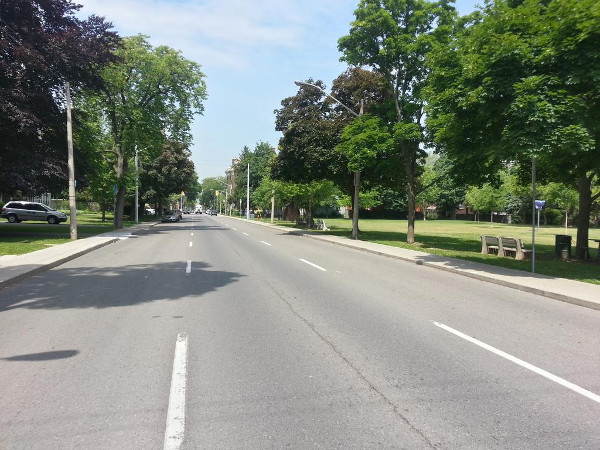 Herkimer Street past Durand Park (RTH file photo)
Then again, maybe it's not so surprising after all that people are often driving 70-80 km/h: these streets (shockingly) are actually designed for 70 km/h!
The results are also consistent with the 2002 Durand Traffic Study, which found that 40 percent of traffic on minor-arterial streets (e.g. Herkimer/Charlton) exceeded 50km/h and 200 vehicles per day exceeded 65 km/h.
With 200 vehicles per day exceeding 65 km/h it seems reasonable that there will be several vehicles each day approaching 80-90 km/h.
Durand has been asking for traffic calming measures for these residential side streets for four decades now but the City continues to respond with excuses and stonewalling.
Even today, a plan to install bike lanes on Charlton and Herkimer is indefinitely on hold because the community had the temerity to ask for safe parking-protected bike lanes instead of painted lines running in the door zones of parked cars.
Post a Comment
You must be logged in to comment.