City Streets Engineered for 70-100 km/h
Our traffic engineers are actively enabling dangerous lawbreaking by motorists. This is not just hypocritical and immoral, it is also extremely dangerous.
By Nicholas Kevlahan
Published April 04, 2014
I was shocked, when reading the City's Road Classification Policy Paper [PDF], to discover that the city's policy is to design minor arterial streets for 70 km/h and major arterials for 80-100 km/h.
What's worse is that the traffic engineers want the average speed on minor arterials to be 50-60 km/h, and the average speed on major arterials to be 60-80 km/h. In other words, they are designing urban arterials for freeway speeds, and they actually want average speeds to be illegal!
Core Road Classification - Urban
Characteristic
Minor Arterial
Major Arterial
Traffic service function
traffic movement major consideration
traffic movement primary consideration
Land service/access
permitted, with some access control
permitted, but with rigid access control
Traffic volume (veh/day typical)
5000-20,000
> 10,000
Flow characteristics
predominantly uninterrupted flow
uninterrupted flow except at signals
Design speed (km/h)
70
70-100
Average running speeds (km/h)
50-60
60-80
Desirable connections
collectors, arterials and expressways
Transit service
express and local buses permitted
Right-of-way width (m) (typical)
20-36
26-36
Min. Intersection spacing (m)
200
400
Traffic calming (default)
where required, gateway features
not applicable
Vehicle type (default)
all types, may be truck route
all types, truck route
Accommodation of cyclists (default)
wider lanes or separate facilities where required
Designed for Illegal Speeding
This has to stop. How can the city be designing roads for illegal average speeds, and make them safe to drive at highway speeds?
It is no wonder people are speeding on urban streets and treating them like highways - that is how they are designed.
These engineers are tacitly condoning, and indeed actively enabling, dangerous lawbreaking by motorists. This is not just hypocritical and immoral, it is also extremely dangerous.
Accepting that motorists' average speed will be around 20 km/h (40%) over the limit on a major arterial, and designing in an additional margin of 20 km/h 'just in case' is really criminal.
70 km/h on a street like Queen makes collisions far more likely, and a collision at that speed is certain to kill a pedestrian.
It is no wonder the 2002 Durand Traffic Study found that 40 percent of motorists exceeded the speed limit and 200 motorists per day exceeded 65 km/h on minor arterials. Apparently this is just what the engineers expected, since their policy is to engineer these roads for 70 km/h with the expectation that drivers will go 50-60 km/h.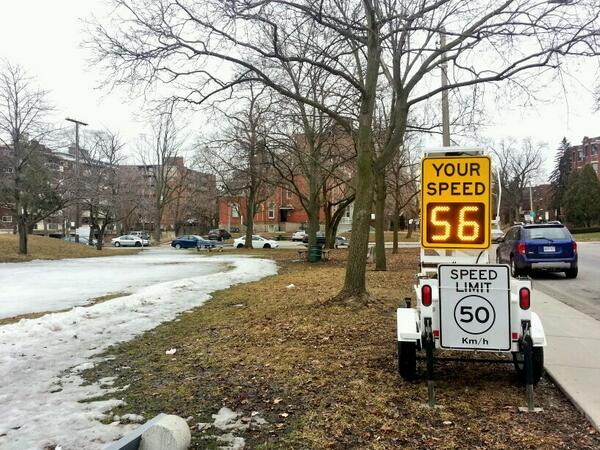 Vehicle measured exceeding the speed limit on Herkimer Street next to Durand Park on Saturday, March 29, 2014 (RTH file photo)
Recall Our Streets
Do the Hamilton Police Service know that the traffic engineers are actively and deliberately making their enforcement job more difficult and their lives more dangerous?
Forget about the truly safe speed of 30 km/h for a moment. We need to insist at a minimum that our streets are designed assuming a legal average speed! That means 40-50 km/h, not 50-60 or even 60-80.
The Highway Traffic Act is absolutely clear on what a speed limit is, and in a dense urban setting it is literally a matter of life and death.
Earlier this week I wrote about recalling our streets due to their known design defects, but that was before learning that our streets are consciously, deliberately designed for deadly illegal speeding. It is as if GM programmed the speedometers on their cars to display 20 km/h less than the vehicle's actual speed.
How on earth is it acceptable for our traffic engineers to design our roads with the assumption that motorists should break the law? This must be changed without delay.
Post a Comment
You must be logged in to comment.