Streetwall Fail
By Ryan McGreal
Published November 21, 2008
We worried back in 2005 that the Centre Mall redevelopment would leave Barton and Ottawa with a big box conglomeration that would turn its back on its surroundings and destroy any chance of pedestrian life on Barton.
As more details of the redevelopment plan came out, our fears were confirmed. Instead of a truly urban and pedestrian-friendly dense, mixed use redesign that could still accommodate the department stores that populate big box plazas, they opted to go with more of the same old one-storey retail sprawl that has characterized commercial developments in Hamilton for a decade.
What we end up with is this: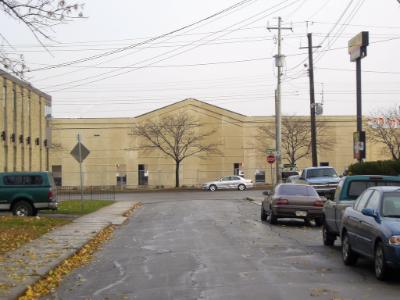 Centre Mall big box store from Barton Street (Image Source: Flickr.com)
Streetwalls are supposed to be articulated so you have a sense of scale, and porous with windows and doors so you can see what's going on inside and actually enter shops. This stark, blank wall offers neither; it is the blandly functional rear wall of a retail warehouse and nothing more.
If you want to participate in the activities of the new Centre Mall, you have no choice but to drive into the central parking lot, find a spot, and then walk through the same parking lot to the front of the store. When you finish there and want to visit a different store, you will have to return to your car, drive to a spot in front of the next store, and repeat.
What a tragic missed opportunity to create something with lasting value in an economy where the logic of universal driving has increasingly poor long-term prospects.
Post a Comment
You must be logged in to comment.