Hitting the Wall
Building regulations should be simple, coherent, and people-friendly.
By Ryan McGreal
Published April 14, 2005
In my February 19 editorial, I described real smart growth as "open, creative, organic, dynamic, and diverse." To create the conditions for this, regulations should be simple, straightforward, and have as few restrictions as possible.
Now, obviously, there should be some governing principles, based on a sound understanding of how cities work. Otherwise, the city becomes a meaningless jumble of disconnected structures that resist comprehension, let alone navigation, by citizens and visitors.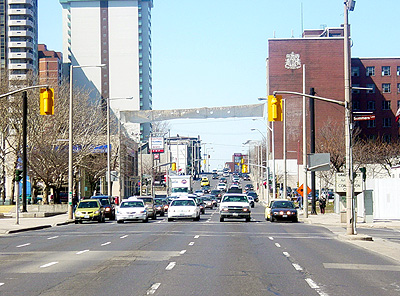 Main Street West near the core has no sense of place - unless you're a driver
The occasional city may get away with schizophrenic architecture (I'm thinking specifically of Las Vegas), but whatever value this mode offers lies in its sheer novelty, the city as theme park. Most real spaces need coherence.
To see an example of simple rules that provide a good framework for development, we can do much worse than Toronto's King-Spadina Secondary Plan. If you've been to the King-Spadina area recently you can attest to its wonderful, eclectic vibrancy.
Translated from plannerese into plain English, the plan is as follows:
Buildings are located right at the sidewalk, not set back from it, in order to define public space.
Buildings are compatible and proportional with their neighbours for height, roof line, architecture, etc.
Buildings are accessible directly from the street.
Parking doesn't come between the street and buildings. If you must have parking, put it out back or underground.
Street improvements should discourage driving and encourage walking and public transit.
Owners are free to use their buildings for residential, commercial, or mixed use.
That's it. Architecturally, the built environment should be friendly to pedestrians. Functionally, the buildings should have a mix of uses defined by their owners, and public uses should open onto the street, not an internal mall. The latter principle brings people and businesses into close proximity, while the former ensures that the environment doesn't scare people away.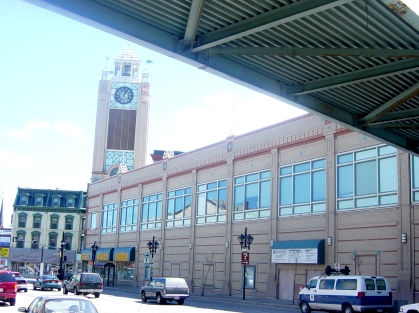 The old Eaton Centre offers only a blank wall to the outside world. Note the tacky, fake flags on the cartoony clock tower
In his book City Comforts, David Sucher distills the principles for developing the built environment into into three rules:
Build to the sidewalk (i.e. property line).
Make the building front "permeable" (i.e. no blank walls).
Prohibit parking lots in front of the building.
Added to the principle that buildings should be proportional, these simple rules help to create a street wall that gives the street a human scale and makes pedestrians feel comfortable.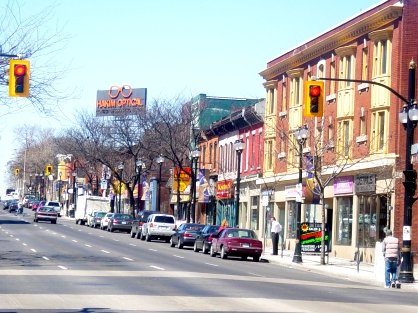 Street Wall on the North side of King St. West, Hamilton
The street is effectively transformed into a great hall, with eye-catching sights along the sides. Pedestrians feel sheltered and safe on streets with good street walls. The street wall draws people's eyes to the available shops and amenities.
Possibly the most beautiful street walls on the planet can be found in Paris (a city, incidentally, that is planning to make its downtown car-free). A recent post on the Skyscraper Page Forum explores Paris in an elegant photo-essay that explains the underlying principles.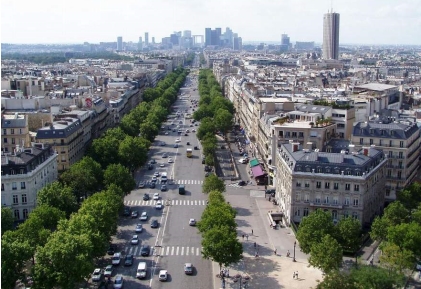 Paris is world famous for its boulevards, framed by Baron Haussmann's streetwalls (photo credit: Skyscraper Page)
Because they are limited to five or six stories and the tops are mansarded (their roofs are steeply double-sloped and include dormer windows for additional accomodation), Paris buildings allow plenty of light and warmth onto the street. "[T]hese facades make continuous, harmonious streetscape out of a similarity (but not identicality!!) of parts; they're particularly adept at defining axes because they meet the sky to make a fairly straight line."
Building walls are richly articulated around windows and trims but still provide a clear sense of scale by delineating each storey. At the street level, the facade is continuous and engaging, with "no unsightly and boring gaps. Such streets are livable, so people live in them."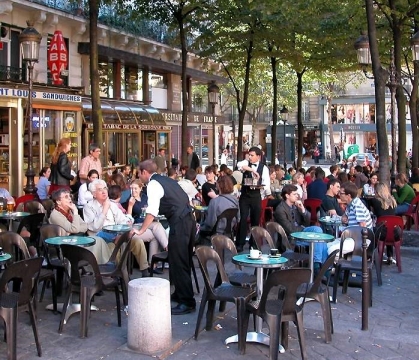 The streets of Paris are alive with people (photo credit: Skyscraper Page)
When architects abandon the scale and balance that makes a welcome streetscape, pedestrians begin to feel out of place.
If buildings are too short, and particularly if parking lots come between the sidewalk and the stores, the street loses definition. A pedestrian on the sidewalk feels isolated and exposed. To get a sense of what I mean, try walking along Upper James. The stores all require huge, garish free-standing signs out front because there are no consistent lines for the eyes to follow.
If buildings are too tall, the hallway effect becomes a tunnel effect, and pedestrians feel crushed under huge walls that stretch up indefinitely, not to mention buffeted by the inevitable wind tunnel. Blank towers with no articulations or textures and no street-level amenities only emphasize this effect further.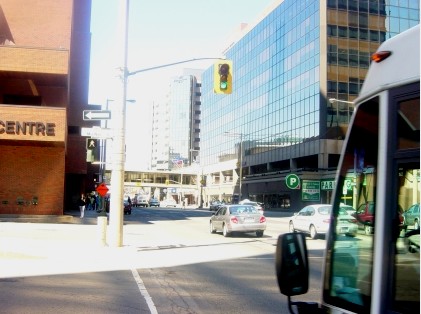 The conglomeration of mismatched buildings on King between James and Bay is just a mess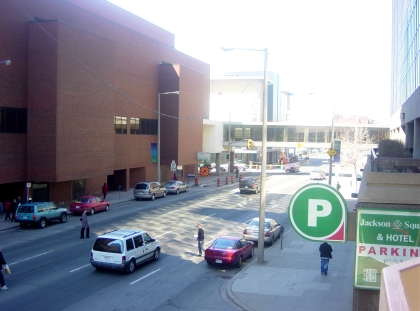 Another view down King St, from the Jackson Square Plaza
If buildings are inconsistent in height (i.e. too short and too tall) or setback (distance from the sidewalk), the hallway effect is destroyed and the street loses coherence. In this case, pedestrians must try to find their way through a giant's collection of hockey trophies.
These simple rules can replace the wads of rigid standards that govern minimum parking requirements, use zoning, lot size, assorted setbacks, minimum street widths, and so on. Heavy-handed micromanagement gives way to organic development.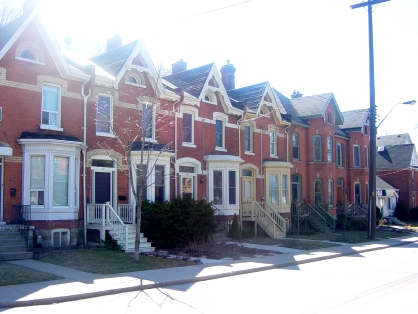 Even residential neighbourhoods benefit from good street walls.
Instead of a nightmare of red tape that only large, well-connected developers can navigate and the bland sameness of huge subdivisions and industrial parks, the city would offer a simple protocol that encourages variety, niche development, and decentralized planning by individual investors.
The built environment that results will celebrate diversity of uses, building types, and lot sizes within a coherent framework that makes people feel welcome, brings diverse people together, and provides real transportation choices.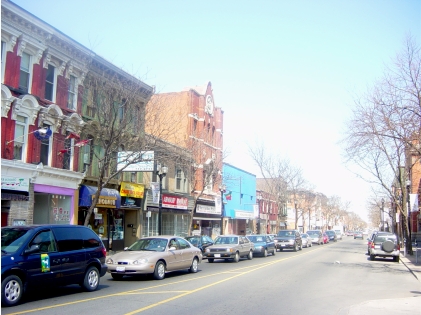 James St. North has the potential to regain its former glory
Post a Comment
You must be logged in to comment.