Centre Maul: Revitalization or Destruction?
We may be seeing the grand renovation of the centre mall into the form of - get ready for it - a big box power centre.
By Jason Leach
Published June 16, 2005
As word begins to spread about the impending redevelopment of Centre Mall on Barton Street between Ottawa Street and Kenilworth Street, it is unclear which scenario - revitalization or destruction - will be played out.
After several months' talk about whether the project will actually go ahead, things are finally starting to sound more concrete. One price tag being thrown around is $100 million for the project. The next few months will see more details unveiled about the cost and design of this grand project.
Being 27 years old and having done some light traveling in North and South America, I had always assumed that when the Centre Mall project was unveiled it would stay true to its history as Canada's first indoor mall and become Hamilton's (and Ontario's) first inner-city mall to be de-malled.
De-malling has become a huge trend in the U.S. during the past decade, especially in places like California where malls reigned supreme for decades and helped create the image of lifeless, violent Los Angeles that we have all come to know. That city finally woke up and realized that by putting everyone indoors, the streets were reserved for high speed traffic and thugs - not the greatest mix for a vibrant downtown or inner city.
The city of Los Angeles is being transformed before our eyes into a people-friendly, cultural hot spot with shopping, dining and nightlife to complete the picture. I never thought I'd say this, but Hamilton could learn a thing or two from L.A.
Big Box Blues
A recent Spectator article hinted that we may be seeing the grand renovation of the centre mall into the form of - get ready for it - a big box power centre.
The Sky Scraper Page forum has hosted a lively debate on the Centre Mall plan, and one anonymous participant posted what appears to be a site plan for the renovation.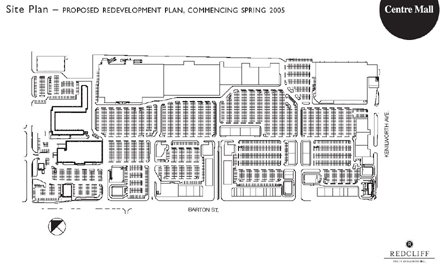 Possible site plan for Centre Mall renovation (click on the image to see a larger version) Source: Sky Scraper Page)
Raise the Hammer has not confirmed the authenticity of this report, and Councillor Sam Merulla claimed he was "not at liberty" to discuss any details when we asked him. If the plan is correct - and it certainly looks like every other big box development around here - then it is a huge step in the wrong direction.
Unfortunately, it's so hard getting a straight answer from the city that we have to resort to leaked plans on an anonymous bulletin board. If you're confused and skeptical about the city's and developers' intentions, welcome to the club. If City Council has nothing to hide, then now would be a great time to publish the actual plans and invite public input.
Councillor Merulla, trying to find anything at this point with which to credit the Red Hill Expressway project, is gushing about east Mountain residents being able to get to this new hot spot easily, thanks to the brilliant planning practices at city hall that are suffocating us in cars and pollution. He also mentions the benefit to be felt by businesses along Ottawa Street and Kenilworth Avenue.
A Huge Opportunity
We need to keep our eyes open and look through the rhetoric to find some facts:
Centre Mall represents a huge opportunity to breathe life into this part of the city and surrounding retail streets like Barton, Kenilworth, and Ottawa. This will not happen with a big box format.

One of the developers of the Power Centre planned at Hwy's 5&6 recently agreed with residents' concerns that the development will kill downtown Waterdown. These developments are city killers here, in L.A., and every other place on the planet.

Bringing more cars into the inner city is not good for the neighbourhood. Developing the Centre Mall as a mixed-use project with major chain stores, upper floor apartments or lofts, and a beautiful streetwall along Barton Street would be amazing for the neighbourhood.

I would also like to see a permanent home for the Centre Mall Farmers' Market with a wonderful, landscaped public plaza for summertime music, cafes and market vendors. The key here is mixed use, not huge, one-storey warehouses surrounded by parking. Upper James stinks. We don't need another one.

Just because the city has ignored this part of Hamilton for the past few decades does not automatically make this "great news". Again, depending on what happens with the design of the project, we will either see rejuvenation and rebirth in this wonderful part of Hamilton or decay and destruction of the already struggling businesses on surrounding streets.

If this project is big box in format, nobody from the Mountain will come to it, thereby making references to Red Hill nothing more than a desperate attempt by a highway supporter to try and convince us that there will be any positive spinoff. Mountain residents are surrounded by ugly big box stores. They don't need to drive down into the shadows of Dofasco to find this sort of thing.

The entire area from Nash Road to well east of Centennial Parkway along Queenston and Barton is already a massive, ugly blob of car-dependant, big box retail. Do we really need more?

Transit, transit, transit. A mere ten minutes from downtown, an already well-populated neighbourhood such as this should be exploiting the potential for transit-oriented development. It's high time we drag ourselves out of the 1960s and get with the program.

Residents of the surrounding neighbourhood must be informed of the details of this project and given a voice. This can become another ram-it-down-your-throat project of which we usually get in Hamilton, or it can be a wonderful exercise in community-building and citizen participation.

I urge city council to look at this project as more than just a mall reno. This is about carefully enhancing a "rough around the edges" neighbourhood with new life and a new image. The people who live there should decide what their neighbourhood needs.
Take Charge
Ottawa Street has been jumping back to life in recent years, while Barton Street remains a hotspot for cultural food, but little else. Kenilworth and Parkdale are horrendous streets with tonnes of potential, much of which has likely been squashed by the enormous big box mess near Eastgate Square.
Residents and small business owners must become involved in this process and demand a project that will enhance their community. We should demand good design, a range of uses, new residenatial space, public art, culture, dining, pubic square space, lots of greenery and a proper placement of cars - underground or behind the entire site by the rail tracks.
Barton Street can be beautified through this project with a "new" historic looking streetwall of shopping and people-watching, or it can be further destroyed by the typical small-minded Hamilton vision of more suburbs and warehouse stores dropped into a historic, walkable neighbourhood.
Residents, you can be sure that council doesn't have your back. You'd better take charge before it's too late.
Post a Comment
You must be logged in to comment.