Answers to All Your Light Rail Transit Questions
Grand list of responses to every serious question that has been put forward about Hamilton's light rail transit plan.
By RTH Staff
Published May 20, 2016
This article has been updated
We are compiling a grand list of responses to every serious question that has been put forward about Hamilton's light rail transit plan. Here is what we have so far. If you have any additional questions not addressed here, please add them in the comments and we will update the article accordingly.
What is light rail transit?
Light rail transit (LRT) is a rapid transit system that uses electric-powered vehicles, running on trails, in a dedicated right-of-way (not shared lanes with cars), and stops at stations instead of bus stops.
What makes it "rapid" transit instead of just transit?
Several features make rapid transit faster than regular bus service:
The vehicles run in a dedicated right-of-way so they don't get stuck behind traffic.
They have signal priority at intersections. That means the signal will turn green or stay green so the LRT vehicle can proceed through the intersection.
Stations are spaced farther apart than bus stops so there are fewer stops along the route.
Passengers pre-pay at stations so boarding is faster through multiple entrances when the vehicle arrives.
Vehicles will arrive frequently enough that passengers just arrive at the station and take the next vehicle instead of waiting for a schedule.
Electric vehicles can accelerate faster and more smoothly than buses.
Is LRT accessible?
Yes. Modern LRT vehicles are allow low-floor with at-grade boarding right on the curb. People travelling with mobility devices like wheelchairs and scooters can just roll on and roll off.
In addition, LRT provides a smoother ride with smoother acceleration and deceleration, so it is easier and more comfortable for people of all abilities to ride, whether sitting or standing.
Isn't LRT just a fancy word for streetcars?
Modern LRT is as different from the streetcars of the early 20th century as a modern car is from a Ford Model T. Modern LRT vehicles are smooth, fast, accessible, comfortable and reliable.
What LRT technology will Hamilton use?
It is generally expected that Hamilton's LRT system will use Bombardier Flexity Freedom vehicles.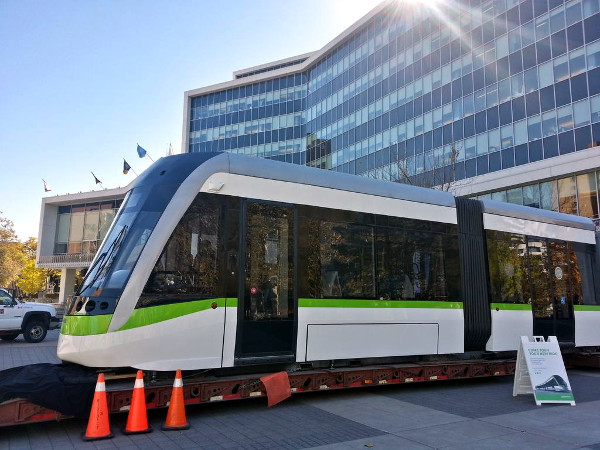 Bombardier Flexity Freedom LRT vehicle on display in front of City Hall (RTH file photo)
However, given Bombardier's difficulty in meeting production deadlines, it is possible that Metrolinx will end up going with a different company.
What is the implementation timeline?
The design and class environmental assessment work will be completed between now and early- to mid-2017. A request for proposals (RFP) will be issued in 2017, and a contract with a build consortium will be signed in early 2018.
Construction will start in 2019, and the line will be completed in 2023 or 2024.
What happens if Ontario changes government in the 2018 election?
The implementation timeline was designed in order to commit to a construction contract before the election so that the government following the election, whatever political party, will still be committed to go through with it or else face cancellation penalties.
In any case, all three major provincial parties have confirmed that they will continue to support the Hamilton LRT plan should they form the next government.
Who will own the LRT system?
The Ontario Government will own the LRT system. The money is being spent in the City of Hamilton, it is not being given to the City of Hamilton.
Who will operate the LRT system?
That has not yet been decided. The Ontario government will own the system, but might decide to subcontract operation to another party. For the Eglinton Crosstown LRT system in Toronto, for example, operation is being subcontracted to the TTC.
Will LRT be integrated with local transit?
That has always been one of the basic elements of the LRT plan. That integration will entail re-orienting the local transit system to feed more effectively into and leverage LRT (one transportation planner has already proposed a way to improve transit service by leveraging existing resources more effectively) and ensuring seamless transition between bus and LRT service. That will also likely mean a single fare system between the two systems, though the details have not yet been finalized.
Where will the LRT line run?
Phase 1, which is being implemented currently, will run east-west from McMaster University to Queenston Traffic Circle and north-south from King and James to the West Harbour GO Station and possibly as far as the Waterfront.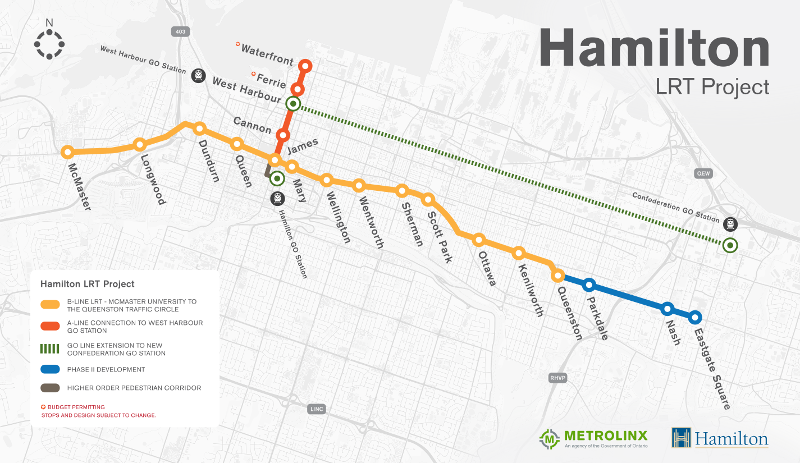 Hamilton LRT route map
What route will the east-west line take between McMaster and Queenston?
The line will run on Main Street from Cootes Drive to just east of Macklin; then cross Highway 403 diagonally on a new bridge to King Street just west of Dundurn; then on King Street through downtown to the Delta; then back on Main from the Delta to Queenston.
Where will the line be on the street?
The LRT will run on a dedicated right-of-way in the centre lanes, with vehicle lanes on the outside.
Where can I get more details on the alignment?
You can read a summary of the LRT alignment study and see some renderings of how it will look on the street.
Will King Street be converted to two-way traffic?
Yes. For most of its length, King Street will be one vehicle lane in each direction with two-way LRT in the middle.
What will happen through the International Village?
Because King Street is narrow through International Village, there is not enough room for two LRT lanes and two vehicle lanes, so the LRT lines will be on the north side and there will be one eastbound lane on the south.
This decision was made because businesses on the south side of King need direct vehicle access from the street (e.g. for deliveries), and the multi-unit building at 260 King Street East has its parking garage entrance and exit on King Street.
Meanwhile, businesses on the north side have vehicle access from King William and a laneway that runs between King and King William.
The City is considering a laneway beautification project to improve access for north-side businesses.
Will there be an LRT stop at the International Village?
Yes. Local businesses complained that the preliminary station map did not include any stations directly serving the International Village, so staff revised the map to move two stations so they provide direct access to each end of the business district.
Why is the line running on King instead of Main between Macklin and the Delta?
Both routes were considered early in the design phase. The decision was made to put LRT on King for the following reasons:
More potential for infill development and value uplift;
Opportunity to convert Main Street to two-way traffic to enable continued east-west driving across town.
By this point, years of design work have gone into the King Street route.
So will Main Street be converted to two-way?
That decision has not yet been made. Staff are currently undertaking a city-wide traffic study and will make a recommendation later this year based on the results of that study.
Why are we building LRT between McMaster and Queenston Traffic Circle?
This corresponds with the B-Line express bus route, which is the busiest transit corridor in the city and carries more than a third of all the bus passenger trips in the city. The current bus system is over capacity with crammed buses and frequent "pass-bys" where a bus is too full to pick up passengers waiting at a stop.
LRT is most successful when it operates on a line that already has strong transit ridership, so it makes the most sense to start Hamilton's rapid transit system here.
This corridor also has the most potential for new transit-oriented development and value uplift on vacant and underused properties.
The section from Queenston to Eastgate Square is to be added in a future phase of construction.
Why doesn't the east-west line go all the way to Eastgate Square?
There are two main reasons:
Ward 5 Councillor Chad Collins is opposed to LRT and the Province does not want to force infrastructure where it is not wanted.
The Province wants the LRT to connect to Regional Express Rail via the West Harbour GO station.
Because of these, the decision was made to stop the first phase of the B-Line at Queenston Traffic Circle and build a spur line north on James Street.
How will LRT run on James Street?
The north-south line will run in the centre lanes in mixed traffic, i.e. sharing the lane with other vehicles. This decision was made because the distance is short and running in mixed traffic will not affect travel times significantly.
How far north will the James Street line go?
It will definitely go as far as the West Harbour GO Station. If budget permits, it will extend all the way to the Waterfront.
Will James North lose all its curbside parking?
No. Because the LRT is running in mixed traffic, most curbside parking will be retained.
Why aren't we building the north-south A-Line first?
LRT is most successful on routes where there is already strong transit ridership, and the north-south route is still growing from a low baseline.
If the City continues to invest in growing service levels, ridership will continue to grow and the benefits case for extending rapid transit north-south beyond the James North spur line will continue to improve.
Does the Main/King corridor actually have enough ridership to support an LRT line?
The corridor already carried about 29,000 riders per day in 2009, according to the 2010 HSR Operational Review, and ridership has grown significantly since then. The current bus system cannot handle the demand.
Based on this, the 2013 Rapid Ready LRT plan predicts that Hamilton's LRT would have up to about 2,200 daily boardings per kilometre on opening day, with big potential for further growth. That opening day ridership would give us better per-kilometre performance than cities like Los Angeles, San Diego, Dallas, and even LRT poster-child Portland.
Is the LRT design set in stone?
The general routing is already determined and the Provincial funding is only for LRT along this route. However, implementation details like the number and placement of stations, road crossings and so on have not yet been finalized.
How do I provide feedback on the plan?
The City will be undertaking a broad public consultation over the next several months and will incorporate feedback from this consultation into the final design.
Staff representatives will also personally visit every affected resident and stakeholder along the LRT route to establish contact, explain the plan and gather feedback.
Will LRT cause gridlock?
LRT is actually the best way to avoid gridlock, because a dedicated lane for LRT can carry a much higher capacity of people than a motor vehicle lane, and there is nowhere to add more vehicle lanes through the city.
City staff are currently doing a citywide traffic modelling study in part to determine what changes, if any, are needed to ensure traffic can still flow through the city during LRT construction. Once LRT is in operation, the line itself will accommodate an increasing share of trips.
The preliminary traffic study released in August 2016 concluded that even without any traffic mitigation strategy, LRT will have only modest impacts on traffic. Some intersections will be a bit worse, some will be the same, and some will be a bit better.
Will LRT construction affect business along the route?
Yes. As with all road construction projects, LRT construction will be noisy and disruptive. The City plans to engage closely with all affected residents, property owners, business owners and other stakeholders along the LRT route before and during construction to mitigate the disruption.
One possibility to mitigate disruption is a phased construction in which each segment of roadway is only impacted for a limited amount of time.
There will also be opportunities for creative initiatives and events to support businesses through the construction phase.
It is also important to remember that the underground infrastructure along the LRT route is quite old and much of it will need to be reconstructed sooner or later.
If we do not build LRT, we will still eventually have to go through the disruption of ripping up the corridor and disrupting business - but we will end up going through that disruption without getting an LRT line at the end of it.
Will businesses fail?
It's impossible to predict this in advance, but the City plans to work proactively with business owners to ensure they remain viable.
In some cases, this may entail the owner deciding to move the business (and enjoying an uplift in property value if selling the property) before construction starts.
In Waterloo, there are reports of a few business closures in which LRT construction was a factor, while some 20 new businesses have opened during the construction phase. At least two businesses have moved, citing LRT construction as a factor in their decision.
How much will the LRT construction cost Hamilton taxpayers?
The entire capital cost is being paid by the Province, so there will be no impact on Hamilton ratepayers. Of course, Hamiltonians also pay provincial income tax and other provincial taxes and fees, but the cost of LRT is being distributed among every taxpayer in Ontario.
Will Hamilton taxpayers have to pay anything?
Road and underground infrastructure that is already scheduled for replacement in the City's capital budget will have to be paid by the city, but infrastructure that is being replaced due to LRT construction will be paid by Metrolinx.
Metrolinx has indicated that they will replace infrastructure on a "like-for-like" basis, meaning the new infrastructure will match the old infrastructure in specifications. If the City decides to install higher capacity infrastructure, it will have to pay the difference in cost.
That cost, in turn, may be eligible to be recovered through development charges.
What if the project goes over budget? Will Hamilton have to pay the difference?
No. The Province has made it clear that they will stick to their budget, and the cost estimates so far have been conservative (i.e. high). In the event that the project does go over budget, the Province has said it will scale back the construction to stay in budget.
What is Hamilton responsible for?
Under the Memorandum of Agreement (MOA) with Metrolinx that Council voted to sign early this year, the City is responsible to adopt zoning, land use and transportation policies that support the success of the LRT system. It is also responsible to streamline any necessary municipal approvals for LRT construction.
Metrolinx is ultimately responsible to deliver the project, and the City is responsible to support Metrolinx in making it happen.
Will any properties have to be expropriated?
Yes. Staff have identified approximately 250 properties where the city will have to buy or expropriate at least some of the property. Of those, around 180 involve small slivers of land on the front or side of the property, while the rest involve a significant fraction or all of the property.
Metrolinx is looking to maximize willing-buyer-willing-seller arrangements to avoid expropriating land. On the Eglinton Crosstown LRT project, 60 percent of property acquisitions were willing-buyer-willing-seller arrangements.
Who will pay for buying land?
Metrolinx is paying for all expropriations as part of its budget.
Is there a plan to protect heritage buildings during expropriation?
Yes. According to City LRT Director Paul Johnson, staff are updating the City's heritage study to document any impacts from expropriation. In addition, "we have been careful in our alignment work to keep a close eye on what building or properties are impacted."
Why is the Province funding LRT in Hamilton?
The Province is investing in Hamilton because it needs Hamilton to be successful, and Hamilton cannot achieve its long-term land use, transportation and economic policy goals without the investment in LRT.
Has this project been vetted?
Yes. Metrolinx undertook a Benefits Case Analysis on rapid transit in Hamilton and concluded that LRT will produce the biggest overall benefit. That is why the Province agreed to fund the project.
If we turn down LRT, will we still get the money?
No. The province has made it clear that the $1 billion capital cost is for the approved LRT project only. If we turn down the money, it is returned to the GTHA transit fund to go to the next project on the priority list.
Brampton turned down their LRT funding. Will they get to spend the money on something else?
No. Transport Minister Steven Del Duca confirmed that the money for the Brampton LRT was released back into the Move Ontario Forward fund to be spent on other projects.
Brampton is currently starting an Environmental Assessment (EA) study looking at two alternate LRT routes. That study will take approximately three years to complete, after which it can be submitted to the higher levels of government for funding consideration.
There is no guarantee that the project will receive a funding commitment to begin detailed design work. All in all, Brampton has delayed any possibility of an LRT system for at least a decade.
Could Hamilton still choose BRT instead of LRT?
If Hamilton rejects the fully-funded LRT plan, the billion dollar funding commitment will be released back into the GTHA transit fund to be used on the next priority project. Hamilton would have to develop and submit a new transit proposal, which would be have to be reviewed for funding consideration.
The best outcome would be that any approval and implementation would be delayed by many years, but given the uncertainty about longer-term transit funding commitments (there is a total budget of $15 billion in the GTHA transit fund) and the possibility of a change in government in 2018, the most likely outcome is that Hamilton would end up with nothing.
Why don't we have a referendum on LRT?
It is not clear why this particular project suddenly needs a referendum when Council has been exercising its duty to oversee it since 2008. We have not needed a referendum for any other major infrastructure projects in Hamilton's past or other contemporary transportation projects across Ontario.
Canada is a parliamentary democracy. We elect political leaders to engage with their constituents and with each other, to review the evidence, to consider likely outcomes against strategic goals, and to implement responsible policies that make good sense and enjoy public support.
Wasn't there a referendum on the Red Hill Valley Parkway?
No. The municipal election of 2003 is widely regarded as a de facto referendum on the Red Hill Valley Parkway because the highway was a major election issue, the two main candidates for Mayor took different positions on it and the candidate who supported the highway won.
However, there was no ballot question on the highway and Council exercised its responsibility as elected representatives in parliamentary democracy to approve and implement the highway.
Similarly, LRT was a major election issue in the 2014 election. There were three main candidates who took different positions on LRT - two supported it and one was opposed. Despite the potential for the two LRT supporters to split the vote, the winning candidate - Fred Eisenberger - was an LRT supporter.
LRT opponents can't have it both ways: they can't claim that the 2003 election was a 'referendum' on RHVP but the 2014 election was somehow not a 'referendum' on LRT.
What's wrong with just keeping our bus system?
Buses are an indispensable part of a city's transit system. However, there is an upper limit to what a city can accomplish in terms of passenger capacity and land use with a bus-only transit system.
LRT is higher-order rapid transit that has a much higher passenger capacity and speed than a bus system.
The per-passenger cost to operate LRT is significantly lower than for a bus system because each driver can carry many more passengers.
LRT is also better at attracting new riders than buses - many people who do not want to ride a bus will choose to ride an LRT vehicle.
LRT is quieter, smoother and more comfortable than a bus. It is emission-free at the tailpipe (and most electricity generation in Ontario is non-polluting), so it is cleaner.
LRT increases the total transportation capacity of a busy city street in a way that cannot be achieved by squeezing in more vehicle lanes.
LRT attracts new private investment in dense, mixed-use transit-oriented developments in a corridor roughly half a kilometre on either side of the line. This new density increases the city's property tax revenue, makes more efficient use of existing infrastructure, and increases the area's potential for innovation and economic growth.
Developers like to invest around an LRT line because the public investment is a long-term commitment to the success of the community that reassures private investors.
Why don't we build bus rapid transit instead?
Bus Rapid Transit (BRT) is a rapid transit system similar to LRT, but using high-capacity buses riding on rubber tires on the road instead of electric vehicles riding on rails.
Properly designed, BRT also runs on a dedicated right-of-way (i.e. not shared with other traffic) and has stations where passengers pre-pay to board.
The capital cost for BRT is lower than LRT - but not a lot lower. It costs up to half as much per kilometre of BRT as it costs for LRT, because the roadway still needs to be reconstructed to support the weight of a high volume of buses (e.g. with concrete rather than asphalt), curbs must still be installed for the dedicated lanes, stations still need to be built, and so on.
But while the capital cost is lower, the operating cost is much higher. Most of the operating cost of a transit system is paying the vehicle operators, and an LRT driver can carry many more passengers than a bus driver.
By coupling two LRT vehicles together, a single driver can carry up to 250 passengers, more than twice the capacity of an articulated bus.
Couldn't we have BRT without the dedicated lanes and stations?
That would be just regular bus service, and we already have that today. By spacing stations farther apart, some routes are called "express bus service", but this is not rapid transit by any meaningful definition.
I don't live in the lower city and will never use LRT. What's in it for me?
You will benefit in several ways even if you never ride the LRT:
As a ratepayer you will benefit from a city that is bringing in more property tax revenue from properties that are currently low-value.
As the economy improves and diversifies, you may find more employment opportunities in the city.
The buses that LRT replaces can be redeployed to improve service in other parts of the city.
This is just phase 1 of the city's long-term rapid transit plan. A successful implementation gets the city a step closer to rapid transit on the north-south A-Line and other proposed rapid transit routes across the mountain and suburbs.
In addition, the construction phase will provide up to five years of well-paying construction jobs for Hamiltonians. As well, Metrolinx has promised to work with community organizations on "social procurement", which means taking social benefits into consideration when making hiring, purchasing and procurement decisions.
On the Eglinton Crosstown LRT project, that has meant local employment, apprenticeship and supplier opportunities for people living in Toronto.
How many construction jobs will this project create?
According to the Rapid Ready LRT Report [PDF]:
Potential exists for 6,000 construction jobs (provincial), 3,500 of which are expected to be in Hamilton. Potential also exists for 1,000 permanent jobs (provincial) with approximately 300 jobs in Hamilton to deliver regular operations and maintenance.

B-Line LRT investment may result in an estimated increase of more than $443 million in Ontario's GDP based on construction related jobs, employment related to the supply of goods and materials and induced benefits related to additional spending power.
That was for the original B-Line route from McMaster to Eastgate Square, but the total distance being built under the approved plan is similar, with a shorter east-west route but a north-south spur from King Street to the West Harbour.
Has Council actually voted for LRT yet?
Council has consistently voted for LRT in a large number of motions dating back to early 2008, when Council first approved the Rapid Transit Office and directed staff to undertake a Rapid Transit Feasibility Study.
Council voted to submit the city's LRT plan to the Province for funding in early 2013, and then voted again to reaffirm their support for LRT with full funding in mid-2013.
In 2014, they voted to start implementing the local transit actions identified as necessary to get ready for LRT.
In early 2015, they voted yet again to ask for full funding for LRT, while also asking for another $300 million for local transit projects.
Later in 2015, after the Province confirmed full funding, Council voted to establish a new LRT Office and to create a new LRT Sub-Committee reporting to Council.
In early 2016, Council voted to approve a Memorandum of Agreement with Metrolinx outlining the two parties' respective accountabilities in designing and implementing the LRT plan.
So why is Council support suddenly an issue again?
One or two long-term councillors have recently become more skeptical about LRT (one is now openly oppose), despite having consistently voted in favour of LRT in the past. They began a whisper campaign suggesting that Council no longer supports LRT.
In response, Ward 4 Councillor Sam Merulla introduced a notice of motion for the May 11, 2016 Council meeting calling on Council to reaffirm their support for LRT.
Instead of doing this, Council immediately voted 9-6 to approve a motion by Ward 15 Councillor Judi Partridge to defer a vote on the LRT motion until the the May 18 General Issues Committee meeting, where Councillors received an update from the LRT Sub-Committee and a presentation of the preliminary design study by LRT Director Paul Johnson.
After subjecting Johnson to four hours of grilling, including a reprimand by City Manager Chris Murray to Ward 8 Councillor Terry Whitehead for his inappropriate line of questioning, Merulla agreed to put off reintroducing the LRT motion. It is now expected to be reintroduced in October.
Some of Council's hostility seems to be a reaction to the way the motion was presented, but it is clear that some Councillors have gotten nervous about continuing to support LRT.
This is despite the fact that absolutely nothing has changed to cause a need to revisit the case for LRT that Council has consistently supported since 2008. The only difference is that we are getting closer to actual implementation. This is a time when we need our elected leaders to be courageous and fair and to look past fear of change to the vital strategic goals of this investment.
Does Council actually have to vote to affirm LRT again?
No, Councillor Merulla's motion is not necessary for Metrolinx and City staff to continue working on implementing LRT.
What will happen if Council votes against Merulla's reaffirmation motion?
Procedurally, nothing happens. The previous council votes would all still be in effect. To stop work on the LRT design, cancel the Memorandum of Agreement with Metrolinx or adjourn the LRT Sub-Committee would require Council to pass a separate reconsideration motion.
Politically, a vote against Merulla's motion would send a confusing and disheartening message about Hamilton's commitment to its own strategic plans. Local developers are already starting to worry about the mixed signals coming out of City Hall.
---
Please take a few moments to tell Council to take YES for an answer, reaffirm its support for LRT and accept the full capital funding from the Province that Council has consistently voted for since 2008.
---
Update, May 24, 2016: Updated response to "Will businesses fail?" to note that there are reports of a few businesses in Waterloo that cited LRT construction as factors in closure; added "Will LRT be integrated with local transit?" and "What will happen if Council votes against Merulla's reaffirmation motion?".
Update, May 25, 2016: Updated response to "What LRT technology will Hamilton use?" to note that Bombardier will miss delivery commitment for Waterloo Region LRT system.
Update, May 25, 2016: Updated to add "How many construction jobs will this project create?"
Update, May 26, 2016: Updated to add "Does the Main/King corridor actually have enough ridership to support an LRT line?" and "Can Hamilton still choose BRT instead of LRT?"
Update, June 9, 2016: Updated to add "Is there a plan to protect heritage buildings during expropriation?"
Update, August 26, 2016: Updated to add results of preliminary traffic modelling study.
Update, August 26, 2016: Updated to add question about Brampton.
Update, August 26, 2016: Updated to add question about a station in International Village.
Post a Comment
You must be logged in to comment.