Light Rail Alignment Renderings
Renderings of the proposed LRT alignment were presented at yesterday's Sub-Committee meeting.
By Ryan McGreal
Published May 03, 2016
Last Wednesday, the preliminary light rail transit alignment report was published on the City of Hamilton website. At yesterday's LRT Sub-Committee meeting, City LRT Director Paul Johnson delivered a presentation [PDF] with renderings of the LRT line at various points.
On the west end, the line will start at McMaster University at the corner of Main Street West and Cootes Drive:

LRT alignment rendering at McMaster University
The line will proceed in both directions on dedicated lanes in the centre of Main Street West until just past Macklin Street South, where it will cross Highway 403 on a dedicated bridge that crosses diagonally and connects to King Street West at Cathedral Park.
From there, it will proceed in the centre lanes of King Street West, with one motor vehicle lane in each direction on the curb lanes. There will be two exceptions: between Queen and Hess, there will only be one lane westbound; and between John and Wellington, there will be only one lane eastbound.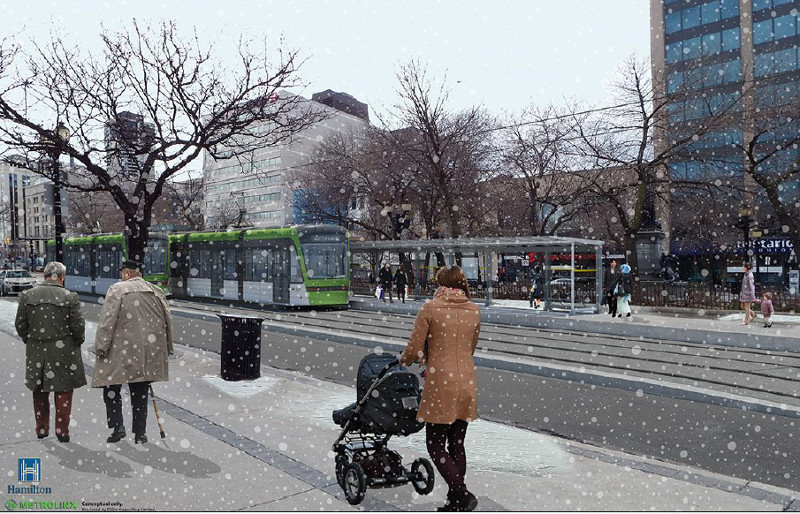 LRT alignment at Gore Park

LRT alginment at King and Walnut
East of downtown, the line will run in the centre lanes out to the Delta, at which point it switches back to Main out to the Queenston Traffic Circle. There, a terminal will provide transfers to an express bus service out to Eastgate Square. (The LRT is proposed to be extended to Eastgate in a second phase of construction.)

LRT alignment at Scott Park
In addition, a north-south spur line will run in both directions on James Street North from King Street to the West Harbour GO Station and, if funds allow, all the way to Guise Street and the Waterfront.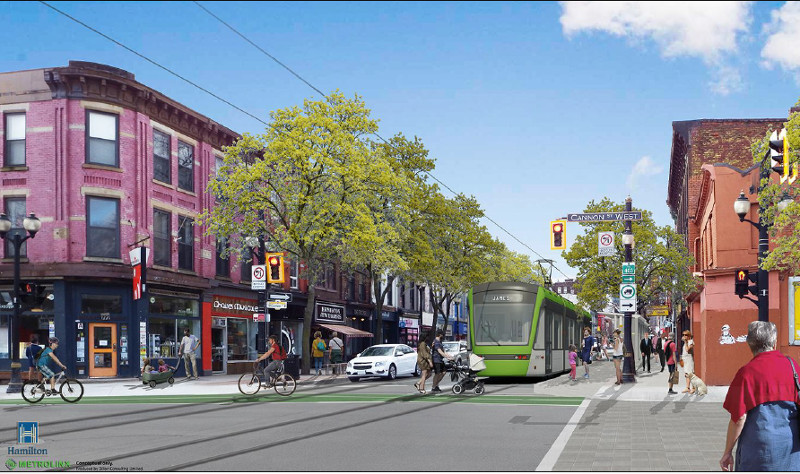 LRT alignment at James North and Cannon
Unlike the east-west line, the north-south line will run in mixed traffic.
The system is being designed in cooperation between the City and Metrolinx, with the Province responsible for produrement, funding, construction and operation of the line.
LRT Community Connectors
The City will be hiring 12 "LRT Community Connectors" to visit every property in the LRT corridor that will be affected by the project and meeting with the owners/occupants to make a personal connection, explain the LRT plan and direct any technical questions to the appropriate LRT Project employee.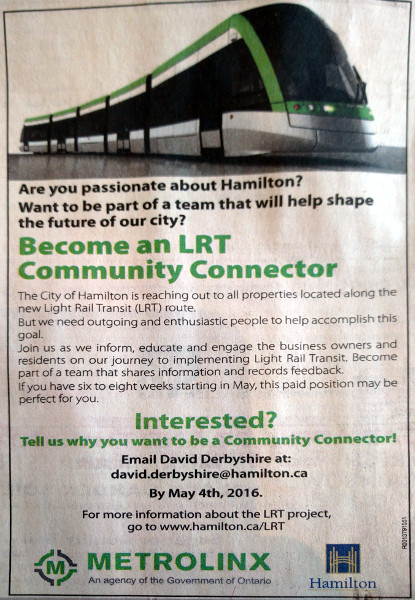 Print ad for the LRT Community Connector position
According to Kelly Anderson, LRT Communications and Engagement Manager for the City, they are looking for applicants who have excellent communications and service skills, the ability to manage conflict, and computer skills to input contact information into a city database. Ability to speak multiple languages is an asset.
There will be 12 positions available for around eight weeks, and the job pays $15 an hour. Interested applicants are advised to email David.Darbyshire@hamilton.ca by Wednesday, May 4. The timeline is short but the City hopes to begin outreach in late May or early June.
Post a Comment
You must be logged in to comment.