Leverage LRT to Redeploy Buses for Better Service
By realigning existing HSR routes to match the principles of great transit, we can provide much better service for the same operating cost.
By Andrae Griffith
Published January 18, 2016
Picture this: You're a city with proud history of making steel on the cusp of an exciting new chapter. You have a downtown core that companies are moving to, and you've got a tech sector and a network of hospitals to keep your economy diversified.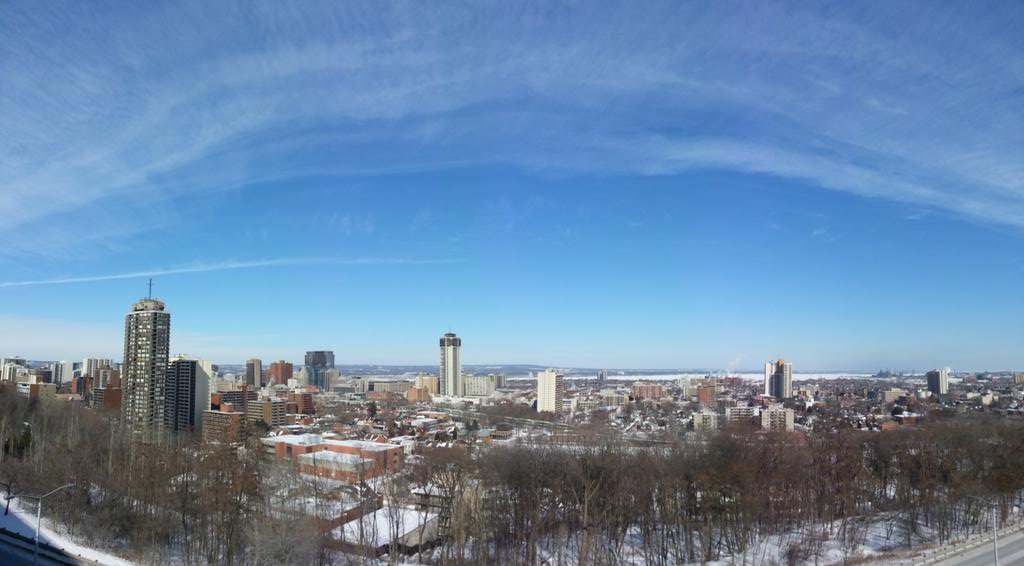 Overlooking downtown Hamilton (RTH file photo)
You've positioned yourself as place where families can afford a home in a nice urban neighbourhood and still be a short commuter train ride away from the metropolis. You have a burgeoning arts scene and an active community of urban activists who care deeply about your well being.
You've got two institutes of higher learning close to your downtown core, so there are plenty of riders to justify a better transit network than most of your neighbours have.
You have some problems with sprawl on your edges and you're still not sure if you should plan for steel to come back or to redevelop those lands, but you've made some good planning decisions recently that deserve a pat on the back.
Overall, you're riding on a cloud of optimism that even the usual "this town is going to hell in a handbasket" crowd can no longer deny.
At least, that's how I - someone who commuted to Mohawk College from outside of the city - sees Hamilton. Even if you don't share my rosy optimism, the fact that the province is spending a billion dollars on light rail transit (LRT) along the King / Main corridor is cause for excitement.
How LRT Will Affect the Bus Network
Mohawk College's Transportation Engineering Technology program is where I've been for the last few years, and the hallmark of the program is a thesis-level major transportation project. Even before the time came to start working on mine, I had been wondering what effects the LRT will have on the broader HSR bus network.
We can be pretty certain that there will be changes to the 1 King and the 10 B-Line, but what about nearby downtown routes like the 3 Cannon and the 5 Delaware? How will routes from Dundas, Ancaster and Stoney Creek interact with the LRT? How will buses from shortened or eliminated routes be redeployed?
If we're looking to build an integrated transit network, these are important questions to answer. Plus, knowing how the bus routes will change can help address the "LRT does nothing for (insert neighbourhood not on the corridor)" crowd.
TransLink Planning Principles
In the summer of 2013, I had the opportunity to intern with the bus service planning group at TransLink, the transportation authority for the Metro Vancouver region.
At the time, they were preparing an area transit plan for a segment of the region where game-changing rapid transit was under construction, so the experience was very relevant to Hamilton's circumstances.
I was able to learn about the factors that TransLink believes makes for successful transit routes, and by extension, what makes for poor performers. Based on those lessons, I decided to cap off my education with a HSR network review based on the TransLink planning principles.
TransLink believes that good transit routes have the following elements:
Serves areas of strong demand
Has strong anchors at both ends
Is as direct, simple, consistent and legible as possible
Maintains speed and reliability along the entire route
Avoids duplication or competition between transit services
Matches service levels to demand
Has balanced loads in each direction
Experiences an even distribution of stop activity
Has an even distribution of ridership by time of day
Some of these elements weren't really relevant to my review. For example, Hamilton already matches service levels to demand. You can argue that low service levels drive people away from transit, but the HSR does currently match service levels to the demand that presents itself.
At the same time, some elements were very relevant. Many routes in Hamilton are not direct, simple and legible to the casual user.
As well, many routes lack strong anchors. The 2 Barton avoiding Eastgate Square and the 33 Sanatorium stopping short of the Meadowlands are two good examples. When you have strong anchors at both ends attracting riders, you can fill seats that would otherwise be empty.
Two-Way Traffic Better for Transit
After reviewing each route against these principles I made assumptions for the future. Not surprisingly, the assumption which attracted the most attention was that the major one-way streets in Hamilton would be converted to two-way traffic.
I've been to cities where one-way streets are vibrant, pedestrian-friendly destinations for blocks on end (Montréal, for example), but even these cities haven't solved a fundamental issue with running transit on one-way streets:
We often talk about a standard 400 metre walking distance to bus stops, but that measurement has to include the walk to both the "coming" and the "going" bus stop. When you split directions, you reduce the distance that's within 400 metres of both stops.


One-way streets mean transit reaches fewer destinations (Image Credit: Human Transit)
While it might be easy for a potential rider to walk to the eastbound stop on Main Street, the walk back from King Street may be too far to be convenient - so they drive both ways.
As a result, I recommended two-way streets and assumed that they would be in place after the LRT is in service.
Redeploying Existing Resources
Next, I got to work redesigning the network. I used a piece of transit planning software called Remix to first draw today's network and established a baseline cost. I wanted to use my own present-day costing numbers so that my future network could be compared apples-to-apples.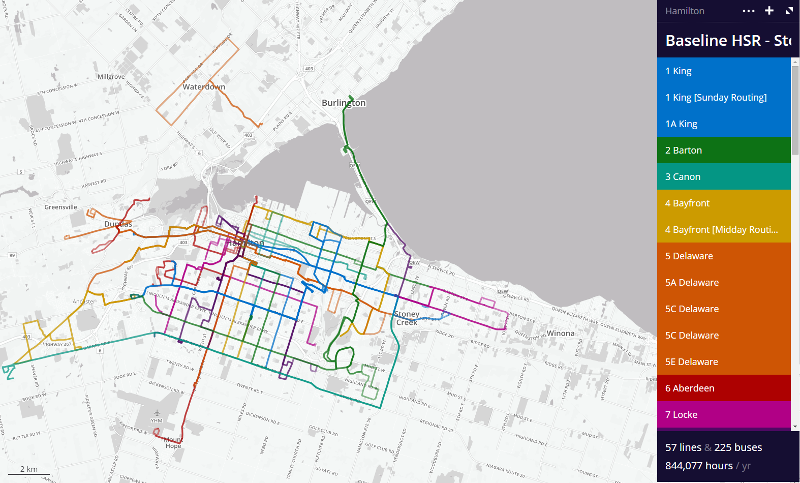 Baseline Conditions.
I drew the existing network to determine the present day cost in service hours. 1 bus on the road for 1 hour = 1 service hour.
Then I redesigned the network based on LRT and applying the TransLink design principles.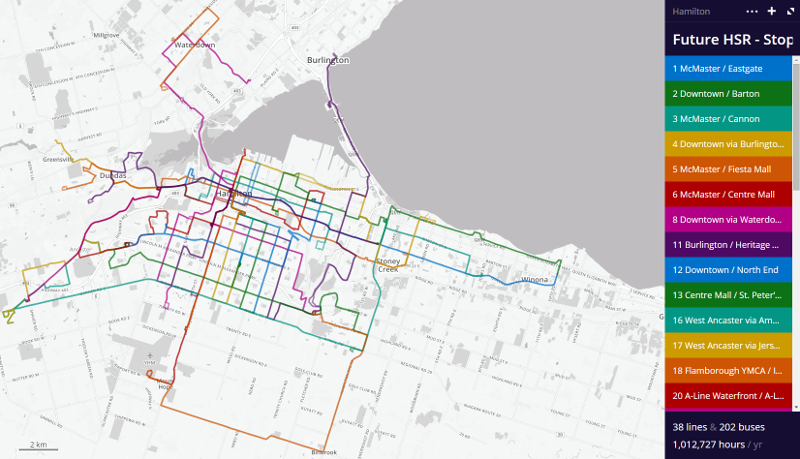 Future Conditions. I strove to fix the issues raised in the review while staying on a budget.
The future transit network tries to use the LRT as a trunk route into which other bus routes can tie. Routes from Dundas and Ancaster tie into the LRT near McMaster, while routes from Stoney Creek tie in at Eastgate Square.
Routes from the mountain continue go into the downtown core, but many now have an anchor on the other end - The Meadowlands and Heritage Green, for example.
I also improved service and connectivity for the growth areas on the outskirts of the city. Winona, Binbrook, Waterdown and far Ancaster now have better service. I was able to increase fleet efficiency, increase coverage and increase convenience.
In particular, there was a 23 percent increase in residents who had access to frequent transit (every 15 minutes or better all day).
All of this was accomplished by re-aligning the routes to better match TransLink's principles, leveraging the LRT for a lot of east-west travel through downtown, and redistributing the displaced buses to make routes longer or more frequent.
Travel Time on Transit
For the average rider, the convenience of the transit network is greatly improved and the Remix software has a feature called "Jane" which can show that through travel time isochrones. In plain english, I was able to analyse how much further riders can travel using my network in comparison to today and clearly show that my network performs better.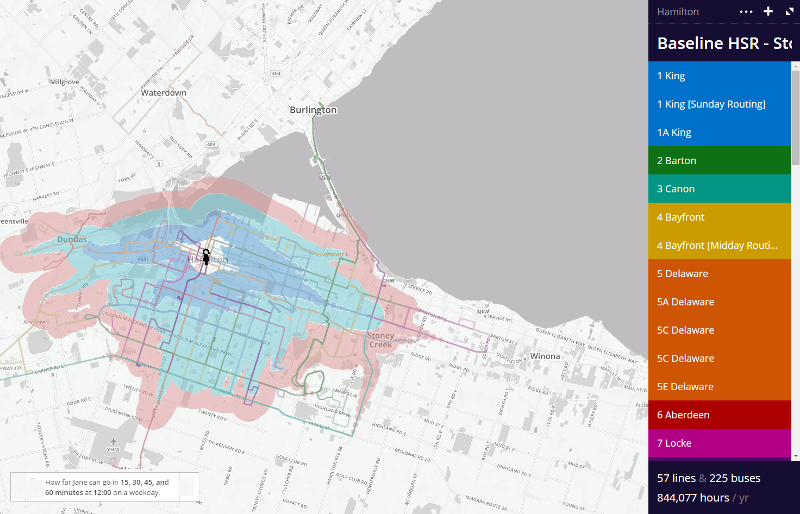 Travel time from downtown, HSR baseline conditions
While there is some downtown redevelopment, most of Hamilton's growth is on the fringes where travel time to the downtown core exceeds 60 minutes today.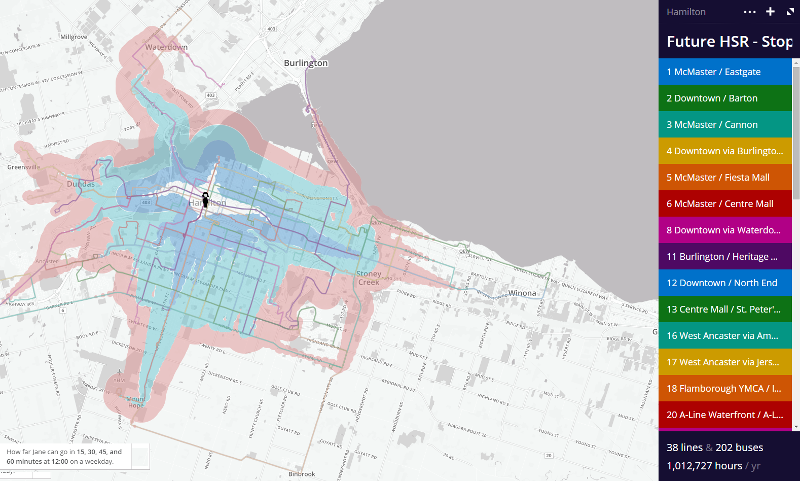 Travel time from downtown, HSR Future Conditions.
More direct service and more frequent service means less waiting and easier connections. That helps decrease travel times for the places where Hamilton is growing fastest.
For riders starting from the downtown core, much more of the city can be reached within 60 minutes under the future network than can be today.
Things are most improved for the east mountain, Ancaster, Stoney Creek and Waterdown, but bringing these communities into the fold means that areas along the way are now made closer.
Upper James & Rymal and Eastgate Square, for example, are two places which are shown as within the 45 minute zone today. The changes I came up with bring them into the outer edges of the 30 minute zone. That's an improvement that most people can grasp and appreciate.
Improvement for Suburbs
There was even an improvement for those living in very automobile-dependant areas. While it might still be difficult to get downtown in an hour, these changes could make it easier to reach uptown destinations like Heritage Green, Upper James and Rymal or Limeridge Mall.
We are obsessed with making it easy to get to downtown, but making it easier to reach the plaza a few blocks away can boost off-peak ridership.

Travel time from southeast suburbs, baseline conditions
When a 60-minute transit trip from the suburbs doesn't take you out of the car-dependent areas it should be no surprise that ridership is lower than it could be.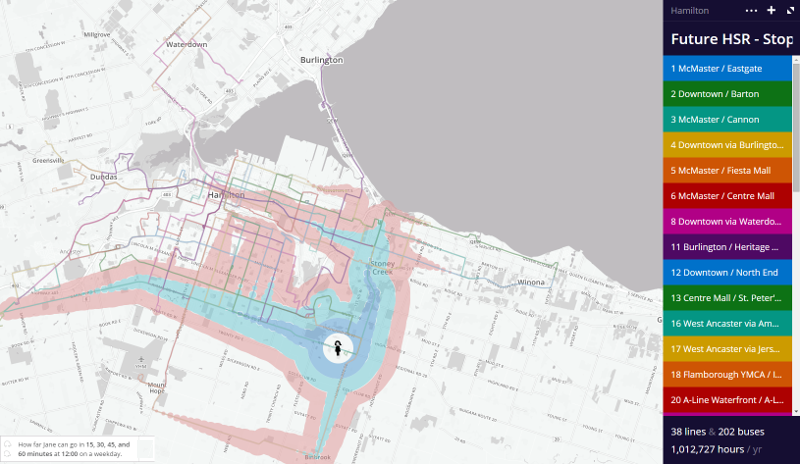 Travel time from southeast suburbs, future conditions
It's difficult to convince citizens that change can be for the better, but before-and-after isochrones can offer tangible proof.
Caveats
This network is not perfect. Service to Binbrook, for example, has to travel through lots of rural land and probably isn't going to be a financial winner as a result.
Also, there are some neighbourhoods where a logical and direct route isn't possible because of the street network, and that means that some people will have to walk further to a bus stop. That service will be more frequent, but for a lot of people a longer walk is simply a non-starter.
Also, this project assumed that the LRT would end at Eastgate Square (the funding announcement came down two days before I handed it in).
Still, I think what I came up with is a good starting point for a discussion on what the transit network should look like after the LRT is completed.
Why do we we plan transit the way we do? How do land use and the road network fit into how well the transit network performs? Can drastic changes to the network improve things in ways that little tweaks cannot?
These are some of the questions we need to be asking if we're going to ensure that the LRT is truly the game-changer that we all hope it will be.
You can read the full report or watch the presentation online.
Post a Comment
You must be logged in to comment.