On LRT Reaffirmation Vote, Cowardly Council Defers Decision
Are there seriously some councillors who have yet to make up their minds whether they will accept the Provincial money that Council asked for?
By Ryan McGreal
Published May 12, 2016
Well, it wasn't the disaster some people feared - but it wasn't a proud moment for Council either.
Last Week, Ward 4 Councillor Sam Merulla threw down the gauntlet with a notice of motion calling on Council to "reaffirm the acceptance of the $1.0 billion dollar investment in infrastructure and public transit that the Province of Ontario has provided for the express purpose of completing the LRT project."
That motion was presented at last night's Council meeting, and while no one was sure quite what to expect in the debate, it was widely assumed the motion would pass overwhelmingly once the posturing and grandstanding was out of the way.
Instead, with almost no opportunity for debate, the motion was deferred by a 9-6 vote until the May 18 General Issues Committee meeting, when the preliminary LRT Alignment report from the May 2 LRT Sub-Committee meeting is presented to all the councillors.
That meeting turned acrimonious when Ward 5 Councillor Chad Collins and Ward 8 Councillor Terry Whitehead grilled staff with questions and claims designed to undermine confidence in the LRT plan. Whitehead claims he still supports the Provincial investment, whereas Collins says he opposes it, even though he voted in favour of it consistently between 2008 and 2014.
Last night's meeting never had a chance to turn acrimonious. As soon as Merulla had spoken to his motion - and he spoke like an old-timey preacher, if old-timey preachers railed about people lacking "balls" - ward 15 (Flamborough) Councillor Judi Partridge immediately moved to defer the motion. Once a deferral motion has been made, the procedural rules bar Council from debating the issue further.
Thanks to Joey Coleman of The Public Record, you can watch a video of the LRT proceedings:
First, Merulla confirmed with City finance chief Mike Zegarac that the City has spent $5-6 million on LRT planning so far, of which some has come from the Province (including $3 million to complete the original Class Environmental Assessment on the B-Line).
He also confirmed with the City Clerk that Council has voted multiple times in favour of LRT. The Clerk confirmed "at least three" votes from memory, but there are at least several votes:
In addition to the February 2013 vote to approve the Rapid Ready LRT plan and the April 2013 vote to reaffirm Council's support for Rapid Ready, Council voted last year to establish a new LRT Office to coordinate with Metrolinx on the consultation and design work for the LRT line.
Early this year, Council voted to approve a Memorandum of Agreement (MOA) with Metrolinx on their collaboration to write an amendment to the LRT Environmental Assessment the City completed as part of the original Rapid Ready LRT plan.
And Council has approved every LRT Sub-Committee report that has been presented to it since the November 30, 2015 meeting.
Merulla further confirmed with Zegarac that the billion dollars is already earmarked in the provncial Treasury to be spent by Metrolinx on Hamilton's LRT system. He went on to argue that for any infrastructure projects along the LRT corridor that were already budgeted by the city but will be covered by the LRT capital project, that municipal money can be freed up to complete other projects on the city's infrastructure backlog.
Sidenote: Ward 5 Councillor Chad Collins' body language is remarkable during this segment of the meeting. While Merulla is speaking, he is literally swivelling back and forth in his chair and rolling his eyes at the ceiling.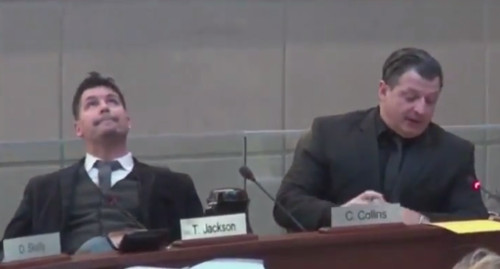 Ward 5 Councillor Chad Collins, left, slowly rolls his eyes at the ceiling while Ward 4 Councillor Sam Merulla speaks to his LRT motion (Image Credit: screen capture from TPR video)
Collins' disdainful gaze at the ceiling continues through Paul Johnson's response: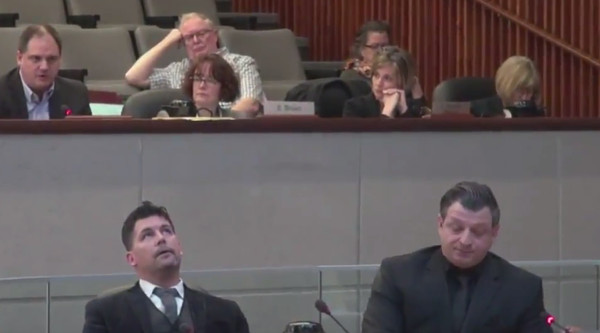 Councillor Collins, bottom left, continues to roll his eyes slowly as Paul Johnson, top left, responds to a question from Councillor Merulla, bottom right (Image Credit: screen capture from TPR video)
After getting through his questions, Merulla got to his statement, which is worth quoting in full:
Mr. Mayor, what we have before us, really, is a situation of inconsistency, unpredictability and chaos. People can't commit to what already we've committed to. It is a frightening state of affairs of voting based on false pretense and communicating to our public accordingly.

I have, since 2008, conducted nearly 25 public meetings. I have cordially [audio cuts out for a second]. Those of us that are on the line from City Motor [Hotel site] to McMaster [University] and now going down to the [West Harbour] GO station have a direct impact. And as a direct result, I was very proactive in communicating what this all meant.

To now, in any way, from an obstructionist standpoint, try to impede the progress that we've made to this point, although the line is already [unintelligable] at ten percent, we're already at the implementation stage here, folks. We're not debating the merits of the project.

And if I can draw attention to what we went through with the [Red Hill Valley] Expressway - now, understanding that I supported that expressway, and understanding that we were coining opponents to that expressway as obstructionists.

But nobody went as far as what's going on or what I've heard or at least what people have indicated to me, that there might be a deferral to actually commit to what we've already committed to, of a billion dollars sitting there to be spent for LRT, which then concludes, to my eyes, that people are soft on this particular project.

If that's the case then come out of the closet, folks. If that's really the case, then come out of the closet, admit that you've deceived this public, you've deceived the residents of this city, that you really didn't mean it when you voted for it, and now suddenly you've had a change of heart, you don't want that billion dollars.

But we are now [audio cuts off] one billion dollars of capital expenditure, and this project - you want to talk about the merits of this project, I will do so, but it's really about the integrity of the process and the integrity of each and every one of us in voting based on purpose and objective, to only then change your mind because you got weak-kneed and lacked balls.

And I tell you that that, Mr. Mayor, is something that I personally am offended by. Because whether you love me or hate me, I can assure you that when I say something, I mean it. I don't think a lot of people around this table can say the same anymore, and for that, I say shame.
As soon as Merulla finished and the applause from the gallery ended, Councillor Partridge immediately moved to refer the motion to the May 18 GIC. The motion was seconded by Ward 10 Councillor Maria Pearson.
Merulla knew the deferral motion was coming. He sent an email to local media yesterday at 3:28 PM in which he wrote:
It has been brought to my attention that a referral motion on reaffirming the billion dollars allocation for LRT, roads, sewers, sidewalks and other related infrastructure for a month.

Clearly my attempt to expose duplicity on the LRT support is coming to fruition and I can assure you that I will not be supporting such a weak kneed delay tactic approach, to a complex, transformational, multifaceted City building project.
He also spoke to the planned deferral during his remarks.
Since deferral motions cannot be debated, this effectively ended the discussion before it began.
Ward 2 Councillor Jason Farr was allowed to request an amendment to include all of the LRT Sub-Committee reports to date, all of which Council has already approved. (Ward 8 Councillor Terry Whitehead, somehow managing to keep a straight face, complained that this amendment was "grandstanding".)
Then a standing recorded vote was taken. Voting in favour were: Ward 5 Councillor Chad Collins, Ward 6 Councillor Tom Jackson, Ward 7 Councillor Donna Skelly, Ward 8 Councillor Terry Whitehead, Ward 9 Councillor Doug Conley, Ward 10 Councillor Maria Pearson, Ward 11 Councillor Brenda Johnson, Ward 14 Councillor Rob Pasuta and Ward 15 Councillor Judi Partridge.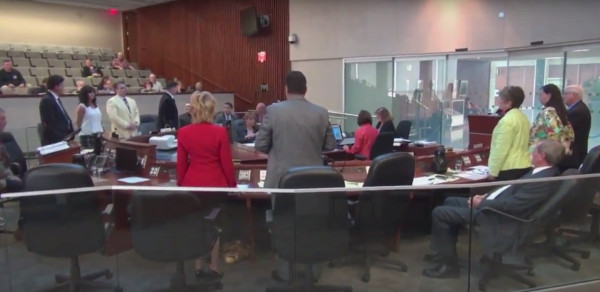 Standing recorded vote to defer Councillor Merulla's LRT motion (Image Credit: screen capture from TPR video)
Opposing the deferral motion were: Ward 1 Councillor Aidan Johnson, Ward 2 Councillor Jason Farr, Ward 3 Councillor Matthew Green, Ward 4 Councillor Sam Merulla, Ward 12 Councillor Lloyd Ferguson and Mayor Fred Eisenberger.
Ward 13 Councillor Arlene VanderBeek was absent.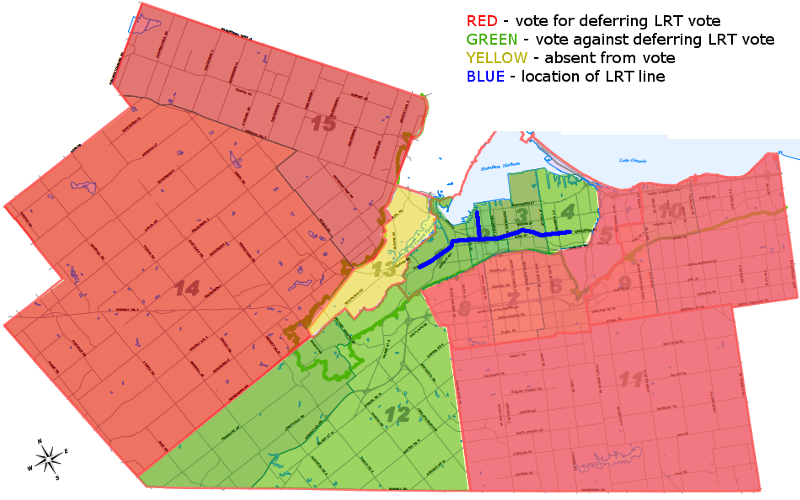 Map: votes for or against LRT deferral motion by ward
Why on earth didn't Council just vote to approve the motion and get it over and done with? Are there seriously some councillors who don't yet know whether they will accept the Provincial money that Council asked for?
Is there really anything in the LRT Sub-Committee report - which has already been presented personally to every Councillor and is in any case a draft for public consultation - that might make a Councillor change their mind about whether to support the LRT funding?
What, is someone going to change their vote because the lines are in the middle of the road instead of the curb lane? That's absurd.
The out-of-the-blue deferral, supported by a bloc of suburban councillors - excluding Ancaster Councillor Lloyd Ferguson, who strongly supports LRT - smacks of either sheer cowardice or else something more diabolical: a concerted backroom effort to derail this thing altogether and prevent Hamilton from receiving the transformational benefits of this once-in-a-generation investment.
Post a Comment
You must be logged in to comment.