Yet Another Pedestrian Fatality: When Will Council Commit to Safe Streets?
It is not a coincidence that senior citizens are disproportionately represented among the victims or that so many of these deadly collisions happen on wide, multi-lane thoroughfares designed to maximize the flow of automobile traffic.
By Ryan McGreal
Published December 14, 2015
Just before 10:00 AM on Friday, December 11, 81-year-old Mara Balach was crossing Queenston Road northbound in the crosswalk at Reid Avenue when a driver turning left from Reid Avenue southbound onto Queenston Road eastbound crashed into her.

Queenston Road and Reid Avenue (Image Credit: Google Maps)
Paramedics arrived and transferred Ms. Balach to hospital with life-threatening injuries. She died later that day.
Hamilton Police are still investigating the collision but note that charges are pending. Any witnesses are encouraged to contact Detective Matt Hewko at 905-546-4755.
A Spectator article posted on Friday describes a lively, neighbourly woman, an avid walker and gardener who was well-known in her community.
Dangerous by Design
This is only the latest in a long chain of tragedies in which the most vulnerable people using Hamilton's streets to get around and live their lives are being struck, maimed and killed by people driving cars.
It immediately follows a collision with a pedestrian at Barton and Catharine, a collision with a cyclist on Claremont Access, and a collision with a pedestrian on York Boulevard who was walking on the sidewalk.
And while it is proper for the police to investigate this incident and lay charges as applicable, we must not lose sight of the all-important context in which these deadly collisions are taking place: Hamilton's network of fast, dangerous, auto-centric streets.
It is not a coincidence that senior citizens are disproportionately represented among the victims or that so many of these deadly collisions happen on wide, multi-lane thoroughfares designed to maximize the flow of automobile traffic.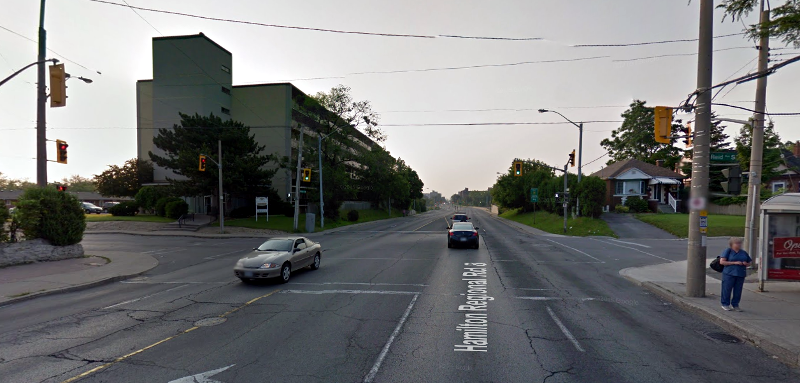 Queenston Road at Reid Avenue (Image Credit: Google Street View)
Queenston Road is a five-lane "stroad" - a common form of street/road hybrid that is lined with residences and retail businesses but designed for fast, high-volume vehicle traffic with only token accommodation for people not in cars.
That mixture of high-speed vehicle through traffic and local pedestrians - often vulnerable senior citizens and children - is deadly-by-design.
It's why we keep seeing deadly collisions on Hamilton's stroads - bloated, unpleasant traffic sewers like Highway 8 and Green Road, Rymal and Upper Centennial, Mohawk Road and Cootes Drive.
And as Hamilton's population continues to age, this will only get worse unless we act. People are living longer and age brings particular challenges: loss of eyesight and hearing, slower reaction speed, declining agility and balance, increased susceptibility to injury in a fall or collision and so on.
In addition, as more older residents lose the ability to drive, access to safe, pedestrian-friendly streets becomes increasingly essential to manage day-to-day activities - including basic human contact.
Injuries are Preventable
The state of affairs we find on Hamilton's street network is not normal, and it's definitely not okay. Hamilton is already an outlier among Ontario cities with a pedestrian injury rate 42 percent higher than the provincial average and a cycling injury rate 81 percent higher. We have the dubious distinction of being the second-most dangerous city in Ontario for pedestrians.
The first step we need to take toward preventing further tragedies is to adopt the position that they are preventable in the first place - a position not everyone accepts, because it's a lot easier to train-and-blame than it is to do the work of designing for safety.
The Ontario Coroner's 2012 Report on Pedestrian Deaths calls for a "road safety paradigm shift" based on the core principle behind the Vision Zero approach to road safety. That principle is encapsulated in the World Health Organization's World Report on Road Traffic Injury Prevention:
The vulnerability of the human body should be a limiting design parameter for the traffic system, and speed management is central. [emphasis in original]
A human body can only survive so much external damage from a collision, and it only makes sense that we should design our streets in order to control the speed and movement of the dangerous, heavy vehicles that are causing that violence.
The Ontario Coroner recommends that cities adopt a "complete streets" policy to design streets to be safe, accessible and inclusive for everyone, with lower legal speed limits supported by speed reduction road design strategies that force drivers to slow down.
Police enforcement by itself is a band-aid, not a solution. The street design itself must deter and discourage dangerous speeding.
Resistance to Change
In Hamilton, this recommended "road safety paradigm shift" is encountering some stiff resistance from the guardians of the status quo, which has produced a deadly legacy of city streets designed for 70-100 km/h by mostly regarding people not in cars as obstacles to 'traffic flow'.
In January, Ward 8 Councillor Terry Whitehead plans to bring forward a staggeringly cynical motion that would declare a moratorium on new complete streets projects across the entire lower city - in other words, a moratorium on exactly the kinds of changes that are needed to prevent more pedestrian fatalities.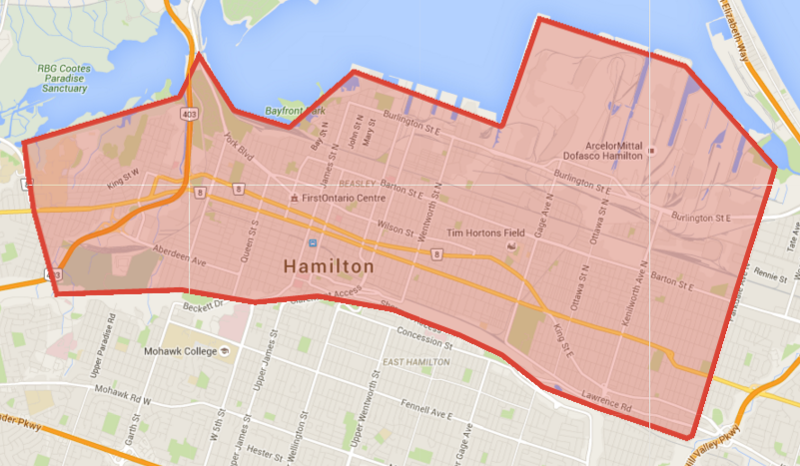 Proposed area of moratorium on any new street safety improvement measures (Image Credit: Google Maps)
Perhaps unsurprisingly, Transportation staff are also resisting the "road safety paradigm shift", as embracing it would mean acknowledging that the status quo needs to change.
At the General Issues Committee meeting on December 2, eight delegations spoke about the need to make Aberdeen Avenue safer and more inclusive and Councillors spent two hours debating before agreeing to study a possible complete streets redesign a year from now. (So much for the "Ambitious City".)
During the delegation by Haider Saeed, a medical doctor who spoke about safe street design, the SPRC Report on Hamilton's dangerous streets was mentioned and Councillor Whitehead asked transportation staff about it. The transportation manager replied, "We have reviewed it and we question it."
I contacted both Councillor Whitehead and staff to ask if they have any specific critique about the report, which is quite careful and rigorous and is based on ten years' worth of collision data. The staff response was, "We want to review [the] data because it doesn't reflect what we have and we need to improve our understanding of it."
The good news is that staff will be meeting with Sara Mayo, the author of the report, to discuss it in person (she offered to meet with them more than a year ago when the report came up previously) - but it was a cheap shot to "question" the report during the public meeting without presenting any analysis.
We will never change until we get out of our own way and accept that the status quo is not working. We need our political leaders to embrace a Vision Zero approach to road safety, and we need our staff to buy into that vision and put it into practice.
Instead, we get the spectacle of Ancaster Councillor Lloyd Ferguson, Chair of the Police Services Board, trying to contradict the evidence of dangerous speeding on the Red Hill Valley Parkway/Lincolm M. Alexander Parkway with an anecdote of himself deliberately exceeding the legal speed limit by 19 km/h.
Ironically, the point of Councillor Ferguson's stunt was an attempt to challenge a consultant report that recorded high levels of dangerous speeding on the Red Hill Valley Parkway/Lincoln M. Alexander Parkway, including 500 cars a day going 140 km/h (the speed limit is 90 km/h).
You really can't make this stuff up.
Post a Comment
You must be logged in to comment.