Enough Platitudes: We Need Safe Streets Now
I honestly don't know how many more ways we can come at this to try and make the point that Hamilton needs to change how it designs its streets.
By Ryan McGreal
Published December 07, 2015
On Thursday, December 3 just after 5:00 PM, a 74-year-old man was struck by a sedan in the intersection of Barton Street East and Catharine Street North. The man was taken by ambulance to hospital with life-threatening injuries.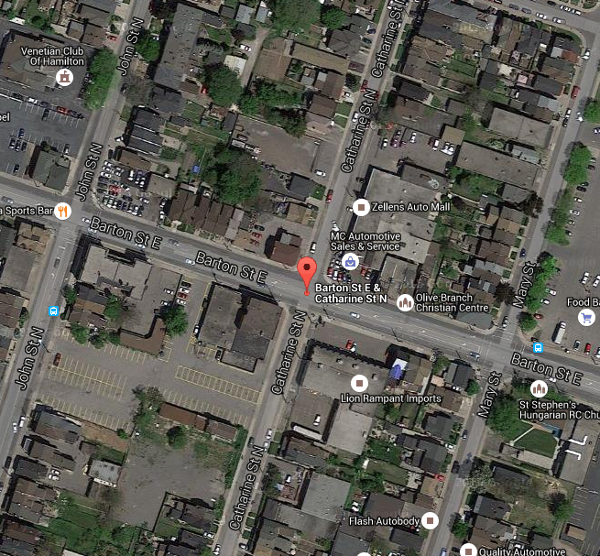 Barton Street East and Catharine Street North (Image Credit: Google Maps)
The driver, a 47-year-old woman, was charged under Section 144(7) of the Highway Traffic Act with failing to yield to a pedestrian.
This follows the hit-and-run fatality on Wednesday, December 2 of a 53-year-old man who was killed riding his bicycle up the Claremont Access.
It also follows the death of a 62-year-old man who was struck by a driver on Sunday, November 29 while walking on the sidewalk at York Boulevard and Hess Street.
As I write this, Hamilton Police are at the corner of James Street and Main Street, investigating yet another incident of a pedestrian being struck by someone driving a vehicle. A 14-year-old boy was taken to hospital with minor injuries.
Platitudes but Little Action
It has been a grim, tragic couple of weeks in Hamilton, a city whose streets are notoriously convenient for fast driving - our former mayor bragged that we were "the 20-minute city" - but comparatively inhospitable to people not in cars.
I honestly don't know how many more ways we can come at this to try and make the point that Hamilton needs to change how it designs its streets.
The City is great at platitudes - like the "Putting People First" Plan, which Council approved in 2001 but has yet to implement in more than a piecemeal fashion; or the International Charter for Walking, which Council formally endorsed in 2008; or the Pedestrian Mobility Plan, which Council adopted in 2013 - but not so good at making real changes in how we plan our communities, design our streets or fund our road projects.
Notwithstanding Friday's vote to expedite a protected cycle track on the Claremont Access, Council likes to boil the ocean over tiny investments in walking and cycling while approving millions and tens of millions of dollars in road work without a whisper of debate.
In 2009, Council approved the Shifting Gears Cycling Master Plan, which calls for $2.5 million a year in cycling investments to build out the cycling network over 20 years. At no year since then have we come anywhere close to spending that kind of money. In 2013, we didn't build any cycling infrastructure at all!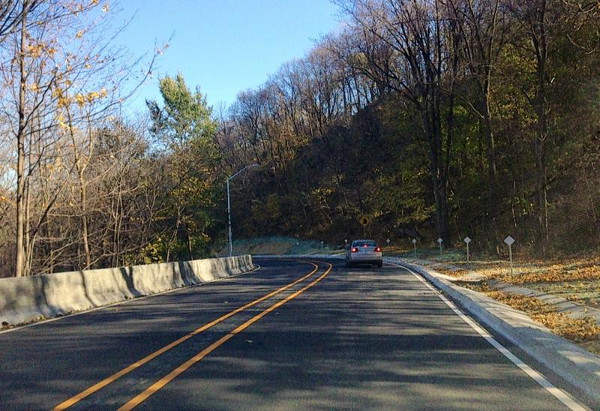 Beckett Drive rebuilt (RTH file photo)
When Beckett Drive was completely reconstructed in 2013, it was rebuilt with wide lanes, a wide double-yellow line and no walking or cycling amenities whatsoever. Should we be surprised that the City is having to deal with dangerous speeding on that access?
Streets Designed for Dangerous Speeding
On December 4, a drunk driver roared through a Hamilton Police speed trap on the Jolley Cut at 89 km/h and nearly ran over a police officer. This incident happened just before 9:00 AM on a Friday - how is it even possible to drive that fast on a major access during morning rush hour?
This morning, the Public Works Committee is learning that dangerous speeding is a huge problem on the Red Hill Valley Parkway and Lincoln M. Alexander Parkway. The 85th percentile speed is 115 km/h and 500 vehicles a day exceed 140 km/h - yet some Councillors still want to widen the highways from four lanes to six.
Will we ever start connecting the dots? When we design our streets for dangerously high speeds, we should not be surprised to observe dangerously high speeds - like 125 km/h on the Claremont Access, 80-90 km/h on Herkimer and speeds in excess of 70 km/h observed all times of the day on Hunter.
I am sick and tired of posting story after story about vulnerable people being struck, injured and killed while simply trying to walk or cycle on our dangerous-by-design streets.
When will the Councillors who love being able to race through the city at high speed finally come to understand that carnage is not a competitive advantage?
Post a Comment
You must be logged in to comment.