Commit to Vision Zero in Hamilton
With a traffic fatality rate of just 3 in 100,000 and falling, Sweden is inspiring other jurisdictions to look more carefully at what it has done to achieve such impressive progress.
By Jason Leach
Published December 07, 2015
With the recent surge of deaths and serious injuries on Hamilton's streets, momentum appears to be building among residents, and some at City Hall, to adopt Vision Zero in our city.
For those not familiar, Vision Zero began in Sweden in 1997 with the stated goal of achieving zero traffic fatalities on Sweden's streets by engineering and designing their streets and neighbourhoods in the safest way possible.
With a traffic fatality rate of just 3 in 100,000 and falling, Sweden is inspiring other jurisdictions to look more carefully at what it has done to achieve such impressive progress. Other nations and cities are realizing that the vast majority of deaths are preventable through good design.
Vision Zero
Most people are familiar with the infamous correlation between vehicle speed and pedestrian fatality risk in a collision: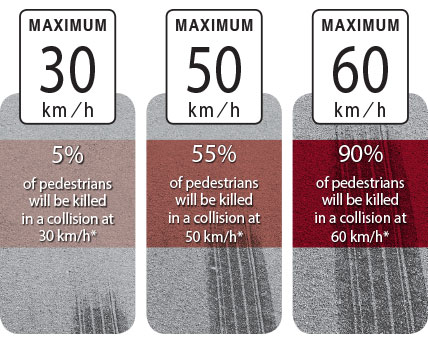 Vehicle speed and pedestrian fatality risk
In Sweden, they take the approach that street design should be dictated by the human body's resilience to external violence. People outside cars must be physically protected from people in fast-moving vehicles. In places where people inside cars and people outside cars must come into contact, Vision Zero says that the vehicle speeds must be lower than 30 km/h.
So the question becomes: how do we engineer our streets to make it a lot more difficult to drive the crazy, dangerous speeds that we see every day of the year in Hamilton?
We need Vision Zero in Hamilton, but we don't need yet another great idea collecting dust on a shelf while we do the complete opposite when building or reconstructing roads.
Cars-Only Design
A great example is the Queen Street Hill rebuild. Despite input from local residents and RTH contributors, City Hall rebuilt the access with wide lanes and empty roadspace that encourages speeding.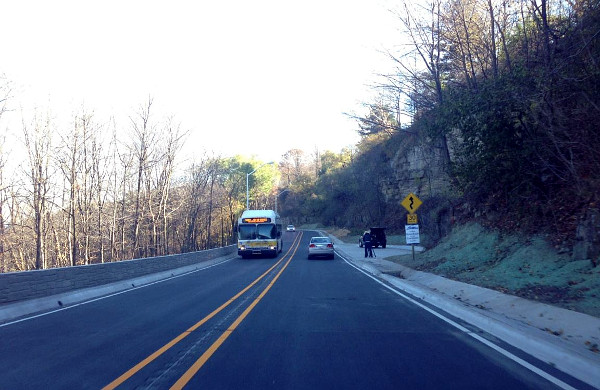 Beckett Drive rebuilt (RTH file photo)
Now they are adding rumble strips, huge painted letters on the road and flashing warning signs in an attempt to get people to drive more slowly.
Narrower lanes, no wasted roadspace and a protected multi-use path for cyclists and pedestrians would have served to keep speeds safe while accommodating all users.
Similarly, the Concession Street central business district was just completely reconstructed from the water and sewer line on up, road and sidewalk alike, with absolutely no allowance for cycling.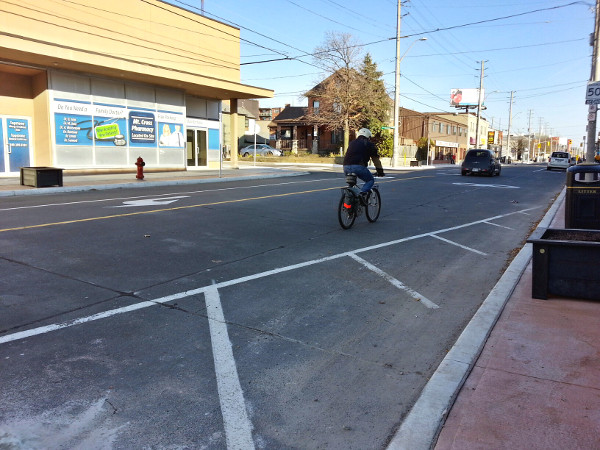 No bike lanes on Concession Street rebuild (RTH file photo)
Often when European cities are brought up as an example for us here, the usual refrains come, and sound like this: "This ain't Europe!" (No kidding.) Or, "We could never have cities like that!" (A few decades ago, neither did they.) Or, "We use cars here!" (So do they, but much more safely.)
The idea is not to get rid of all cars, it's to bring balance to our transportation network. Hamilton has invested in almost nothing but cars since the 1950s, and it shows. We need several decades of prioritizing all other modes of transportation if we hope to bring a balance to our network.
Lessons from Stockholm
I've looked up some street examples from Stockholm, Sweden to show how Hamilton can actually put action and best practices into our city streets. Here are some possible examples of how Vision Zero could look in Hamilton:
Main Street, Downtown
This Stockholm roadway could easily house five lanes of one-way traffic. Instead, it has two lanes of through traffic with parking protected bike lanes on either side.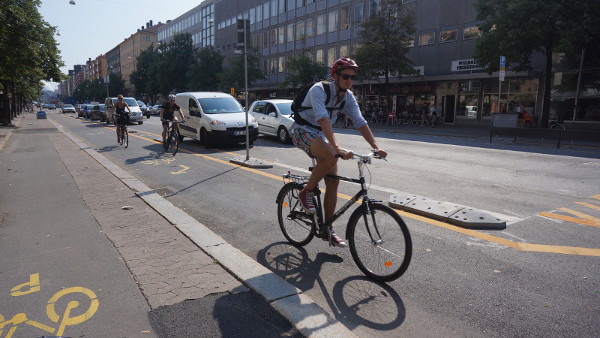 Model for Main Street (Image Credit: Streetfilms)
The presence of concrete curbs has me guessing that during rush hour, this may be a four-lane auto street. A two-way Main could function like this with no problems: two lanes each way with parking during off-peak hours, and protected bike lanes in either direction.
Upper James or Queenston
This is a wide, auto-heavy arterial with two car lanes each way, one bus lane, a raised, grade-separated bike lane and sidewalks.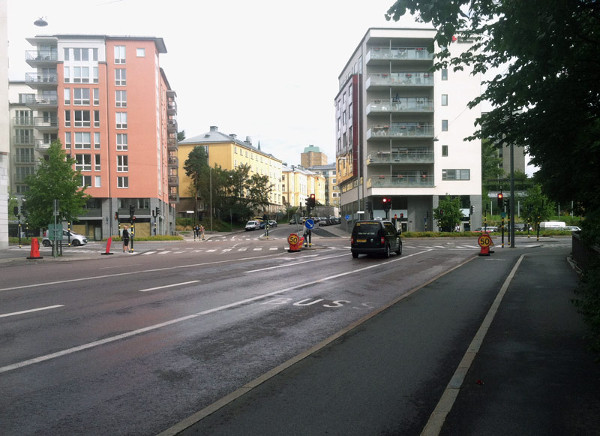 Model for Upper James or Queenston (Image Credit: Streets MN)
Note the 50 km/h speed limit. Not 60, 70 or 80 like we often do on wide major arterial streets. All users are accommodated here.
Every Residential Street
Every residential street in the city should have a 30 km/h speed limit.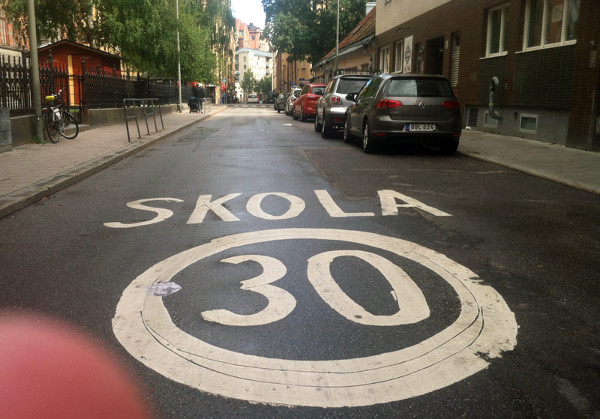 30 km/h in Stockholm (Image Credit: Streets MN)
There is simply no good reason to allow traffic to move at 50 km/hr on residential streets in Hamilton. Stockholm has 30 km/h in evey neighbourhood with narrow lanes, speed humps and pedestrian/cycling priority.
In Hamilton, Council approved a 30 km/h speed limit in the North End but added the condition that there must be a five-year moratorium on any other neighbourhood asking for a similar treatment. Why put a moratorium on safety? This makes no sense.
Entry Points to Residential Neighbourhoods
You willl notice that cars can exit onto the main road from this side street, but can't enter. This prevents rat-running.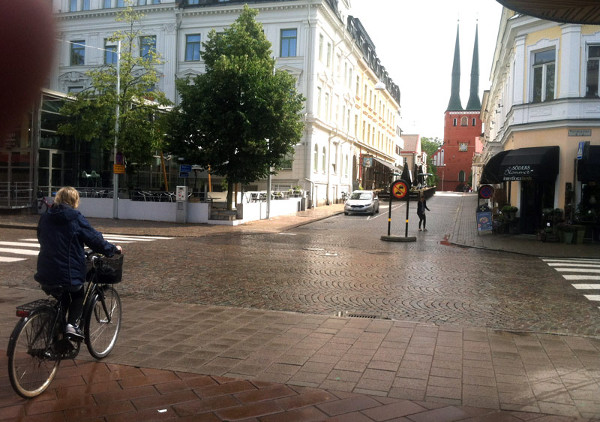 Traffic diverter in Stockholm (Image Credit: Streets MN)
The narrow side streets along Queen Street North are a perfect example of where this should be implemented in Hamilton, along with most neighbourhoods city-wide.
It's common for cars to roar onto Peter or Napier from Queen and run all the stop signs over to Locke, or south on Ray or Pearl to King. Some well-placed 'no entry' points would allow for safe neighbourhood streets for pedestrians and cyclists, but keep cars on the main streets as they should.
Elements like this are also important in developing a network of neighbourhood greenway routes.
Pedestrian Retail Zones
Think King William, Augusta Street or the parking ovals in front of the businesses on King Street in Westdale.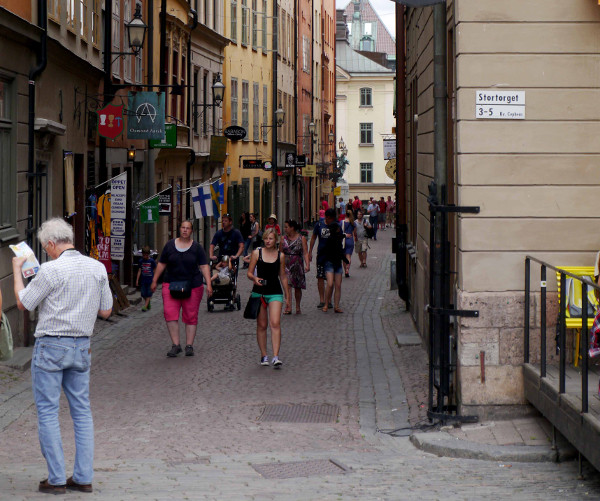 Pedestrian business district in Stockholm (Image Credit: Toodleoo)
Such narrow, business-friendly areas could be enhanced with more patio/pedestrian space.
Kenilworth or Upper Wellington
This roadway could house two car lanes each way, or it could house parking on one side for local businesses, one car lane each way and bike lanes both ways.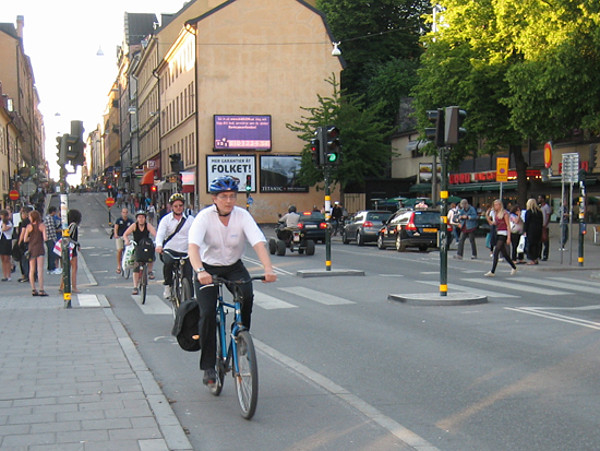 Model for Kenilworth or Upper Wellington (Image Credit: 2030 Palette)
Hamilton has a myriad of potentially vibrant retail neighbourhoods such as Barton, Parkdale, Melvin Avenue, Upper Wellington or Kenilworth Avenue that would benefit tremendously from this treatment.
Again, in such pedestrian/business friendly zones, the speed limit is 30 km/hr.
King Street with LRT
This is actually pretty close to what is being proposed for our LRT route: two LRT lanes each way with one or two car lanes, depending on available width.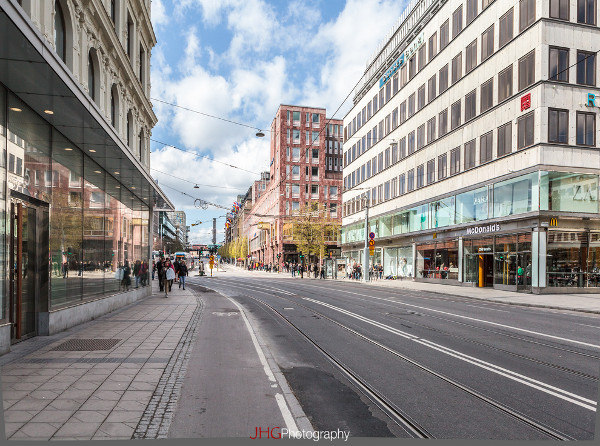 Model for King Street LRT (Image Credit: JHG Photography)
Narrower car lanes could also allow us to add narrow bike lanes in each direction as shown here.
Jolley Cut or Fennell Avenue
Take one downbound Jolley Cut lane for a two-way pedestrian/cycle path. Remove one traffic lane from Fennell East in the Upper Wentworth-Upper Sherman area where a neat assortment of small businesses/eateries are starting to locate and add two-way bike access on one side, with parking on the other side.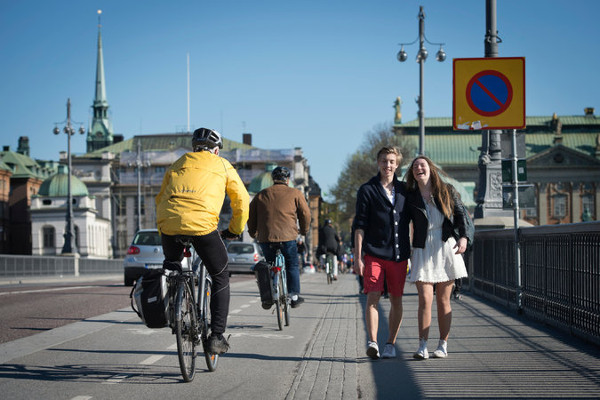 Model for Jolley Cut or Fennell Avenue (Image Credit: NY Times)
This leaves one car lane each way, with left turn lanes available at stoplights. This design would also be beneficial on other quieter Mountain streets like Upper Sherman, Upper Paradise and Upper Kenilworth.
Cannon East of Sherman
Giant centre turn lanes are not needed in this quiet residential stretch. Raise the bike lanes in each direction to connect the Red Hill trails to the Cannon Cycle track. Add a 30 km/h speed limit and we've got a more complete street.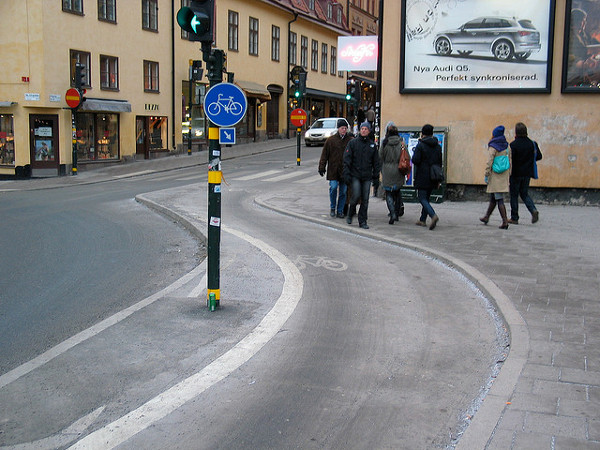 Model for Sherman East (Image Credit: Flickr/Tulenheimo CC BY-NC-ND 2.0)
Main West Near McMaster
Main West near McMaster.
Add bike paths next to the sidewalk in place of some of the double turning lanes and three ultra-wide travel lanes.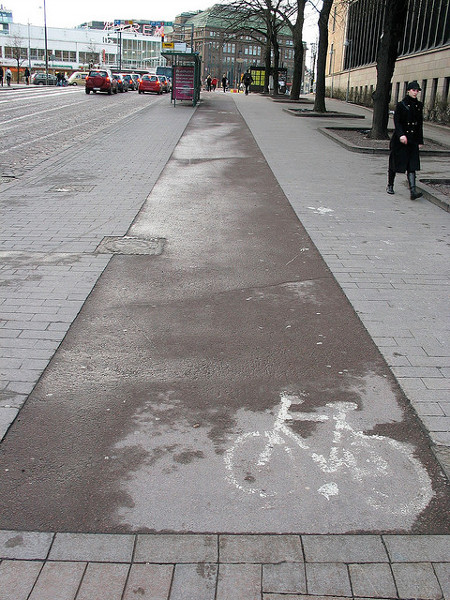 Model for Main West near McMaster (Image Credit: Flickr/Tulenheimo CC BY-NC-ND 2.0)
An area with such heavy pedestrian activity should have safe cycling access throughout its length connecting to the business district further west along Main St towards University Plaza.
Save Lives and Money
These are just a few examples of how implementing Vision Zero here could lead to some improvements on Hamilton's streets. As noted, cars still exist and are very much a part of life in Stockholm and other European cities - but not to exclusion of all other modes.
The great folks at Streetfilms have made a documentary exploring the streets of Stockholm, which is well worth a watch.
Lower speed limits - with road designs that match and encourage the lower speed limits - are essential to achieving the goals set forth in Vision Zero.
Adding safe, convenient infrastructure for transit, cyclists and pedestrians will encourage these healthier modes of transport and even extend the lifespan of our roads as more people choose to take advantage of the new, safe options being provided.
Post a Comment
You must be logged in to comment.