Observations from the First Few Days of our Transit Lane
That single bus lane carries more people every day than all the other lanes of King Street - combined.
By Jason Leach
Published October 26, 2013
Hamilton's first few days with a bus-only lane are behind us. Following are a few casual observations from my experiences walking, cycling and driving on King several times this week.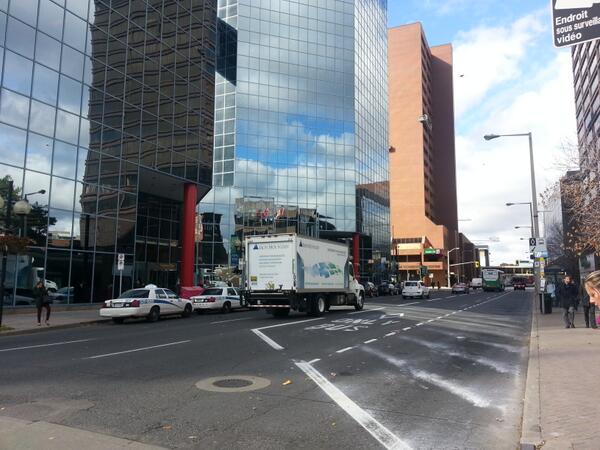 New transit lane on King West (RTH file photo)
1. Bye-Bye Urban Highway
In all the lead-up to this bus project, I never once clued in that walking or hanging out on the north curb of King Street would become a more enjoyable experience.
I've lived near King for over a decade, and one of its many annoying features has always been that it felt like a highway, not a downtown street. It certainly has not felt like a downtown street that has been one of the two main commercial, retail and pedestrian oriented streets through our entire city's history.
But with the transit lane, spending time on the north sidewalk of King is suddenly a much more pleasant experience:
You no longer have high-speed traffic nipping at your elbows as it races toward Hwy 403.

Traffic speeds in general are now slower on King, thereby reducing noise.
A friend mentioned to me that they were on the north sidewalk near the Sheraton Hotel chatting with someone the other day, and it felt strange. They weren't yelling to have their conversation. After a while they clued in: the street was slower and traffic wasn't right at the sidewalk anymore, making it much quieter.
Bus traffic is more sporadic than car traffic, and bus drivers are among the best trained drivers on the road. They aren't doing 70 km/h weaving through four lanes like it's a video game.
2. All-Important Buffer
If we want King Street ever to come back to life like Locke, James or Ottawa Street, it needs to be a pleasant place for people to congregate and hang out. It was this way for over a century before we decided it should become a freeway for cut-through traffic.
With the transit lane on the north lane, all the curbside parking has been shifted to the south lane. That now creates a nice buffer for pedestrians walking on that side of the street.
People who are accustomed to racing on King Street may not like the slower, more humane speeds on the street, but if we ever want to see it revitalize and boom back to life, this is exactly what we need.
3. Traffic Flow
Leaving aside the congestion on day 1 as crews were still painting lines and traffic was pinched to one lane in places, traffic flow has actually been pleasant between Catharine and Locke for the first time in my life.
Several trips in my car this week highlighted the better balance that we need to aim for on all of our major streets. At 8:45 AM on Friday morning, my drive along King only took an extra three or four minutes to get to Dundurn than it would normally take.
It was an appropriate speed for a downtown street during rush-hour. There was no Toronto, NYC or LA congestion here. We hit a few red lights, but progressed nicely through the city.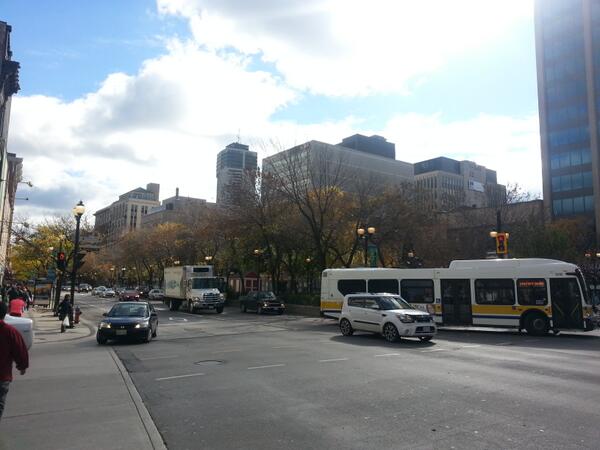 Free-flowing traffic on King during midday (RTH file photo)
4. Bus Priority
That Friday morning drive down King saw me enter King at Gage right next to a B-Line bus. I thought, "this will be interesting to see where we are in relation to each other by Dundurn".
Well, I'm happy to report that the B-Line bus was at Dundurn while I was just passing Queen.
This is an important piece to the puzzle: Hamilton has no choice but to find a better balance between our transportation options.
When was the last time a bus went faster than your car in Hamilton? Never. But if we want to see transit ridership increase, it has to be fast and convenient.
Finding the optimum balance will take some work, but the status quo of freeway-style automobile traffic flow at the expense of all other transportation modes must end.
Our population is expected to grow by 40 percent over the next 30-35 years. If our transportation options remain completely geared toward high speed car traffic, I've got some bad news: there will be no high speed car traffic. King would need to be 8-10 lanes to handle all those new cars.
The more people who find it safe and convenient to bike, walk and use transit, the better off everyone will be - including drivers.
I'd love to see Hamilton implement a broader bus-lane system that could grow ridership and balance our east/west streets. It would really enhance transit times and boost ridership if we establish a bus-lane with signal priority on Main from McMaster to the Delta, and on King from the Delta to Wellington, and from Mary to Macklin.
5. Cycling
I've been to a few cities with bus-only lanes that also allow bikes in those lanes. Most cities implement a 'leap-frog' system where both bikes and buses can pass each other safely on the left in these lanes.
I've used the bus lane three times now on my bike. Not only is it a no-brainer to allow bikes to use this lane, but I discovered another fantastic benefit that I hadn't realized prior to this lane opening: this is actually a fantastic piece of bike infrastructure.
Bikes and buses can actually coexist nicely, as bikes have the advantage of not stopping every few blocks for passengers. I was only passed by one bus during my rides, and I stayed to the right so it could continue along. I then passed it at its next stop and never saw it again.
My experience riding in the bus lane has been wonderful. This is far superior than the typical bike lanes we build right next to traffic (when we build them at all). Only a physically separated bike lane, such as those coming to Cannon Street, would feel safer and more enjoyable than this bus lane.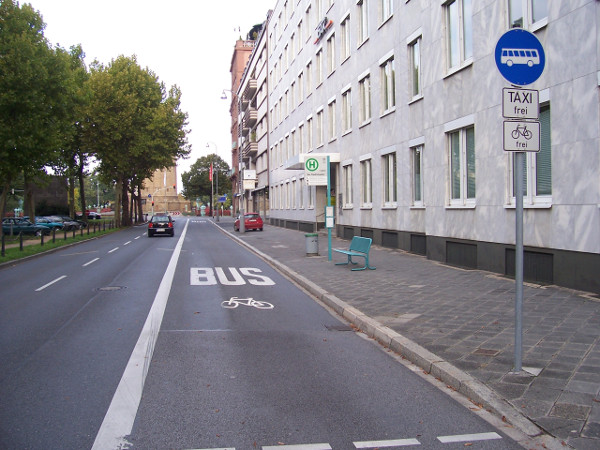 Bikes allowed in bus lane in Mannheim (Image Credit: Wikimedia Commons)
City Hall should follow suit of the many cities, including Toronto, and modify our bus lane pilot by allowing bikes and painting sharrows along the right side of the transit lane.
One great statistic that has come out this week demonstrates both the benefit and the need to re-balancing our street network: that single bus lane carries more people every day than all the other lanes of King Street combined.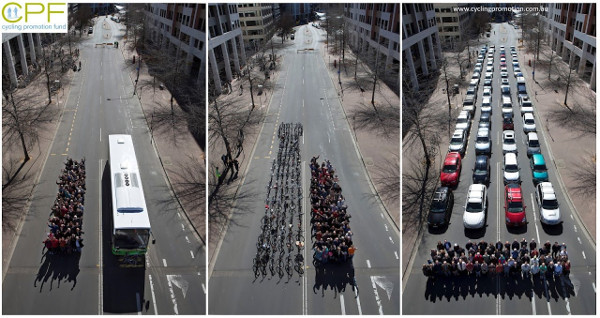 Comparison: space on road to carry 40 people in cars, bicycles and a bus (Image Credit: Cycling Promotion Fund)
Despite the cries from some drivers about slower driving speeds, the fact is that more people are getting to work and school more quickly by taking transit on that one dedicated lane. Automobiles, most of them single-occupancy, still get to claim three quarters of the road for themselves.
As someone who lives near King and uses all modes of transportation, I hope to see these bus lanes extended to other streets.
I also hope that we may see some businesses set up sidewalk patios in the spring (if City Hall doesn't hassle them) now that the sidewalks are actually an enjoyable place to be and carry on a conversation.
We're only 73 years later than the world's first bus lanes, which opened in Chicago in 1940, but it's great to see Hamilton take another small but important step toward building a truly vibrant city.
Post a Comment
You must be logged in to comment.