Gore Park Promenade: Glimpse of a Real City Square
Head downtown for the rest of the summer and enjoy the Gore as it should be: a vibrant, fun heartbeat for our city.
By Jason Leach
Published July 12, 2012
This week marked the official opening of the Gore Park pedestrian pilot project. This pilot is a baby step towards a hopeful implementation of the entire Gore Park Master Plan as prepared by staff and a citizens committee over the past three years.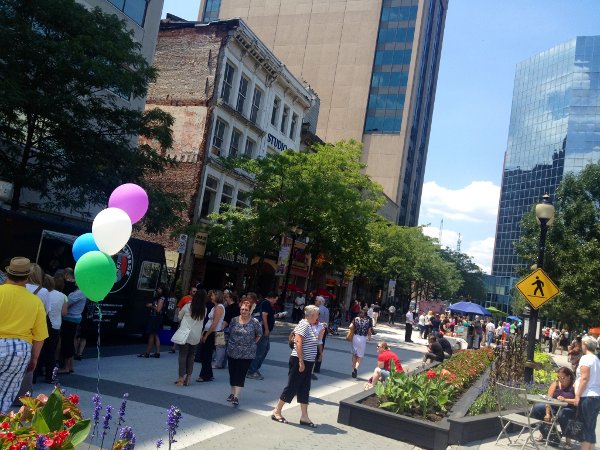 Gore Park Promenade
As downtown has seen increased growth and investment on James, Hess, Locke, Augusta, John and surrounding neighbourhoods, the Gore area and high-speed streets such as King, Main, Cannon and Wilson have seen little to no investment.
As we all now know, downtowns thrive when people are comfortable being there. There's a reason we all love to hang out on Locke, Hess and James yet avoid King and Main like the plague.
Gore Park is the centre of Hamilton. It is our historic centre and most would agree it is our city's heart.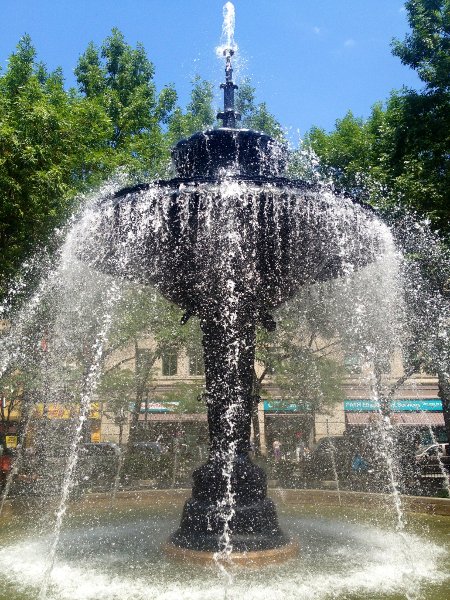 The fountain in all its glory
Urban experts from around the world constantly visit Hamilton and, mere steps into their downtown walks, they all state the same things: get rid of these freeways and the Gore could be a stunning city centre.
Despite a lack of political will to deal with the speedways that hold our city back, we are seeing some slow progress on the Gore front.
I was at the Gore last week and had a sneak peek at the newly constructed pedestrian zone, and will admit I was underwhelmed. In fact, I couldn't figure out why the street had been closed for two months.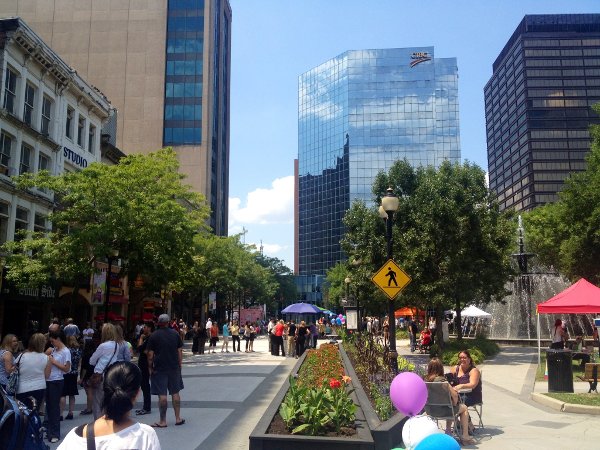 Gore Park overview. Let's extend it to the Connaught before 2015
Like many other downtown residents, I have wanted to see us do the entire Gore plan at once, instead of this pilot project and then more delays until after 2015.
We recently rushed a streetscaping project in downtown Ancaster in order to complete it before the Canadian Open. We should make sure we do the Gore before Pan Am comes to town in 2015.
Successful Opening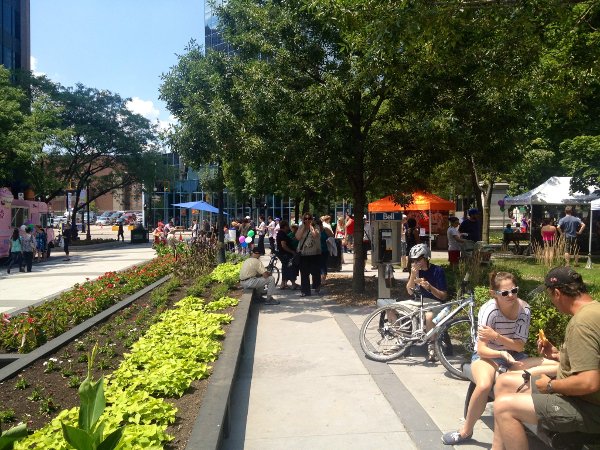 Enjoying the sound of water, music and laughter, with no cars or buses
After yesterday's success at the opening of the Gore Park Promenade, I'm certain everyone at city hall and in the Downtown BIA will agree.
For the first time in my life, I experienced Gore Park with a glimpse of what it could be year-round. It felt like Montreal or Boston. It felt like a real city square.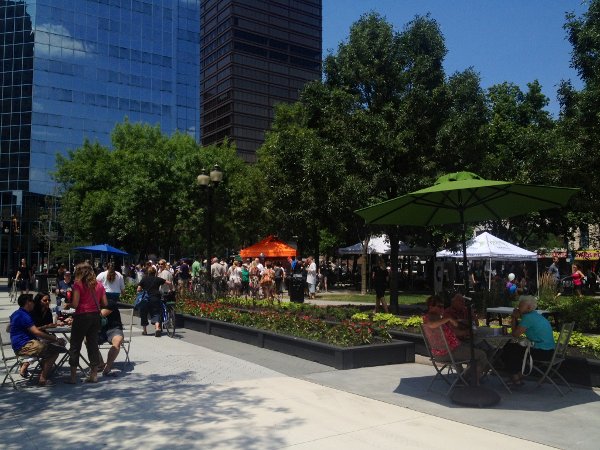 Sitting on the street
My only complaint is that it doesn't stretch all the way to the Connaught. Anyone who was at the Gore today only needed to step across Hughson St to see what a difference the old parking meter design makes compared to the new pedestrian zone.
One lonely patron at Chesters patio had his chair facing all the action at the next block, craning his neck as if to say, "What's all the excitement about over there?"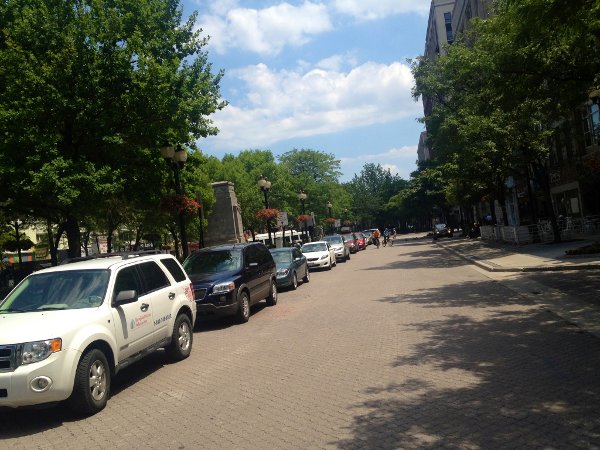 On the other side of Hughson, it was deader than dead
Those who stopped by the one block of pedestrian activity were treated to great music, lots of seating, beautiful gardens, and good eats from various food trucks and the wonderful Reardon's family, back downtown with a sausage stand.
Head downtown for the rest of the summer, and during Supercrawl, and enjoy the Gore as it should be: a vibrant, fun heartbeat for our city.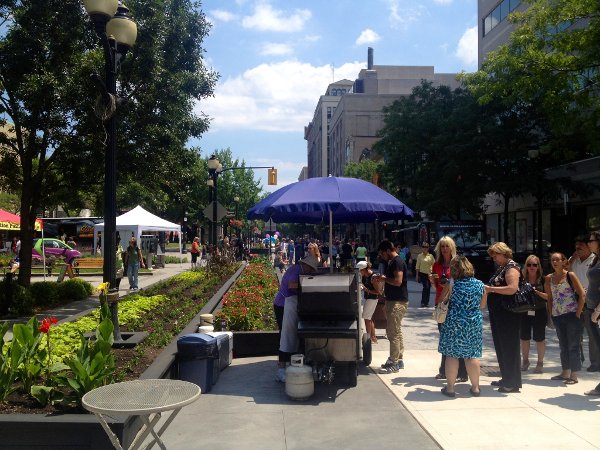 So nice to see Reardon's back downtown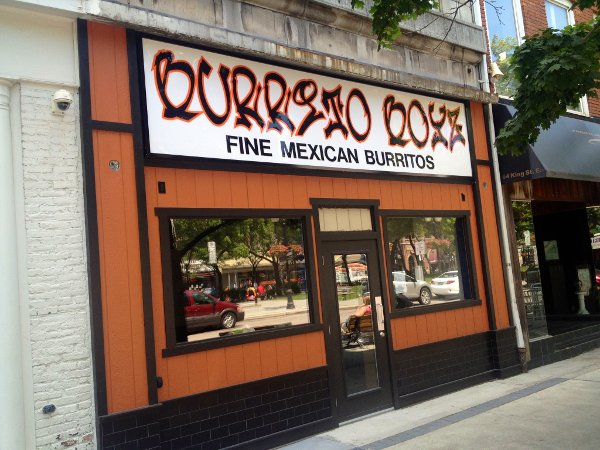 Great burritos are almost here
Post a Comment
You must be logged in to comment.