The Cost of Sprawl
It seems clear, intuitively, that sprawl-based development is much more expensive than a high density system. The hard numbers back up this intuition.
By David Steele
Published November 23, 2010
Editor's note: this article was originally published in Buffalo Rising, a Buffalo, New York community website dedicated to urban revitalization and a kindred spirit to RTH. It is republished here with permission.
A few weeks back, I attended a day-long seminar hosted by the Illinois chapter of The Congress for the New Urbanism (CNU).
New Urbanism is a movement which seeks to reverse the destructive, unsustainable, and expensive sprawl-based design and planning policy that has been popular for the last 60 years and seeks to replace it with a human scaled system based on historic urban form and design precedent.
The concept is to return a system of design which places people at the center rather than cars. Some interpret New Urbanism as a return to the use of historic looking buildings.
Actually, New urbanism is more complex than surface appearance and is not dependent on buildings having any particular style. New Urbanism is a way of making space and combining uses that allow for active walkable and sustainable urban environments.
The conference was well worth my time but I was left feeling a little flat through all but one presentation. All the programs were informative. All but that one covered public policy, legal techniques for changing laws, and revised zoning concepts. Discussion, of course, also focused on forms and design principles that can make for great New Urban places.
The presentations were very academic and fact-based. What they lacked was a discussion of how you can change the psychology of the people who have come to accept sprawl based development as the natural way things should be done. How do you get people to question the standard way of doing things which they now take for granted as the best way to do things?
The conference was basically a "preaching to the chorus" situation. The people giving the presentation were selling an idea to people who already accept and understand its benefits.
I asked how they plan to sell New Urbanism to a public that has no interest in what they are selling. The answer was basically that all they had to do was show people how great new urbanism is.
Hmm, Really? Good luck with that!
Engineers Calculate Sprawl Cost
The best presentation of the day was the last presentation. It was given by a pair of young civil engineers, Robert J. Bielaski and Jerremy D. Foss.
This was interesting in itself, in that civil engineers are one of the major players in and promoters of the American sprawl based built environment. The joke is that civil engineers are educated to move cars and water and eliminate the need for people.
That being said, I found it to be an extremely pleasant surprise that these engineers took such a great interest in new urbanism and that they were using their professional knowledge and tools of their profession to advance the cause of reversing the damage of sprawl.
Their presentation was the singular attempt of the day to address the issue of public buy-in to New Urbanism.
It focused on the cost of sprawl-based development versus the cost of dense urban-based development of residential streets. If there is anything that can get people's attention, it is the impact on their wallet by public policy.
Bielaski and Foss presented the initial results of their study of the cost of infrastructure. They tallied the basic infrastructure costs required for these very different concepts for building and compared them. They showed that sprawl is very expensive.
The basis of the study was a comparison of the costs of infrastructure for a typical Chicago city lot and alley with 25 feet of street frontage, versus the typical contemporary Chicago area suburban lot with 80 feet of street frontage.
They added the cost of construction roads, curbs, sewers, utilities, sidewalks and lighting to serve the area of each type of residential street design. They factored the additional frontage at corner lots and spread the cost to typical lots. They added the costs and divided the total by the number of residential units to get a cost per residential unit for the associated street frontage.
Basically they looked at what each residential unit should pay to replace the street. They wanted to determine if the cost was different for one development pattern over another and if so would the cost be significant enough for municipalities and home owners to alter their choices in how we build municipalities.
Their Findings
Based on typical basic construction and specifications standards used in suburban and urban areas, along with a factor of construction difficulty, Foss and Bielaski determined that a municipality can expect to spend about $489 per linear foot of lot frontage in suburban areas and about $879 per linear foot of lot frontage in an urban zone.
They calculated these costs on a per unit basis the costs are as follows:
Suburban Single family = $27,000 per housing unit
Urban Single Family = $18,000 per housing unit
Urban Two Flat = $6,225 per housing unit.
These numbers show that the suburban cost is between 150 percent and 434 percent of the urban cost to build per residential unit than its urban counterpart!
It is clear that initial cost for the sprawl based system is substantially more than the high density system, even when using a higher unit cost for the urban specification.
The counter argument is the developer pays for the street and folds it into the cost of the house. But the developer does not pay for the replacement and maintenance of the street over time. This is paid for by the municipality out of tax receipts.
So Bielaski and Foss also calculated the amount a municipality must bank to keep that road in working order in perpetuity, based on typical life time expectancies.
They found that a municipality should be budgeting approximately these amounts based on the type of development they are supporting:
Infrastructure Lifecycle Costs

| Building Type | 2010 Dollars | 2050 Dollars |
| --- | --- | --- |
| Suburban Single Family | $830/year | $3,025/year |
| Urban Single Family | $594/year | $2,151/year |
| Urban Two Flat | $198/year | $717/year |
This means a municipality must budget between 140% and 419% more money in the low-density, sprawl-style scenario for maintenance!
Pyramid Scheme
It is clear, intuitively, that sprawl based development is much more expensive than a high density system. It just takes much more stuff to support people in an environment that is more spread out. That extra stuff is not free!
These figures provide hard evidence to back up that intuition. This study covers only a small tip of the giant sprawl cost-bomb that we have created.
The study has not yet been expanded to include the added cost of lengthy feeder roads, highways, environmental damage, simple maintenance activities such as plowing, and wear-and-tear on municipal vehicles from longer miles traveled.
Many communities have built a pyramid scheme with sprawl costs. Continued growth paid the bills while relatively new infrastructure did not yet need any of that costly maintenance spending.
Since the economic bubble burst, the chickens have come home to roost for many communities and their budgets have collapsed.
In the meantime, slow/no growth places like metro Buffalo have continued to expand infrastructure with a declining population base and a long term stagnant economy.
The results of this shell game are clear, with abandonment of large parts of the city, deferred infrastructure maintenance throughout the area, and quickly declining inner ring suburbs.
Sprawl is not a natural process. It does not have to be accepted and it needs to be stopped. One way and maybe the only way to stop sprawl is to make the people who chose sprawl pay for sprawl.
If you are interested in contacting the authors of the sprawl cost study you can reach them at these email addresses:
Case Studies: Kenmore NY and Lancaster NY
The first Google satellite map image below shows a block in Kenmore, New York and the second shows the same size block in Lancaster, New York.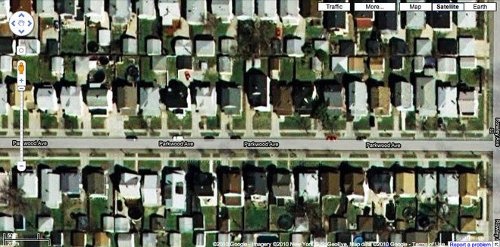 Compact, 1920s housing in Kenmore, New York
The Kenmore block shows a densely built 1920ish suburban neighborhood. The houses sell in the low $100,000s, topping out around $125,000. All the houses have driveways and detached garages. The lots are only about 30 feet wide.
From this block you can walk to schools, churches and several restaurants and stores. Within a ten minute walk is the very pleasant Delaware Avenue business district. Within a 25 minute walk is the Buffalo Zoo.
From this neighborhood you can drive to the University of Buffalo and its subway station in less than five minutes. I believe three regular bus lines also run nearby.
It is a very pleasant neighborhood composed of young families, singles and retirees. There are 39 houses shown in the picture. It should be noted that there are no convenient highways for commuting downtown but reaching the city center is less than a 30 minute drive.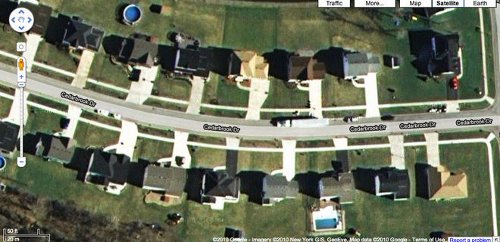 New sprawl housing in Lancaster, New York
The Lancaster block is composed of very recently built houses. They are similar in size (perhaps a bit larger) to the Kenmore houses with garages attached to the main house. They sell for prices in the low $200,000s, topping out around $250,000.
The lots are about 2.25 times wider than the Kenmore lots. Each has a driveway about three times wider than their Kenmore counterpart. The road is also about twice the width of the Kenmore road.
The neighborhood is primarily composed of families with children. You can walk to a few nearby small industrial operations but nothing else.
The sidewalks end before you get to the main road where you would walk either on the shoulder or in the weeds along the edge. There are no crosswalks and no safe way for a child to walk to school.
Assumptions About Taxes
The assumption is that the people in sprawl style developments in popular edge suburbs pay higher taxes than those in the places like Kenmore. In absolute terms this is true, but in more nuanced terms - not really.
If you strip out the portion of taxes dedicated to schools [in New York, schools are funded through property tax], you find that the Kenmore resident pays a roughly equal amount of taxes for infrastructure and government services even though the houses are about 50% less expensive and use substantially less infrastructure.
Here are the numbers:
Property Tax Rates Compared

| Municipality | Non-school Municipal/County Taxes |
| --- | --- |
| Kenmore | ~$2,200/house/year |
| Lancaster | ~$2,500/house/year |
The Lancaster block pictured in the satellite image produces about $41,000 per year in municipal and county taxes. The Kenmore block produces about $82,000 in municipal and county tax revenue. This is almost 100% more tax revenue from the Kenmore block.
When you combine this with the fact that the Kenmore infrastructure is much less costly, you can clearly see who is getting the free ride here.
Of course this little view of things is an isolated vignette. Maybe it is an anomaly. I am willing to bet that this tax imbalance is the norm. My question is, "Why do the people of Kenmore and other densely built areas in WNY continue to put up with this?
This article was first published on Buffalo Rising in two parts: Part 1, Part 2.
Post a Comment
You must be logged in to comment.