On the Beams of Light Rail
Main Street was made for light rail transit. What other city can just slip in an LRT through the city from end to end along a straight, wide corridor already waiting?
By Elizabeth Parker
Published October 09, 2009
I heard a strange and frightening tale (or was it comedy?) last evening - that King Street is being considered for the LRT.
There is no other logical choice, and the alternative is illogical: Hamilton's proposed Light Rail Transit (LRT) must travel along Main Street.
It has always appeared as though Main Street was cut as a huge mega road for a reason, some distant reason - and this is it: a Boulevard that would awaken all the businesses and storefronts along the way.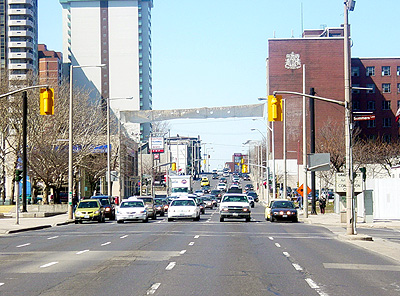 Wide, cavernous Main Street was made for LRT (RTH file photo)
Slow the traffic down, add parking and safe walking, like Les Champs Elises as opposed to University Avenue - with pedestrians along the sides, not in the middle.
Stand at the top of the Queen Street hill - stand, not drive - and see what a cavern it is, coming from the west and heading to the east. Five lanes cut some 40 feet wide across the city.
Now look at the evolution of King Street. Within the core, traffic calmed with bump-out parking from the Wellington Gate and parking spots most of the way aside from the Gore.
The parking and traffic calming have done wonders for the businesses in the Downtown core over the past ten or so years - task accomplished and completing its cycle of growth.
Currently the city is taking the idling buses away from the heart, Gore Park, by moving them a few blocks to the North. This fulfills the vision of taking the core from the vehicle and giving it back to the pedestrian. Check, check, and...
Next step: Light Rail along Main. Tie in the Main Street and use this huge cavernous road to our advantage - finally.
It will run down the centre like the streetcars run in Toronto along the Queensway near High Park or up and down Spadina in the core. Main Street could perhaps move both ways with ease, one and two lanes in either direction. Or maybe we can just leave it as one-way. We don't have to be radical.
Imagine getting off the LRT and walking a block to King and beyond, or Hunter up toward the mountain; a few short blocks to James South, North, Delaware, right past the University, Gage Park - what a lovely view from the train of Gage Park.
Main Street was made for this.
What other city can just slip in a Light Rail Transit through the city from end to end along a corridor that is there waiting - straight and wide enough?
Post a Comment
You must be logged in to comment.