A Proposal for Local GO Train Service East of Hunter
A proposal to use the old TH&B line to provide local transit service, similar to Toronto's SmartTrack, between Hunter Station and Centennial Parkway.
By Kevin Love
Published May 01, 2017
My recent article on restoring the Hunter GO Station's pedestrian plaza resulted in some discussion in the article's comments about extending GO service to the east of the existing Hunter Street station.
This is not the first time that this has been discussed. One example is in the proposal for a Hamilton regional rail network on the excellent Hamilton Transit History site.
However, what this article proposes is that the GO service be extended to provide local, not regional service, east of the Hunter Street GO Station.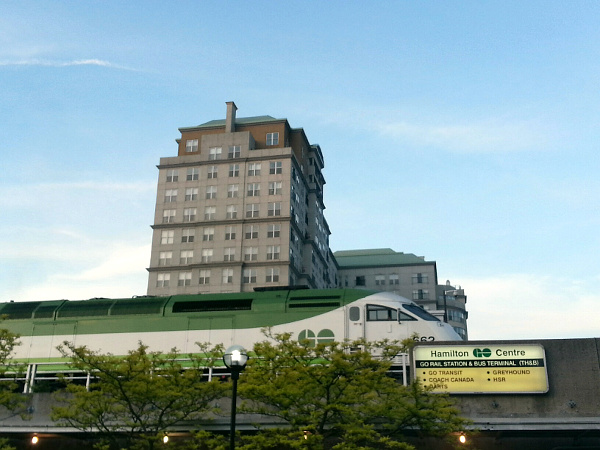 GO Train at Hunter Station (RTH file photo)
Regional versus local service: What is the difference?
As the name implies, regional service provides transportation throughout a region. An example is the Lakeshore West GO Line, which provides service from Hamilton to Toronto and all the communities in between. Typical station spacings for regional rail service are 2-5 km.
Local rail service provides transportation within a city. An example is the proposed Hamilton LRT system. For local rail service, typical station spacings are 500 metres to 1 km. Currently, the GO rail network provides only regional service, and not local service.
There is one current proposal for GO to provide local service. This is Toronto's "SmartTrack" proposal that would add GO stations for local service within the City of Toronto. The problem with the SmartTrack proposal is that once GO trains have arrived in Toronto, they are full of long-distance regional commuters who will all have extra time added to their trip by stopping at each local station.
This added inconvenience will inevitably result in the loss of some of the longer distance passengers. For SmartTrack, Metrolinx has studied this issue. "For most of the new stations, the number of new riders does not offset the projected loss of longer trips 'upstream' from the stations."
However, this problem does not exist in providing local service in Hamilton east of Hunter. Hunter Street is the present end of the GO line, so there are no long-distance passengers who will be inconvenienced by providing local service east of Hunter.
What will the local service look like?
This article proposes local service for people to travel to downtown Hamilton from outer Hamilton and Stoney Creek. Five additional stations would be constructed at Gage and Lawrence, Kenilworth and Lawrence, where the railway crosses Cochrane Road, and where the railway line crosses Quigley Road.
The final station would be under the bridge over Centennial Parkway. To this final station we would construct bicycle and pedestrian paths to Alba Street and the western part of Webster Road in the Gershome neighbourhood.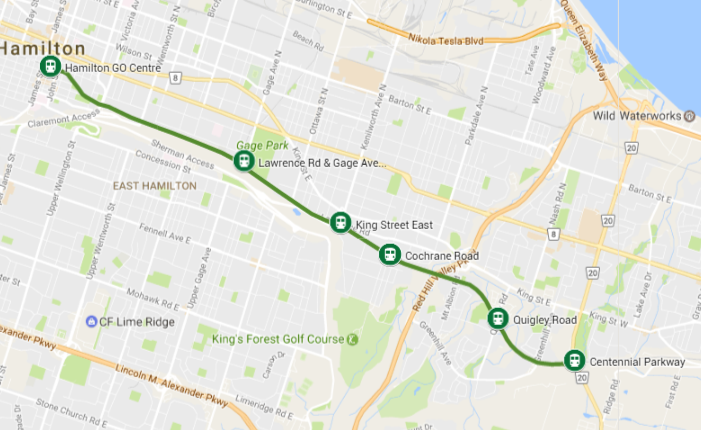 Map of line and proposed stations (Image Credit: Google Maps)
As may be seen in the linked Google photographs, there is space available at all five proposed station locations for construction of a local community station. It is not feasible to add stations east of Centennial Parkway as the railway line then rapidly climbs the Escarpment and no longer runs through populated urban areas.
What will it cost?
Normally, GO stations cost $50 - 70 million. However, this cost includes a full 12-car platform and a staffed station building, as well as very expensive and undesirable automobile parking.
It should be possible to create a local community GO station for a cost closer to that of the $2.6 million for a typical LRT station by providing an unstaffed station with a three-car platform and a shelter with bicycle parking and a ticket vending machine.
There will also be an additional operating expense of running the existing GO equipment for an extra 8 km. The time required to run this GO equipment for an extra 8 km may require the purchase of additional trainsets.
Their current costs are approximately $2 million for each passenger car and $2.5 million per locomotive.
Post a Comment
You must be logged in to comment.