Dreschel Defends Whitehead's Attack on Safer Streets
Or, How to waste a billion dollars and keep the city divided against itself in one easy step.
By Nicholas Kevlahan
Published November 27, 2015
Unfortunately, Hamilton Spectator columnist Andrew Dreschel has decided to throw his support behind Ward 8 Councillor Terry Whitehead's proposal for a moratorium on any new changes to streets along the LRT route.
Whitehead's willingness to question, if not necessarily oppose, everything from two-way conversions to complete streets has all but branded him an urban rube in the eyes of progressives. So it's unfortunate he's the messenger in this case, because the proposed pause makes sense.
The closing paragraph is a slight caveat that the moratorium is perhaps too broad:
Chances are Whitehead's blanket proposal is far too sweeping, far too indiscriminate. Presumably staff can shed some light on that during the debate, hopefully without having to generate yet another complicated time-consuming report that pulls them away from their tasks at hand.
Dreschel also blows the dog whistle, singling out "cyclists and neighbourhood advocates" for opposing the moratorium, when it is clear that support for complete streets is broad among all lower city residents, not just those pesky urban activists. (A road diet on Aberdeen was also one of the top-voted projects in the 2014 Ward 1 Participatory Budget.)
Dreschel claims that 17,000 car trips will be "displaced". I assume he means that the capacity of King street will be reduced by this amount, but that seems incorrect since King only carries a total of about 30,000 cars on 4-5 lanes.
What's more, the idea is that the upcoming light rail transit (LRT) line will "displace" car trips into transit, not that we assume everyone will continue to drive everywhere just as before. If so, what's the point of LRT?
Even if we accept the 17,000 number at face value, that is not huge, especially given the under-capacity of adjacent streets. It's the equivalent of less than two lanes excess capacity - at moderate traffic levels - to be accommodated over the entire lower city street network!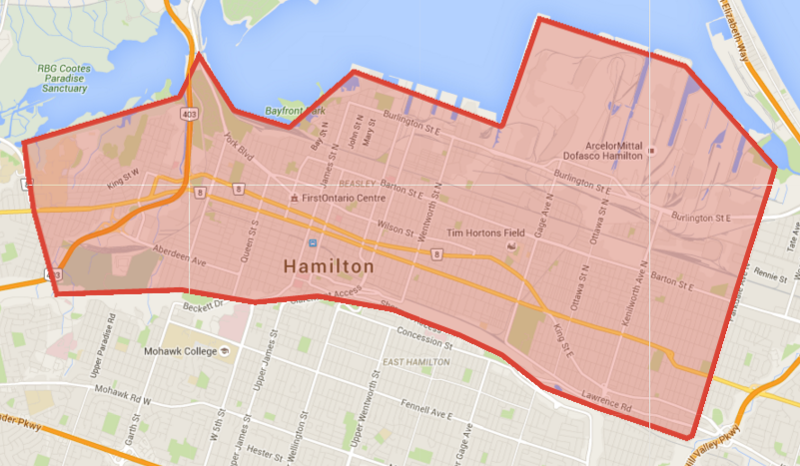 Area of Councillor Whitehead's proposed moratorium on new street safety improvements (Image Credit: Google Maps)
Best Practices for LRT Success
But the worst thing about this - aside from the fact that it ignores the obvious wedge politics that Whitehead playing here, as he has done consistently in the past - is that it rejects everything that the Metrolinx Benefits Case Analysis and every other study has said must be done for LRT to be a success.
The evidence is clear: to maximize the transformational benefits of this $1 billion LRT investment, we must shift away from our auto-centric transportation policy, and our streets must be redesigned in a complete, people-first way. This is necessary to create the right conditions for transit oriented development and densify the LRT corridor with new residents, shops and businesses.
Doug Morgan, Calgary's Transit General Manager, told a City-sponsored meeting on Wednesday evening at Mohawk College - in Mr. Whitehead's own ward! - that it is vital for the City to take a holistic view of land use and transportation planning to make the most of its LRT investment.
Calgary has firm limits on parking downtown, resulting in the highest prices in the country - whereas Hamilton has the lowest.
Calgary also ensures that the entire transit user experience is top quality, from the time customers leave their front door to their arrival at their destination. That means a high quality pedestrian experience, not trying to cling to an auto-centric status quo.
Hamilton Moving Backwards
Unfortunately, despite Morgan's advice, the political discussion in Hamilton is going completely the wrong way: let's try to keep everything just as it is and avoid making necessary changes.
And what is Dreschel going to say if and when Whitehead opposes a staff recommendation for the two-way conversion of Main, Queen, Bay and Cannon to improve vehicle traffic movement?
What if they conclude that there is plenty of excess capacity, or that the pedestrian experience is sub-standard for a rapid transit corridor and sidewalks need to be widened or crosswalks added?
It is clear that the street network will need to be re-configured for LRT, but it will need to be changed in ways that support LRT and transit oriented development - and Whitehead will certainly oppose these changes.
He is justifying his current motion based on concerns he apparently heard from senior staff. However, he ignored staff recommendations - and his own survey - on the King Street bus lane when they didn't back up his preconceptions. He even "challenged the objectivity of staff's bus lane report" according to Dreschel's January 15 Spectator article on the issue.
It sounds like the only thing that is really motivating Whitehead is his desire to attack the lower city and thwart the efforts of its residents to improve their neighbourhoods.
Hobbling the LRT project and setting it up for failure is just icing on the cake!
Post a Comment
You must be logged in to comment.