Light Rail Vehicle on James North for Supercrawl
Metrolinx is showing off a light rail vehicle on James North in front of Lister Block.
By RTH Staff
Published September 11, 2015
Here are the photos of a real-life light rail transit vehicle on James Street North that you have been waiting for: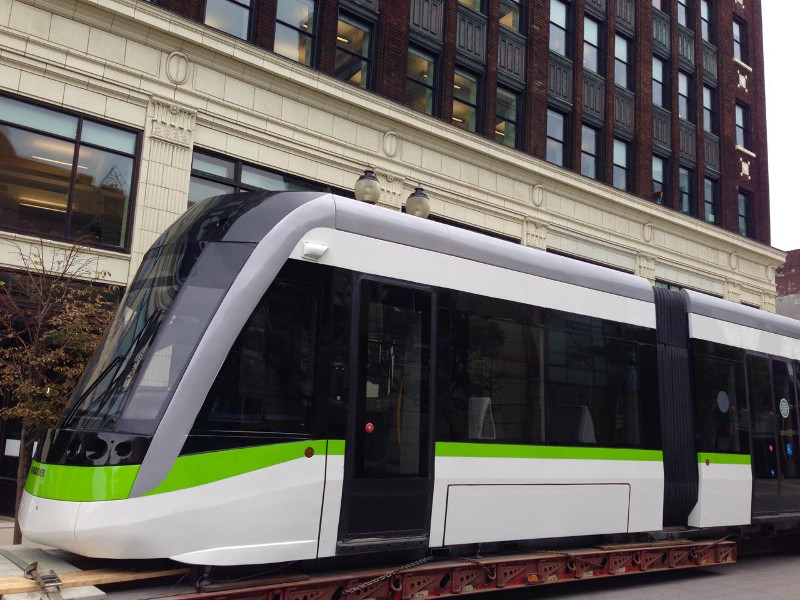 LRT vehicle on display on James Street North in front of Lister Block (Image Credit: Jason Leach)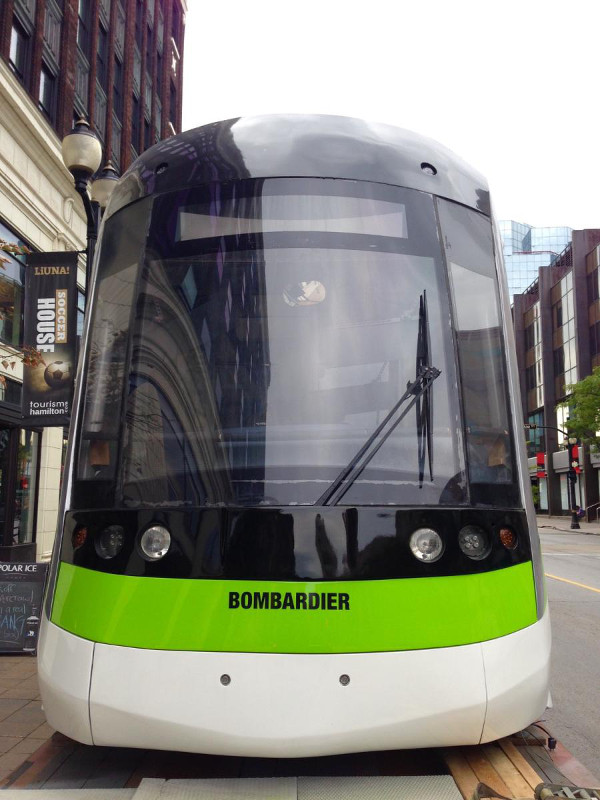 LRT vehicle, view from front (Image Credit: Jason Leach)
The vehicle is a Bombardier Flexity Freedom, the vehicle Metrolinx has chosen to buy for the new GTHA LRT systems: Eglinton Crosstown and Finch West in Toronto, Hurontario-Main in Missisauga/Brampton and B-Line in Hamilton. The Ion LRT in Waterloo Region is also using the Flexity Freedom. They are being built at Bombardier's Thunder Bay manufacturing centre.
The LRT vehicles are on display as part of Supercrawl 2015, which kicks off today on a three-day festival of music, performance, art, food, fashion, lecture series, culture and general awesomeness.
Last year, 165,000 people came to Supercrawl 2014, and we can expect an amazing turnout again this year. Of course, you need room for all those people, and a number of downtown streets have been closed to automobile traffic - that is to say, opened to human traffic - for the weekend:
King Street is closed from John to MacNab. Buses will continue to access this section of King.
James Street is closed from Main street to Murray Street.
King William Street and Rebecca Street are closed from James to Hughson.
York Boulevard is restricted to local traffic from Bay to Park and closed from Park to Hughson.
Mulberry Street is closed from James to MacNab.
Colbourne Street is closed from James to Severn.
The best way to get to Supercrawl is on a Hamilton Bike Share bike, of course, but depending on where you're coming from, there are lots of ways to arrive in safety and comfort.
Post a Comment
You must be logged in to comment.