Traffic Calming a Welcome Addition But Needs to Accommodate Cycling
Instead of making up our own traffic calming designs, we should simply adapt and follow the best practice engineering standards that are proven to work.
By Kevin Love
Published August 21, 2015
The following photograph was taken at the intersection of Roxborough and Province near Queen Mary Elementary School. I am impressed! I want this permeable traffic filter for Durand!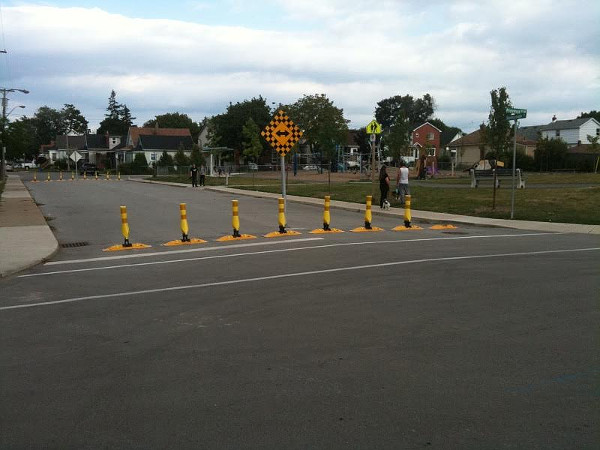 Permeable traffic filter at Roxborough and Province
Roxborough is a residential street. It was a notorious rat-run right next to the school that was an extreme danger to school children. Now it has been reclaimed by the community.
Herkimer is a residential street. Right now it is a notorious rat-run right next to Herkimer Park, posing an extreme danger to children using the park. Let's reclaim this for the community.
Better yet, we should systematically eliminate rat-running cut-through car driving from all Hamilton residential neighbourhoods. Take a look at this description and video of how to convert a residential neighbourhood to unravel the networks of car and bicycle routes.
In some cases the separation of routes is achieved by building of cycle-paths. However, in many others it is achieved by removing cars from the roads.

These days, very many roads and streets are not part of the route network for cars. They still allow access by car, so that people who live along them may reach their own homes, for instance, but they are not through routes by car. As a result, such streets are absolutely not dominated by cars. A cyclist using a road on such a route has much the same feelings about safety as someone using a cycle-path.
Here is the key quote: "Residential streets in the Netherlands rarely work as through roads for cars, even if they were originally designed to do so."
They changed. We can too!
We are starting to see changes, like the bollards at Roxborough and Province and a similar treatment near the waterfront at Guise Street and Hughson Street: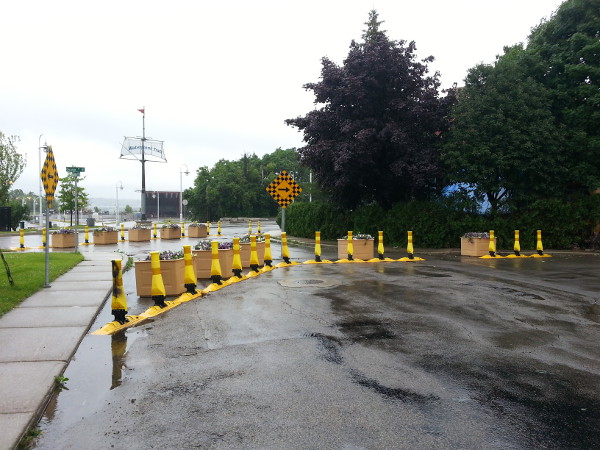 Permeable traffic filter, Guise and Hughson (Image Credit: Ryan McGreal)
However, we need to pay more careful attention to the right way to use bollards to ensure that we are not also blocking bicycle traffic. The Dutch CROW Design manual for bicyle traffic says this about bollards: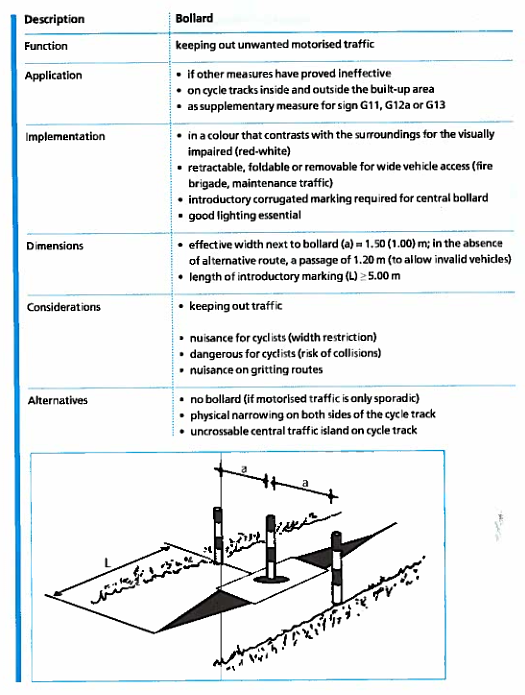 CROW Manual page on bollards
Note the effective width between bollards:
"effective width next to bollard (a) = 1.5 (1,00) m; in the absence of alternative route, a passage of 1.2 m (to allow invalid vehicles)"
I can testify that in real life, 1.5 m is invariably used except in the most extraordinary of circumstances - for example, the presence of a statue of historical significance. When bollards are too close together, it is more difficult for bikes to pass between them. Wider cargo bikes may not be able to fit through at all.
Here is another example of doing bollards wrong, this time on Barton Street: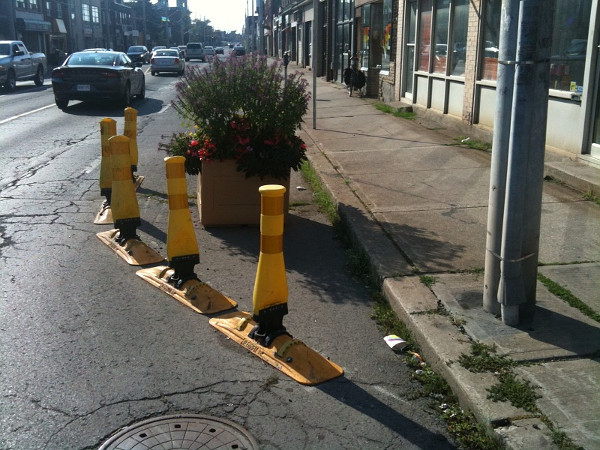 Bollards and planter on Barton Street
With a different placement of the bollards and planter box, this could serve to moderate automobile movement while still allowing bikes to proceed safely in the right lane.
Instead of making up our own designs, we should simply adopt and follow the best practice engineering standards that are proven to work.
With files from Ryan McGreal
Post a Comment
You must be logged in to comment.