Two-Way Conversion on Bold, Duke Meets Knee-Jerk Fear of Change
You can't have a successful participatory process if it gives a veto to those who don't participate.
By Nicholas Kevlahan
Published March 12, 2015
On Monday night, Ward 2 Councillor Jason Farr held a Town Hall meeting to discuss the city's plan to carry out the two-way conversions of Bold and Duke Street in Durand Neighbourhood.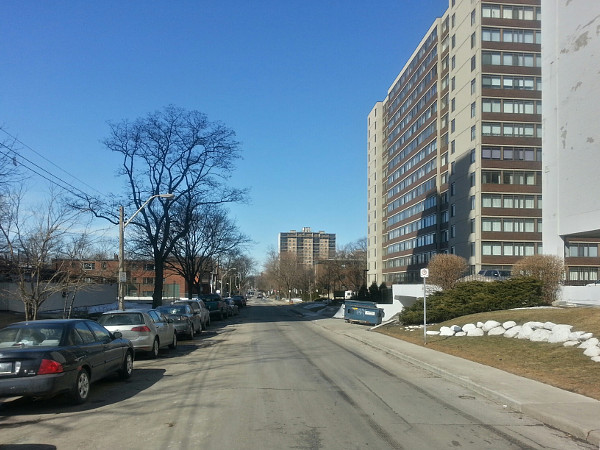 Duke Street facing west from Bay Street (RTH file photo)
These conversions were first proposed in the 1970s as a way to calm traffic and reduce dangerous speeding. The conversions were approved by Council in 2001 and reaffirmed in 2007.
Council has yet to fund this work in their annual budgets, but Ward 2 residents voted through the Participatory Budget process to use some of the Ward 2 area rating capital fund to complete the work.
Fear-Based Opposition
Around 160 people attended the Town Hall meeting, and many of them expressed fear and opposition toward the plan. They raised a number of objections, all of which were addressed by the City staff who attended the meeting.
Some people claimed the streets are not wide enough for two-way conversion. Staff pointed out that the city already has many two-way streets that are narrower than Bold and Duke and work fine. Snow removal, bus access and lane widths will not be a problem.
Some people claimed that two-way conversion will make the streets more dangerous. In fact, a 2000 study published in the peer-reviewed Canadian Journal of Public Health concluded: "One-way streets have higher rates of child pedestrian injuries than two-way streets in this community."
Staff also pointed out that Emergency Services told them they actually prefer two-way, since it allows emergency vehicles to take the most direct route to an emergency.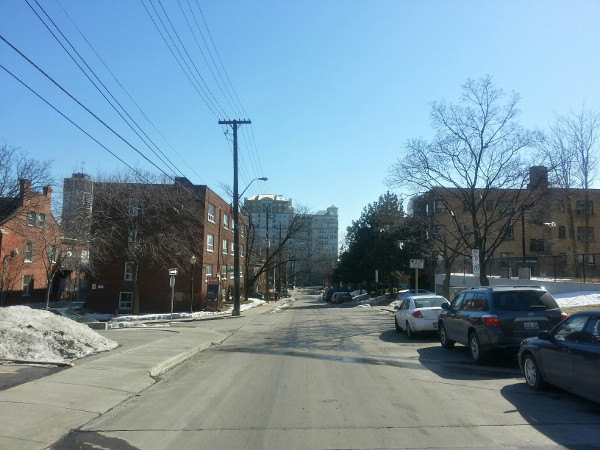 Bold Street facing west from Park Street (RTH file photo)
Another concern was the loss of parking spots. The current plan calls for 17 spots to be removed on Duke and 6 spots to be added on Bold. Similar to the recent conversion of Rebecca Street, the loss of that many spots is not necessary and the Durand Neighbourhood Association (DNA) is working with the City to reduce that.
Despite the fact that City staff addressed all of their concerns except parking, those opposed remained unmoved in their opposition.
The two-way conversions of Hess and Caroline were successful, no one has ever asked for two-way streets to be converted to one-way in the last few decades, and there are hundreds of two-way streets narrower than Bold and Duke. But these facts seemed to make no impression.
Fear of Change
It seemed to me that the residents opposed weren't really opposed because of the specific concerns they brought forward - since staff made it clear they had checked these were not an issue - but were opposed because it was a change they were unaware of.
In other words, the opposition was mostly knee-jerk fear of change.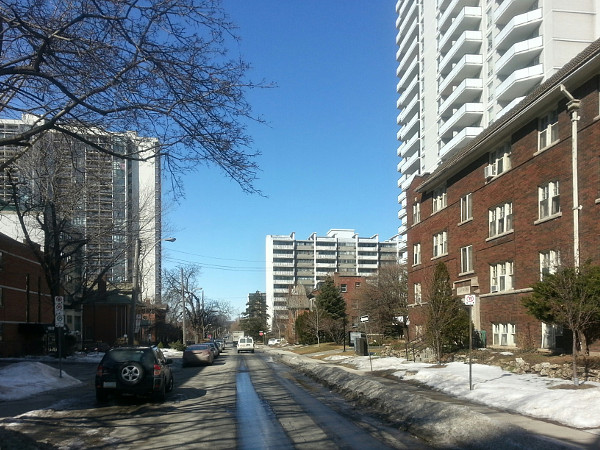 Duke Street facing west from MacNab Street (RTH file photo)
Comments included "why fix what isn't broken", "$300K is a big waste of money" - even though this was a citizen proposal voted in by Participatory Budget - and "I don't care what the experts say, there is isn't enough space on the street for two ways".
Ironically, these complaints were accompanied by more general complaints about speeding and unsafe traffic on the one-way network. The fact that a recent study using Hamilton data found two-way streets are less dangerous seemed to make no impression.
There were also numerous complaints about lack of parking for the high rises, and the belief that the city somehow owes residents and their visitors free car storage space on the streets.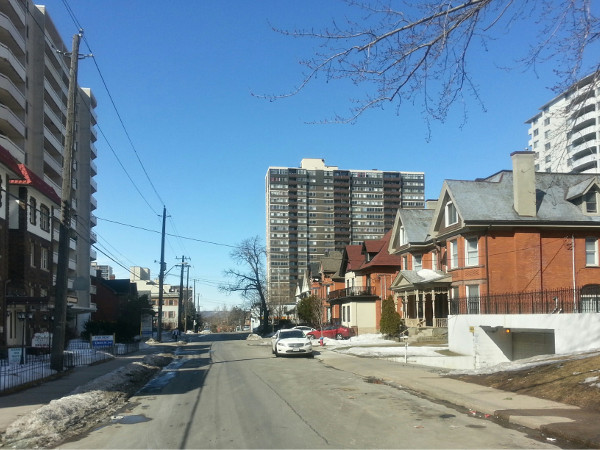 Bold Street facing west from Bay Street (RTH file photo)
Some of the comments were quite surprising: one woman expressed concern about the bike lane on Hunter, saying "No one told me you couldn't drive in the bike lane".
Long Delay from Decision to Implementation
One of the take-home messages is that even a relatively minor street-redesign is extremely difficult to implement with public support if the implementation process drags out over many years - in this case, 14 years.
The engagement has to be constantly re-done, and when the implementation finally moves forward, some residents will complain that it is a complete surprise.
Even with public engagement and prompt implementation, some people will get very upset and claim no one told them and try to stop the whole thing.
This happened when a McMaster professor drove her SUV into the bump-outs on Aberdeen that were added as a result of the 2002 Durand Traffic Study, and tried to have them removed.
Any contentious project will generate some objection, but no one today is demanding that we remove the bump-outs on Aberdeen so it is once again easy to speed through the neighbourhood.
There was also something of a generational divide at the meeting, with most seniors living on the street opposing the conversion, while most supporters (although not all) were younger.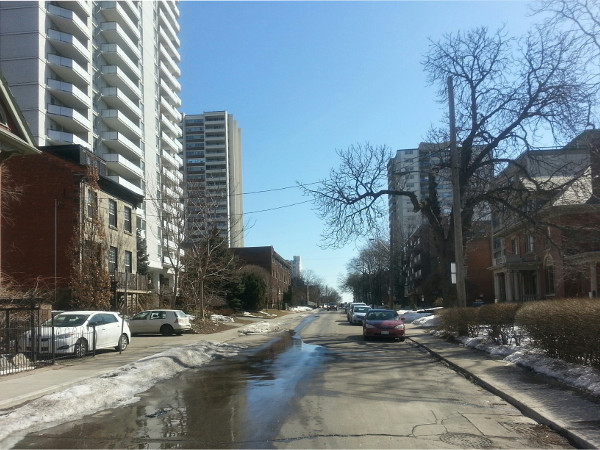 Duke Street facing east from Bay Street (RTH file photo)
This incident illustrates the difficulty of citizen engagement, especially over long time periods, and the problem of accommodating the concerns and views of those who don't get engaged until after the decision is already made - in this case, by Council and other Ward 2 residents in the Participatory Budget process.
Some residents actually complained that the Participatory Budget process is "undemocratic" and that a project should not go ahead unless an absolute majority of residents vote for it - while simultaneously arguing that a project should be cancelled if a relative majority of residents who come to a single public meeting oppose it.
Participatory Democracy Requires Participation
One thing is clear: after 14 years of planning, multiple Council approvals and demonstrated community support in a Participatory Budget vote, it would send a very bad message about citizen engagement process to overturn and cancel a project because some residents didn't bother to get informed and engaged until the project is about to be implemented.
The purpose of the meeting was to ensure that residents' concerns were addressed, not to re-open a debate over whether to carry out street conversions that were approved 14 years ago.
As an interesting aside, most of the people who were upset about the Bold and Duke conversions did not stay for the second part of the evening, which focused on the planned bike lanes on Charlton and Herkimer, renovation of Durand Park (in the works since 2008) and the DNA initiative to have Durand designated as a Heritage Conservation District.
These are also important (and potentially controversial) plans that would benefit from citizen engagement before they are implemented. I am concerned that there will be people who wait until the last minute to get involved in the bike lanes and then try to veto or overturn them.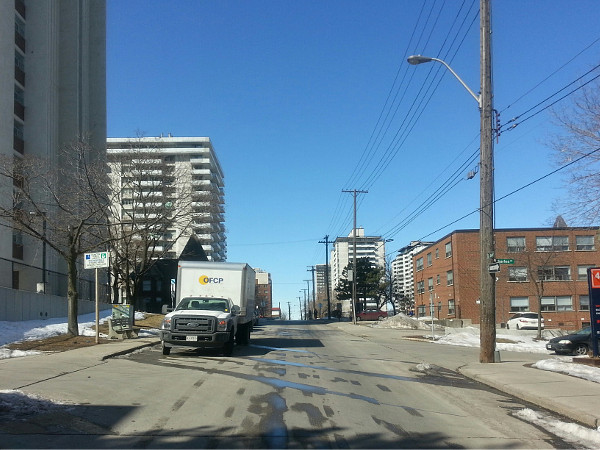 Bold Street facing east past Charles Street (RTH file photo)
There are a lot important issues about engaging citizens being brought out, but I think this does speak to Council's "silent majority" fears.
We still haven't quite accepted that engaging citizens and participatory democracy means giving power to those who take the time and effort to stay informed and get involved. You can't have a successful participatory process if it gives a veto to those who don't participate.
Post a Comment
You must be logged in to comment.