Bus-Only Lane Experiment Actually Supports Light Rail Transit, Traffic Calming, Two-Way
Why have we designed a downtown shopping street on which just crossing it is such an unpleasant experience that it is driving customers away?
By Nicholas Kevlahan
Published October 01, 2014
Yesterday, the Spectator published an article on the King Street bus-only lane that profiles business owners who claim the lane is driving away customers and forcing them to move to Jackson Square.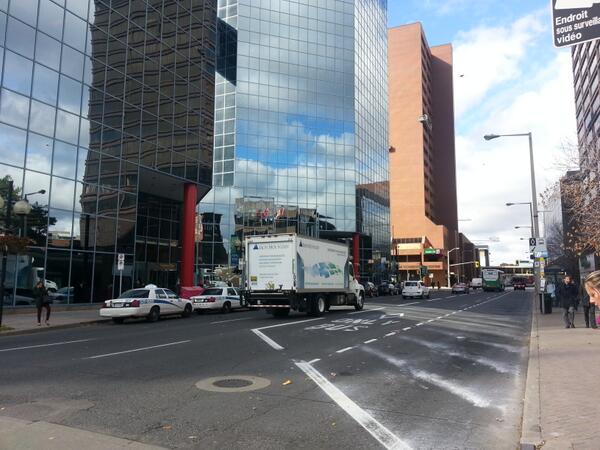 Bus-only lane (RTH file photo)
Already, people are claiming this is an argument against the city's light rail transit (LRT) plan for the east-west B-Line. It's important to make sure people don't draw the wrong conclusions from the bus lane experiment.
Case Against BRT, Not LRT
If anything, this is an argument against the competing proposal for bus rapid transit (BRT).
It is well-understood that BRT does not fit in well with an urban environment. Buses are noisy, polluting and cause a lot of vibration. Their lower capacity means you need many more buses to meet the ridership capacity of LRT.
In contrast, LRT is smooth, quiet and attractive. It attracts more riders and development, which improves business. There are dozens of examples of downtowns in the USA and Europe which are booming thanks to their LRT investments.
In fact, LRT is often used as an infrastructure to boost under-performing urban neighbourhoods, such as Portland's Pearl district.
Parking Moved to South Side
The bus-only lane runs on the north curb lane of King Street. The parking spots that were on the north curb were moved to the south curb, right across the street. If the steep decline in business noted in the article is true, it shows something is seriously wrong with the design of this street in the core of Hamilton's downtown.
The article quotes Diego Almonte: "I have customers who tried parking across the street and then risked their lives to cross the road and just said, 'we aren't coming back.'"
If customers aren't willing to cross the street to go to a business they appreciate, something is very wrong.
Why have we designed a downtown shopping street on which just crossing it is such an unpleasant experience that it is driving customers away?
One-Way Streets and Wayfinding
Another point is that if business owners think shifting parking to the other side of the street or adding a bus lane makes it confusing for people to find their businesses, surely they understand that our one-way street network is a far bigger factor making it difficult to find businesses.
Downtown business owners recognized the damaging effects of the one-way system soon after it was implemented back in the 1950s, and have been calling for a reversion back to the original two-way configuration ever since.
Both the downtown and International Village BIAs have expressed support for two-way conversion, but Council has not acted on their concerns. (You can read statements by the International Village and Downtown BIAs.)
As communications researcher Dwayne Ali argues, "With a network of one-way streets, users cannot take direct paths to destinations, and routes vary widely amongst transportation methods. The path for a pedestrian is very different from that of a driver. This leads to a user having to learn their city multiple times in order to confidently navigate it, forever balancing a load of several conflicting cognitive maps."
Or as Ryan McGreal pointed out in a recent comment on the difficulty of giving directions to someone at James and King who is trying to reach York and Bay, "Our one-way streets are only useful for people driving through downtown as fast as possible. They make all other uses of the street - and most particularly the most local uses - more difficult, awkward and non-intuitive."
The bus lane is really just highlighting how dysfunctional the current street network is: business shouldn't collapse because of this minor change.
Malaise Already Evident
A more delicate point is that several of the business owners admitted they were just barely hanging on until the bus lane. Again, King Street should be a thriving commercial street, filled with shops and residences on both sides.
If shifting parking to the other side of the street is enough to push businesses over the edge, there are more fundamental problems than bus lanes.
Remember that the number of buses has not increased. The only thing that has changed is the side of the street the parking is on.
LRT and Traffic Calming
All the Mayoral candidates agree that we need some form of rapid transit, and the reports on LRT have urged the city to implement two-way conversion and street calming to make the streets more attractive to walkers and shoppers.
The bus lane experiment has reconfirmed this advice: we need LRT, traffic-calmed streets and a navigable two-way street network for an economically and socially vibrant downtown.
Post a Comment
You must be logged in to comment.