Strategic Road Safety Program Part of New City Commitment to Safe Streets
After decades of stonewalling efforts to make neighbourhood streets safer, the Public Works Department finally seems to be taking complete streets seriously.
By Ryan McGreal
Published August 13, 2014
Over the past decade, the City of Hamilton has not had a good track record for attention to pedestrian safety and accessibility. Instead, the City's top priority for public streets has been maximizing the speed and volume of automobile traffic by overbuilding lane capacity and engineering streets for illegal speeding, even though automobile traffic volumes in the lower city have been going down.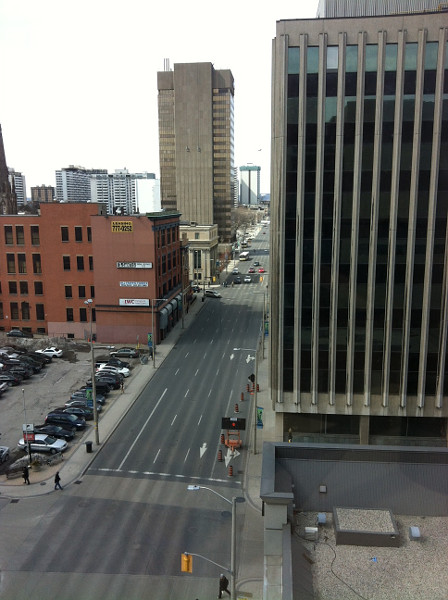 Main Street, view from John Sopinka Courthouse at 1:30 PM on a weekday (RTH file photo)
One predictable result is that Hamilton has become the second most dangerous city in Ontario for pedestrians. Pedestrians are 42 percent more likely to be injured in Hamilton than the provincial average, and Hamilton cyclists are 81 percent more likely.
The good news is that this is starting to change. The City has finally noticed that we have excess lane capacity that should be put to better use, and Council recently approved a Pedestrian Mobility Plan in which making streets complete and inclusive becomes a matter of "routine accommodation" rather than an optional add-on that can easily be nixed.
After decades of stonewalling grassroots efforts to make neighbourhood streets safer, the City's Public Works Department went on a crosswalk-repainting spree last summer, which it has continued this year.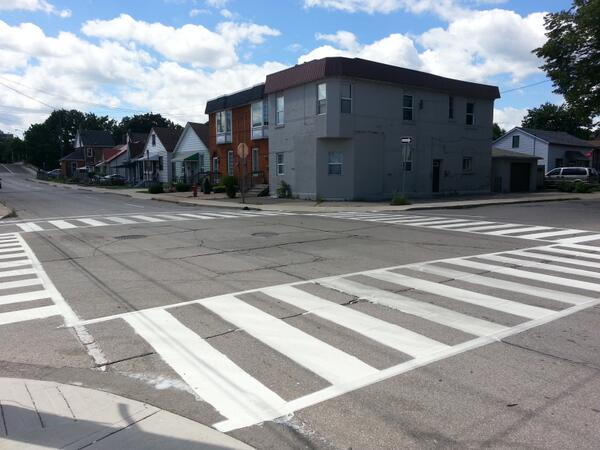 Zebra crossing at John Street North and Simcoe Street (RTH file photo)
Queen Street Safety Review
After a spate of pedestrian collisions on Queen Street earlier this year, the Traffic Department agreed to undertake a traffic safety review.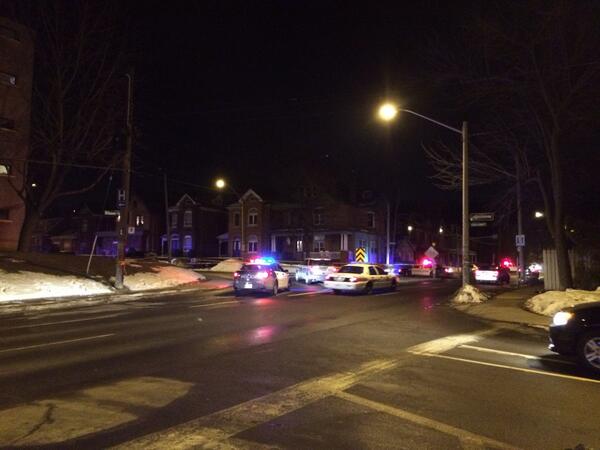 Police block Herkimer at Queen on March 7 (Image Credit: Andrew Spearin)
David Ferguson, Superintendent of Traffic Engineering, completed the review in June. Ferguson noted that Queen Street has had 19 collisions involving pedestrians over the past five years, all of which occurred at intersections. He made the following recommendations:
Review side streets for crosswalk installation. Queen has a lot of pedestrian activity, but most cross streets are uncontrolled.

Increase crossing time at signalized intersections. The city has traditionally timed cross signals based on a walking speed of 1.2 m/s, but has set a new standard of 1.0 m/s, which will make it easier for senior citizens and young children - who are disproportionately at risk of vehicle collisions - to cross in time.

Pay special attention to Queen and Main. 39 percent of the collisions happened at this intersection, which is in the top 20 across the city for pedestrian injuries. One measure has been to install zebra (or ladder-style) crosswalk markings on the north and west leg of the intersection.

Enhanced ladder crossings at several locations. The City has already installed ladder crossings at Queen and Hunter, which, in addition to the green-painted bike box at the end of the Hunter Street bike lanes, have increased the active transportation profile of the intersection.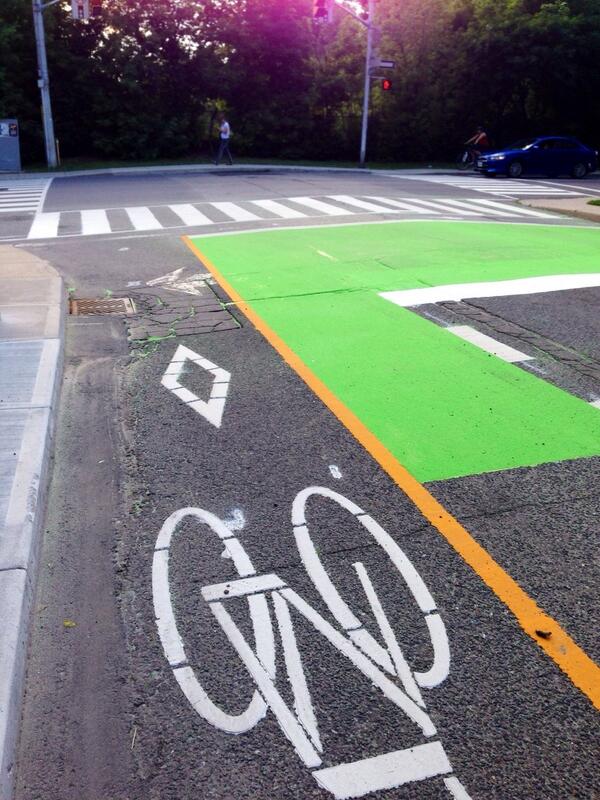 Hunter and Queen (Image Credit: Jason Leach)
Pedestrian Cross-Overs
Ferguson noted that the Province is in the process of updating the Ontario Traffic Manual, Book 15, and that the new manual will include tools that municipalities can use to enhance pedestrian crosswalks. It defines four types of crosswalk control: a school crossing guard, Stop or Yield sign, Pedestrian Cross-Over (PXO), and traffic signal.
The City of Hamilton decided against using PXOs in 2002, citing evidence from Toronto that they had a poor safety record. A City of Toronto Pedestrian Collision Study [PDF] from 2007 noted:
The driver's visibility of the traffic control device (PXO), the driver and pedestrian's understanding or lack thereof of how a PXO operates, and the pedestrian's false sense of security at PXOs. Both drivers and pedestrians may not be aware of the laws that govern driving and crossing at a PXO.
The study noted that Toronto approved a plan to replace 61 PXOs with signalized crosswalks and upgrade another 269 PXOs to make them more visible and safe.
In December 2012, Hamilton Traffic Engineer Ron Gallo wrote in an email response to RTH that the Traffic Department prefers to install pedestrian-activated crosswalks:
I would advise against the use of PXOs regardless of road class due to the confusion they cause. The intent is the same so why not use the safer and better understood option?
Crosswalks are safer but they're also a lot more expensive, with the result that fewer intersections have received any kind of controlled crossing. The few signalized crosswalks that have been installed recently have been funded from the respective ward's area rating capital fund.
However, the new Ontario Traffic Manual defines four distinct types of PXO (type A through D), identified by regulatory and warning signs, flashing amber beacons and pavement markings and specified for use in particular street contexts (number of lanes, one-way or two-way, mid-block or intersection, low-, medium- or high-volume, distance from other crossealks, etc.).
These new PXOs have been redesigned for greater safety and recommended for use in appropriate contexts, based on the safety evidence from the old PXOs.
Courtesy Crossings
Hamilton's Traffic Department is also considering the use of so-called 'Courtesy Crossings', or uncontrolled crosswalks, at selection locations. In 2002, the City quietly stopped maintaining uncontrolled crosswalks, allowing the painted markings to fade away on the grounds that they were not as safe as controlled crosswalkes (yet doing nothing to improve their safety, either).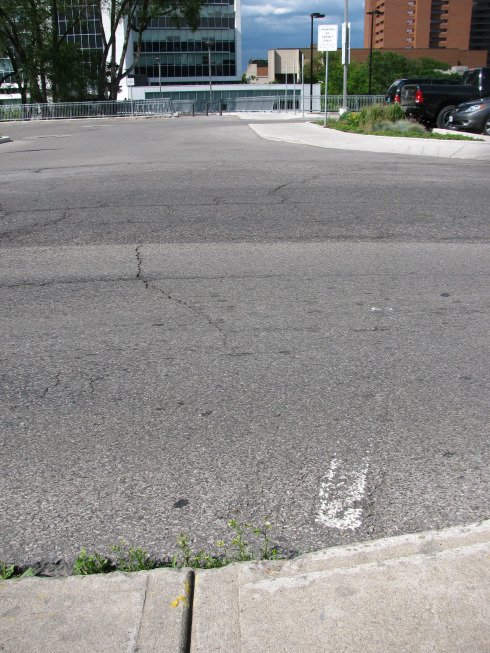 'Ghost crosswalk' on Hunter Street at Park Street, right behind City Hall (RTH file photo)
Traffic staff are working on a new Courtesy Crossing program that can be implemented once the new Ontario Traffic Manual comes into effect.
An early suggestion, unfortunately, was to include a sign warning pedestrians that motorists don't have to stop for them - which is just wrong.
However, staff more recently clarified that the design is not yet finalized so there is still hope that it won't include the dangerous and misleading sign.
Meanwhile, the City has at least started repainting existing uncontrolled crosswalks. However, it seems clear that most drivers don't know - or don't care - that they are obligated to yield to a pedestrian who is trying to cross. Pedestrians, in turn, must wait for a gap in traffic big enough that drivers have time to yield.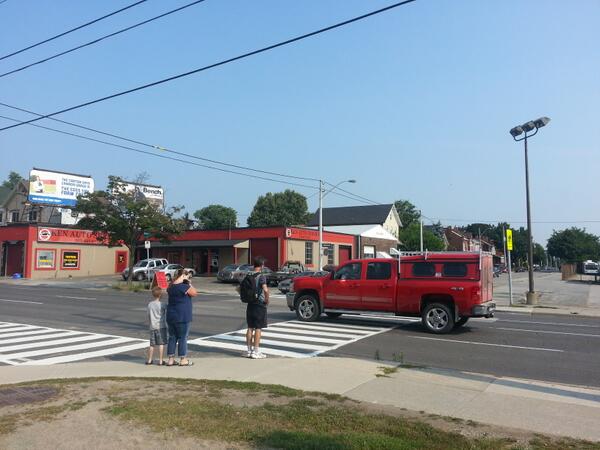 Family trying to cross Cannon Street at Elgin (RTH file photo)
Strategic Road Safety Program
This Thursday's Public Works Committee meeting includes a staff recommendation to re-establish a Strategic Road Safety Program.
The road safety initiatives would be funded via surplus revenue from the city's Red Light Camera program, including hiring a Senior Traffic Safety Technologist on a three-year contract to implement the program. The program would start with $545,000 from the Red Light Camera Reserve to fund 2014 initiatives.
Included in the program would be the new pedestrian crossing initiative, which will follow the Ministry of Transportation's new guidelines to establish "new pedestrian crossing locations" and focused education on drivers, cyclists and pedestrians.
The program will also review the city's existing speed limit policy. Currently, the unsigned speed limit on Hamilton streets is 50 km/h, a speed that applies to major arterials and residential side streets alike.
Cities around the world - including Bristol and Edinburgh - are adopting lower speed limits as part of a global "Vision Zero" campaign to eliminate preventable deaths from automobile collisions by redesigning streets to be inherently safer.
Hamilton's North End Neighbourhood is undertaking a five-year pilot project to have 30 km/h speed limits on most streets (excepting James North and Burlington Street), encouraged through various traffic calming measures, including zebra crossings and bumpouts. Unfortunately, the pilot comes with a strict five-year moratorium on establishing similar limits in other neighbourhoods.
The Strategic Road Safety Program will also focus on safety measures and education for the most vulnerable road users, specifically children and senior citizens, who are disproportionately the victims of pedestrian collisions.
The original Strategic Road Safety Program was established in 2007 with the goal of reducing fatalities, injuries and property damage by 10 percent a year from 2009 to 2012. However, the program was effectively disbanded in 2009, and collision injuries/deaths did not decline during the period between 2006 and 2012.
Collisions in Hamilton by Type by Year

| | 2006 | 2007 | 2008 | 2009 | 2010 | 2011 | 2012 |
| --- | --- | --- | --- | --- | --- | --- | --- |
| Total Collisions | 3202 | 3378 | 3316 | 3337 | 3677 | 3755 | 3644 |
| Fatalities | 22 | 21 | 14 | 14 | 20 | 17 | 19 |
| Alcohol related | 231 | 222 | 235 | 195 | 181 | 189 | 155 |
| Vulnerable Road Users: Cyclists | 147 | 157 | 162 | 139 | 163 | 149 | 161 |
| Vulnerable Road Users: Pedestrians | 225 | 286 | 243 | 213 | 263 | 267 | 261 |
| Intersections | 1709 | 1829 | 1765 | 1661 | 1867 | 1805 | 1853 |
| Segments | 1493 | 1549 | 1551 | 1676 | 1810 | 1950 | 1791 |
| Rural roads | 1160 | 1158 | 1184 | 1194 | 1214 | 1225 | 1254 |
The staff report recommending restarting the program argues that "a more active road safety program is needed to further improve safety conditions for all road users."
The preventable deaths and injuries that go along with traffic collisions are extremely costly. The average collision in Ontario costs $77,000, with a major injury costing as $280,000 and a fatality costing $13.6 million.
Suddenly some white paint and $80 knockdown bollards don't sound so expensive after all.
Post a Comment
You must be logged in to comment.