Zebrapalooza
Tactical Urbanism, North End Traffic Plan, Code Red Neighbourhood Planning and citizen/Councillor requests boost a limited pilot project into a boom in pedestrian improvements at intersections across the city.
By Ryan McGreal
Published August 19, 2013
this article has been updated
After a spring talk on tactical urbanism, some targeted direct "guerrilla road work" action in a few intersections and an early bad reaction from city officials, the campaign resulted in public works management acknowledging that there are real opportunities for improvement in how the City designs and demarcates pedestrian crossings.
It didn't take long for the City to start bolstering crosswalks and installing new zebra crossings at various locations, but mainly in Kirkendall Neighbourhood.
Over the summer, the pace has quickened as a pilot project in Kirkendall was expanded to several more intersections, zebra crossings appeared on high-risk intersections on the Mountain, and even long-beleaguered Cannon Street has started to see some love.
Popular Pilot Project
The new zebra crossings are part of a pilot project that has grown out of the increasing awareness that the city has a responsibility to provide safe, inviting pedestrian infrastructure. Martin White, the city's traffic engineering manager, agreed to an email interview to explain what's been going on.
He wrote, "There is a direct connection at Locke and Herkimer" with the tactical urbanism movement, which immediately improved the intersection by adding homemade bumpouts on the southwest and northeast corners. Energized by the Code Red Neighbourhood Action Plans, the new North End Traffic Plan and requests from citizens and Councillors, the pilot has quickly expanded citywide.
According to Martin, "The locations were originally going to be limited to the North End Neighbourhood and in addition around 15-20 locations throughout the rest of the city, especially Locke and selected school crossing locations and senior citizen areas. The idea spread quickly and before we could suggest locations, Councillors were coming to us with their higher end requested locations."
The traffic department is using a set of "rough criteria" to evaluate requests: "The criteria are related to the presence of pedestrian-generating land uses, collision history, seniors and children, geometric concerns, visibility of pedestrians, demonstrated pedestrian issues, and Councillor requests."
Most of these activities are being funded out of the Public Works Traffic Capital Account, with a few being funded through the ward area rating levy.
Council will receive an update some time in the next several weeks, and the Traffic department plans to prepare a report this coming winter. In the meantime, Martin notes, "I would stress that this is just a pilot with limited funds, not a full implementation strategy and there is currently no funding."
Herkimer and Locke
It started at the corner of Herkimer and Locke, where tactical urbanists created "guerrilla bumpouts" by attaching small orange traffic cones to the street on the northeast and southwest corners.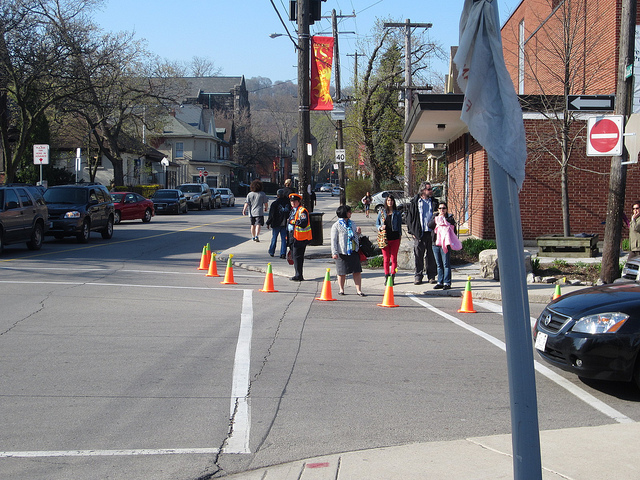 Guerrilla bumpouts at Herkimer and Locke
Within a few days, the City removed the pylons and Public Works General Manager Gerry Davis issued a memo calling the action "illegal, potentially unsafe and adding to the City's costs of maintenance and repair." However, it could not be denied that the citizen bumpouts had instantly made the intersection safer.
The long-time crossing guard strongly approved of the action, saying the bumpouts "really controls the traffic. It was getting scary." She observed that the bumpouts forced the cars to slow down instead of racing aggressively through the intersection.
Soon, tactical urbanist organizers met with city officials and the result was a pilot project to install official temporary bumpouts as an intermediate step toward a permanent solution.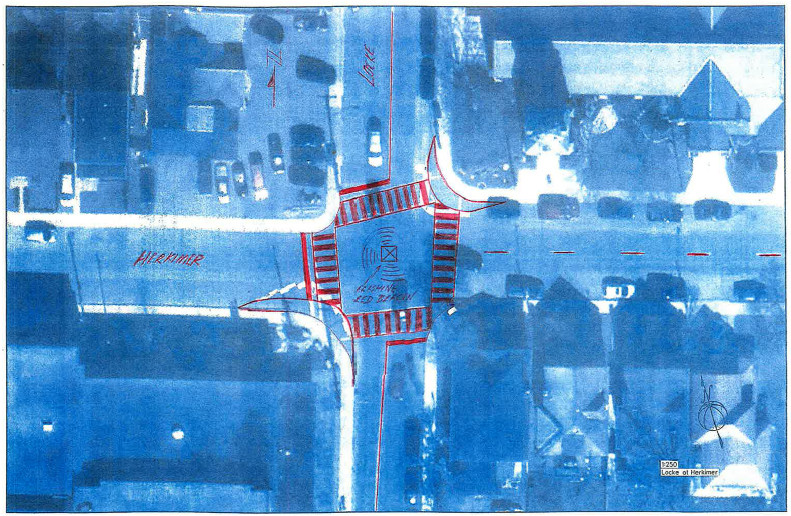 City Blueprint for bumpouts at Herkimer and Locke
Bumpouts do three important things to make intersections safer:
They increase the size of the sidewalk area where pedestrians can stand.
They reduce the distance that pedestrians have to walk to cross the street.
They shrink the turning radius for automobiles at intersections, which forces drivers to slow down to make the turn.
Because Locke and Herkimer is not a regular square intersection, the northeast and southwest corners had large turning radii, which allowed drivers to go around those corners very quickly - especially the southwest corner, which is also home to St. Joseph's School.
As a temporary measure, City workers painted bumpouts and protected them with knockdown sticks in May and June.
Now the City has built a permanent raised-curb bumpout on the southwest corner that includes a section for grass or other plants.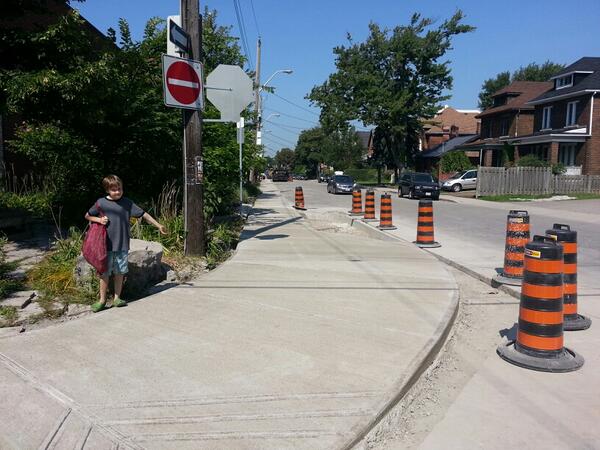 New permanent bumpout, southwest corner of Locke and Herkimer
Unfortunately, it does not appear to extend as far as the temporary bumpout did, and the turning radius looks somewhat larger, meaning cars will be able to make the turn more quickly. (You can read the city's explanation.)
However, it provides a lot more surface area for the children and their caregivers who will be walking to and from school next month.
Zebra Spottings in Kirkendall
Under the pilot project, several new zebra, or ladder-style, crossings have been appearing along Locke Street South and adjacent streets.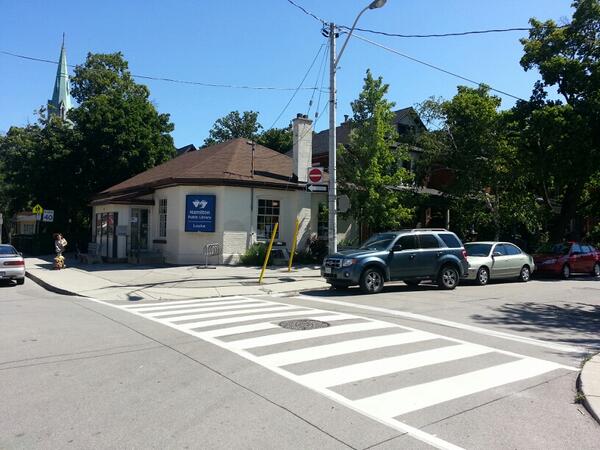 Zebra crossing at Locke and Stanley, east side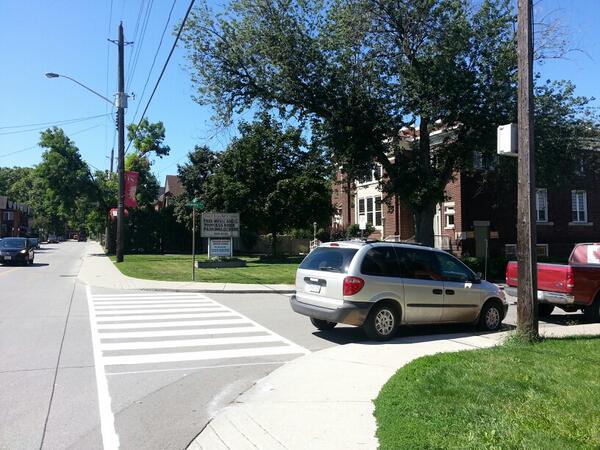 Zebra crossing at Locke and Stanley, west side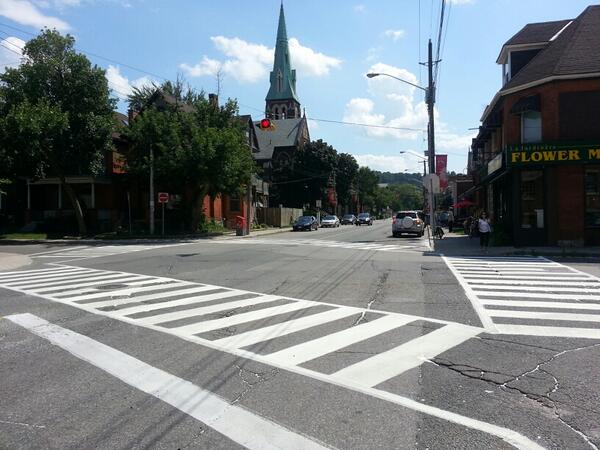 Zebra crossing at Locke and Charlton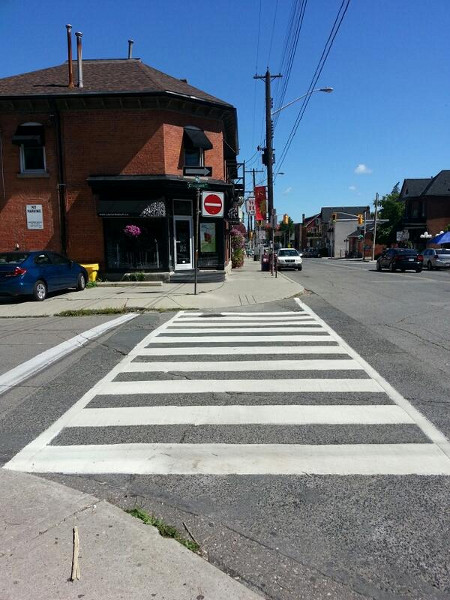 Zebra crossing at Locke and Chatham, west side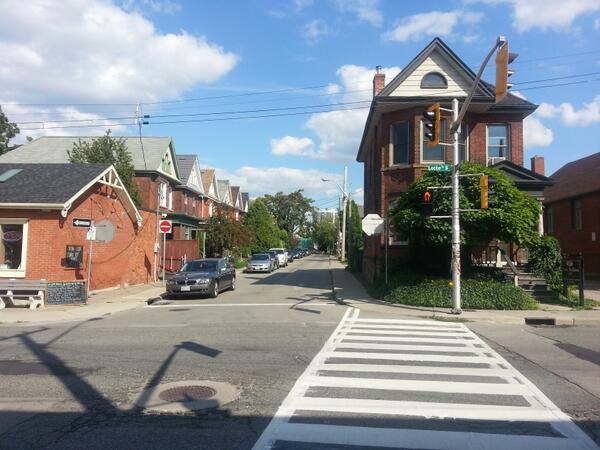 Zebra crossing at Locke and Tuckett
Earlier this summer, a zebra crossing went in at Aberdeen and Dundurn, and another crossing has been marked for installation at Herkimer and Kent.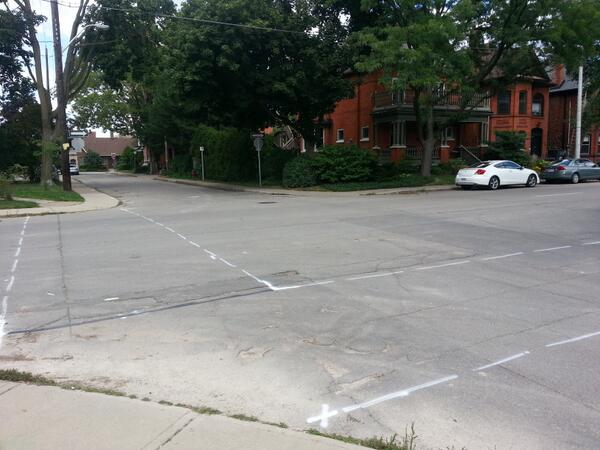 Zebra crossing planned at Herkimer and Kent
White also confirmed that several locations on Locke Street North in Strathcona Neighbourhood will get zebra crossings, including Locke and King, Locke and York and Strathcona and King.
Another upcoming pedestrian improvement is a planned traffic light at Main and Pearl Street to match the traffic light already in operation at King and Pearl (notwithstanding the prohibition on crossing King on the west side of Pearl). Before the King and Pearl traffic light, there was no safe way to cross King between Locke and Queen, a distance of almost half a kilometre.
North End
The North End Neighbourhood's new transportation plan recently came into effect with a neighbourhood-wide speed limit of 30 km/h (except on James and Burlington Streets). But because drivers are more inclined to respond to street design than posted speed limits, the City is undertaking a broad effort at traffic-calming through design.
That effort includes several new zebra crossings: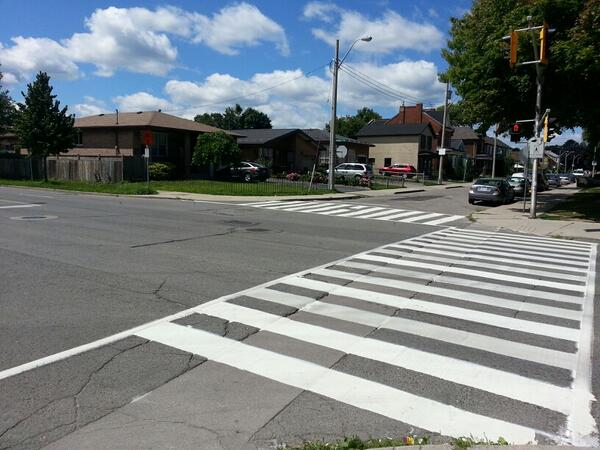 Zebra crossing at James North and Picton

Zebra crossing at James North and Simcoe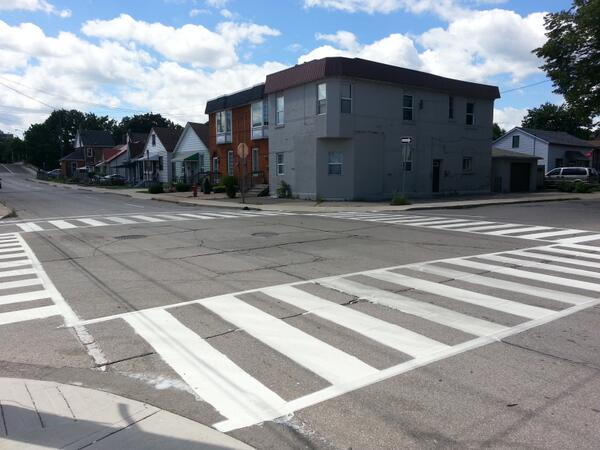 Zebra crossing at John North and Simcoe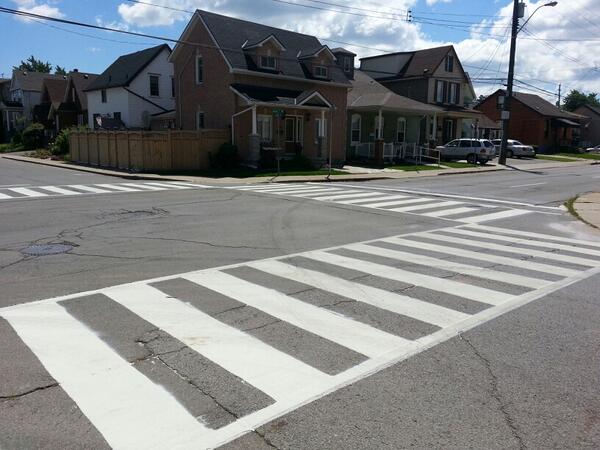 Zebra crossing at John North and Wood
Cannon
Cannon Street is one of the city's worst offenders in terms of sacrificing safety and vitality for fast flow-through of automobile traffic. At Cannon and Mary, tactical urbanists painted a crosswalk that city workers quickly removed.
While city staff managed to negotiate a more permanent response to the action at Locke and Herkimer, the arguably more needful corner of Cannon and Mary remains unresolved. This has led to criticisms that the city is actually deepening the inequality between affluent and more vulnerable neighbourhoods by focusing improvements in southwest Hamilton.
The City seems to recognize this, and a few locations on Cannon have been selected for new zebra crossings, including the corner of Cannon and Elgin in Beasley Neighbourhood.

Zebra crossing at Cannon and Elgin (Image Credit: @fortelgin)
Cannon is four one-way lanes wide and has some particularly long distances with no signalized or marked crossings, including a 650 metre, six-block stretch between Wentworth Street and Victoria Avenue.
Mountain
Earlier this summer, the City installed zebra crossings at Upper Gage and Fennell and Upper Gage and Mohawk, the intersection where an 83-year-old pedestrian died in June after a collision with an automobile.
Just last week the City tweeted a photo of another zebra crossing, this one at Upper Wentworth and Mohawk: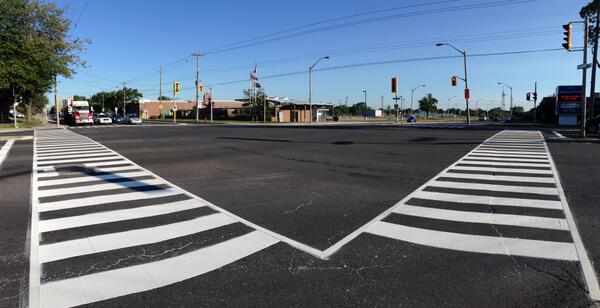 Zebra crossing at Mohawk and Upper Wentworth (Image Credit: City of Hamilton)
Several more locations are planned for wards 6 and 7 over the next few weeks. If you spot a new zebra crossing, please take a picture and email or tweet it to us!
---
Update: The city replied to my request for information on why the permanent bumpout at Locke/Herkimer is smaller than the temporary one. I added a link to the explanation. You can jump to the changed paragraph.
Post a Comment
You must be logged in to comment.