Anti-Pedestrian 'Courtesy Crossing' Pilot in New Pedestrian Signal Program
City staff recommend a new proposal to put up signs at uncontrolled intersections warning pedestrians that vehicles are 'not required to stop'. This dangerous plan misrepresents the Highway Traffic Act.
By Nicholas Kevlahan
Published November 04, 2013
The City of Hamilton has finally released the long-awaited Pedestrian Plan [PDF], which will be received by the General Issues Committee (GIC) on November 6.
The report runs 244 pages and there's a lot to digest, but one of the associated projects is a new Pedestrian Signal Program [PDF], which staff recommend to replace the city's Intersection Pedestrian and Mid-Block Traffic Signals Policy. The executive summary reads in part:
In addition to the installation of a signalized controlled crossing, staff is recommending the pursuit of a pilot study of a proposed new crossing device termed "Courtesy Crossing", by coordinating with the Ministry of Transportation to proceed with participation in a two (2) year pilot. "Courtesy Crossings" do not give pedestrians the right-of-way to enter an intersection. Pedestrians are required to wait for a safe gap in traffic to cross. Drivers must stop and allow pedestrians that are within a marked crosswalk to continue to cross safely. The intent is to provide greater awareness and visibility of pedestrians crossing. At such a time, when legislation changes this device may provide pedestrians with the right-of-way. This device is intended for use on roads with two (2) travel lanes and with low volume and speed.
These new "courtesy crossings" would have a sign posted, reading: "Caution - Vehicles Not Required to Stop".
So it now seems that instead of considering the signs in place at McMaster University and Mohawk College that remind motorists they must stop for crossing pedestrians at a painted crosswalk, the City has decided to do the precise opposite: tell pedestrians that motorists don't have to stop for them.
Pedestrian Signs on Campus
The McMaster University pilot project of putting up signs telling drivers to yield to pedestrians was started in February 2012.
The most recent initiative is a pilot project involving in-street pedestrian crossing signs, which have been placed at crosswalk locations near the MUSC, the Institute for Applied Heath Sciences and the Psychology Building. These bright yellow signs will remind drivers to be alert at busy crossings, and help maintain safety on campus roads.
Presumably it was a success, as the signs have now been installed at several other locations on campus including just off Main Street. Mohawk College has also recently begun installing similar signs.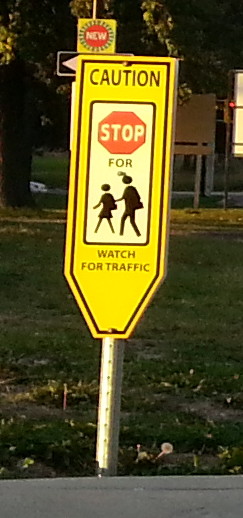 'Stop for pedestrians' sign at Mohawk College Fennell Campus (RTH file photo)
In my travels on the McMaster campus, I have been impressed that drivers notice and respect these signs, which makes it far easier for pedestrians to cross at uncontrolled intersections, even the busy intersection in front of the hospital on Main Street West.
Why wouldn't these signs work just as well for intersections off the campus? Why doesn't the City benefit from what McMaster has learned from this pilot project, which seems quite successful?
City Signs Misrepresent Traffic Act
In contrast, the City's recommended approach puts the onus entirely on the pedestrians. Any motorists who see the signs will think this confirms their right to intimidate pedestrians out of the way.
This actually misrepresents what the Highway Traffic Act says about the respective rights and responsibilities of pedestrians and motorists at uncontrolled intersections. It is absolutely incorrect to state that motorists are "not required to stop" for a pedestrian crossing the street!
As the Ministry of Transportation recently explained, the respective rights of pedestrians and vehicles at an uncontrolled crossing are actually quite clear: pedestrians can cross provided there is a sufficient gap to allow motorists to come to a safe stop and motorists must yield to a pedestrian who has begun crossing.
This is the law and the interpretation we received from the Ministry of Transportation.
Motorists are not obliged to stop for a pedestrian waiting on the sidewalk (although common courtesy would suggest they should, if not dangerous or too inconvenient), but the motorist must yield, stopping if necessary, once the pedestrian has begun crossing, i.e. taken a foot off the curb.
If the City doesn't want to go as far as Mohawk and McMaster, they could at least have less anti-pedestrian language and also remind drivers of their responsibilities (not just pedestrians), for example, 'Motorists must stop for crossing pedestrians' on signs visible to motorists.
Misleading Pedestrians
Why would the city be misleading pedestrians as to their rights at an uncontrolled intersection? What's worse, this signage indicates to motorists that it is open season on crossing pedestrians because it suggests that they can simply run over a pedestrian who is not able to jump out of the way (or, at least, intimidate them off the road)!
What we've got here is the equivalent of the police placing signs around the downtown warning women that it is not safe to be outside after dark because they can't ensure their safety!
But the most bizarre point in the city's proposal is that you don't actually need a crosswalk if you expect that motorists should never stop for crossing pedestrians, and that pedestrians should never cross unless there is a big enough gap that motorists don't need to yield.
Worse than Nothing
What the hell is going on? How could this possibly make its way into a pedestrian master plan? How is it consistent with the City's transportation hierarchy, which ostensibly puts pedestrians first?
We would be better off with no signs at all than with signs that actually take away the rights of pedestrians to cross without having to wait until there is a gap large enough that motorists don't need to slow down or stop.
Unless the City decides to reverse course on this dangerous, counter-productive "pedestrian" proposal, we are back to tactical urbanism as the only way forward: make our own signs, consistent with the Highway Traffic Act, and install them next to the crosswalks.
I had worried that, like the "Putting People First" transportation plan and the "Shifting Gears" cycling master plan, this pedestrian plan would turn out to be a good policy that would be mostly ignored.
Now we find it is actually an anti-pedestrian plan, which means the good parts will be ignored and the bad parts will be used as reasons not to make meaningful improvements to pedestrian facilities!
Post a Comment
You must be logged in to comment.