Celebrating a Small Victory in the Campaign to Recall Our Streets
The City responded to a request to lower the speed limit on King Street near Dundurn, reducing a needless 400-metre freeway effect.
By Andrew Pettit
Published April 18, 2014
You can look at something a thousand times, and still see something totally new on your next visit.
I started riding my bike from Durand to McMaster every work day back in 2008. I've taken a handful of different routes over the years, but one more than any other, and nearly every day, rain, shine or snow: Across Locke, west on Melbourne to Dundurn, head north on Dundurn across Main and try to pedal hard enough to catch the advanced green to turn left at King, heading over the Highway 403 bridge into Westdale.
I also drive that same stretch along King once or twice a week. Whether in a car or on a bike, we all know the six lanes of traffic - seven if you count the bike lane, and I do - and two highway on-ramps make for some hair-raising moments (the joys and perils of Breadalbane have been well documented), so much so that it took thousands of trips for me to see something new that had always been there: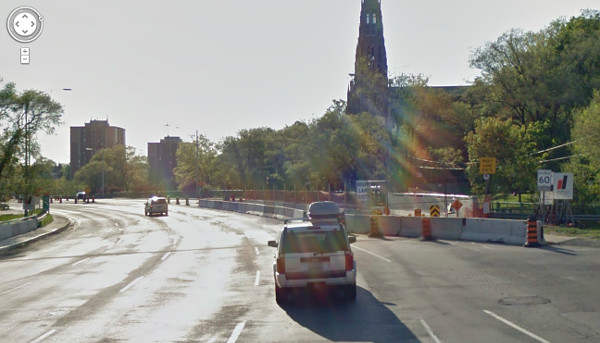 Google Street View of 60 km/h sign on King Street at Breadalbane, just west of Dundurn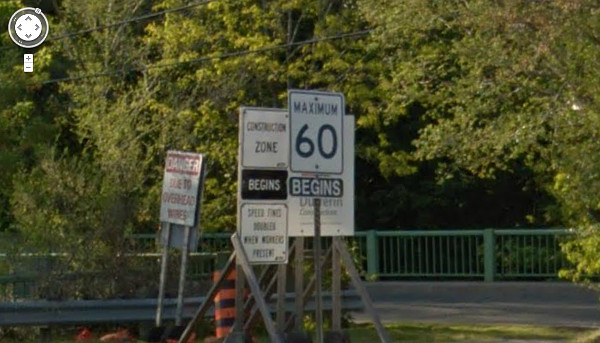 60 km/h sign close-up
Yes, I refer to that 60 KM/H BEGINS sign on the right. I suppose I had seen it many times before. It's not that remarkable. But back in October 2013, I saw it for the first time in a new context, as I noted in an email to Ward 1 Councillor Brian McHattie:
In an area that includes a pedestrian and cyclist crossing of a highway on-ramp, speed limits go from...

At Breadalbane: 60 KM/H MAXIMUM BEGINS sign
50 meters later at Highway 403 on-ramp: 40 KM/H sign for turn (just past pedestrian / cyclist crossing)
100 meters later at other side of bridge, 50 meters short of Macklin: 50 KM/H MAXIMUM BEGINS sign

Why do we change to 60 km/h for a stretch of ~200 meters that includes an already risky pedestrian / cyclist crossing? Seems silly.
A trip along the stretch via Google's Street View documents the dynamic, and anyone who has travelled that section of King Street knows all too well how it works.
It's a strange thing, how easily we can all just go along with the status quo, even when we know it's not serving us. If there was any doubt that speed of traffic was a concern through that stretch heading into Westdale, the regular presence of police officers waving people over to share tickets is evidence enough, and truly smacks of the need for better design over enforcement.
Councillor McHattie replied to my email and included Martin White, the City's Manager of Traffic Operations and Engineering, who then brought David Ferguson, the City's Superintendent of Traffic Engineering, into the loop.
David promptly responded, indicating he had reviewed the location and was in agreement with my observation. He indicated the recommendation - to reduce the 60km/h zone to 50km/h to bring it in line with surrounding limits - would be taken to Council in January as part of the Delegated Authority Bylaw.
The whole exchange took place within the month. I was pleased, and prepared to be patient - and also persistent.
With my daily commute came a daily reminder - once seen, I couldn't 'unsee' the peculiarities of the speed limits across that stretch.
On April 8, 2014, two weeks ago, the signs had yet to change. I sent a follow-up email to Ferguson, who again promptly replied indicating the change was to be reviewed later this month.
Then, this past Thursday morning, I received an email informing me that the signage had been changed. Of course, I had to stop and take some photos on my ride into work. Sure enough, there they were: two new 50 km/h signs in place of the 60 KM/H BEGINS signs that hung prior.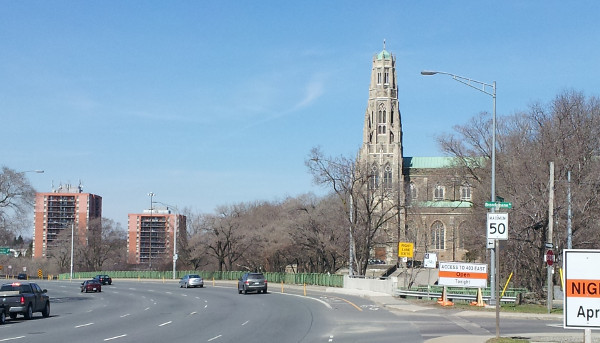 Caption: New 50 km/h sign on King Street at Breadalbane, installed on April 17, 2014
I emailed David to thank him for his efforts, and, encouraged by the response to my initial request and the small signs of change / change in signs, asked for one more: Additional 'NEW' signs affixed to the bottom of the in fact quite new 50 km/h signs.
As I noted in my email, without them, "I'm afraid (figuratively, and literally as someone who crosses there) that old habits will die hard, and drivers will continue to race through that stretch."
The speed limit change on the 400 metre stretch of King is not the biggest or most exciting change, and not likely to have a major impact given the overall design of the built environment there - it screams 'Go Faaaassst!' and requires / allows last-minute lane changes - but is certainly low-hanging fruit as we work to recall our streets and make them a better place to live near, drive, ride, walk and roll on.
As I celebrate the change, it's important to keep it in context: You are still faced with playing Frogger across five lanes of speeding traffic (6 with the bike lane!) if you live off Breadalbane and want to go to Fortinos.
Post a Comment
You must be logged in to comment.