Shifting Gears is a Ceiling
The Cycling Plan should make accommodating cycling a routine part of every street project instead of limiting bike infrastructure to a fixed list of routes that councillors can veto.
By Ryan McGreal
Published November 15, 2013
this article has been updated
Back in 1999, the City of Hamilton published an impressive (for its time) cycling master plan called Shifting Gears. If the City had actually gone on to implement the plan in a timely fashion, Hamilton would today be ahead of the national curve in cycling infrastructure.
However, the plan languished for a decade, gathering dust on the shelf where progressive planning documents in Hamilton go to die. It was so bad that the meagre cycling infrastructure budget went unspent year after year because there was no one on staff to spend it.
Ten years later, the City revived the plan and released a new version, Shifting Gears 2009. This time, the project came with a dedicated staffer to start implementing projects, and the result has been a steady, if slow and modest, expansion of Hamilton's bike lane network.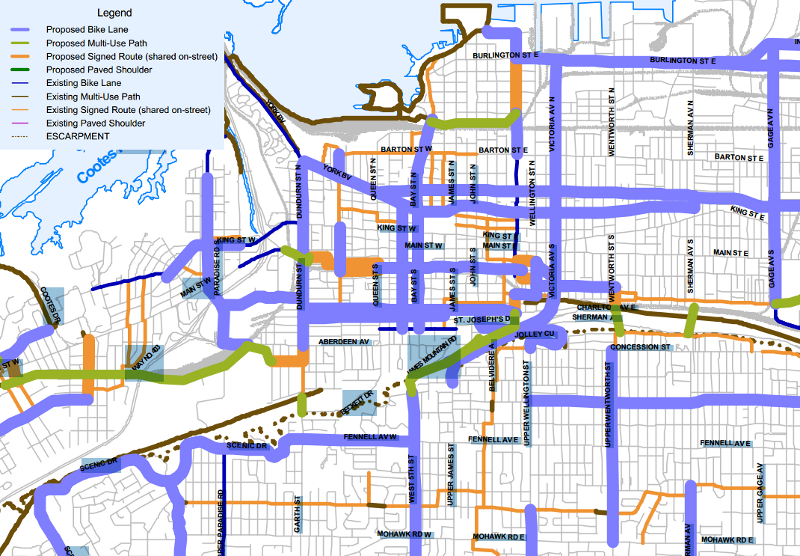 Detail from Shifting Gears 2009 Bike Route Map
I supported the plan because it was a vast improvement on doing nothing, but I was frustrated with the slow implementation schedule - as much as 40 years to, essentially, paint some lines on the road.
As Terry Cooke put it at the time, "They built the Great Pyramid in ancient Egypt in 20 years."
I was also frustrated with the option for councillors to exercise a veto on bike lanes in their wards. Since a network is only as effective as it is continuous, introducing discontinuities - like Queensdale Road east of Upper Sherman and, potentially, west of Upper Sherman as well - leaves the whole network more fragmentary and less usable.
Fixed Snapshot
But the problems with Shifting Gears run deeper. It is a fixed snapshot of what the City considered achievable for a cycling plan in 2009, but the state of the art in bike infrastructure design is a moving target.
The evidence is piling up that the safest, most effective bike network is composed of physically protected bike lanes and neighbourhood greenways - which were discussed in the original Shifting Gears but never implemented - not just painted lines next to parallel parked cars.
Yet the City's plan for bidirectional bike lanes on Hunter Street between Liberty Street and Queen Street are separated from automobile traffic by painted lines, not physical barriers. (Not to mention that the lanes are discontinuous between Catharine and MacNab until some time in the unspecified future. Is it that hard to run a bike lane to a train station?)
The proposed Cannon Street protected bike lane looks like it will be physically protected, though we don't have any details yet - but that would never have happened without a massive, very well-organized public engagement campaign.

Rendering of two-way bike lanes on Cannon (Image Credit: Jeremy Johnston)
Other cities are iterating their bike networks, testing ideas and applying best practices - like solid green paint, which significantly improves the perception of bike lanes among non-cyclists - but Hamilton ignores the lessons from other cities and refuses to paint its bike lanes or bike boxes.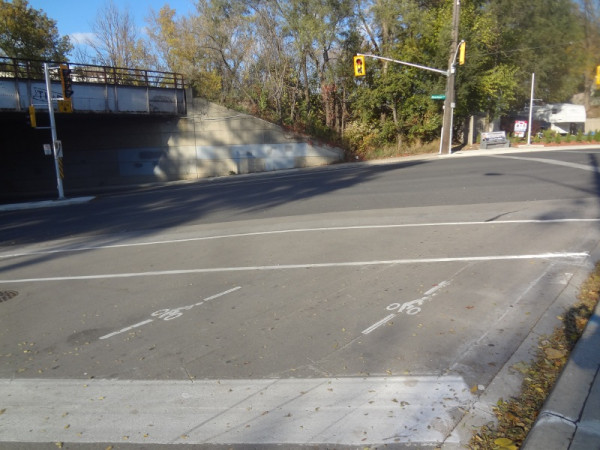 Invisible bike box on Studholme at Aberdeen (RTH file photo)
Missed Opportunities
Worse still, the City has undertaken several major road-resurfacing projects in the last few years that have entirely excluded any new bike infrastructure.
Drivers are delighted that Beckett Drive is open again after a complete rebuild from the roadbed up, but the Escarpment access has no new amenities for walking or cycling. Instead of making space for an upbound bike lane, the city painted double yellow centre lines with a median gap between them - effectively a middle finger to cyclists.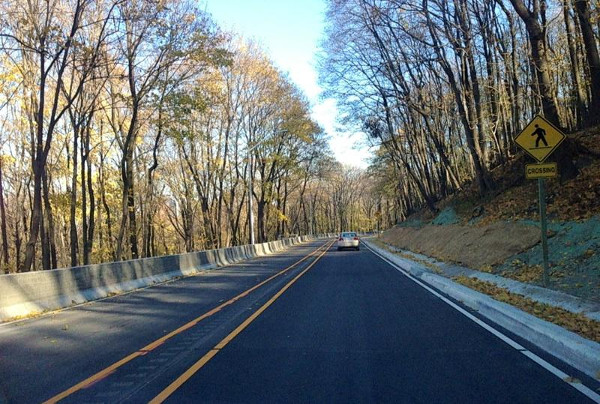 Rebuilt Beckett Drive (RTH file photo)
Of course, Beckett Drive is not on the bike route map, so adding a bike lane wasn't even considered.
Likewise, cyclists were astonished to learn that bikes are forbidden to use the new transit lane on King Street between Mary and Dundurn. The City's explanation noted, "the Cycling Master Plan does not propose bike lanes on King Street." So there.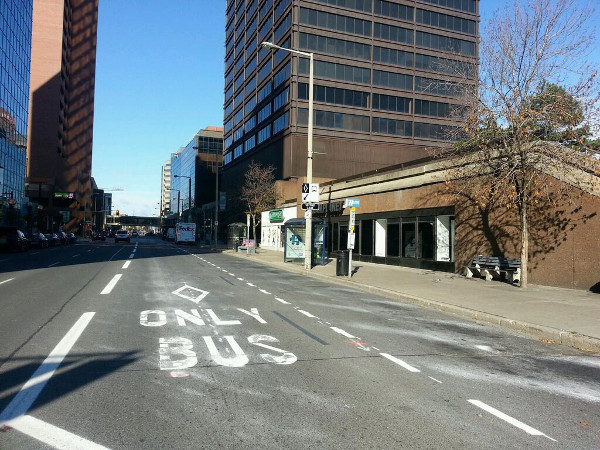 Bicycles not allowed in the King Street transit lane (RTH file photo)
This past summer, three kilometres of King Street East were resurfaced. This would have been an excellent opportunity to build a protected two-way bike lane separated by curbside parking. It would have added almost nothing to the cost of the project.
Instead, the City repainted the street exactly the same as it was before: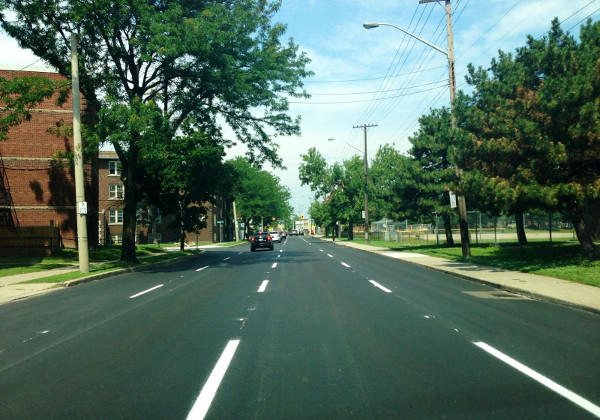 King Street lane repainting: missed opportunity for easy improvements (RTH file photo)
Again, the reason was that King Street is not on the Cycling Plan and, since it's supposed to get a light rail transit line Real Soon Now, it wouldn't make sense to change the street design. (Of course, that didn't stop the City from resurfacing and repainting the street, which will also be wasted when the tracks are installed.)
Shifting Gears is a Ceiling
It wasn't until I read Sara Mayo's excellent summary of the new Pedestrian Mobility Plan that the penny dropped. Mayo wrote:
For those keen policy watchers, it worth noting how different this plan is compared to the city's Cycling Master Plan, Shifting Gears.

The Cycling Master Plan has a map of streets chosen for improvements. That has focused attention on some important areas - for example, it may have been harder to get Council to vote for a bi-directional bike lane on Cannon Street if it wasn't already listed in the CMP.

But that has made it harder to get bike paths and other cycling infrastructure on streets that are not designated in the CMP.

The Pedestrian Mobility Plan has no list of chosen streets, and rather takes the Complete Streets approach that all streets need to better serve all users (especially pedestrians in this case).
My reservations about the cycle plan crystallized: Shifting Gears is a ceiling, not a floor.
Given the very slow pace of new bike lane installations, the plan is used more often to deny bike lanes than to approve them. Even for bike routes that are on the bike plan, Councillors still get to exercise a veto, as a few have already done.
I don't want to minimize the progress that has been made since Shifting Gears was passed. With dedicated staffing, an annual budget and an approved mandate, we went from adding no bike infrastructure, year after year, to making significant and measurable improvements.
Still, the practical result of how Shifting Gears is designed is that as long as it remains our cycling template, it will act more to constrain the expansion of our cycling network than to facilitate it.
Routine Accommodation for Bicycles
What we need is a revision to Shifting Gears to incorporate the concept of "routine accommodation" as defined in the Pedestrian Mobility Plan. As Mayo explains:
Routine Accommodation simply means that street improvements for pedestrian will be added by default to all construction, reconstruction, and maintenance activities on our roads. No additional Environmental Assessment requirements and no special motions at council are needed. Instead, incrementally, one by one, each of our streets becomes more walkable.
This is what the Cycling Plan should do: make accommodating cycling a routine part of every street project. If the goal is to replace a steadily increasing share of automobile trips with bicycle trips, then the bike lane network needs to connect a steadily increasing share of people to a steadily increasing share of destinations.
The City of Chicago recently released an ambitious cycling plan that calls for its 320 km of bike lanes to expand to 1,040 km by 2020. That will include 160 km of new physically protected bike lanes in the next two years and 16 km of new neighbourhood greenways every year.
Instead of shuffling cyclists away from crosstown thoroughfares, the Chicago plan recognizes that cyclists benefit from "more direct connections to destinations" and that protected bike lanes on arterial streets "will help facilitate longer trips for bicyclists."
Contrast Hamilton, which literally tells cyclists to dismount and walk their bikes to impractical parallel routes on streets that would make excellent neighbourhood greenways with relatively minor changes, which will be challenging to achieve because neighbourhood greenways are not in the cycling plan.
---
Update: This article originally referred to Queensdale Road east and west of Sherman. That should have been east and west of Upper Sherman. RTH regrets the error. You can jump to the changed paragraph.
Post a Comment
You must be logged in to comment.