City Tells Cyclists to Get Lost
In 2013, it is not acceptable to redesign a street to exclude cyclists, especially as there are no practical alternatives.
By Nicholas Kevlahan
Published October 21, 2013
Well, it seems that cyclists are not only excluded from the new transit lane on King Street, but the City is actually advising cyclists to stay off King Street entirely:
All other traffic, including bicycles, will be restricted to the other traffic lanes on King Street. Bicycles are encouraged to use parallel routes north or south of King Street.
This is completely outrageous and unacceptable!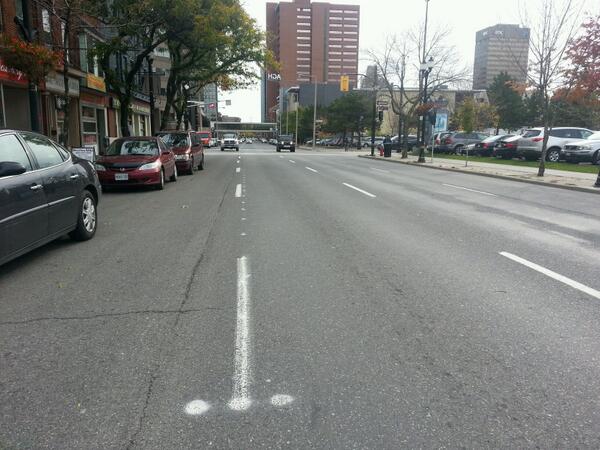 Markings on King West for the transit lane (RTH file photo)
The passive-aggressive advice to "use parallel routes" is dishonest, as anyone who cycles knows that such routes do not exist.
As Ken Moyle pointed out in his RTH post, these "parallel routes" are complicated and result in cyclists being told to take a circuitous detour that doubles their travel time.
This transit lane is an excellent idea, but I cannot believe that the City can mess up this pilot project so badly by telling one important class of road users to get lost (literally).
Serve All Road Users
This transit lane must be implemented in a way that retains a place for all road users: motorists, cyclists and pedestrians. Why is the City hoping that the hundreds of cyclists who use King Street - despite the current difficult conditions - will just go somewhere else?
At a bare minimum, paint sharrows on the travel lane next to the transit lane to show both motorists and cyclists they are still welcome to use this road.
In 2013, it is not acceptable to redesign a street to exclude cyclists, especially as there are no practical alternatives. Remember that cyclists actually rank above motorists and transit in the City's own transportation hierarchy.
The City must include cyclists in this pilot project, and not just tell them to get lost, especially as there are plenty of lanes available to motorists.
Why do we have an "Alternative Transportation Project Manager" if he can't even ensure that cyclists are welcome on Hamilton's major westbound route?
It can't be buses or bikes, it must be buses and bikes. Either allow bikes in the transit lane like in Vancouver, Paris and other cities, or paint sharrows to show there is still a place for them on the street.
No Viable Alternatives
And please don't pretend there are viable alternatives, when every cyclists knows the lack of alternatives is one of the major challenges to cycling between Westdale and downtown.
On a personal note, I traveled from Central School along King Street to McMaster every day last year by bike or bus, and we know that hundreds of other cyclists do the same each day from the cycle traffic survey on the Hwy 403 bridge - even after the university school year is over.

Traffic volumes, King Street Cycle Track (over Hwy 403), 2013-05-09 to 2013-05-16 (Image Source: City of Hamilton)
Cycling is growing in Hamilton, and this is one of the major cycle routes. I cannot emphasize this enough: we must accommodate cyclists as part of this pilot project.
Post a Comment
You must be logged in to comment.