Time to Embrace Proven Good Ideas in Livability
The future will arrive in Hamilton at some point. Do we want to start benefiting today, or do we want to wait another fifty years?
By Jason Leach
Published November 09, 2011
I was pleased to see the cycling report being drafted in Ontario, which discusses the concept of stop sign 'yield signs' for cyclists.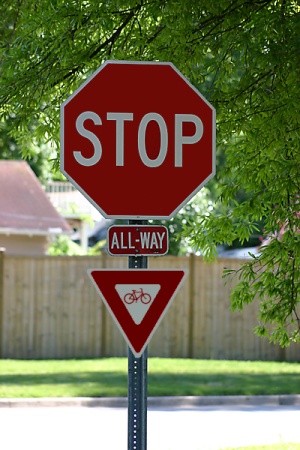 Stop sign with bicycle yield
I recall cycling many, many years ago in various US cities that had put this type of system in place. My understanding is that this yield system is designed for streets like Dunsmure, Napier or Central Ave - quiet residential streets with stop signs at most blocks and little vehicle traffic.
Portland, Oregon enacted this system and it made a huge difference in the speed of cycling as well as one more small step to make cycling more prominent, safe and visible in the community.
Hamilton, as we know, is not known for being progressive in virtually any respect these days. This is a shame considering our former nickname, 'The Ambitious City'.
Reading today's Spectator column by Andrew Dreschel, I found myself not surprised at all at the complete lack of understanding of the issue.
I read some of the concerns from council, as well as some of the support. My request to councillors is simply to get educated on the issue and make an informed decision.
With progressive issues like this, it's important to realize that this type of law will be enacted in Hamilton eventually - if not now, maybe in a few years, or a few decades.
Chicago had North America's first bus-lane in 1936. Here we are, 75 years later, finally getting one.
One of my most inspiration moments in Hamilton politics in the last five years was when Councillor Lloyd Ferguson went on the light rail tour to a few cities with LRT systems. Previously an opponent of the concept, he came back converted after seeing the facts and merits of such a system.
I ask Council to think of the future. Think of Hamilton's image and livability.
It would be prudent to approve this idea in principle and leave the detail design issues for down the road when we decide to build our first bikeway.
Whether it's LRT, bike boxes, yield signs, transit lanes or new flexible zoning, the future will arrive in Hamilton at some point. All of these ideas are already being practiced all over the world.
I'm simply asking that we give them a chance here instead of allowing uninformed commentary to shape our thinking.
You may remember all the outcry when a two-way bus lane was proposed on Main Street many years ago. Now we are preparing our LRT system to do just that - run two ways on a one-way street.
Opposing new ideas simply because they are new is the exact opposite of ambitious.
I'm not even asking us to break new ground and lead the country. I'm simply asking us to try to keep up so it's not 75 years before we finally embrace the ideas already in place in other cities.
Here is an inspirational video on greenways from Portland:
A city like Hamilton with our urban core, lower incomes and dangerous one-way freeways is a perfect setting for mid-neighbourhood bikeways/greenways. This is about livability, safety and making some changes that will help us become the best place to raise a child.
Please watch and enjoy.
Post a Comment
You must be logged in to comment.