A Network of Bicycle Superhighways
Balance in our transportation system isn't tough to achieve, but we need to be willing to make these investments and slight changes to the way our city functions.
By Jason Leach
Published October 03, 2011
Excitement surrounded the opening last week of the newly-developed West Hamilton bike path from the Main West Fortinos to Chedoke Golf Course. It is a central route that will see many users, especially considering it is lit-up and will be maintained in winter.
Much has been written over the years on the Shifting Gears bike plan and the need for Hamilton to get serious about providing safe cycling routes for our citizens. Any city with great cycling networks is a better place to live, work, play and always ends up resulting in stronger neighbourhoods that are more inviting to investors and young families.
Here is a simple, affordable plan that requires no road reconstruction, no two-way conversions and minimal investment largely in the form of some neighbourhood speed humps and re-adjusting stop signs. I believe something simple like this could result in cycling participation taking off in Hamilton.
I suggest we develop some cycling 'superhighways' like they did in London. Due to our massively underused lane capacity, we can do this without impacting traffic flow or parking in the slightest. Here's a video of a two-way bike lane on Brooklyn's Prospect Park:
Here are the routes:
Cannon Street from Queen all the way to its eastern terminus has one of its 4 lanes converted into a green, two-way bike lane.

Main from Westdale to the Delta: one of its 4-5 lanes converted to a green, two-way bike lane.

Wellington Street from Burlington Street to the Mountain Access: one full lane converted to a green, two-way bike lane.

Convert the right curb lane all the way up the Claremont Access to West 5th into a green, two-way bike lane right into Mohawk College and the new West 5th hospital.

Queen Street from the west harbour to the escarpment: one lane converted to a green, two-way bike lane.

Bay Street - two-way bike lanes from Aberdeen Ave to Bayfront Park.
Along all of these routes I would suggest we plant lots of street trees, and I believe just this simple plan alone would lead to a massive increase in cycling in Hamilton for work, school, errands and so on. These lanes connect people to where they live, work and play. Right now, virtually no bike lanes connect to the downtown core.
Yes, we need to continue the slow, incremental work on the Shifting Gears plan to connect these superhighways to regular bike lanes, but you would see a huge jump in safe cycling in Hamilton and new desirability come back to many of these urban neighbourhoods simply by enacting a plan like this.
The next step is a simple plan to continue lanes down King St east of the Delta as well as some quieter 'mid-neighbourhood' streets like Central Ave, Dunsmere etc.... that can get the Greenway treatment:
Take this greenway concept with speed humps, sharrows, yield signs for bikes, and stop signs for cars on the cross-streets, and use it on Central Avenue from London-Reid, Dunsmure from Holton to Reid, Head/Napier from Dundurn-Bay, MacDonald/Herkimer from Aberdeen to James, Queensdale/Brantdale from West 5th to Upper Ottawa, and East 24th/South Bend/Bendamere from Concession (Juravinski) to West 35th (Chedoke Hospital).

Bicycle-only speed hump in Vancouver (RTH file photo)
Now we're connecting entire districts of the city safely and efficiently, and barely putting a dent into vehicle capacity. Notice that all of the streets on which I suggested taking away a lane are one-way streets that operate at a very uncongested, high rate of speed.
For those concerned with losing these few lanes on these wide streets, now factor in the huge increase in cyclists using the new superhighways to get to work or school.
It is 3 km to Upper James and Fennell and 2 km to James and Burlington Street. How many of our 40,000 downtown workers live within this area? How many Mohawk Students would love to cycle up to the college, but can't safely?
Balance isn't tough to achieve, but we need to be willing to make these investments and slight changes to the way our city functions.
The status quo should not be an option. It's embarrassing to travel down to Toronto and see speed humps and 40 and 30 km/h speed limits all through their family neighbourhoods, only to return home to wide freeways, narrow sidewalks and no connected cycling routes.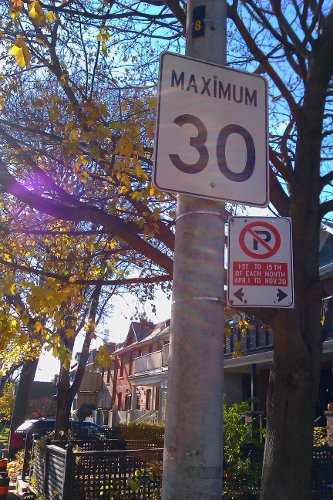 30 km/h sign on a residential street in Toronto's Beaches neighbourhood (RTH file photo)
A few well-placed bike superhighways, along with some neighbourhood greenways would bring amazing changes to the livability and image of our city. A lot of discussion has surrounded the need for improved transit before the Pan Am Games in 2015.
I'm hopeful that by 2015, we will have a top notch bike sharing program like Montreal's Bixi and a plan similar to this proposal implemented so visitors are given yet one more safe, enjoyable way to experience our city and way of life.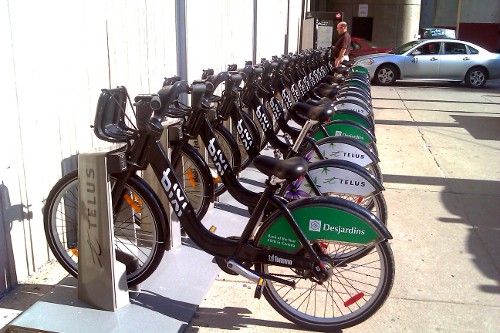 Bixi station in downtown Toronto (RTH file photo)
Post a Comment
You must be logged in to comment.