Light Rail Needs More Frequent Stops
Spreading LRT stops too far apart - up to 1.5 km - will undermine both ridership growth and economic uplift.
By Nicholas Kevlahan
Published May 04, 2016
After reviewing the basic alignment and stop locations for Hamilton's Light Rail Transit (LRT) line, I have some serious concerns about the wide spacing between stops.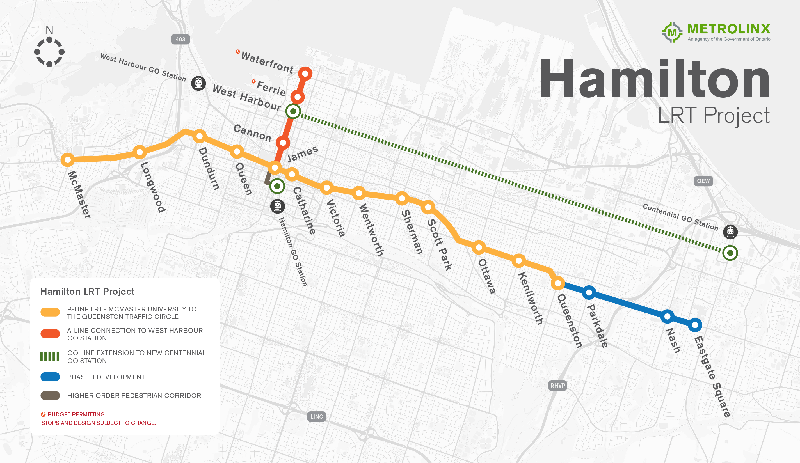 Hamilton LRT map
In early planning, the idea was to have stops spaced at 600-800 metres as a compromise between convenience and speed of service. This is already quite widely spaced compared with other systems. For example, Grenoble's average spacing is about 500 metres, as are Toronto's surface LRT stops for the Eglinton Crosstown.
However, the released design shows some stops extremely far apart. The Longwood and McMaster stops are 1.5 kilometres apart, the Scott Park and Ottawa Street stops are 1.4 kilometres apart, and the Queen and Dundurn stops are about 900 metres apart.
These stops are just too far apart for an LRT line that runs entirely through dense urban neighbourhoods (with the exception of the Highway 403 crossing).
Most urban LRT lines have stops spaced at 400-500 metres. The only exceptions are lines that include underground stations and sections that run through undeveloped, suburban or rural sections.
I can't think of a good reason to space urban LRT stops 900-1,500 metres apart. At 1,500 metres - that's 1.5 kilometres - a would-be transit rider might need to walk up to ten minutes just to reach a station, even if they are already on Main Street.
Most subway systems have stops spaced more closely than 1.5 kilometres! The Paris Metro system has stations every 500-800 metres.
Since most people will not walk more than about 400 metres to reach transit, this will significantly decrease the attractiveness of LRT as a transit choice.
And since most development occurs within 400 metres of the stops, this will also decrease the economic uplift. There will simply be less real estate to develop within the walkable radius of the LRT stations.
I assume that the stop locations were influenced by the current B-line express bus stops, but it should be remembered that transit riders currently have many local bus alternatives - e.g. 1, 5, 51 - with stops every couple of blocks. These local Main/King lines will disappear or be curtailed once the LRT is in service.
We are also already seeing disappointment from previously supportive businesses when they learn that the nearest stop will be far from their business. This is glaringly the case through the International Village, where there are no stops between Catharine and Victoria, a distance of 750 metres.

Rendering of LRT at King and Walnut
The International Village can't serve as a high quality urban transit mall with only one lane of motor vehicle traffic if it doesn't actually have transit access! There should be a station somewhere in the vicinity of Ferguson Avenue.
I urge Metrolinx and the City's LRT office to add more stations so that no stops are more than 800 metres apart, and most are significantly less than that. The city should be considering a more urban LRT design with many spacings closer to 400-500 metres.
Remember that an important goal of LRT is to drive significant intensification and economic development. We must build LRT for the densities we would like to see, not the densities that exist today.
This is the public consultation phase of the LRT design process, so there is still plenty of time and opportunity to optimize the design and fix any bugs.
Post a Comment
You must be logged in to comment.