Toronto Neighbourhoods Choosing Safety, Livability Over Speeding Traffic
A city can plan for people, patios, jobs, commerce and vibrant neighbourhoods, or else plan for speeding cars and window mattresses.
By Jason Leach
Published March 21, 2016
I was in Toronto on Sunday and as always, I enjoyed the time spent in an urban environment that has been nurtured to enhance the quality of life, economy and business success of its downtown area neighbourhoods.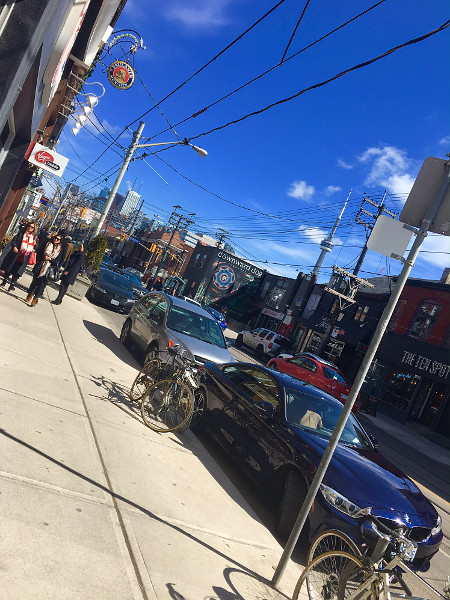 Street life in Toronto
Most of my time was spent in the Queen West area from Bathurst over to Ossington. I walked on main streets, parks and side streets and couldn't help but be envious of the tremendous quality of life that residents in these neighbourhoods enjoy.
Not once did I feel in danger crossing a street during my walk.
Encourage Neighbourhood Retail
The sidewalks, cafes and parks were absolutely overflowing with families, dog walkers, exercisers and everyone from teens to elderly out enjoying the sun despite a chilly breeze blowing off the lake keeping the temperature around 3 degrees.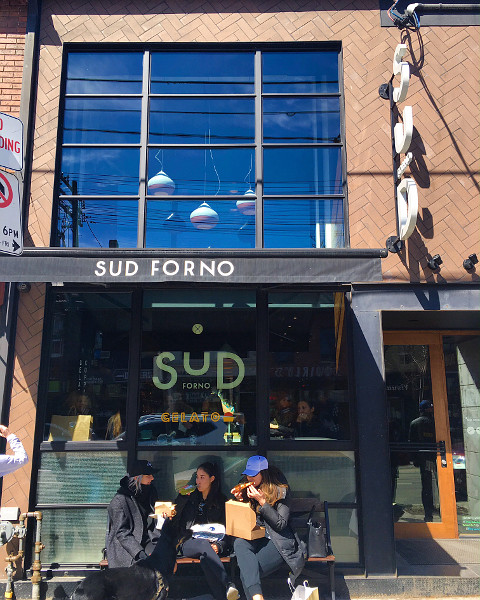 Businesses overflowing with people
I was very pleased to see an ice cream shop with beautiful side patio on Shaw Street. It was the only business with low rise residential uses on all streets in every direction.
At 3 degrees, the patio was in good use yesterday and families enjoyed a bite to eat and an ice cream. In fact, every patio I walked by yesterday was full of people enjoying the sunshine.
I recall an ice cream shop proposal at Locke and Peter in Hamilton that was supported by the neighbourhood and city councillor, but rejected by staff because it was in the middle of the neighbourhood, even though it would be in a building that had already been a commercial storefront for decades.
That wonderful location next to Victoria Park was converted to 'residential' by our city planners, shutting the door to any future business ventures, and has since sat empty with mattresses in the windows for the last three years.
Reduce Vehicle Speeds, Tame Traffic
I didn't see a single side street in Toronto with a 50 km/h speed limit. All were 30 km/h and most had speed humps.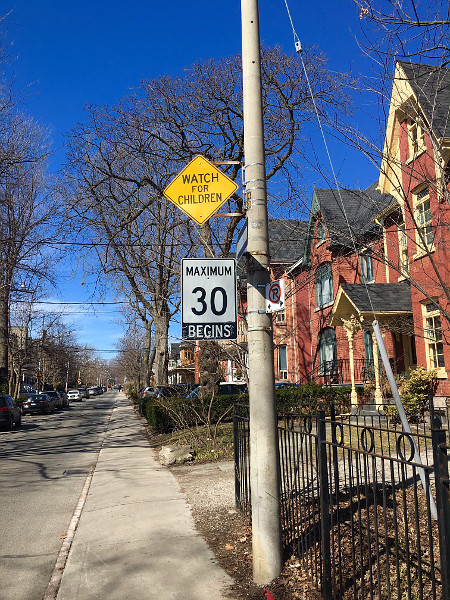 30 km/h speed limit
Even the previously four-lane Shaw Street is now one lane each way with curb parking, speed humps, bike symbols in the middle of the road and a low speed limit.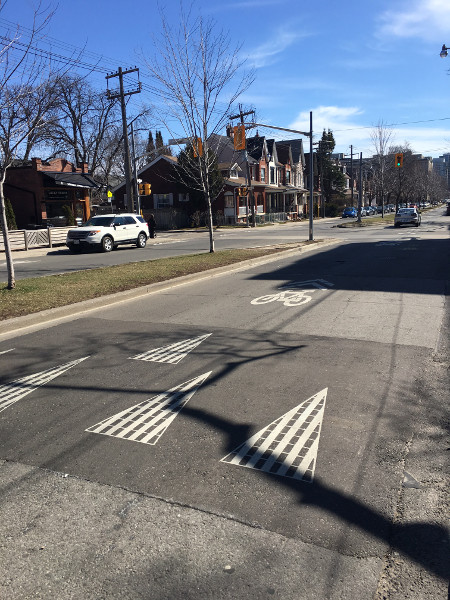 Shaw Street
And another previously wide one-way street in Toronto now had a contraflow bike lane which was heavily used when I was there.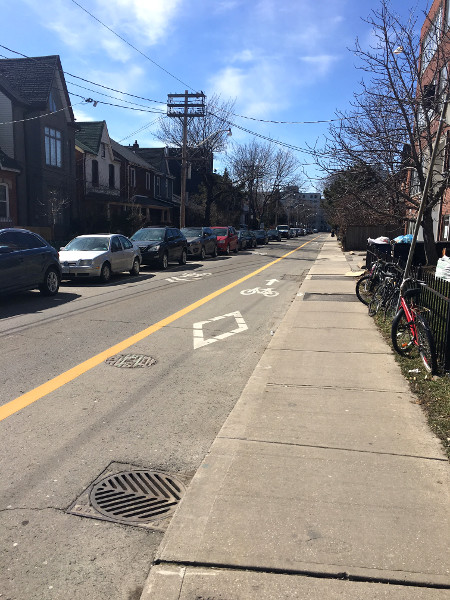 Contraflow bike lane
As other cities around the world have taught us, lower speed limit signs aren't enough. Physical changes must be made so that the new speed limit can't be easily exceeded.
Hamilton should roll out 30 km/h speed limits on all side streets, with 40 km/h the new standard on main streets. I regularly drive on Wilson Street, and it's amazing how much safer the stretch near Dr Davey School is with the new 40 km/h speed limit. On a main street like that, 40 seems to slow things down just enough to allow better observation of kids walking or biking to school.
This past winter there were a few snowy days where my drive home on Cannon didn't exceed 40 km/h. I started timing the trip and realized that from Sherman to Queen, doing 40 the entire way didn't add any time onto the length of my trip. There is simply no reason for us to maintain 50 or 60 km/h speed limits when we see the impacts on the fatality rate.
Meanwhile in Hamilton
A recent Hamilton Spectator article highlighted the massive demand from Hamilton residents asking for neighbourhood traffic calming here as we finally start to realize that high speed, single-occupancy car traffic has greatly diminished our quality of life, safety and neighbourhood vibrancy.
Last year, the city cut the speed limit from 50 km/h — the default unsigned maximum — to 40 km/h on 250 residential streets, often around schools but also by neighbourhood request. Just a few years ago, only "a handful" of such changes would be made per year, said traffic operations manager Martin White.

Last year also saw more speed humps and "knock-down" sticks installed, as well as 103 "ladder" crossings added to intersections — more pedestrian-friendly paint jobs than in the previous two years combined.

All that work only took care of about a third of the 900 resident requests for traffic safety changes in 2015, triple the average in years past.
Interestingly, I came home from TOronto and, while walking on King West near Locke, snapped a photo that does a perfect job at highlighting the two different styles of city-building.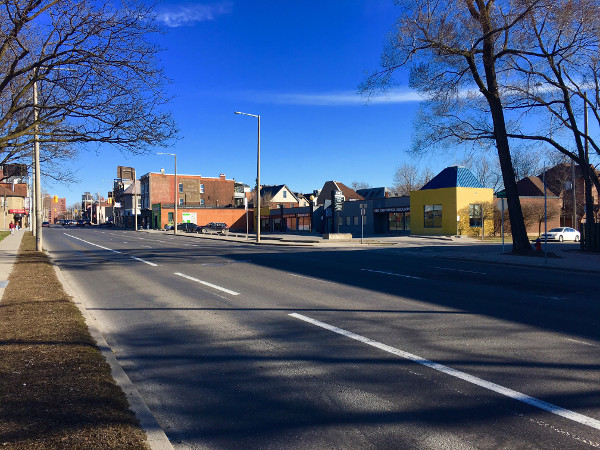 King Street West near Locke
A city can be business-friendly, safe, vibrant and an enjoyable place to hang out, or it can be an empty speeding freeway. Our planning choices and budgets show our priorities.
It is interesting to note that these neighbourhoods were built in a similar era. Queen and Bathurst is 2.2 km from Queen and Yonge. King and Locke is 1.2 km from King and James. Yet they might as well be on different planets now.
Is it any surprise that Hamilton has significantly fewer jobs per worker than Toronto?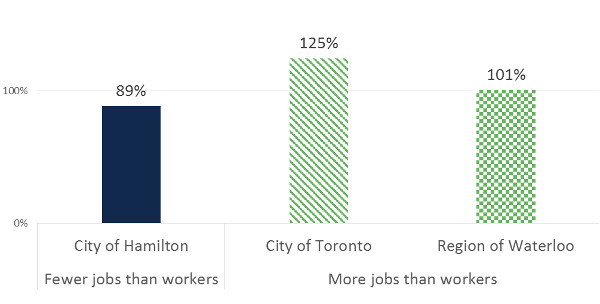 Chart: jobs per worker in Hamilton, Toronto and Waterloo
I would love to see a tally of all the jobs in action in the Queen/Bathurst/Ossington neighbourhoods, compared with King Street between Queen and Dundurn in Hamilton.
With LRT coming, we have a huge opportunity to rebalance our streets and set our neighbourhoods up for prosperity, if we can muster the vision and courage to stand up to the squelchers who only care about driving as fast as possible through the city.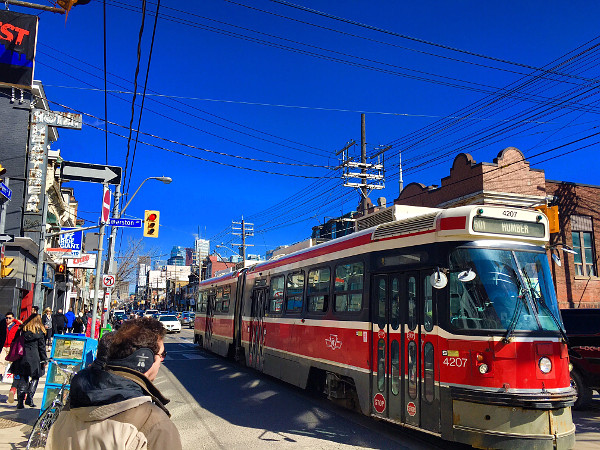 Streetcar on Queen Street in Toronto
It is very simple. You get the city - and the economy - you plan for.
Plan for people, patios, jobs, commerce and vibrant neighbourhoods, or plan for speeding cars and window mattresses.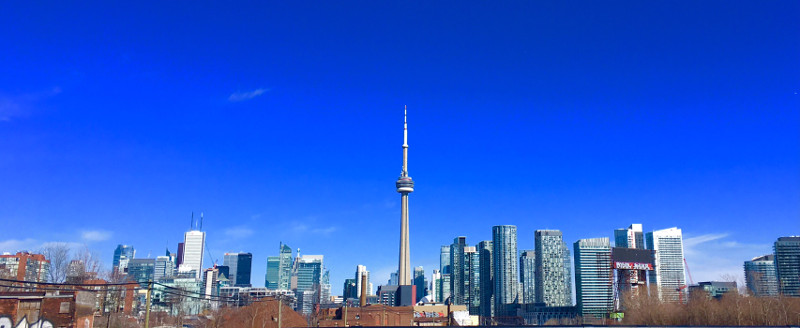 Toronto skyline
Post a Comment
You must be logged in to comment.